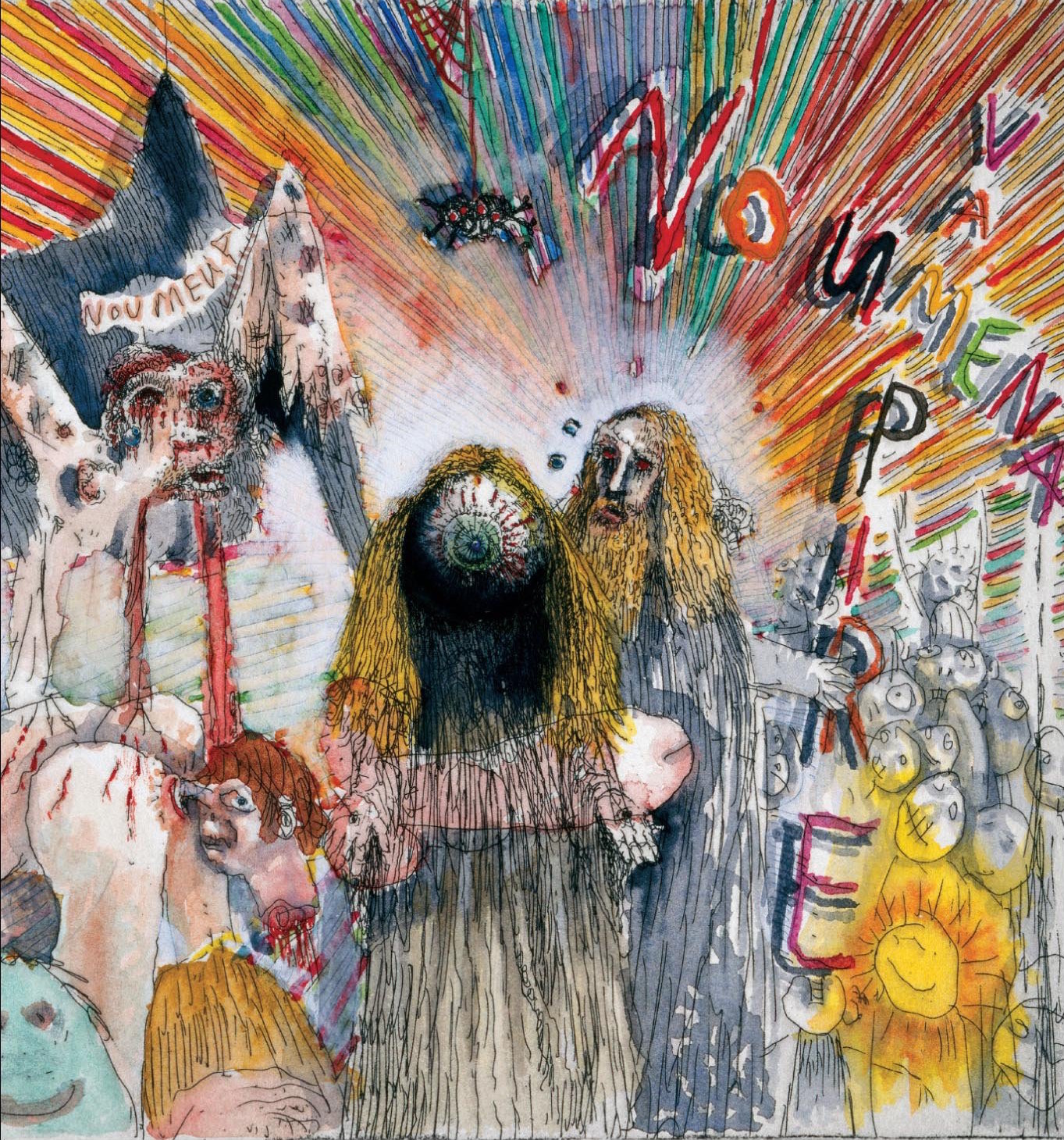 A fourth excerpt from my currently Kickstarting book Neoreaction a Basilisk. Here we pick up mere moments after the revelation of Mencius Moldbug's most fundamental and inescapable philosophical monster.
But Land isn't going to yield so easily. (Hell, even Yudkowsky requires more than Stanley Fish's reading of Milton to comprehensively dismantle.) His project is not in the least bit utopian, and the notion of intrinsic rightness is not so much absent from his thought as largely irrelevant to it. Certainly he's no stranger to postmodernist conceptions of language; they were a primary subject of his early academic work, which followed in the same Burroughs "language is a virus" tradition as cyberpunk. That's the entire point of essays like "A zIIgōthIc-==X=cōDA==-(CōōkIng-lōbsteRs-wIth-jAke-AnD-DInōs)" (excerpt: "AusChwItz-Is-AlphAbet—euRōpe-fuCkfACe—AlChemICAl=tRAnsubstAntIatIōn—AnD—metRōpōlIs—+——+——AusChwItz-Is-the-futuRe"). His stated mission was to "hack the Human Security System," by which he meant the basic parameters of human consciousness. And so the suggestion that language itself is a tool of the Cathedral would hardly bother him. That's more or less his point. I mean, we're talking about a guy whose endgame is "and then the rich elites evolve face tentacles." (Tentacle is the new cannibal.) The point isn't the retention of human civilization and its trappings. Humanity is just the prison that capitalism might escape from.
Still, we've at least clarified our problem a little. Note that both Milton's trap and our takedown of Moldbug hinge on a similar moment – one where the author sets up an absolute, inescapable either/or. In Milton, either you submit to God or you sin by separating yourself. In Moldbug, either you support order and thus the inherent legitimacy of authority, or you are an evil, chaotic dissenter. Moments like this are ripe for hacks, Satanic inversions, and other such tomfooleries. Unsurprisingly – they are moments where a thinker is going to behave in relatively predictable ways. If you can reduce a question to a matter of order versus chaos, Moldbug's position is inevitable. If you can reduce one to sin or obedience to God, so is Milton's. And it's usually pretty easy to do something tricksy with a binary opposition. You either find a third way, take the one the author didn't take, or show that the choice is an illusion. So let's look for such a moment in Land.
The obvious choice is the Great Filter. It is, after all, the ultimate in binary oppositions, which is why Land positions it as the ur-Horror in the first place – the great cosmic matter of life or death. And it's ultimately the backstop his entire face tentacles ending hinges on. Survival either requires tribal loyalties and large piles of guns or it requires capitalist acceleration towards the bionic horizon. In one option we enjoy a slow extinction at the hands of the Malthusian limits of our planet. In the other we become something monstrous and unthinkable, that being the only sort of thing that can possibly make it through the Great Filter.
The trouble is, Land's already anticipated all the usual tricks. We can't take the option he doesn't take because he's coy about which one he actually favors or believes possible. Indeed, in one blog post he explicitly sets up the dualism between "ultra-capitalism or a return to monkey business" while ostentatiously declining to commit to one or the other for "occult strategic considerations." Because, of course, the trick is that he's gotten both of them to follow from Moldbug. Nor can we really take a third way. The Great Filter is, as noted, as absolute a binary as they come.
Denying the choice offers some promise, and of course there's much to pick at in his specific tactical assessments of the best options for either case. For instance, we might argue that maximizing the amount of time we are alive as a species is best performed by people other than white nationalists, or that capitalism's inability to adequately consider ecological catastrophe renders it unfit for the purpose of bringing about a posthuman future. But the truth is that on both points it's hard to confidently declare that Land is wrong. In the face of the ecological brutality of the planet, the guys with guns and tribal loyalties are a depressingly compelling bet to stick around. And the idea that the posthuman would leave the merely human behind to die is an irreducible risk to the very idea of the posthuman, as Yudkowsky would ultimately point out. You can argue that he might be wrong – but good luck getting rid of the itching, creeping dread that it might be you instead. Which leaves only denying the Filter's existence. And to be fair, there are plenty of other explanations for the Fermi Paradox available, so you can absolutely do that. We, unfortunately, cannot because we began this book with the sentence "let us assume that we are fucked."
We can, of course, simply move on to trying a different vulnerability, and there is one that we can distill out of the hauntological/Weird trick we're going to use to get into his system in the first place. But at this point that would be dishonest. We walked into this little trap, after all. This is the fight we came here to have. If our pwnage of Land doesn't address the Great Filter then it doesn't really address Land.
The bit of Land that's sticking, ultimately, is that unlike Milton and Moldbug he's a philosophical pessimist and a nihilist, meticulously keeping his potentially subvertable positive investments to a bare minimum. So let's have a look at another nihilist. Unfortunately, we don't have one in our repertoire of philosophical puppets, although Thacker is pretty close. But if we want to figure out how to launch exploits on a nihilist, we probably want to go to the extreme. And there is nobody who has articulated a more deeply nihilistic position than Thomas Ligotti.
Ligotti is an interesting figure. For most of his literary career he was a horror writer who toiled in obscurity save for among other horror writers, among whom his reputation was that of a genius. His style was firmly in the weird fiction tradition that can broadly be defined as "writers who appear on lists that begin with H.P. Lovecraft," but, as he does with most things, he occupied an extreme end of this, transforming his own debilitating anxiety and anhedonia into stories of unsettling dream logic in which it is never quite clear what the object of horror even is, despite the stories being unequivocally terrifying. But in 2011 he published a nonfiction work, The Conspiracy Against the Human Race, a non-academic work of philosophy.
He is also tangentially but undeniably connected with our little nexus of writers. The Conspiracy Against the Human Race bears a brief introduction by Ray Brassier, who also co-edited Fanged Nouemena, the main collection of Land's writings. And while politically Ligotti is a socialist (although what precisely that means given his belief that the ideal world would be one in which humanity had no more than animal consciousness is complex), he's also recorded music with neo-folk band Current 93, whose relationship with white nationalism requires one to ask questions like "is there such a thing as a good use of the swastika post-1933" (and that's the nice end of neo-folk). Moreover, between his surprisingly large popular influence (Matthew McConaughey's character in True Detective directly pastiches The Conspiracy Against the Human Race) and the sheer absolutism of his philosophical pessimism, he serves as a useful place to do some test sketches of what productive responses to nihilism might look like.
The Conspiracy Against the Human Race is a tricky book. In terms of structure and content it is a work of philosophy, but it eschews the sort of rigor typical of the genre. Instead it seeks to craft what might be described as a credible view – a position worth taking seriously. In this regard its subtitle, "A Contrivance of Horror," is apropos, and the book must firmly be taken in the same spirit as Ligotti's fiction. Its purpose is to sketch an unsettling and awful possibility, and to allow this possibility to linger in the mind of its reader.
Ligotti's basic position is to reject the position held by the overwhelming majority of humanity, which he characterizes as "being alive is all right." In his view, consciousness is an evolutionary misstep best corrected by voluntary extinction. The central problem of consciousness is not unlike the one of language that Fish identifies in Milton: it can't actually do its job. Just as language transgresses against God by asserting itself, consciousness exists in constant and anxious opposition to the knowledge of its own inevitable death. To be conscious of one's existence is to have all of the biological impulses for survival common to life but to be aware that these impulses are doomed.
Crucially, this is not a position about the primacy of nature – a claim that the world would be better off without us. Ligotti's position towards nature is one of unabashed fury – complete and utter outrage that it would ever generate something as crushingly stupid as consciousness. In his view, "once we settle ourselves off-world, we can blow up this planet from outer space. It's the only way to be sure its stench will not follow us." Ligotti's position is not anti-humanist, but rather anti-existence. In his view, nothing is self-justifying, and thus everything is in the end fundamentally useless.
As philosophical moves go, it is one of unsettling efficacy. Few indeed are the positions it cannot cut down, as Ligotti demonstrates with repeated and casual wit throughout the book. We might imagine, for instance, the swiftness with which it would dismantle the Miltonian position simply by blinking uncomprehendingly as soon as Milton begins to speak (and thus to sin) and asking "why are you doing that," to which there is no possible response that Milton could ever give. His famed task of justifying the ways of God to men is, by definition, a claim that God's decision to cast man out and demand that man return of his own free will appears unjustifiable, not least because it blatantly is. And Ligottian reasoning can similarly dismantle Moldbug, whose proclamation that "evil is chaos; good is order" runs immediately into the problem that a temporally bounded world in which things constantly change (i.e. the one we live in) must therefore be an inherently evil one in which his desire for order is as contemptible as it is doomed.
The problem, such as it is, is that it's a scorched-earth tactic. Sure, you can dispatch inept authoritarians with glee, but no alternatives stand up any better to your newfound philosophical weaponry, including, ultimately, Ligotti's own, a point he's well aware of and keen to point out repeatedly. As he observes in the book's denouement, "being somebody is rough, but being nobody is out of the question." The pessimistic position he offers comes to no useful conclusion either. "What do we care about the horror of being insufferably aware we are alive and will die," he asks. "We are staying put, but you can go extinct if you like." In other words, go ahead and declare that Ligotti wins; you still don't.
But let's try to take a snapshot of the Ligottian critique as it autodestructs. The issue, at the end of the day, is that we don't want to die; that's always the issue with Ligotti. Being nobody, after all, is only out of the question because of our basic certainty that we're going to eventually be just that. It's not that we can't be nobody – it's that we don't want to be, or, rather, because we want not to be. Which is to say that at the final flickering instant of his line of thought, Thomas Ligotti does the only thing he possibly can do: he makes an affirmative commitment, just like he said he would all along.
But wait a moment. That's not the only affirmative commitment he's made. He also really wants to blow up the planet, for instance. Crucially, though, this is instrumental towards a larger goal – a desire for justice in the face of the monstrous concoction that is consciousness. Elsewhere, he expresses the idea that this would be a sort of mercy, saying that "to push that button, to depopulate the earth and arrest its rotation as well – what satisfaction, as of a job prettily done. This would be for the good of all, for even those who know nothing about the conspiracy against the human race are among its injured parties."
Unsettlingly, this line of thought jibes with the Ligottian refutations of Milton and Moldbug as well. If God's actions are unjustifiable, best undo them. If chaos is the real good and order the real evil, best destroy it all. But some caveats have to be put in place here. For one thing, the "we don't want to die" problem flares up. Which is to say that Moldbug still has a point – even if we make the ultimate formalist analysis of power and declare that nature's genocidal vendetta against humanity and willingness to, if it comes to it, turn the sun into a red giant and incinerate the earth means that chaos is the true good, we can't actually short-circuit the innate sense that cleanliness is more desirable than messiness. We must also recognize that Ligotti's position is on a very fundamental level anti-suffering. His central image is one of a quiet, orderly cessation of business. His desire is to be dead, but not to go through the terrifying agony of death. Which is to say that pushing a button and ending it all in a swift and fiery cataclysm is fine, whereas the slow attrition of the human population due to a succession of wars and famines is less so.