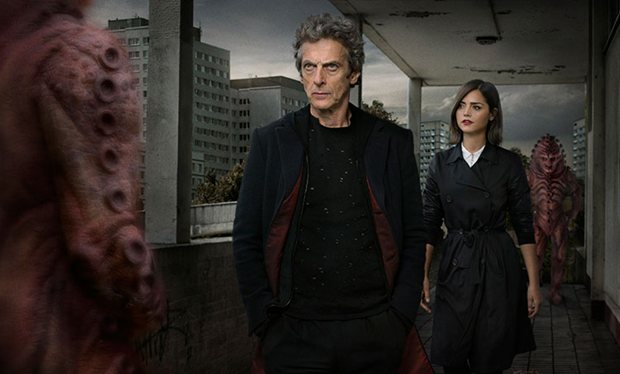 Another preview essay from my end-of-year collection Guided by the Beauty of Their Weapons, available for preorder at this link (and in the UK here). There it will be accompanied by a book-exclusive interview with Peter Harness about The Zygon Invasion/The Zygon Inversion. And to answer the question that people have asked in comments every week, yes there will be a print version; it'll go up closer to release.
One of the most exciting talents to emerge in science fiction and fantasy recently is undoubtedly Peter Harness, who, over roughly a thirteen month period, put his name to ten of the best genre scripts on television in the form of the Doctor Who episodes "Kill the Moon," "The Zygon Invasion," and "The Zygon Inversion" and the entire run of the BBC's Jonathan Strange & Mr. Norrell adaptation. Any one of these would make him one of the most compelling voices of the past few years; their aggregate is as extraordinary a creative run as exists.
Or at least that's generally been my opinion, which I've spouted on the Internet a few times, leading to the amusing consequence of Mr. Harness getting linked to my blog and reading it and enjoying some of the bits that weren't about how clever he was as well. Which led to him sitting down for two interviews about his work, transcribed in the two chapters following this. So consider this the annoying bit where the interviewer talks for too long before getting to the good stuff. I'll try to make it a really sprawling set of remarks that offers something approaching a general theory of how politics and science fiction interact, so as to really give the authentic "shut up and get to the interviews" experience.
I think the obvious starting point when talking about Harness's work is that it is overtly and consciously political. It's equally obvious at this point that Harness's politics are at a minimum leftish. Despite this, however, both of his Doctor Who stories were, to varying degrees, embraced by right-leaning chunks of fandom, generally in the belief that their political views were being supported by the episodes. In both cases I think this is straightforwardly based on inattentive readings of the episodes, but it's nevertheless striking, especially in a year where discussions of politics and science fiction have become increasingly split into two camps neatly mapping the left/right divide, a process largely driven, let's be clear, by Vox Day and his inane "pink vs blue SF" rhetoric.
A key phrase in all of this, and generally one slung around with reckless imprecision and universal contempt, is "message fiction." At this point the mere inclusion of any sort of diversity in the cast seems to qualify as a "message," such that even stories like Rachel Swirsky's "If You Were a Dinosaur, My Love," in which a group of drunks who beat a man into a coma in the mistaken belief that he's gay or Ann Leckie's Ancillary Justice, which features a genderless species as "message stories." By this standard, of course, Harness's work, which includes two Doctor Who stories that are conspicuously dominated by female characters and an adaptation of a period novel about deliberately subverting the paradigm of white "great men" of history, would count. So would anyone writing something worth watching, of course.
But the real problem with the phrase is, of course, simply the idea that there exists some sort of non-message fiction. To write any story is to make some sort of statement about the way the world is or should be, a statement doubly true of SF/F where you literally have to create a way for the world to be. One might as well start pretending that "apolitical" art exists. But there's still distinctions to draw, obviously. And let's be clear, I think "do I agree with this work's politics" is a perfectly legitimate one, although I tend to think anyone for whom it is the only or even primary one has an underdeveloped sense of attentiveness to how art functions politically and an allergy to dissent.
A more important distinction, however, is between art that is political in an interesting way and art that is politically dull. There are loads of ways one could try to make this distinction, but let's go ahead and set it up on slightly classicist terms and go with Tolkien's distinction between allegory (which he disdains) and applicability. To quote the gentleman scholar:
I cordially dislike allegory in all its manifestations, and always have done so since I grew old and wary enough to detect its presence. I much prefer history, true or feigned, with its varied applicability to the thought and experience of readers. I think that many confuse 'applicability' with 'allegory'; but the one resides in the freedom of the reader, and the other in the purposed domination of the author.
What he describes as "allegory" is what I think most people are trying to get at when they complain about "message fiction," or, more usually, "allegory that they also happen to disagree with." And it consists of fiction where the message is a uniform and absolute statement meant to be decoded and understood by the reader. "Applicability," on the other hand, is a momentary parallel – something the reader can see and respond to, but that is left as a moment of free play for the reader, as opposed to as a puzzle to solve. One might use the examples, and I'm obviously picking these completely at random, of John C. Wright's Hugo-nominated One Bright Star to Guide Them, which is an overt allegory about Christian dominionism, and Iain Banks's classic semi-fantasy novel The Wasp Factory, which is tremendously applicable to discussions of transgender issues without coming to any sort of clearly defined position on the general issue that the reader is meant to infer.
I make this digression mainly to note that Harness is overtly political, but he is also a writer who is avidly, acutely focused on approaching politics from the standpoint of applicability, not allegory. It's generally not hard to discern his views: The Zygon Invasion/The Zygon Inversion, for instance, is clearly written from the perspective of someone generally sympathetic to immigrants and refugees. But there's never a moment of the Doctor haranguing an obvious Nigel Farage stand-in, and the big speech is about the general case ethics of war. The message is about the importance of forgiveness, just as the message of Kill the Moon was about not fearing the unknown. These are certainly messages with political consequences, including consequences for the specific issues the stories are applicable to, but there's a level of abstraction at play.
But, of course, abstraction is the point of fiction, especially SF/F. Ideas are abstracted into things, transformed through characters and plot, and reflected back at odd and interesting angles. Which is to say that the fact that "Peter Harness is a political writer" is both a true statement and an effective way to classify him within the particular pool of Doctor Who writers in which he's most sensibly discussed, in the same way that "Gareth Roberts is a funny writer" and "Mark Gatiss is a nostalgic writer" are useful, but is insufficient to describing him. All the same, it's important.
The obvious link to break is the one we've productively broken several times already, namely the one between politics and message. In other words, to note the simple and obvious truth that there are other ways to talk about politics in fiction. The same process of abstraction that elevates Harness's use of politics above crass allegory works to tie them to other aspects of the stories to which they're applicable.
The obvious choices here are character and plot, and Harness is adept at both. Look at how Jonathan Strange & Mr. Norrell uses the spaces left in its "tragic rivalry between two great white men of history" narrative to tell a story about how women, racial minorities, and the working class experience  and shape history. Yes, Harness inherits the broad structure of this from Susannah Clarke's original novel, but what's overwhelmingly clear, watching the series, is that he understands these aspects of the novel, and that he considers them the heart and soul of the story. They're the heart and soul of what the show is about.
But Harness is merely very good at these things. What he is excellent at is… well, two things. The first is in constructing big and elaborate systems of idea and genre. His biggest, of course, is partially inherited from Susanna Clarke, but even Kill the Moon is playing a conceptually dense game about lost utopian approaches to science fiction, the theatrical heritage of British television, and the fear of the unknown. It's not just that he's deft at switching among genre expectations, but that he's capable of wedding genres tightly to the political ideas he's grappling with.
The second thing he's good at is clever uses of television as a medium. In the two interviews that follow I suggest two tropes Harness returns to in his work. First, he's fond of characters looking straight to the camera, and specifically to them speaking to camera (and, notably, The Zygon Invasion features Bonnie giving a look to camera after she's unmasked as a Zygon). Second, both of his Doctor Who stories and Jonathan Strange & Mr. Norrell end with characters debating the use of a weapon.
The link between these two ideas is admittedly not self-evident. But let's look at a slightly different bit of The Zygon Invasion, namely the drone strike scene, simply because it is the moment where these two tendencies most blatantly collapse into one, with a debate over using a weapon that's disrupted when a bunch of people stare into the weapon's camera. And when one widens the lens, so to speak, and looks at Harness's looks-to-camera as part of a larger consideration of the relationship between cameras, screens, and the act of looking – which is to say, as part of a larger consideration of television as a medium – things become much clearer.
Notably, the weapon debates in Kill the Moon and Jonathan Strange & Mr. Norrell both also hinge on the mediation of cameras. In Kill the Moon this is literal, with Clara's address to Earth and the audience calling on them to vote with their lights. In Jonathan Strange & Mr. Norrell it's more figurative, in that literal cameras don't exist in its setting, but the denouement is still heavily mediated by acts of scrying and watching. Only The Zygon Invasion/The Zygon Inversion fails to directly connect the two, and it's hardly necessary given the degree to which the larger episode is drenched in strange elisions between the act of looking and weapons, most obviously in the way in which the entire Zygon duplicate process is depicted in terms of television within Clara's mind. Or, if you want, you can just point out that the Doctor repeatedly frames the Osgood boxes as a demented game show. (Actually, if you really want you could make a bunch of Friedrich Kittler references now about how cameras and guns are inherently related technologies.)
So within Harness's work the mechanics of television and the mechanics of violence are fundamentally intertwined. And this gets to the heart of my Eruditorum Press colleague Jack Graham's incisive critique of the Zygon story, which is the way in which the Doctor's directive to "sit down and talk" in lieu of war necessarily favors the existing ruling powers. And it's true, this is by some margin the most naive moment of the script, almost willfully ignoring the fact that the entire point of war – to the extent of being a standard adage about it – is to alter the power relationship between combatants so that the act of sitting down and talking plays out differently. That war inevitably concludes with a diplomatic resolution is not, in fact, a case for why you can skip straight to diplomacy.
But while this is a conceptual failure within The Zygon Invasion/The Zygon Inversion (although it's also a fantastically well-deployed line that works incredibly well dramatically), it's a failure that's implicitly addressed by the entire larger edifice of Harness's work, where the act of sitting down and talking and the act of waging war are both defined by the way they are mediated and depicted, as part and parcel of a much larger system of savvily framing things in terms of genres and expectations.
The most basic iteration of this, of course, is Kill the Moon, where the first half presents a very specifically and meticulously chosen set of signifiers from a particular era of televisual science fiction, and then the second half demands the ethics of that era confront the radically unknowable. Indeed, this is the entire point of its famously bonkers mid-episode revelation that the moon is an egg: it confronts a story that had been ensconced in the trappings of science fiction with something that is completely outside the normal realm of the genre. But it's also present in the gradual evolution of Jonathan Strange & Mr. Norrell as it transitions through its themes, first introducing the perspectives of women and racial minorities on its great man dualism, then kicking down the veil between its delineated and rule-bound historical world and the churning and chaotic weirdness beyond. And it's present in The Zygon Invasion/Inversion's magpie juxtapositions of classic 70s Doctor Who tropes with 90s X-Files-style alien invasion paranoia and sleek conspiracy thrillers so that its sudden collapse to a ten minute near-monologue about pushing buttons can credibly feel like the scale model it claims to be.
In every case we realize that the act of looking through a weapon is just like any other act of looking, and just as based on context. It's not simply that storytelling is an alternative to warfare, but rather that warfare becomes one form of story, or, if you prefer, one historical process among many. But this is also where the difference between allegory and applicability becomes tremendously useful. Because in allegory, the relationships among these stories is always going to be fixed, just like the set of signs and corresponding concepts. But the point of applicability is that the parallels are variable and shifting. In other words, the changes in context and perspective necessary to transform a story about war into a story about something else are possible in a story whose politics focus on applicability. And that's what Harness brings to the table that's so impressive: the ability to construct television stories that think about political alternatives.
But for all of this, I think it is key to note that I think Harness's best work may still lie ahead of us. The truth is that Jack's complaints regarding The Zygon Invasion/Inversion are largely on target, namely that the alternative it imagines is in the end insufficiently radical. And a similar accusation can be made of Kill the Moon. Only in Jonathan Strange & Mr. Norrell does Harness seem to propose a truly radical alternative to the political status quo, and the radicalness there comes from Clarke. But he's yet to offer a truly radical alternative of his own – one that avoids center-left platitudes in favor of something genuinely challenging and unsettling. I have little doubt that he is capable of it, and indeed little doubt that it's going to happen someday. And when it does, I think it's going to do for the Earth what Kill the Moon did for the moon.