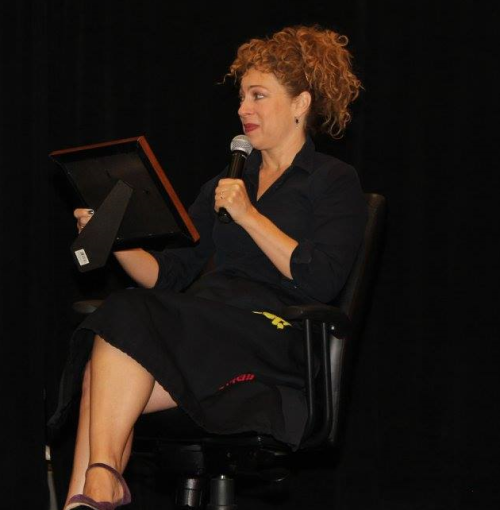 We don't usually do breaking news at Eruditorum Press, but the initial reports I saw on this one were disturbing enough that I dug into it. The result, thankfully, appeared considerably less disturbing than first glance, but I'm going ahead and running the story anyway, if only as a reminder of the constant sexist background noise that pervades fandom.
Sunday afternoon, at a panel at the Chicago TARDIS convention, moderator Elliot Serrano made an extended joke about how Kingston's "characters always seemed to have a thing for doctors" before presenting her with a fictitious doctoral certificate and asking "if Elizabeth Corday would like to have a cup of coffee some time." Kingston, with the look of apparent disgust documented in the photo (posted to the Chicago TARDIS Facebook account with the caption "Alex Kingston reviews Elliot Serrano's doctorate"), replied "what am I supposed to do with this?" Serrano went on to note that Kingston had been wearing Necomimi Brainwave Cat Ears, which nominally reflect the wearer's mood, and said "I wonder what they'd be doing if you were wearing them today." Kingston's response: "Probably running away."
Chicago TARDIS's anti-harassment policy proclaims that they are "dedicated to providing a harassment-free convention experience for everyone" and "do not tolerate harassment of convention participants in any form," specifying that "harassment includes verbal comments that reinforce social structures of domination related to gender" as well as "unwelcome sexual attention." 
Contacted via Twitter, Serrano stressed that the exchange was "meant to be a comedic bit to liven the panel," and noted that, upon being told backstage that people had taken exception to the joke, he approached Kingston to apologize, and that she took no offense and did not even realize what he might be apologizing for. He also stated, "I can see how some would find that type of bit inappropriate, and I won't be doing that again out of respect for Chicago TARDIS and the fans."
I am certainly heartened by the fact that Serrano clearly grasps the seriousness of what happened, and that the convention acted quickly in talking to him after the panel. All the same, things like this shouldn't be happening, not least because of the message they send to convention-goers both about what behavior is considered acceptable and about how complaints of harassment might be treated by staff. To his credit, when I put this to Serrano he agreed that it set a bad tone. But I wish he'd realized that before sticking his foot in his mouth in front of an audience of fans. And more than that, I wish fandom weren't a place where reports of Alex Kingston being sexually harassed at a convention sounded more like business as usual than like a shocking and appalling abberation.