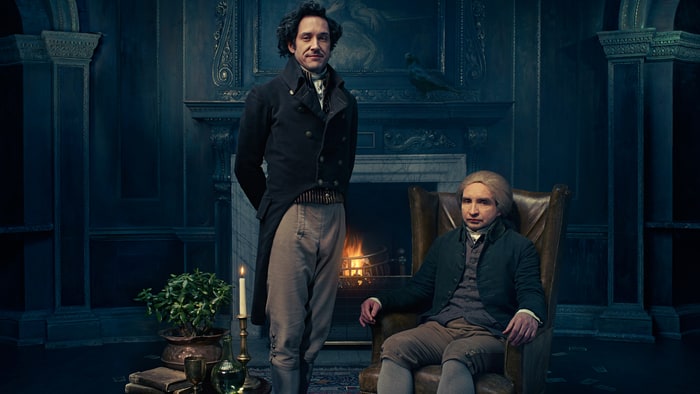 I'm not going to faff about pretending the justification for this involves Peter Harness's chances of someday showrunning Doctor Who. I mean, I'd obviously love if that happened, but I don't expect it (or think that we're in a place to talk about who should succeed Chibnall yet anyway). No, the reason I'm picking this as our stopover reality between Last Christmas and the start of Series Nine is more idiosyncratic: having declared Harness's debut the best Doctor Who story ever, I feel obliged to keep a bit of track of his work.
Anyway, this provides an interesting counterpoint to The Game. Like that series, it is an attempted breakout series that didn't quite work out. It was announced at about the same time as The Game, and went into production two months later. And like The Game, it lingered around not being released for a curiously long time. Its fate wasn't quite ignominious—instead of getting pre-empted by BBC America and then demoted to BBC Two, it stayed on BBC One but got burned off over the summer—but it was still visibly allowed to fail. To some extent, the same reason applies for both series, which is that they were commissioned in the latter days of Ben Cohen's time as BBC One controller and then inherited by his successor who deprioritized them in favor of things she commissioned—a fate suffered by countless films and series at countless companies.
But The Game was also a legitimate turkey, whereas Jonathan Strange & Mr. Norrell is a fantastic, high-quality adaptation of the sort that the BBC is renowned for. It's not flawless—it's a back-loaded series whose last couple episodes are brilliant but whose first two are dominated by patient scene-setting, a problem that explains how it burnt off two of its four-and-a-half million viewers after the frist episode. But it's solid at its worst and brilliant at its best, and spends more time being the latter than the former. Where The Game disappeared into oblivion, this has maintained a perfectly respectable afterlife on streaming services and was more to the point well-reviewed even at the time.
Perhaps more to the point, it is television that actually feels like it belongs to the 2010s. Although clearly rooted in the angst of two white men, it's deeply interested in women and minorities. The series consistently focuses on the way in which the people who most often pay the cost of the feud between Strange and Norrell are those on the margins of society, most obviously Lady Pole, Arabella, Stephen, all of whom become prisoners of faerie because of the two magicians' actions. Its resolution reiterates this point, declaring Strange and Norrell to be essentially irrelevant and focusing instead on those characters and a couple members of the poor and working class.
There are limits to this approach; it's still anchored by the titular magicians. It fleshes out the people in the margins, but they remain marginal. Yes, there is a measure of historical accuracy to this—white men dominated the 18th century. More importantly, their marginalization is part of the story this is trying to tell—the book keeps them to the margins as well in a very pointed and conspicuous way. But there are also key ways in which the book gives these perspectives more voice than the series. Susanna Clarke writes her novel in a narrative voice that owes a clear debt to Jane Austen, focussing on gossip and the domestic. She's said in interviews that she intends the voice to be female, and the fact that the book is a pastiche of period novels means, among other things, that the implied reader (which is to say the reader constructed by the text as opposed to the actual human holding the book) is, like the actual audience of those books, female. These facts counterbalance the male leads in interesting ways. The television adaptation, on the other hand, is presented with a standard 21st century televisual tone, which is to say a grammar developed by a male-dominated industry and a voice developed by a male screenwriter and director. Harness and Toby Haynes do a competent, intelligent adaptation, and Harness actively bolstered the role of the female characters in order to make sure their importance was still emphasized, but it still becomes a story by men about women; tellingly, when events at the beginning are actively narrated, it is with a male voiceover.
What it does retain is the original's intelligent and clever sense of genre fusion. Instead of being a 19th century novel crashing into the fantasy genre it's a BBC costume drama, or, more specifically, a BBC prestige novel adaptation. This is not quite a new trick—it's hard to argue that Game of Thrones is doing something substantially different. Certainly it positions this as a show that follows from Doctor Who instead of leading, which is fair enough. But a trick doesn't have to be clever to be good. This gets a lot of mileage out of the basic fact that it's the real thing: a seven-part BBC adaptation of a novel done with all the skill and heft that implies. Only done by a bunch of Doctor Who guys who instinctively grasp how to fold "and the a gigantic spinning tornado of pure blackness appeared above his head" into that structure.
Within the scope of our interests, however, what stands out more than "yup, the BBC did another clever post-Doctor Who genre mashup" is the fact that Jonathan Strange & Mr. Norrell is specifically interested in the nature of English magic. It conceives of this in a familiar way. It is one of strange and eccentric spaces casually abutted with the mundane world, and of portals and passages between them. People fall out of the world, though this is treated as monstrous horror as opposed to possibility. And there's a clear sense of psychogeography to it—English magic is defined in terms of "the stones and the sky and the rain" at one point, and the climactic summoning of the Raven King is rooted in the psychic history of Mr. Norrell's house. This is the mythology we've been working with for some time.
And yet the show also forces us to confront a troubling underbelly to all of this. It risks tautology, but English magic is, well, English. It's an explicitly patriotic mythology tied to an English identity and a nostalgia for a mythic golden age of wonder. And the capacity for magic is grounds for a form of English exceptionalism—although the narrative shifts to Italy, where Jonathan Strange remains capable of magic, the magic he does is still expressly English. Perhaps most worrisomely, there's a bit where it's made clear that English magic is stronger in the north, where "our laws were made by the Raven King. Our towns and abbeys were founded by him. Mr Norrell's house was built by him. He's in our minds and hearts and speech." All of this is rhetoric that, historically, turns ugly quickly—the focus on the north as a lost source of magic is in particular a mainstay of various white supremacist schools of thought from the historical Thule Society to the more contemporary devotees of Aleksandr Dugin.
Obviously my point is not that Harness, Clarke, or indeed Jonathan Strange & Mr. Norrell are cryptofascists writing parables about the lost glories of Hyperborea. As I said, it's not like I haven't tarried with the same imagery. Last War in Albion is firmly rooted in the rhetoric of mythic Britain, which is only the mildest of improvements over strictly mythologizing the English. There's nothing here that doesn't taint the entire epic fantasy genre—countless bits of Tolkien's mythology have been pointed out as fundamentally racist in their conception. But the fact that the rot is widespread hardly negates its seriousness.
There are, of course, significant checks on it within Jonathan Strange & Mr. Norrell. The story's interest in those excluded from the default narrative of Englishness clearly undercuts any nationalism. Sir Walter Pole, the story's primary representative of the nation per se, is firmly cast aside in the resolution, ultimately carrying the blame for Lady Pole's captivity in Norrell's absence. The story is also ultimately in a large part about the democratization of magic. Its resolution is that instead of magic being practiced entirely by two white men, one representing the Enlightenment and the other Romanticism, magic belongs to anyone who wishes to be a magician. Indeed, magic becomes the focus of a popular revolt in which the historical Luddites are recast as a Raven King revivalism movement, a move that serves to tie the rise of the magic with working class uprisings. There are limits to this—it's telling that everybody who's shown taking up the practice of magic is a white man. But it still makes the mythic England depicted relatively resistant to rightward drift.
But there's a larger point to be made here—one that gets at my own predilection for the iconography. It's not an accident that Jonathan Strange & Mr. Norrell finds itself focused on the people in the margins. Rather, it's a natural extension of a mythology that's already rooted in the idea of eccentric spaces folded around the world. The basic idea of the portal to faerie naturally lends itself to concern for the marginal. We've talked about this before in terms of Britain's relationship between its mainstream and counterculture, and this is certainly one of the ways the myth reiterated itself across the 20th century. But the iconography can just as easily be used to talk about marginalized people, as countless writers besides Clarke have realized.
More importantly, though, while there's no such thing as a story that cannot be corrupted or made to appeal to the right, there are at least ones that are resistant or that require egregious misreadings. And for all that mythic notions of Britain are historically depressingly easy to bend to reactionary purposes, the portal to faerie itself is resilient. Valorizing the idea of weird and magical spaces that lurk at the edges of the world is just hard to have be anything besides a celebration of the outside, the other, and the strange. With work you certainly can accomplish it, but the idea is going to reassert its gravity and skew itself back towards open weirdness.
This fact can only accomplish so much. The prominence of portals to faerie in its national mythology does not stop the UK from periodic descents into destructive right-wing politics. It doesn't prevent the country from having severe problems around racism. It doesn't even make the country appreciably more leftist than other European countries. Heck, it can't even keep one goofy sci-fi show that uses the same iconography from making occasional boneheaded reactionary turns.
But of course, who ever looked at the majesty of faerie and thought "this seems like a source of safety and security"? Protecting us was never what faeries were for. Just look at Jonathan Strange and Mr. Norrell, where Marc Warren reveals that he can do an unexpectedly good Malcolm McDowell impression in order to play a malevolent trickster faerie. This doesn't detract from the appeal of faerie within the story—Norrell may declare faeries not to be "respectable" (which, true), but he remains utterly compelled by them. And while his deal with the fae goes terribly wrong, the lesson is about arrogance, not about the inherent evils of faeries.
No, the point of faerie is what it's always been: to introduce new and uncanny things into the world and make it a stranger place. And yes, maybe one of those things will prove revelatory and essential to changing the future. But the far more likely outcome is simply that they'll be interesting and compelling in their own rights, and that there will be more things like them. Certainly that's what Jonathan Strange & Mr. Norrell is—an interesting step in a direction worth traveling further in. As good as it is at this point in time, Doctor Who could learn from this.