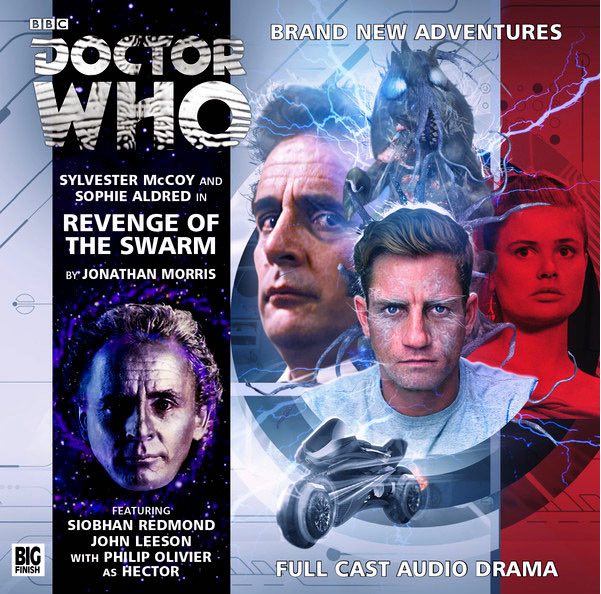 As it's come up a few times and I've thus far only said it on Twitter, I figured I should make a quick statement on the site. Short form: I have decided going forward that I will no longer be covering Big Finish material on the site or in my books. There are a handful of existing obligations I'll still fulfill. I've promised Andrew Hickey I'll cover Doctor Who and the Pirates in the revised Volume 6, and while I'm going to swap out one or two of the mooted 7th Doctor Big Finish essays for things on other topics, there'll still be a few of those. And I'm not going to go around deleting already written Big Finish essays. But starting with Volume 8, none of the new essays added to any of the book collections are going to be on Big Finish material.
There are a lot of reasons why I've taken this decision. Many of them are outlined in my post on their UNIT Assembled box set, but I'll sum up a few quickly.
The general low quality of their offerings.
The preposterous size of their line, which both contributes to the lack of quality and shows a callous lack of concern for fans' budgets.
Their egregious failiure, especially given the size of their line, to break in new talent, instead relying on the same pool of often mediocre writers to produce the overwhelming majority of their titles.
The resultant lack of diversity, and specifically their abject failure to hire more women.
The degree to which they have, creatively, failed to utilize the specific strengths (or accomodate the specific weaknesses) of audio as a medium, even as audio drama undergoes a phenomenal renaissance in the hands of the podcast industry. (Which would be an obivous place to go looking for writers that aren't white dudes.)
My distaste for their general attitude towards continuity and traditionalism, and the deep aesthetic conservatism they bring to Doctor Who.
Their continued willingness to work with people accused of rape and sexual assault.
Their serial queerphobia, including going out of their way to straightwash Clara's relationship with Jane Austen and removing leaving out the trans character when introducing the supporting cast from Russell T Davies' novelization of Rose.
This is not, to be clear, some sort of protest on my part whereby if Big Finish makes some definable changes I intend to reconsider my position. Although I reserve the right to someday change my mind, I'm not doing this as a symbolic or material pressure tactic on Big Finish. I'm doing it because, frankly, the issues outlined above overwhelm any other considerations that might come up when writing about Big Finish's output, and I've run out of new things to say about them. I do not think that further essays on Big Finish would be good or interesting. They would be unpleasant to write and not much good to read. I can write better and more compelling essays than dragging the same shitty spin-off company for making the same tedious errors over and over again, and I intend to do so.
I should note that this is not a sitewide moratorium on discussing Big Finish. Although I wouldn't hold my breath for Jack to start covering Big Finish material, I'm certainly not making a policy on any other contributors writing about anything they want. This is simply my own decision, going forward, for my own work.
One mght fairly ask why this decision is extended to historical Big Finish. After all, there's plenty of well-regarded Eighth Doctor material I could add to the McGann/Eccleston book. And, of course, I'm ruling out the largest single source of additional Hurt material. But ultimately, my objections aren't just a boredom with the poor quality of Big Finish; I am at this point simply exhausted with them as a company. They are not a company or a part of Doctor Who that I want to financially support or bring further attention to. I still love the idea of Doctor Who audio plays. I think they've got phenomenal potential. I think there are production companies that could do amazing things with the concept..I don't have specific suggestions, but in the face of the booming podcast industry I have zero doubt that it would be possible for the BBC to find people who are eager to take the opportunities that Big Finish is squandering and do something interesting with them. Preferably while hiring some women. I'll continue to hope that possibility comes to pass some day.
But Big Finish? Nah. I'm done.