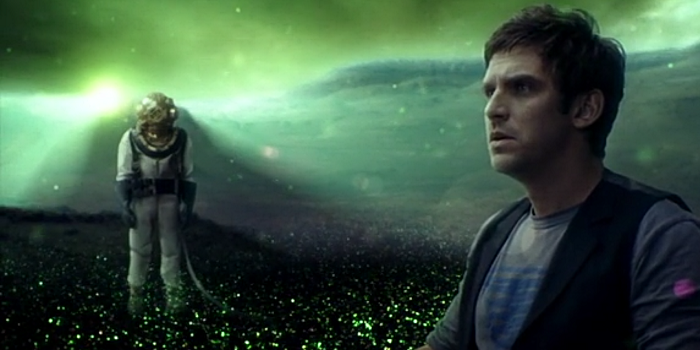 Thoughts on Series 1 of Legion
(NB – I haven't seen Series 2 yet, and was distressed to see El saying it had become disqualifyingly "rapey". Why do they ruin everything?)
*
SPOILERS
*
Legion might be the first show since Hannibal to genuinely achieve substance through style. Of course, I haven't seen every show since Hannibal, but I know Westworld didn't manage it.
Legion takes place in a corner of the X-Men universe, in which (as per the concept) some humans are being born as 'mutants' with special powers. In line with how these things usually go, the most powerful mutant so far discovered turns out to be David, a mediocre white guy with a Harry Potter-esque backstory. He and his fellow mutants are, naturally, being hunted by a sinister government agency.
So far, so clichéd. But Legion does some genuinely interesting things with these concepts.
It is deeply divergent from almost all TV/movie genre SF/Fantasy now, especially the Marvelverse, with which it is obviously most likely to be compared. Its style is light years away from the Marvel shows (Daredevil, etc) and from the movies. The nearest Marvel movie to Legion in terms of style is Doctor Strange, but that seems tame by comparison. There's a deep 70s-genre-TV-ness about it, and especially about the effects sequences. It goes with the 60s/70sness of the production design generally. The quiddity of this aesthetic is more than just 'cheapness'; it's rooted in a particular approach to the fantastic which Legion seems to want to resurrect.
There is a peculiar and distinct aesthetic to the effects sequences in Legion. They seem to have deliberately gone for a kind of visible… 'effectyness'. They want you to notice the effects, and notice that they are effects. This is what they want you to do instead of playing the usual game of accepting effects as if you don't realise they're mock-ups of unreal and impossible things while simultaneously enjoying their rendering of unreality and impossibility, via a kind of mental game of pocket billiards whereby you pretend to accept (and thus do accept) those ideological notions about what is or isn't convincing.
Against the odds, it works. Especially in those sequences where 'effecty' things – particularly in the form of the surreal intrusions – interact with real environments. The show repeatedly creates tableaux in which very obviously 'unreal' things are obtrusively mapped into real settings. Like the ice cube which descends through the ceiling into Cary's bedroom in the imaginary mental hospital.
It could just be my influences showing, but it looks to me as if they have deliberately attempted to create something of the accidental TV-version of the 'alienation effect' that occurs in 1970s British television SF/Fantasy, most notably via the use of Colour Separation Overlay (CSO). Legion does not of course use that creaky old tech, but it seems enamoured of it, and of the strange byproducts it had.
There is something very Sapphire and Steel about Legion.…