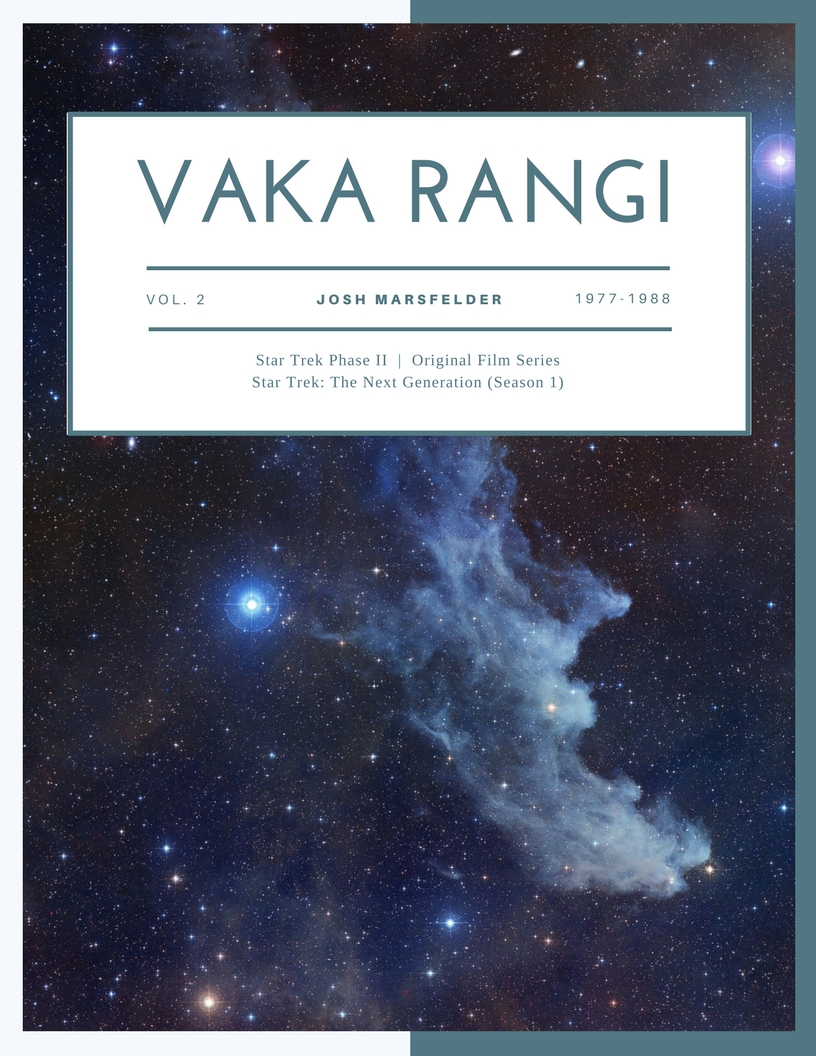 In honour of Star Trek: The Next Generation's 30th Anniversary today, Vaka Rangi Volume 2: Star Trek Phase II, Original Film Series and Star Trek: The Next Generation (Season 1) is now available for order from certain online retailers.
This volume covers the years 1977-1988 and aims to tell the story of Star Trek: The Next Generation's conception and birth over the course of that decade, starting from the fandom's staunch resistance to letting Star Trek go in the late 70s leading to the abortive Star Trek Phase II project, which eventually morphed into the Star Trek film series. Every pitched Star Trek Phase II script is examined in detail, with particular emphasis on the ones that were eventually adapted into television episodes and movies: "In Thy Image" (Star Trek: The Motion Picture), "The Child", "Devil's Due" and "Kitumba". Also covered during this section is the fanmade Star Trek Phase II web series and the famous and illustrious "Star Trek Trilogy"-Star Trek II: The Wrath of Khan, Star Trek III: The Search for Spock and Star Trek IV: The Voyage Home.
Moving beyond fandom history, the book explores the other, less-frequently acknowledged pop culture influences on and antecedents of Star Trek: The Next Generation as well, such as Star Wars, Close Encounters of the Third Kind, Cosmos, Miami Vice, Alien and Aliens. New to the book version is a section on the history of 80s anime and its relationship to the contemporary science fiction scene, and how Star Trek: The Next Generation staffers like Rick Sternbach and Mike Okuda were profoundly influenced by the work being done by Japanese genre fiction creators. This section's brand-new essays are on Urusei Yatsura, Mobile Suit Gundam, Super Dimension Fortress Macross (and Macross: Do You Remember Love?) and two special revised essays on Nausicaä of the Valley of the Wind and Dirty Pair.
Speaking of Dirty Pair, longtime fans will no doubt remember the somewhat infamous run of blog posts through the entire Classic Dirty Pair anime series that accompanied the original version of this project (and that can still be found in Eruditorum Press' archives). Regrettably this is one of the sections I had to cut for space concerns (the final book is already pared down from what I initially wanted it to be, and as it is I just barely squeaked in under Createspace's upper page count limit with the biggest possible trim size), but don't think for a moment I've forgotten about Kei and Yuri: I've decided that they, alongside Nausicaä, really deserve a project unto themselves, so one of my future books will be a rumination on the themes of animist utopianism in 80s anime, building off of a spun-off, heavily revised and expanded version of that section of Vaka Rangi. I can tell you right now this is not my next blog project, but it is one I've been in the serious planning stages of for awhile, so please look forward to that in the future.…