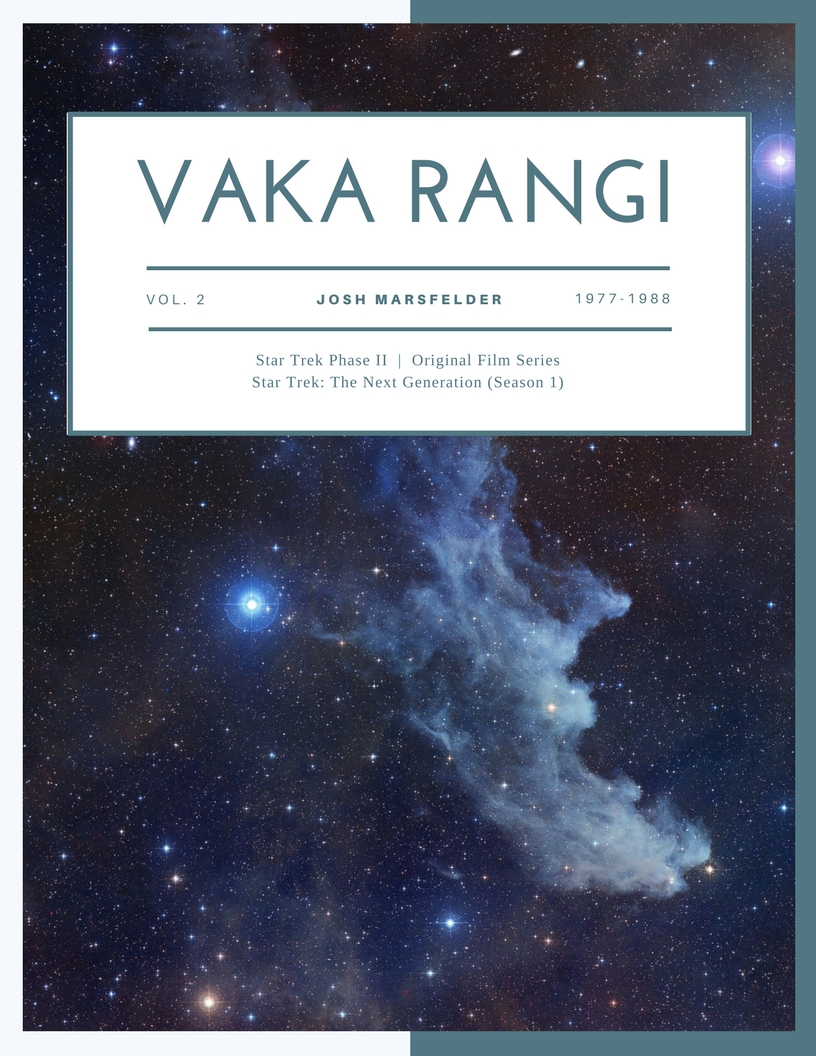 In honour of Star Trek: The Next Generation's 30th Anniversary today, Vaka Rangi Volume 2: Star Trek Phase II, Original Film Series and Star Trek: The Next Generation (Season 1) is now available for order from certain online retailers.
This volume covers the years 1977-1988 and aims to tell the story of Star Trek: The Next Generation's conception and birth over the course of that decade, starting from the fandom's staunch resistance to letting Star Trek go in the late 70s leading to the abortive Star Trek Phase II project, which eventually morphed into the Star Trek film series. Every pitched Star Trek Phase II script is examined in detail, with particular emphasis on the ones that were eventually adapted into television episodes and movies: "In Thy Image" (Star Trek: The Motion Picture), "The Child", "Devil's Due" and "Kitumba". Also covered during this section is the fanmade Star Trek Phase II web series and the famous and illustrious "Star Trek Trilogy"-Star Trek II: The Wrath of Khan, Star Trek III: The Search for Spock and Star Trek IV: The Voyage Home.
Moving beyond fandom history, the book explores the other, less-frequently acknowledged pop culture influences on and antecedents of Star Trek: The Next Generation as well, such as Star Wars, Close Encounters of the Third Kind, Cosmos, Miami Vice, Alien and Aliens. New to the book version is a section on the history of 80s anime and its relationship to the contemporary science fiction scene, and how Star Trek: The Next Generation staffers like Rick Sternbach and Mike Okuda were profoundly influenced by the work being done by Japanese genre fiction creators. This section's brand-new essays are on Urusei Yatsura, Mobile Suit Gundam, Super Dimension Fortress Macross (and Macross: Do You Remember Love?) and two special revised essays on Nausicaä of the Valley of the Wind and Dirty Pair.
Speaking of Dirty Pair, longtime fans will no doubt remember the somewhat infamous run of blog posts through the entire Classic Dirty Pair anime series that accompanied the original version of this project (and that can still be found in Eruditorum Press' archives). Regrettably this is one of the sections I had to cut for space concerns (the final book is already pared down from what I initially wanted it to be, and as it is I just barely squeaked in under Createspace's upper page count limit with the biggest possible trim size), but don't think for a moment I've forgotten about Kei and Yuri: I've decided that they, alongside Nausicaä, really deserve a project unto themselves, so one of my future books will be a rumination on the themes of animist utopianism in 80s anime, building off of a spun-off, heavily revised and expanded version of that section of Vaka Rangi. I can tell you right now this is not my next blog project, but it is one I've been in the serious planning stages of for awhile, so please look forward to that in the future.
And finally, this book volume contains critical essays on every episode of Star Trek: The Next Generation's landmark first season.
Every essay has been expanded and revised, and some have been rewritten from the ground up entirely. And while there may not be as much Kei and Yuri as a select few of you were hoping for, here's some of what else you can look forward to in Vaka Rangi Volume 2:
See what happens when fandom Death Drive finally gets the best of the Original Star Trek.
Discover the truth behind William Shatner's infamous performance of "Rocket Man" at the 1978 Saturn Awards.
Marvel as Margaret Armen hits new lows with "Savage Syndrome".
Find out what the terrible, terrible Star Trek Phase II story "Are Unheard Memories Sweet?" has to do with the Myth of Matriarchy and recent discoveries about the origin of oral myth in the Deep Time of Paleolithic Africa.
Learn the real story behind Dave Gerrold's infamous "Gay People and AIDS" episode, "Blood and Fire".
See if there is actually some redemption to be gleaned from "The Child".
Sexual Horror.
Read a brand-new chapter on the Indiana Jones film franchise and Hollywood's turn to serialization in the early 1980s.
Drive down the cosmic highway in your space truck, and tune your dial and frequency to the beguiling and brilliant Coast to Coast AM.
Trace the evolution of LeVar Burton as a performer and an educator from Roots through Reading Rainbow, and get a glimpse of why I feel Geordi La Forge is Star Trek: The Next Generation's conscience and soul.
Doctor Who.
Listen to the secret story of Tasha Yar, uncover her connection to Aliens and learn how she becomes Star Trek: The Next Generation's soul-fetish and sacrificial lamb.
See how, even in spite of that, Star Trek: The Next Generation's much-maligned first season might actually be one of the very best years in its entire run.
But that's not all!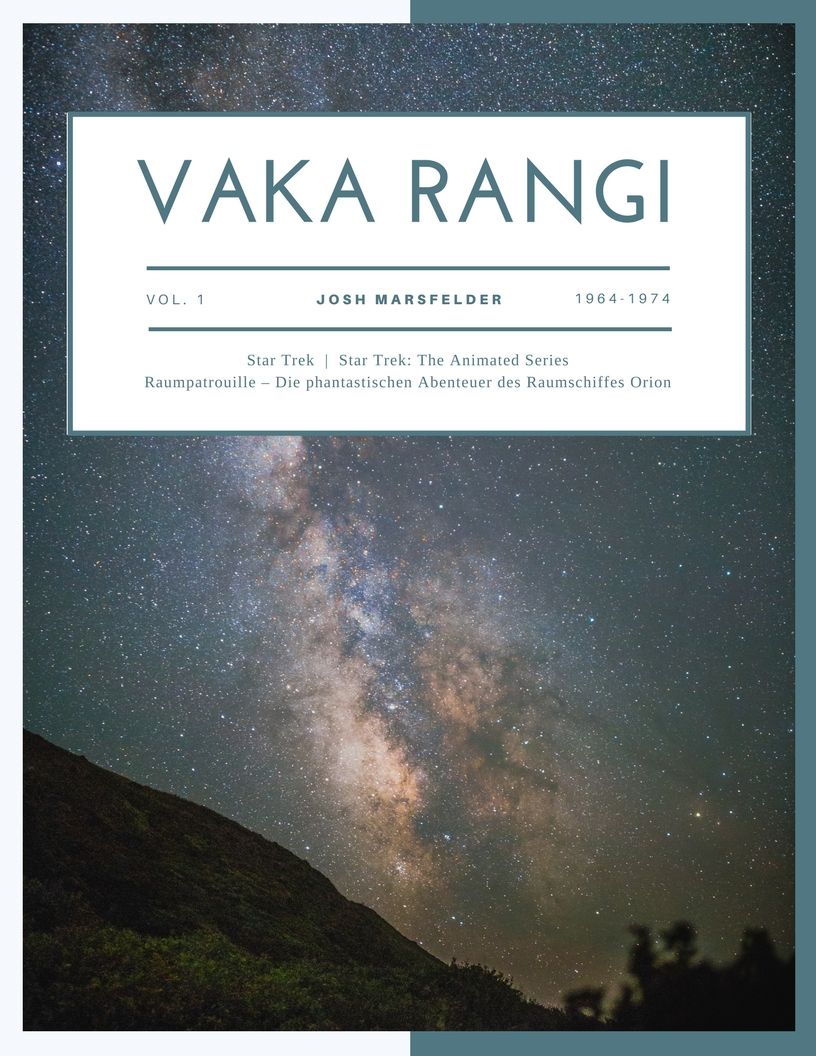 Alongside this new release, I've also published a *revised* version of last year's book, Vaka Rangi Volume 1: Star Trek, Star Trek: The Animated Series and Raumpatrouille – Die phantastischen Abenteuer des Raumschiffs Orion! Although the essays within have not been revised from their previous incarnations as heavily as those in Volume 2 have from theirs, the big draw this time is a much-needed second round of proofing and spellchecking to extirpate some unforgivable (really, unprofessional) typographical errors, especially in the new Raumpatrouille Orion section. I've also changed some wording and added a few more sentences here and there throughout the other essays just where I think I needed to make a point clearer or where my views have shifted even more over the past year. There's also a brand new, much higher-resolution cover image redesigned to fit better with the astrophotography theme this series will probably have going forward, so if you were (understandably) disappointed in the quality of your physical copy, hopefully this new edition will make a much nicer display piece you'll hopefully be more proud to show off. The Vaka Rangi books are designed to be glossy travel magazine-style coffee-table volumes (…partly by necessity due to their unavoidable length), so getting the look right is important to me.
The ebook version has also been reformatted from the ground-up so it now matches the meticulously-crafted formatting in the print edition exactly, changes that have carried through to Volume 2. Both books are, regrettably, Amazon exclusives for the moment. If you're disappointed by that, and you should be, I advise you take it up with Smashwords and Draft2Digital, who rejected almost every single format I submitted to them (including the ones they *specifically asked for*) without telling me why, irreparably screwed up the formatting in the ones they didn't and would not accept the image files required to make the "Trouble with Tribbles" chapter in Volume 1 work (that is, when LyX decided to actually export them in a format other than .pdf in the first place, which was shockingly rare). This will be a problem for Volume 3 as well, so until they get their act together on that front I can't see myself doing business with them in the future, at least as far as Vaka Rangi is concerned. The ebooks are DRM free and any of my ebooks will always be, so if you have a reader that doesn't support Kindle formatting my best advice is to get the Kindle version and use a third-party file converter to get an .epub version, or whatever file format your reader supports. I really, really wish I could be of more help and that there had been another way. If anyone has any advice on this front, I am *more* than willing to listen to it.
Additionally, if you for some pathological reason want even *more* of my writing, I'm once again a contributor to the charity project
Outside In
. Appropriately, this year they're covering
Star Trek: The Next Generation
, and I wrote the chapter on the episode "Emergence". Jack's in it too, doing "Symbiosis", another episode I consider a standout, as well as a bunch of other heavy-hitting Star Trek people like Keith R.A. DeCandido, Paul Simpson and Robert Greenberger. So it's not *just* me.