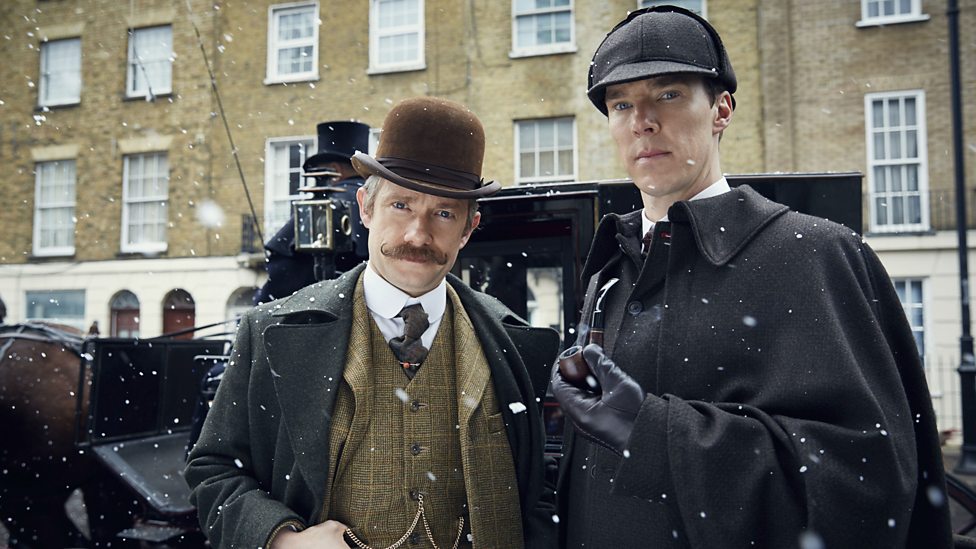 Well that was odd.
I've pointed out numerous times that Moffat's default mode of storytelling is based on suspense over what kind of story he's telling. With The Abominable Bride he substitutes this, with mixed results, for suspense over what the point of telling it is. This was always going to be a factor; you can't pick up from a stunning cliffhanger with a one-off period special and not offer some meta-commentary on why. But it would have been possible to offer the answer "because it's fun" and gotten on with it. And for the most part that's what they do.
And yet the larger show hangs over it from the start, with the decision to do an extended recap of the series instead of just tearing into a big silly Victorian romp. The implication that this is going to advance the overall story of Sherlock is omnipresent. Which is where problems start to come up, because it doesn't really. Which is hardly surprising; Series Four needs its hook. But the result is that a perfectly entertaining period piece about a murderous cult of suffragettes (that's emphatically in favor of them, to be clear) gets bogged down with a bunch of Killing Joke level hero/villain mirroring.
It's tempting to try to make this some sort of frock/gun point, and the iconography is literally there, but it's weirder than that. On the whole, The Abominable Bride's main instinct is to be a silly compendium of all the iconic Sherlock Holmes moments, done as a proper period piece but with the Sherlock cast. And so it goes out of its way to get the Reichenbach Falls and the first meeting in, makes sure to find room for everyone to make a cameo, visibly can't get Laura Pulver's schedule to work, et cetera. Sure, the only way they can justify Reichenbach is by doing the whole silly Inception business and banal mirroring, but the basic instinct is still "whee we're putting Rupert Graves in mutton chops."
Except then it's got the whole addiction theme layered in, which it can't come close to supporting. The focus on Mycroft's heartbroken anguish at his brother's overdose, played with career-best acting by Gatiss, is really a quite serious reframing of Sherlock's narrative. I mean, obviously that's in part the point – we're clearly setting up a "Sherlock is very much living on the edge" plot, as follows necessarily from His Last Vow. And in that regard, the spectre of Nicholas Meyere's The Seven Per-Cent Solution is not accidental.
But quite apart from how much I like that development, and much of that depends on who's writing the opening episode of Series Four, it's an awkward fit with the Victorian costume party. (To say nothing of an awfully sobering one for New Year's Day, though that's actually powerful and compelling.) And the result ends up undermining the whole endeavor, feeling as though they didn't really believe their period piece could stand up on its own.
But if we're being honest, it's a mixed bag on whether it can. Certainly the Reichenbach Falls sequence is a dreadful idea; Cumberbatch and Scott are left with nothing to do but chew scenery, which is obviously a matte painting. But that exposes a larger weakness here which is, uncharacteristically, Benedict Cumberbatch. I'm not particularly of the "ugh he's in everything now" camp, possibly just by virtue of not having bothered to see Star Trek: Into Darkness or The Imitation Game, and am indeed mostly inclined to like him as an actor, but he just plain doesn't quite work here. So much of what makes Cumberbatch's Sherlock work is the way in which he is played as a more mannered figure than everyone around him. When you adjust that so that everyone is having to give a winkingly mannered performance, Cumberbatch ends up having very little room to work, and ends up alternating between caricature and invisibility.
On the other hand, Martin Freeman shines, deploying his character's exaggeration with wit and depth, and his sheer cheek nearly rescues the Reichenbach section. Mark Gatiss is clearly having the time of his life in that fat suit. Louise Brealey is absolutely hilarious, as is Una Stubbs. And Amanda Abbington continues to be the best thing that's ever happened to this show.
But for the most part, the special can't escape the fact that modernizing the stories was a good idea, and the constant hovering of the present-day version doesn't do it any favors. It still works as a fun little special, but in many ways those are the only terms on which it works.
It very much fills the gap between

Last Christmas

and Series 9 in Moffat's writing, with the endless waking up being a fairly straight case of using the same concept two scripts in a row, but the sense of Sherlock as being trapped in his mind palace anticipating

Heaven Sent

. As did the gravedigging.

I really, really do love the secret cult of murderous suffragettes being played straightforwardly as positive figures. That just about justifies the entire endeavor. I especially like how it's combined with a basically out of nowhere "and then Mary solves it" twist, and the line about nurses will go down well with Jill when she gets to see it, except she's off being one tonight.

I wish they'd gone for a better director for this.

Sherlock

's pleasures have always included a sense of lush excess to the visuals, and the Victorian version of it should be even moreso. It's perhaps too obvious to say that you wish you had someone like Rachel Talalay directing, but Mackinnon's approach never moves beyond just being the

Sherlock

cast playing dress-up.

Well, it certainly looks to be a long wait before the next Moffat script. But I imagine we'll be doing something for

Game of Thrones

Season Six and

Class

when the time comes, and there's still a podcast for this coming. Speaking of which, I should go get that scheduled.
Episode Ranking
His Last Vow
A Scandal in Belgravia
The Sign of Four
A Study in Pink
The Empty Hearse
The Great Game
The Hound of Baskerville
The Riechenbach Fall
The Abominable Bride
The Blind Banker