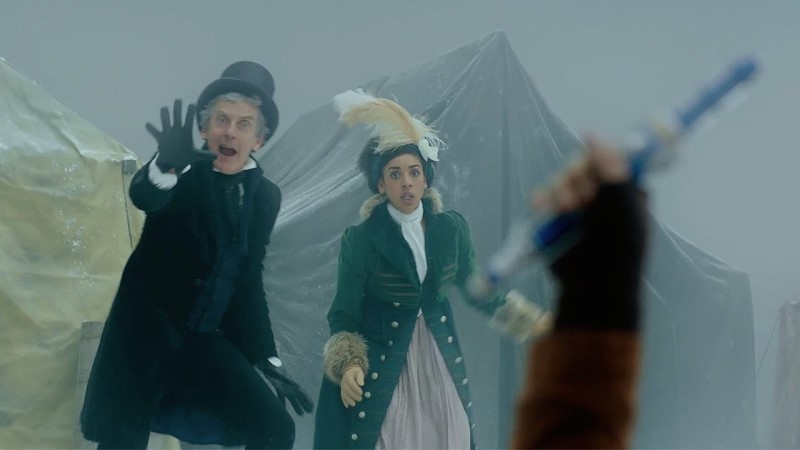 The Doctor and Bill frantically try to warn Chibnall off his staffing decisions.
It's April 29th, 2017. Clean Bandit and Zara Larsson are at number one with "Symphony." Ed Sheeran, Harry Styles, Kendrick Lamar, Shawn Mendes, and Jason Derulo (backed with Nicki Minaj and Ty) also chart. In news, things are fairly sleepy. Work begins in New Orleans to dismantle some Confederate memorials. Anthony Joshua becomes WBA heavyweight champion. It's a slow week. We don't get those very often anymore.
On television, meanwhile, Thin Ice As we've discussed, one of the major features of the Capaldi era, especially compared to the Smith era, is Moffat's development of a stable of writers who can fill out a large portion of every season with solid, compelling results. The core of this are Jamie Mathieson, Peter Harness, and Sarah Dollard, who among them contribute at least three of the non-Moffat scripts in each of Capaldi's seasons, and thus ensuring a minimum of seven episodes every season that were good or better. Add in Gatiss's late career bloom and the reason the Capaldi era is such a golden age becomes clear even before you start thinking about Moffat's own late style renaissance.
Of that core stable, Dollard is the oddity, in that she arrived in Series Nine and only did two episodes. Harness and Mathieson each have twice as many data points from which to draw conclusions about their interests and work. With Dollard, however, we get Face the Raven and this. It's not that this is insufficient. Plenty of other important Doctor Who writers exist with a similar paucity of stories: Ian Briggs, Stephen Wyatt, Philip Martin, Christopher Bailey, Stephen Gallagher, Robert Banks Stewart, Don Houghton, and Donald Cotton all turned in two stories and are clearly writers it's both possible to draw a bead on and worth doing so. Even more exist in the new series, where two story writers are common. But Dollard feels extraordinary even within this company, which, let's note, includes some of the finest writers to grace the series.
One big and obvious reason for this is that she is the first woman to feel like a major writer for televised Doctor Who. Obviously other women have written for the series, including Helen Raynor, Rona Munro, and Jane Baker as ones to have multiple credits. But neither Raynor nor Munro feel era-defining, while Jane Baker is, let's say, not necessarily a positive model. Dollard is joined only by Kate Orman on the short list of women who have felt like era-defining figures in a remotely positive way. And in an era like the late 10s, when one of the most pressing issues facing Doctor Who and SF/F media in general is the need to foreground diverse voices, having Dollard as the first major woman writer of Doctor Who is an important thing to understand.
Let's start with the obvious: if you want to be a major woman writer of Doctor Who, it helps to be Australian. Which is great news for Caitlin. Past that, as we argued last week, the need for diverse voices is aesthetic, there's a moral and political dimension as well. (I mean, there's always a political dimension. That's how the political works.) The lack of diverse voices in popular media exists because of structural discrimination and bias; hiring them tacitly opposes that bias. This is not necessarily strongly political, and can certainly be outweighed by other factors, but it's where the basic gravity lies, a fact that's only amplified by the thunderous crowd of complete fuckheads who treat each and every instance of putting women or minorities in things as a direct assault on their ability to maintain an erection. In an odd way, this becomes a self-fulfilling prophecy, not in terms of their boners specifically, but in that a braying mob of misogynists does serve to make a situation more political than it might otherwise be. When women's stories are under sustained political attack, telling them becomes more political. (And of course, the same is true of the political pressure towards diversity: telling a story that's overwhelmingly dominated by men both in its crafting and its content is more reactionary than it was a decade ago.)
The result of this is that the major female writer of an era is not free to simply write stories unencumbered by the fact of her identity. Harness and Mathieson are in effect genderless writers; The Zygon Invasion/The Zygon Inversion and Flatline are not read in terms of that. But Dollard cannot escape that. Her writing is inexorably linked to a larger rhetoric of social justice. The fact that one of the goals of that rhetoric is to make it so that it's not remarkable to have a woman be one of the major creative figures in an era of Doctor Who in no way eliminates the fact that right now, her work is still read in that light.
With Face the Raven, this ended up amounting to some nice touches like the refugee camp setting, but never became the focus. Thin Ice, on the other hand, is as overtly political as Doctor Who gets. The obvious and eyecatching bit is, of course, when the Doctor decks Sutcliffe following his overt racism towards Bill. This would of course be delightful on its own terms, but its largest impact was a matter of luck. This was filmed in the summer of 2016, before Trump's election, little yet his inauguration, at which noted Nazi Richard Spencer was in the midst of explaining the Pepe pin he was wearing to an interviewer when a black block J20 protester ran up alongside him and punched him in the face. This set off a debate within the left on the precise ethics of punching Nazis—one that would continue, in various forms, between a liberal centrist faction determined to demonstrate that procedural commitments to the form of government could win the day against Trump and a more stridently leftist faction that was perfectly willing to embrace direct action, whether violent or nonviolent, in opposing the extreme right. And so by the time this aired in April the scene had become an intervention in this debate, delightfully putting Doctor Who firmly on the side of Nazi punching.
But the larger political beat of the episode comes elsewhere in the scene, as the Doctor delivers his "that's what defines an age" monologue. The monologue's content is not hugely transgressive or challenging; it sits towards the upper end of Doctor Who's range of liberal political expression, but it is not even a marginal case, little yet an outlier. Still, it shows that the episode is trying, and that its heart is in the right place. It shows that Dollard is willing to own the politics that her work is necessarily associated with. And it's just nice. Contrary to many of my most tedious critics, I do not actually expect Doctor Who to align to my political opinions. There are plenty of Doctor Who stories I love with dodgy politics, and plenty that have right-on leftist politics that leave me cold. But it's nice when a story gets the politics right, and Dollard is clearly trying for that.
Moving on to less obvious aspects of her work, another thing that becomes clear over Face the Raven and Thin Ice is that Dollard is more interested in the process of the Doctor figuring stuff out than really any other writer of the period. In Face the Raven, she focused with unusual intensity on the business of finding the trap street. Here, in a story without huge plot obligations in which her concept gets to dominate the entire forty-five minutes, she takes it further. Thin Ice is one of the most meticulously plotted episodes of Doctor Who of the new series. Dollard devotes a tremendous amount of attention to the question of how the Doctor and Bill figure out what's going on in this world, and more to the point, a tremendous amount of attention to the act of asking questions. This is a procedural examination of a world and the way in which it works and thinks.
There's something very classic series about this. Certainly it's closer than really anything else in the Capaldi era to addressing Jack's complaint that the show isn't about ideas anymore. Both Thin Ice and Face the Raven are set in places, as opposed to genres. I continue not to have a strong preference for one approach over the other, but Dollard single-handedly makes the case that a less genre pastiche version of Doctor Who that's more invested in ideas and processes of thought can work, and work extraordinarily well.
The sense of Dollard as the keeper of past traditions extends to other aspects of the production as well. We've noted previously Capaldi's evolution into an avuncular grandfather figure in this season. Dollard, however, keeps the connection in place to his earlier depictions, bringing Bill into contact with the spiky "you still have to choose" Doctor of Mummy on the Orient Express, and even the remnants of the man who calmly watched Ben Crompton die in Into the Dalek, as the Doctor only ambiguously tries to save Spider as opposed to just the sonic screwdriver. And the scenes that follow that, with Bill confused and upset by the Doctor's sense of morality, are fantastic, giving us our first taste of conflict between the Doctor and Bill, and in turn letting us see some real character development for Bill as she navigates her reactions to this.
But Dollard's take on Capaldi is not simply a Series 8 nostalgia piece. Rather, she's set on the task of exploring how that character and the mad granddad can be the same person. Hence the denouement, in which the argument of Kill the Moon is inverted, with the Doctor reiterating his position of "your moon, womankind, your choice," saying "your people, your planet," and demanding that Bill make the choice as to whether to save or destroy a giant and ambiguously threatening creature. Except this time, instead of angrily framing it as a reason to abandon his companion, he renders it as support, proclaiming that "I serve at the pleasure of the human race," and demanding that Bill give him an "order" (which, c.f. Listen). It's pointedly the same man we've seen, only having grown and learned.
Following Face the Raven, it was possible to believe that Dollard had essentially gotten lucky—that her story was elevated by the huge arc-level stuff that happens in it, and that without it, it would have been a pedestrian effort. This requires quite a strange perspective on Face the Raven, but I can at least imagine how someone would get there. But with Thin Ice it becomes clear that no, Dollard is just really good. Given a story with no real job other than being interesting in its own right, Dollard demonstrates that her baseline Doctor Who is enormously compelling. Face the Raven may be the better story, and the one upon which her reputation primarily rests. But Thin Ice is what makes it clear that she is not a flash in the pan, but a major figure with staying power.
The Capaldi era is as much the story of this new generation of writers. And while there's a lot of things that go wrong with the Chibnall era, his disinterest in further developing this stable instead of embracing a needlessly broad clean slate remains one of the most substantially poor choices, and the one most likely to do genuine long term damage to the show. But even within that cohort, Dollard stands out. Harness and Mathieson are great, but the idea of Doctor Who in 2018 and beyond not involving them is merely disappointing. Dollard, on the other hand, is the writer who, in 2017, most felt like the future, offering a vision of what Doctor Who could be that is at once fresh and rooted in a clear sense of tradition, and that meaningfully represents material social progress. It's traditional, for a writer's last story, to offer some sort of farewell summation. But I refuse to do that here. I refuse to concede the possibility that we don't get more of this. If Face the Raven and Thin Ice are not the bits of the Mofat era that feel the most like what Doctor Who is in 2027, it will be bad news for 2027. Here's to the future.