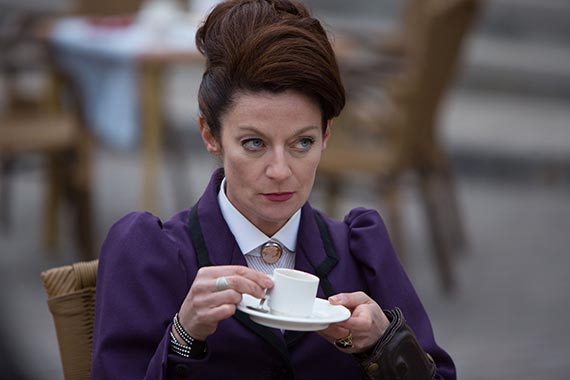 Well, you can see why the promotional campaign was structured like it was. There's really no way to describe The Magician's Apprentice without just calling it a trailer. It's a forty-five minute slab of raw plot designed to set up whatever The Witch's Familiar is going to be, which looks like something involving Davros setting up a trolley problem with Missy and Clara on one track and every Dalek ever on the other.
In one sense, then, it's a pretty faithful imitation of Dark Water. But where Dark Water was a moody eleventh episode think piece that got to pay off a season's worth of character and theme, The Magician's Apprentice has to basically start from scratch. Accordingly, it's built almost entirely out of bombast and spectacle. To say that the episode is stuffed to the gills is an understatement: six Doctors (unless they used a McGann Big Finish bit I missed, which at this point you wouldn't bet against), Missy, UNIT, Davros, every Dalek ever, the Maldovarium, an Ood, the Shadow Proclamation, Karn, and a joke about the different versions of Atlantis.
This is a familiar approach for Moffat at this point, and one he's good at. Sure, those inclined to play "spot the recycled bits" will not be short of options, but there's no inherent reason to focus on the fact that the setup is just The Impossible Astronaut with a hint of Name of the Doctor over the fact that a guy who's made of snakes, hand mines (what the actual fuck), and all the planes stopping are all new and clever ideas. As is the guitar/axe battle, although I think you'd be hard-pressed to say that scene worked. (Still, Peter Capaldi as Doof Warrior is one of those things you don't want to argue with as such.) It's not the best iteration of this particular style of everything and the kitchen sink setup that Moffat's done, but it's not the worst either.
I recognize that my tone here is that of a long lead-up to a paragraph beginning with the word "but," but that's unfair. The "but" I'd build to is simple enough: that this is basically raw spectacle with minimal actual substance. And it's not that this is untrue (although I'm sure Jane will come up with some spectacular stuff); it's just that it's more than faintly ridiculous to ask anything else of a season premiere. Its job is to bring back the state of being where one thinks of every day of the week primarily in terms of its proximity to Saturday. And so this sort of massively high-speed tour through the series' strengths and default tropes works.
But it is, necessarily, more a summary of what the show's strengths are than a demonstration of what it has to offer going forward. And for the most part, those strengths come in the form of the cast. Jenna Coleman, for instance, is at this point reaping the full benefit of being the most richly characterized companion in the history of the series. She's not actually given a heck of a lot to do here – mostly she's just getting to play Clara's standard range opposite Missy instead of the Doctor. But being Coleman, she finds ways to make it fresh. Look at the beat where she tells the Doctor that he has to survive because he has to make it up to her for lying about Missy's survival, for instance. It's not actually particularly new terrain for her, but she sells it as a more learned and developed way of interacting with the Doctor. Even her classroom scene feels practiced and mature, and she makes the most of little details like the comparatively lowered boundaries between her school life and the life where UNIT calls her. (And just look at her joy grabbing her hero coat and going.)
And then when she is given new things to do she absolutely kills. Pairing her with Kate Stewart as a sort of frontline Doctor – the one you call before you bring out the big guns – is very possibly the episode's most inspired decision. I've never been the biggest fan of Kate – I think Jemma Redgrave's performance tends to feel phoned in – but she works in her scenes here better than she ever has, and it's hard to not to suspect that it's Coleman who makes that happen.
Capaldi is also in fine form. Unlike Coleman, he is given a fair amount of new things to do, and he reliably makes them feel new. As I said, the "axe fight" scene was something of a gratuitous excess, but the sense that the Doctor is genuinely at the end of his tether is real; there's something genuinely frightening in his slightly unhinged mania. And his delivery of the line about not having a screwdriver anymore is flatly stunning. But there are also a host of little lines he sells beautifully – his quip about still expecting it to be a trap, in particular, is just a marvelous line reading. The only mild reservation I have is his desperate pleading with Davros to save Clara; I'm not sure Capaldi's Doctor quite works with that kind of intense emotion. But even that's salvaged by the way that he responds to Clara's death – the immediate abandonment of all that desperation in favor of cold fury.
But in many ways it's Missy's world and we just live in it. Michelle Gomez is clearly absolutely reveling in getting to simply be the Master instead of having to be a mystery and, subsequently, having to introduce her take on the character. What's perhaps most remarkable is the fact that, despite only really having two scenes where she's doing Doctorish stuff – the airlock scene and the revelation of Skaro – she completely sells the character as someone who is more or less like the Doctor save for her pathological love of killing people for the sake of it. Like Capaldi, she supplies no shortage of fantastic small decisions – her sudden thickening of the accent for shouting "no, I'm not good" is properly unsettling, as is her sashaying into the stadium as the Doctor introduces her. She steals every scene she's in, and moreover does it in a way that elevates everyone around her instead of diminishing them. I'm not sure the character has worked this well since Roger Delgado. (And her explanation of her friendship with the Doctor as older than human civilization and infinitely more complex is just a great bit of dialogue.)
So there's a great premise to introduce and a cast that seems capable of selling just about anything. In many ways, a more nuanced script would just get in the way. This has no purpose other than to scream "holy shit Doctor Who is back" as loudly as it can possibly be screamed. And while it's not my favorite episode by miles and it would frankly be a disaster of a season if this ended up at the top of my rankings (although I'm sure Doctor Who Magazine will adore it), my ears are ringing.
Julian Bleach is really, properly good as Davros. I thought his ranting lunatic in

The Stolen Earth/Journey's End

was majestic, and when I first heard the rumors of his appearance in this story my thoughts immediately went to "ooh, I hope he and Missy get a crazy-off." But instead we get a dying Davros, and Bleach gives an entirely different and equally compelling performance. (And the kid they got for young Davros was quite good too – I like the detail of him demanding that the Doctor has to help him because he promised. Not begging for his life, not saying he's scared, demanding. This is indeed going to be Davros someday.)

There's a part of me that wishes I were a more sophisticated sort of critic who wasn't reduced to barely articulate squeeing at the sudden appearance of a 1960s-style Dalek. I'm not, though. I'm really, really not.

This is a strong contender for the least relationship that a title has ever had to the actual episode. When it was announced back at Christmas we all assumed it was about Clara's relationship with the Doctor, and it may yet turn out to be, but if so it's a relatively small part of this episode, and neither of the key words actually make an appearance in it.

One of the reliable pleasures of a Moffat script is seeing what basically good ideas he uses as throwaways. Hand mines are a delightful mixture of pun and creepy visual, while Colony Sarff are a generic henchman whose name ends up being the episode's best joke.

May as well remark on the prologues. I thought the Karn one was quite good – Capaldi and Higgins had a fantastic chemistry, and I was glad to see her get a scene in the episode as well. She's worth bringing back further; it's satisfying to see someone besides Clara who can "pull rank" on Capaldi's Doctor, as it were. (River should be good too in this regard.)

"The Doctor's Meditation," on the other hand, largely shared the problems of the "axe fight," in that the central joke just doesn't quite land, or lands over-obviously. At six minutes long it's just sort of flabby and pointless. I suppose two minutes was too short for the cinema audience it was designed for, but it's not hard to see why Karn was the proper prologue.

Oh, and bisexual Clara is apparently canon now. Excellent.

No point in rankings with only one episode, but I'm happy to introduce a new feature, inspired by a similar segment on

Pex Lives

…
Funny Quote From Someone Posting in the #moffat hate Tag on Tumblr
"Literally all Moffat is doing with the doctor is making him face his death again and again and again and again in more and more convoluted plots like I'm so tired of this."