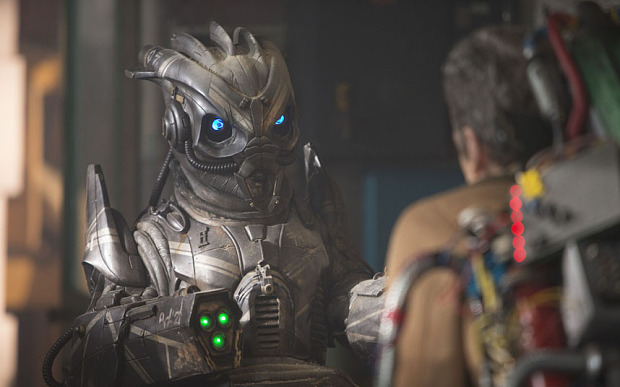 Its gender really is basically attack helicopter
It's September 27th, 2014. Sigma and Paloma Faith are at number one with "Changing," while Professor Green, Script, George Ezra, and Taylor Swift also chart. In news, the United States began intervening in the Syrian Civil War, coming in emphatically on the side of dropping bombs on a country that was already blowing itself up, while Mark Reckless, a Tory MP, times his defection to UKIP to coincide with the start of the Conservative Party's annual conference in a fairly spectacular moment of utter dickishness.
Speaking of utter dickishness, The Caretaker. Actually, let's pause for a moment. Because I should probably stress up front that I've known what I'm going to say in this entry for a while. I've been actively thinking about it since September. I've literally made major life decisions based in part on the timing of this essay. And though events in the last couple of weeks have shifted the approach slightly, it's a matter of degree. All the main points are ones I decided on a while ago. I don't know whether this fact matters, or if it should; nevertheless, it is a fact.
Anyway. The Caretaker is probably the last Doctor Who contribution from my friend Gareth Roberts. I am not so much being sarcastic there as I am layering a preposterous quantity of irony into a single word. I'd say "he was a friend once," but that starts getting into Doctor/Missy territory, and honestly it's just not that cool. But for quite a while, Gareth was vocally supportive of TARDIS Eruditorum, including very generously granting an interview for the Graham Williams book. I got along even better with Clayton Hickman, who for a while I was chatting with often enough that Jill took to calling him my Internet boyfriend. These days, they've both blocked me on Twitter, Clayton back in January, Gareth a couple weeks ago. Clayton blocked me (after calling me a "pompous arse") because I used Gareth as an example in a tweet defending enjoying art made by problematic people; Gareth after I tweeted that I was torn between two jokes I could make in this essay about something he said on Twitter. (I worked them both in, for what it's worth.)
"Problematic people." "Something he said on Twitter." Look at me dancing around the issue. Here. Let's just go ahead and quote the tweets. "I ❤️ how trannies choose names like Munroe, Paris and Chelsea. It's never Julie or Bev is it? It's almost like a clueless gayboy's idea of a glamorous lady. But of course it's definitely not that." Yeah. About the best thing you can say about that is that J.K. Rowling hasn't hit like on it. It's ignorant, spiteful garbage of the highest order. A clueless gayboy? I mean, I'm a lesbian, so yeah, apparently pretty fucking clueless. And this is only the tip of the iceberg in terms of transphobic bilge he regularly tweets these days. Which, to answer Clayton at least, yeah, is a bit of a problem for me.
Those tweets were on September 3rd of last year, right in the white-hot heat of when I was realizing I wanted to transition. In the midst of that, I got a Tumblr ask about the quotes. You can read my answer here, but the long and short of it was that, given that he'd been consistently supportive of my work, in the interests of not being a jerk I was inclined to leave his politics for other people to criticize unless they actively seeped into his writing. Even at the time, I must have realized this was at least partially a lie. TARDIS Eruditorum has always had an autobiographical thread, and the idea that I was going to write about The Caretaker when I got to it without addressing the fact of Roberts's politics was ridiculous. Hell, it was implausible that I wouldn't have felt the need to address them even if I'd been cis, which it was rapidly becoming clear I wasn't. Especially because they go well beyond some transphobic comments. To make a comparison he won't be nearly as bothered by as he should be, he's increasingly the Morrissey of Doctor Who writers. He's a Brexit-supporting, islamophobic reactionary. On top of that, he's a bully, having more than once been involved in aggroing Twitter mobs on trans people. By the time of the tweets quoted above he'd been drifting rightwards for a couple years, in ways that had gotten gradually harder, and eventually impossible to defend.
Even beyond the fact that I knew full well I was probably going to have to address it, though, there was a cowardice to my position. One should call out broken stairs, and one certainly shouldn't let the perks of chumminess with a mild celebrity blind one to those obligations. And that would be one thing if Roberts's descent into bigotry were unknown. But it was being widely commented on. Within fandom, consternation about Roberts's politics was de rigueur, and numerous pop culture news outlets had already picked up on his transphobic comments. And what I said in that Tumblr post was true: nobody is obligated to die on every hill. The fact that there's a political thread to TARDIS Eruditorum was never a promise on my part to chase down every bit of shit politics in Doctor Who; it was just one aspect of a multifaceted approach to the series. And, if I may be so arrogant as to defend myself at a moment when I was, to say the least, dealing with some pretty intense shit, I pointedly didn't speak up for Roberts or vouch for his character; I just declined to join the already deafening chorus of condemnation against someone who had praised my work in spite of what were surely equally vehement political objections. I don't regret that. You can't live your life with the dial turned to eleven all the time. You have to let some things go; friendship and the confusion of a budding transition are both better reasons than most to do so.
I suppose the thing that depresses me the most, then, is that being kind turned out not to be an option. Ultimately, there was no level of "being fine with it" that proved acceptable to Gareth and Clayton short of expressing no objections to it whatsoever. This is, of course, a familiar tactic on the right. It's the same logic that says that Anita Sarkeesian criticizing video games on feminist grounds constitutes an attempt to censor them. It's the logic that lets Kevin Williamson take to the Wall Street Journal and say that he's being silenced because there are places that don't want to hire him given his belief that women who get abortions should be executed. It's the pathetic, thin-skinned lie that says that any pushback whatsoever against them is a restriction of free speech even as they spew far worse at the people they don't like while repeatedly turning a blind eye to actual governmental efforts to censor them. Because when it comes to criticizing bigotry, somehow nothing is ever mild and reasonable enough. Never mind if it's your friends, your family, or, fuck, you that's being laughed at and called slurs. Even planning to make a joke about it or saying you have a problem with it is unacceptable. So much for the tolerant right.
None of this, of course, has anything to do with The Caretaker. It's funny; way back in 2014 I e-mailed him the draft of the Lodger essay and told him to let me know if I'd gotten anything wrong, while cautioning that I couldn't promise to change anything. His reply was gracious, telling me, "Please don't feel cowed into treading softly around any of my stuff that's coming up though! You must preserve the integrity of the Eruditorum," before noting "that sounds like something Davros might say." And I wasn't cowed. I mean, it was easy because I genuinely liked most of his stories, but I gave them what I think was a fair and reasonable look instead of sucking up to someone who is, at least within the niche world we're talking about here, had a significant amount of power and clout. And now, for all my righteous contempt, I have the same problem in reverse. I have to watch The Caretaker and write about what's on the screen even though the man who wrote it called me a confused gayboy two weeks before I came out to my wife.
It's not that I couldn't shred it. It's got some serious issues around race. Coal Hill is portrayed a majority white school, but the three most prominent students to be branded troublemakers are all black. And, of course, there's the running gag of the Doctor refusing to believe that a black man could be anything other than a P.E. teacher, a joke whose ugliness is in no way completely eliminated by the nominal reason being Danny's military service. Nor are its gender politics much better; this is at its heart a story in which Clara is treated as a possession to be fought over by two men. Danny and the Doctor repeatedly display behavior that runs from emotionally manipulative to outright abusive, and though the story avoids praising this, it certainly doesn't bother to hold it up to any serious critique or suggest that Danny or the Doctor are less heroic for it.
But those critiques, though not inaccurate, are ultimately misleading. One of the three troublemakers, after all, is Courtney, who's one of the most delightful characters of the era. And it would be strange to decide to finally prosecute Moffat's debt to romantic comedy in a Gareth Roberts episode. The politics of this episode are dodgy, but it's no Talons of Weng-Chiang, and making too much out of them would flagrantly amount to finding an excuse to shank the episode over Roberts's transphobia. And in the end, that doesn't work. Roberts isn't using Doctor Who as a vehicle for his abhorrent politics; his utter contempt for my basic identity doesn't play into this story, and there's no honest way to attack it on those grounds.
And yet I'd be lying if I said I enjoyed it much on the rewatch. I mean, that could be anger and how much I've been loathing having to write this. But I think the larger problem is the same thing that undermined Time Heist: it's a Matt Smith throwback episode that comes past the point where such a thing is needed. With Time Heist I suggested the problem was coming after Listen, and certainly that's the story that made throwbacks obsolete, but there's a larger problem too. I've generally not been rereading my old reviews of these stories when writing the Eruditorum posts, but I made an exception for this one just to remind myself of how and why I'd liked it way back when. And the thing that struck me was how much I focused the review on the then-mysterious back half of the season, which had a bunch of new writers we'd never heard of and a bunch of stories it was much less clear from the promotions what was going on with. Even at the time, this story seemed to demand to be read as a transition to the half of the series that was actually going to try new things; once you've seen that half of the season watching the show spin its wheels with a Series Five remake is markedly less compelling.
But Time Heist was poorly constructed and imitating the Matt Smith era's worst instincts. The Lodger, on the other hand, worked. And more broadly, Gareth Roberts is a competent writer in a way Steve Thompson just isn't. So this isn't a tedious disaster per se. Rather, it's a more classic sort of failed throwback: a perfectly good effort at something that has run its course and doesn't really work anymore. The Lodger ended up quietly defining Matt Smith's Doctor as he'd be going forward, associating him with a very particular sort of barmy excess. But when Roberts attempts the same sorts of jokes here, they fall blandly flat. "Never lose your temper in the middle of a door sign" is rooted in Smith's performance, albeit with a concession towards the crankiness everyone saddles Capaldi with this season, but like the long brown coat he's wearing all episode it just doesn't look right on him. It's obviously not that Capaldi can't do comedy, but this turns out to be the wrong sort of comedy. As, ironically, is the "the Doctor is a cranky asshole" comedy that is Robetrts's other main stop, which, while obviously existing due to his portrayal of Malcolm Tucker, never quite works with Capaldi's take on the Doctor.
And yet this too isn't really Roberts's fault. He was hired to redo The Lodger with Peter Capaldi, and he's not to blame for the fact that it was a bad idea. Capaldi would eventually nail doing comedy in Doctor Who, but in hindsight it's obvious that he wasn't going to do that by mimicking either his immediate predecessor or his previous big role, and the attempt was always going to be at best a dead end and at worse an active impediment to him figuring out what he actually wanted to do. For a fundamentally misbegotten episode, this is remarkably pleasant and inoffensive, flailing about at the "never quite getting it together" level instead of the "actually going wrong" level. That is, in its way, an accomplishment.
It's something of a TARDIS Eruditorum tradition that when a writer who's been a significant presence in the narrative makes their departure from it they get a bit of a moment and a reflection on their contribution to the series. And here I must grudgingly extend the courtesy to Roberts if I'm to go on. Which was inevitable, really. I mean, I first wrote about him more than seven years ago when I covered The Plotters as a Time Can Be Rewitten essay during the Hartnell era. (And man, for a good time travel back in time and try to explain this essay's existence to 2011 me.) He literally has the longest span between first and last essays in the project, even if his actual Doctor Who career only spanned from the Wilderness Years to the dawn of the Capaldi era. And anyway, that's still twenty-one years, longer than either Robert Holmes or Terry Nation. Of course he gets a summing up.
The thing is, more than almost any other major writer, he comes prepackaged with one. He writes the funny ones. In the Virgin era, he stood out against the grimdark cyberpunk reputation by writing light comedy novels, eventually finding a niche doing Fourth Doctor/Romana II novels. And when he got picked up as a new series writer, he maintained the reputation, getting commissioned by Davies to write a pair of celebrity historical romps and the first draft of "the last time the Tenth Doctor gets to have fun," and then getting hired by Moffat to rewrite the same comic strip three times. But there was always more to Roberts than that, as a look at almost any of his actual contributions would show. He's perfectly capable of sad and scary and exciting and all the other tones Doctor Who is supposed to hit. And yet he's been overwhelmingly typecast as the guy you turn to for a comedy episode. This, more than anything, is what goes wrong with The Caretaker; having Roberts write an early Capaldi episode is a fine idea, but he should have been allowed to actually write one instead of being asked to do a fourth version of the same story.
So what would Roberts be if freed from his pigeonhole? Obviously that's a difficult question to answer given two decades of him being trapped there. But I'd suggest the obvious place to start looking is in the Doctor Who he loves, namely the Graham Williams era. He wrote an essay about it back in 1993 that we've talked about before called "Tom the Second," in which he lays out what it is he loves about the era, and while humor is certainly a part of it, it's not the whole. He also talks about the way in which supporting characters are generally painted with a degree of depth unseen in other eras, with histories and relationships that are not strictly relevant to the sci-fi—and indeed, a look through his work shows a consistent focus on that. And he talks about the way in which the greatest evil is people who have lost the ability to laugh at themselves, which, OK, that's actually kind of weird given what he blocked me for, but sure.
But the most striking moment of the essay comes near the start, in the transition between the first two sections. In the first, Roberts considers several perspectives on the Williams era before concluding that the real truth of things is that "the Doctor Who stories of the late seventies are hugely, magnificently and squarely entertaining." And then, at the start of the second, directly off of that sentence, he notes that "the universe of the Williams era is entirely middle class." This is not issued as unqualified praise; the paragraph that begins that way ends with an "and yet" statement. Nevertheless, it is an astonishing transition. The middle class nature of the Williams era is clearly not a problem to Roberts; he uses an entirely different tone when offering an apologia for the special effects. The "and yet" serves to acknowledge the possibility that middle classness might be a surprising virtue, but Roberts clearly sees it as one.
Certainly it's a trait shared with his own Doctor Who work, from making Shakespeare mostly about J.K. Rowling through to, really, every iteration of The Lodger. Roberts's entire universe is middle class Britain. And that's always been fairly evident about him. Indeed, I suspect it's essentially at the heart of his toxic politics: at the end of the day, he just doesn't care about any part of culture that don't plausibly lead to Blake's 7. And fair play to him, it's true that trans culture, Islam, and the European Union are all basically irrelevant to the creation of Servalan.
The thing is, that's not actually entirely a problem when you're writing Doctor Who. There are myopias very close to it that are—we need only think back to Ian Levine, who is only slightly more blinkered than Roberts in his interests, but in a way that leads him to completely and catastrophically misunderstand essentially everything about Doctor Who. But middle class Britain is actually an interesting and generative topic. Like any topic, things are excluded from it, but it's big and contradictory in the way that interesting things are, full of good parts and bad. And more to the point, it's one that's enormously bound up in what Doctor Who is. Because the truth is that it's always been a pretty middle class concern. It's a show whose initial idea of everypeople for the audience to invest in were schoolteachers, and as Roberts points out, even when it went as far afield from that as alien savages they were middle class. Middle class Britain has always been at the core of the show.
Which is the central irony we can't entirely evade. Roberts's politics are horrifying. He's become a petty, small-minded bully. But he still understands Doctor Who. Including its love of subversiveness (and, less related to the drably straight Caretaker but enormously relevant to this post, queerness), which, as we've pointed out throughout this project, has always been a part of middle class Britain's cultural mix. For all that Courtney is a stereotype, Roberts understands that she's the Doctor's kind of human. The "disruptive influence" exchange is pure delight. More to the point, it's pure delight in a way that depends on Courtney being a stereotype; its impact is specifically because the Doctor instinctively finding kinship with a young black girl who's been labeled a disruptive influence is a great idea that hasn't happened before in the show. That he doesn't understand the screamingly obvious political implications of this fact is both puzzling and distressing, but it doesn't actually make his Doctor Who worse.
On the other hand, it's not as though his episodes lack a conservative streak. The regressive gender politics of The Caretaker are surely inflamed by Moffat's predilection for sitcom romance, but it's not as though the same basic stuff isn't going on in The Lodger and Closing Time between Craig and Sophie. And if we're going to wonder what would happen if Roberts were let off the leash in terms of always writing the funny ones, we can't exactly decline to imagine what would happen if his politics were given free expression within the show. And yet it's hard to say this would be an entirely bad thing. There is, after all, plenty of right-wing art I like and find fascinating. Within Doctor Who, there are clear right-wing streaks to both Terrence Dicks and Robert Holmes, and I have a profound regard for both of them. There's no convincing reason why Roberts couldn't be similar. As a thought experiment, consider a Gareth Roberts penned The Lie of the Land. One can easily imagine a story in which the Monks are a metaphor for "SJW censorship" or something. But it would actually be about something. And in the course of being about something it would be funnier and scarier and more interesting and all around better. It would be worth hating instead of just dull and pointless.
Would that be better? Yes. I mean, I'd still rip into it. But I don't have to like all of Doctor Who. There are shows where my love for them is rooted in a sense of consistent love; where I want one thing from them, and they are valued only inasmuch as they provide it. But that's not Doctor Who. I demand imperfection from it; there need to be bits that infuriate me and bits that I despise. But ultimately, that's not what Roberts ever gave us. Instead he was placed in his "the light funny ones" box and kept there, writing a total of six actual episodes none of which ever had the chance to be more than entertaining romps, and several of which actually managed it. And so all the fascinated fury I might have mustered remains mere imagination.
What follows from this? There's a lot of possibilities. I could imagine some other alternative in which a Gareth Roberts who never got pigeonholed was able to develop a wide and varied career and never became a bitter old Twitter troll in the first place. I could wax poetic about the contributions he did make, and maybe end by quoting myself from way back in The Plotters episode where I talked about how "a man who embodied many of the worst qualities of his times could still help build the character of a man who embodies the best qualities of all of time." I could just decide to move on and talk about Clara and Danny, and how much effort and fuss was expended getting to the seemingly straightforward status quo of "Clara has a boyfriend and the Doctor's not wild about him." (Although that wouldn't be entirely fair; the Moffat-penned scenes of Clara and Danny talking through the revelation that she travels through space and time having adventures are doing and setting up more than just that.) I could do any of those things, and when I was thinking about this essay back in February, I was considering all of them.
But no. I said in September that I don't have to die on every single political hill in Doctor Who. And I really don't. But I don't have to redeem every single failure either. Gareth Roberts unrepentantly spewed toxic and malicious lies about women like me. And he keeps doing it. He's not sorry. He's not even willing to be laughed at for his ignorance and foolishness, which are really the only way to describe calling trans women confused gay men. He's cruel and he's cowardly. And that's all true before you factor in my sense of betrayal or the timing of his tweets with regard to my life. That doesn't get to have a redemptive reading. Honestly, I kind of wish it didn't get to have any reading at all. I wish I didn't have to deal with it. I wish I hadn't had to write this. So if there's something I'm to say before he departs our tale, it would simply be this: go fuck yourself, Gareth.