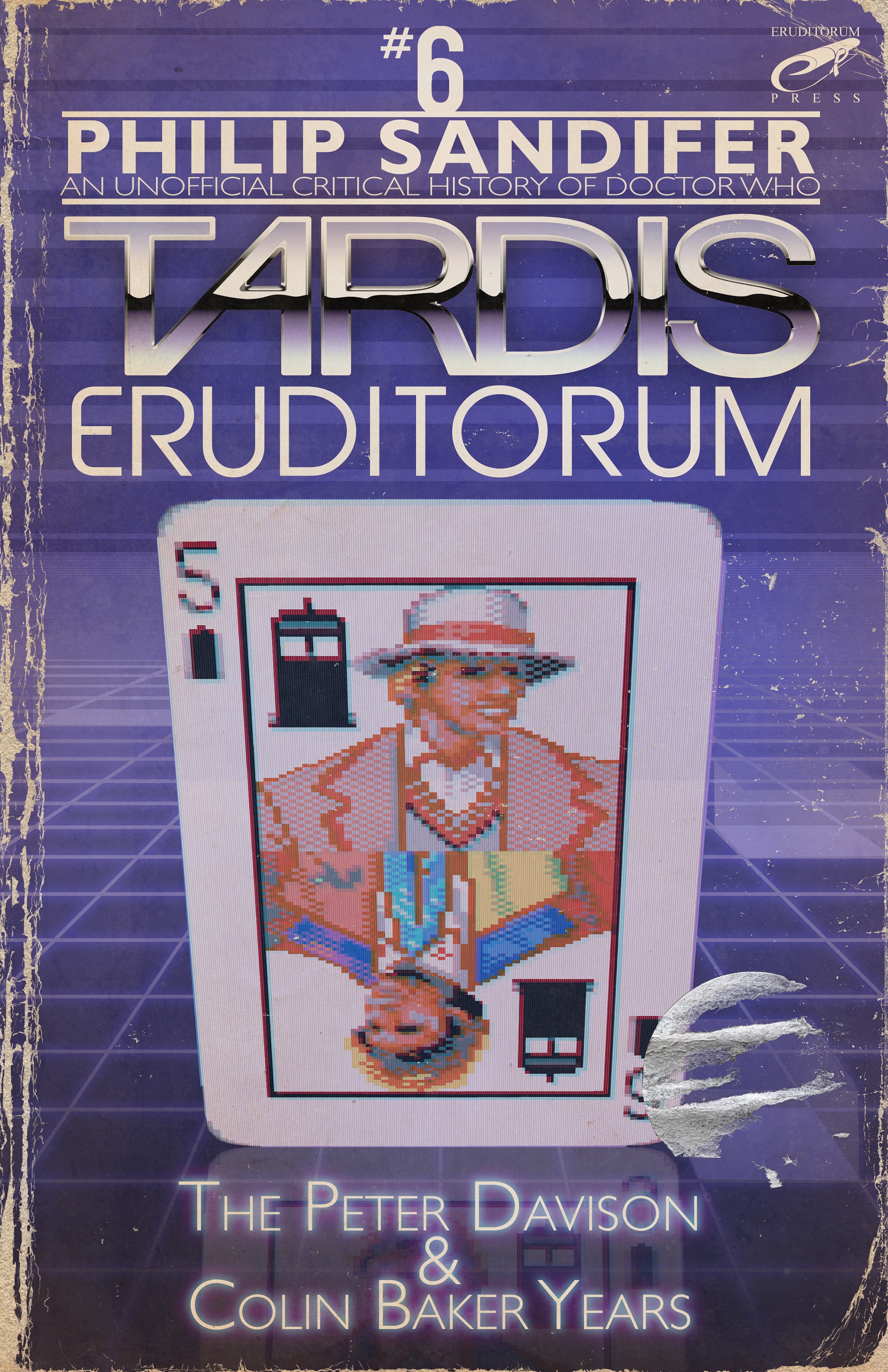 Eruditorum Press is pleased to announce the release of TARDIS Eruditorum Volume 6: The Peter Davison and Colin Baker Years.
You can get it in the following editions at these links:
US Print ($17.99)
US Kindle ($4.99)
UK Print (£13.99)
UK Kindle (£3.99)
Other eReaders/Smashwords ($4.99)
Here's what this one's got:
Revised editions of every TARDIS Eruditorum post from the Peter Davison and Colin Baker eras.
A book-exclusive Pop Between Realities, Home in Time for Tea essay on the musical Time, an oft overlooked influence on Trial of a Time Lord, and the expansion of another one to include Box of Delights and Robin of Sherwood.
New essays in praise of Tegan, addressing the stuff left out of my Enlightenment essay, exactly and precisely whose fault the cancellation was, and a completely rewritten essay on "A Fix With Sontarans." 
New Time Can Be Rewritten essays on Burning Heart, Dave Stone's Doctor Who/quasi-Judge Dredd mashup, Peri and the Piscon Paradox, Nev Fountain's two-Doctor timey wimey fish farce, and The Holy Terror, Rob Shearman's first-ever Doctor Who story.
A pair of Now My Doctor essays looking at the Fifth and Sixth Doctor eras as wholes.
And last but most certainly not least, a massive nearly forty page long interview with Rob Shearman about his work with Colin Baker at Big Finish and his genuine love for the Eric Saward era.
Thanks to our very own Jane Campbell for copyediting and transcribing the Shearman interview, and of course to the inimitable James Taylor, whose vintage covers are frankly better than the books; the back cover on this one features screenshots from a non-existent Doctor Who video game. He talks about his design process here, and it's fascinating.
But most of all and as always, thank you. Your generosity supporting this site and buying these books is humbling and an honor. And thanks especially to those who spread the word, who recommend the books to friends, who leave reviews on Amazon, and without whom this entire mad scheme wouldn't work. Thank you for your support, I hope you enjoy this one, and I'm pleased to say it's not going to be our final release of 2015 either.