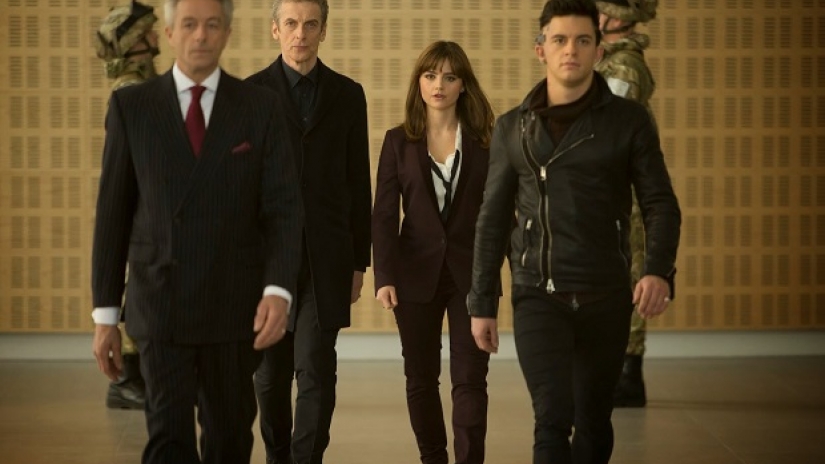 "So despite the fact that the best known heist movie is called Ocean's Eleven and you're the twelfth Doctor, they called it Time Heist."
"I don't want to talk about it. Keep slow walking."
It's September 20th, 2014. Calvin Harris and John Newman are at number one with "Blame," with Ten Walls , Chris Brown, and Taylor Swift also charting. Since Listen bowed, the main news is that after a dramatic last minute intervention in which David Cameron, Nick Clegg, and Ed Miliband issued a joint statement called "The Vow" promising further devolution, Scotland voted to remain part of the United Kingdom, to the massive relief of Cameron, who probably would have had to resign or something if he'd called a big showy referendum like that and then lost it. Microsoft paid two billion dollars to purchase the company that created Minecraft, while a man with a knife jumped the fence at the White House and made it to the East Room before being subdued, which is rather further than you're supposed to get doing that.
While on television, the Doctor robs a whole bank in Series Eight's weakest episode. There are two big things sabotaging Time Heist. The first is simply that it comes after Listen. For the most part the question of whether the ultra-cautious approach that characterizes the first half of the season was a good idea is fairly uninteresting; by and large this approach worked, and there's no real way to know what a different approach would have looked like. But after Listen it clearly became unnecessary, and moving from the confident triumph Listen to another "safe pair of hands" script that's running on old standards doesn't feel cautious, it feels timid. This, of course, was unavoidable. In the planning stages, there was no way to know when the turning point for Capaldi's Doctor would be and thus how many episodes of bedding in he was going to need. So there was always the risk of staying cautious for too long.
The other problem is that Time Heist is crap, and this was entirely avoidable. Stephen Thompson has never been a particularly compelling safe pair of hands; neither Curse of the Black Spot nor Journey to the Centre of the TARDIS were particularly good, and indeed a pretty strong case can be made that they were bad. And despite Moffat apparently performing rewrites, this does nothing to surpass those expectations. Indeed, it sails noticeably below them. Thompson's previous two efforts were weak but at least suggestive of interesting possibilities. Whenever Time Heist comes to a moment in which it should signify something, however, it draws a curious and frustrating blank.
The problems start with the supporting cast. Psi and Saibra have essentially no traits other than their plot functions. They're one dimensional characters, stretching from the one thing they can do in the heist to the one thing they want, with no further depth whatsoever. Psi is a hacker who wants his memories back. Saibra is a shapechanger who wants to not be a shapechanger. There's nothing else there. Worse, these traits are simply told to the audience in dialogue, as though Thompson literally just copied the one-line character descriptions from his pitch into the script and called it characterization. On top of this, the traits don't even make a ton of sense. Saibra's explanation for wanting to be cured of her abilities, "could you trust someone who looked back at you out of your own eyes," is just intense dialogue trying desperately to cover the fact that it's not actually saying anything.
An even more frustrating blank comes around Clara, who is reduced to being an empty peril monkey in a way she basically never is anywhere else in the Capaldi era. Her only contribution to the plot is getting threatened by the Teller. And there's no real reason to it. When it scans her, we cut to some weird stuttering close-ups of her, but it's not clear what these are meant to represent. We're told the Teller is locking in on her guilt, but the story gives no sense of why she has more of it than anyone else on the heist, or what she's guilty about. (And how on earth does the Doctor, with his millennia of sorrows, not have more guilt? If Psi can aggro the Teller by looking at some pictures of bank robbers, the Butcher of Skull Moon ought to be pulling him from across the bank.) Again, it's just an empty cipher of storytelling that's declaring dramatic stakes it's not even trying to earn.
I could continue. There is, after all, a bewildering lack of sane construction here. The fake-out where Delphox turns out to be a clone of Madame Karabraxos does not seem to have any purpose other than having Keeley Hawes playing a different character for most of the story than the one the actual drama hinges on. There's no reason why Delphox needs to be a different character from the bank director, and if she weren't then we'd actually be invested in the character enough to care about her face turn at the end. Instead we get one of the most bewildering wastes of a great guest actor in series history. And there's tons of little idiocies like this. A great fuss is made about the fact that the Doctor has hated the architect from the beginning, and yet the first declaration that he does is around halfway through the episode. The solar storm upon which the heist hinges isn't brought up until the 2/3 mark. And, perhaps most bewilderingly, the resultant declaration that this is a time travel heist is treated as a major revelation despite it literally being the title, which, at 28:30, actually manages to beat all of Terry Nation's "oh no there are Daleks in a story with Daleks in the title" cliffhangers for time-wasting. This is just a lazily cobbled together bunch of set pieces and reveals with no interest in the structure of setup and payoff. Indeed, it falters even as a heist, failing to have any of the baroque complexity or brisk competence porn that constitute the genre's main pleasures.
Worsening the problem is Douglas Mackinnon. We've previously engaged in a lot of damning with faint praise with him, suggesting that he's an unremarkable and workmanlike director. But here he's just plain bad. His attempt to reuse the same corridor set as multiple locations by throwing different lighting gels on it and cutting among them is one of the most pathetic uses of corridors in the entire series, which is frankly a breathtaking bar to trip over. And that's just the most blatant example in what is generally a shockingly dull bank. There's the pointless top-down shot while they're fussing over the dimensional shift bomb, which actively encourages the script's tendency to disengage from the characters. There's the slow walk set piece in which the main character is pushed into the background and the primary focus is on the old white guy Saibra shapshifted into. The script is lifeless enough on its own, but Mackinnon seems determined to throw a wet blanket on it any time it even considers sparking.
What makes all of this emptiness infuriating, though, is the overwhelming sense that it shouldn't have to be this way. Not just in the sense that after Listen we should have moved straight into the interesting half of the season, but in the sense that "heist movie" is a great genre for Doctor Who to invade. As we noted with Robot of Sherwood, the Doctor fits nicely into the grand tradition of heroic criminals. The heist movie—a genre that's defined by such heroes—is thus obviously long on possibilities; robbing it is literally the only thing it makes sense for the Doctor to do with a bank. And given the inherent clever ostentation of a heist, Moffat's idea of a time traveling heist (which he then handed off to Thompson) is self-evident gold.
Beyond that, though, this is just a really good idea. In 2014, banks are just a really good thing to put the Doctor up against. Inasmuch as Doctor Who is a history of Britain's cultural concerns, an evil bank was just something that had to be done around now. Even aside from my obvious political investment in the idea, the increasing mainstreaming of anticapitalism meant that a story like this was an inevitability in the same way that evil corporations were in the 1980s and conformist squares were in the 1960s. A story about robbing a bank owned by the richest person in the galaxy to undo the brutal exploitation of an alien should burn with the furious brilliance of Planet of the Ood or The Happiness Patrol or The Sunmakers; it should be an impossible idea to screw up. And yet we get a story that can't be bothered to actually be about anything.
There's a pleasantly devastating phrase that I think Jack originated—visual Big Finish—that applies to stories like this. And it's easy to imagine Big Finish making many of the storytelling decisions here. Psi and Saibra, in particular, are crap in almost the exact way Big Finish usually is. But for the most part, this is the rare story that probably would have been improved if it had come out of Big Finish. They can at least be bothered to do a basic Chekov's Gun setup, and they are mercifully minimalist in their use of lighting gels. And more to the point, as a Big Finish release it could have just been politely forgotten in the way that Fiesta of the Damned, Moonflesh, and City of Spires are.
It's not, obviously, that this is the first completely uninspired and pointless episode of Doctor Who ever made, nor is it the last. But generally there's a reason for insipid phone-in jobs—they generally come as an era is running out of steam and the people making the show lack the energy to do anything other than the obvious. When they come at the beginning of an era, it's generally a sign of an era that's going to have an ongoing quality control problem. But at first glance neither of those apply here. There are a handful of exceptions—Revenge of the Cybermen is probably the most obvious. But usually when the show completely gives up on even trying early on it's a sign of trouble to come. Except, obviously, this isn't.
No, what we have here is a subtly different kind of bomb—the holdover from a previous era. Like The Highlanders or Time and the Rani, this is basically a script that belongs with the previous era. And more to the point, like both of those stories it's a script that specifically embodies the tendencies that the new era is looking to move beyond. It's ironic that Moffat has a co-writing credit here, because it fits seamlessly with his tendency in the late Matt Smith era to not really pay attention to most of the episodes that don't have his name on them. More than anything else in Series 8, this feels like a reskinned Matt Smith episode. Indeed, the bank heist is probably more suited to Smith, who would look entertainingly out of place in one, than Capaldi, who is too cool and composed at baseline to make it feel like a particularly Doctor Who-ish heist. In two episodes time, Moffat will start uncovering the pool of writers that will actually define the Capaldi era. But this is not only basically a Smith episode with the Doctor rewritten to be crankier, it's a crap Smith episode.
Does anything justify this exercise? I suppose there needed to be an episode of Clara and Danny dating to establish a baseline for The Caretaker. The Teller is one of the best alien designs of the new series. "Robbing a whole bank" is a decent laugh of a line. But for the most part, this is an episode that defies the idea that missing episodes are a bad thing; if this vanished from the archives, at least people would have something to wonder about.