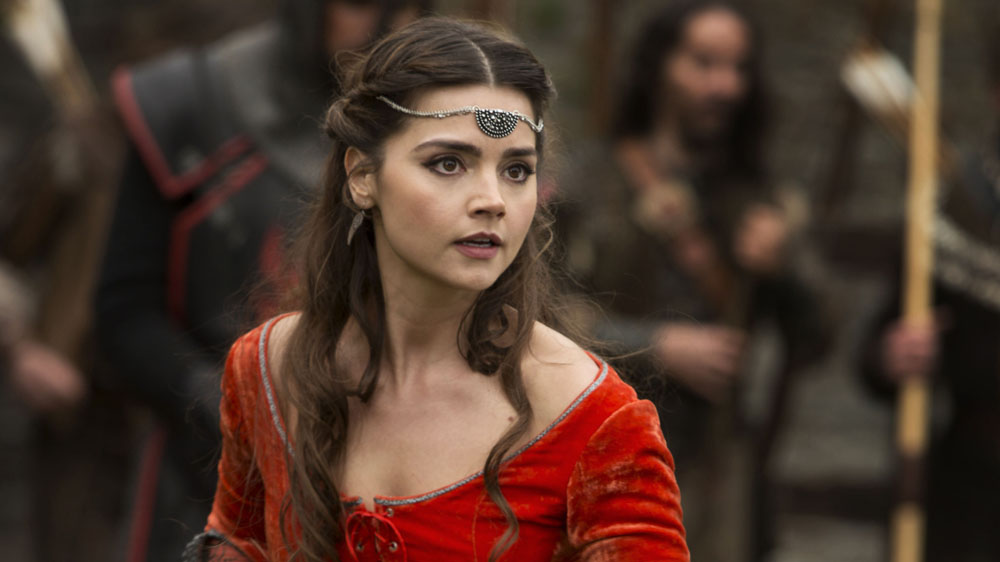 As absurd conceits in Doctor Who go, the fact that Clara can spontaneously grow several feet of hair ranks among my favorites.
It's September 6th, 2014. Lilly Wood and Robin Schulz are at number one with "Prayer in C," with Maroon 5, Sam Smith, and Taylor Swift also charting. In news, a poll showing majority support for Scottish independence sends just about everybody into one sort of frenzy or another. And a massive cache of nude photos hacked from celebrities' iCloud accounts, most notably and vocally including Jennifer Lawrence, hits the Internet. (Lawrence eventually offers the entirely sensible response that "anybody who looked at those pictures, you're perpetuating a sexual offense. You should cower with shame.")
While on television, the inauguration of what we might call late Gatiss. This is not a term or concept we think about as much as late Moffat. Part of this is simply a matter of volume—pinning Robot of Sherwood as the commencement of Gatiss's late style is, in terms of episode count, equivalent to declaring that Moffat hit late style with The Eleventh Hour. But more of it is simply a general disinclination to treat Gatiss with the sort of seriousness that the phrase "late style" implies. The usual line on Gatiss is that he's an empty trad nostalgist, an approach that implicitly rejects the idea that one's style could evolve.
And yet starting with Series Seven, Gatiss clearly began improving. Cold War and The Crimson Horror were among the best scripts in an admittedly uneven season, with The Crimson Horror in particular demonstrating a newfound interest in form. And that broadly continues through his Capaldi-era contributions, none of which are quite as straightforward as unreconstructed nostalgia pastiches, and two of which are at least pretty good. They are still clearly Gatissy in the same way that Moffat's late work remains Moffaty, but there's been a concrete shift in their concerns and goals. What previously seemed like a pathological aversion to originality has mellowed to an embrace of simplicity and clarity. Traditionalism has softened to classicism; nostalgia has evolved to homage.
On one level, for instance, Robot of Sherwood is nothing more than a straightforward celebrity historical of the sort Gatiss already did in The Unquiet Dead and Victory of the Daleks. Except, of course, as the Doctor points out, Robin Hood isn't real. Admittedly, the same can be said of Victory of the Daleks' depiction of Winston Churchill, but that wasn't a major plot point. Here, on the other hand, the question of Robin Hood's fictionality is one of the driving engines of the story. This doesn't result in something that is radically different from a celebrity historical—all of them are basically just genre romps with prominent guest stars. But to a degree unmatched by anything save The Unicorn and the Wasp (which notably takes the piss out of The Unquiet Dead), this is a story that's actually open about this fact. This is a story that is not so much open about the fact that it's storming through all the major set pieces of a Robin Hood story as it is reveling in it, repeatedly lampshading it for the audience. It may assert that Robin Hood is real, but it does so within a story that is going to be difficult for Tat Wood to escape the "Things That Don't Make Sense" of without simply concluding that the Doctor has ended up in the Land of Fiction again and failed to notice.
It's still a Gatiss story, and so nothing follows from that per se. The entire issue ultimately collapses into a lame joke where Robin tells the Doctor "I'm just as real as you are." But there's still forty-four minutes of clever metatextual play leading up to the shaggy dog, which is forty-four more than you'd expect from the writing credit. Is this damning with faint praise? You could certainly argue that, but I'd argue that the entire framework only emerges out of fan culture's obsessive disdain for Gatiss. And while I'm certainly not going to argue that disdain is unearned, not least because I've done my fair share of contributing to it, it's still, in this case, blatantly unhelpful, forcing us to focus our attention on the bits of the story that let it down. And yes, the ending isn't the only one—the Robin/Doctor prison bits go on too long, and the spoon swordfight is a weak opening set piece. (Though anyone who thinks the "shoot the golden arrow at the spaceship" finish is crap lacks taste and discernment. The fact that the spaceship has a bullseye on the side that they have to hit tips it into genius, and I'll fight anyone who disagrees.) Tbese are still all the sorts of problems we routinely let other writers skate on.
No, let's ask instead what this story does well. And the first and most obvious thing is Clara. Despite it being his third attempt, this is in a sense the first time Gatiss has actually gotten to write Clara. Cold War and The Crimson Horror were both shot pre-Snowmen along with Hide, part of the block where they were still rapidly assembling the concept of Clara's character. In both, Gatiss writes a generic companion who occasionally does things backwards, as with the actually staying put when the Doctor says gag in Cold War. It's fine, and Coleman does well with it, but it's clearly written in advance of real knowledge of her character, a blank slate for Coleman to play with. But here he gets the fully realized version of the character—indeed he's the first person Moffat has trusted to write for her solo since he began revamping her away from the objectification of the Impossible Girl arc and towards her genuine co-star status with Capaldi.
And he absolutely nails the character. The obvious thing that has to be highlighted is her interrogation of the Sheriff of Nottingham. This follows from her interrogation of the Half-Faced Man in Deep Breath, and is written to show her evolution towards full co-Doctor status; note her confidence and composure compared to her previous near-breakdown. More to the point, however, it is a uniquely Clara way of approaching the problem. The Doctor could have gotten this information; indeed he ultimately obtains it all independently. But he wouldn't have gotten it this way, bluffing his way past the Sheriff's vanity by simply anticipating the most cliched parts of his story. He would have lied and manipulated, yes, but not these lies and these manipulations, and not so brazenly. (Coleman makes the sublimely clever choice of, for all that two seasons repeatedly emphasize that Clara is a good liar, generally portraying her as a completely shit one so that the audience can invest affect into the act every time she does it.)
But the rest of the script, even if it doesn't use her as brilliantly, also clearly gets Clara and what she's supposed to do in the narrative. The gag of her being viewed as the leader of the group is obvious, but it's also completely right for Clara's particular iteration of the companion role; it wouldn't have worked for any other new series companion except perhaps Donna. And Gatiss makes the deft choice of having her consistently recognize that the Doctor is being an idiot in his suspicions, thus putting her consistently just ahead of him in figuring things out—again a choice that's uniquely suited to Clara's specific relationship with him. Without this understanding of Clara, this episode would grate and feel like yet another swath of generic Doctor over which Capaldi gets to try things—playing the Doctor as a comic figure, in this case. With it, the episode serves as a coherent midpoint between Into the Dalek and Listen—a relatively seamless break in the stretch of six oddly conservative Moffat-credited scripts that Capaldi makes his debut with.
There's also a feeling of zest to the overall pacing and structure of the episode. Gatiss repeatedly uses a clever trick of simply skipping a major plot beat without leaving a gap; we neither see Robin and the Doctor escape their jail cell nor actually getting the shackles off. Instead we see this as their immediate next goal at the end of one scene, and then just pick up with it completed at the start of the next. This lets Gatiss insert a couple scenes over which the Doctor and Robin's relationship thaws without having to waste screen time with them fiddling with chains and escaping from things. Gatiss know his set pieces here, and they're linked efficiently so as to give all of them space to shine.
We're still, however, bouncing along the line of what makes this story work, as opposed to discovering anything special or interesting about it. And this is, in a sense, the problem that plagues Gatiss through to the apparent end of his Doctor Who career. He is ultimately only able to get his stories to document his interests, which are diverse but rarely particularly deep. And on one level Robot of Sherwood fits with this; it's not really about anything more than how much Gatiss likes Robin Hood stories. But in this instance, at least, the idea is actually pretty strong. Having the Doctor meet a fictional character within the structure of a celebrity historical is at baseline clever. But Robin Hood is a particularly good choice of characters to use. The easiest way to understand this is probably via a negative comparison to the option that was more often talked about, a crossover with Sherlock. And of course, the Doctor meeting Sherlock Holmes was done back in the Virgin era with the not awful All-Consuming Fire. There are a lot of reasons why this is an appealing choice, but picking Sherlock Holmes as the fictional foil to the Doctor ends up highlighting the ways in which the Doctor is a clever and patrician figure. Which exist, but aren't necessarily the points it works best to highlight.
Robin Hood, on the other hand, is not actually a hero very much like the Doctor. He's a fighting hero defined by physical prowess indeed, part of the reason the spoon fight at the start doesn't quite work is that it just doesn't feel right for the Doctor to best Robin in a sword fight at all, little yet while armed with a spoon. That's one of the most basic axes on which the two characters are profoundly different. But for all that there's a stark and basic difference, there's a deeper similarity in their attitudes and motivations. As Robin points out at the end, they are both aristocrats who have opted/been forced to walk away from their privilege and who now lives among and fights for the oppressed and downtrodden. Not only does this anticipate one of Moffat's major thematic concerns over Series Eight and Nine, it's also just very hood, Picking Robin Hood as the point of comparison for the Doctor is a claim about what sort of hero the Doctor is, positioning them within what Alan Moore describes as the British "tradition of making heroes out of criminals or people who in other centuries might have been regarded as terrorists." Indeed, in this regard it's significant that the montage of Robin Hood depictions includes Patrick Troughton to solidify the connection.
Obviously I like this. But I like it because it's true; that is the cultural tradition that Doctor Who fits into. This blog has always been about Doctor Who as a specifically British story, and that tradition is why it is. From the start my argument has been that Doctor Who is one of the ways Britain mediates its relationship with the weird, the marginal, and the avant garde, and its perpetual flirtation with heroic terrorism is in part a tool for exactly that. And this isn't some reading into Gatiss's script. The repeated Marxism jokes aren't just a doomed policy of appeasement towards Jack Graham. They're clearly the actual point of the exercise—a clear claim, albeit more aesthetic than ideological, about what sort of show this is and what it does.
Late style at once clarifies and complexifies, revealing what parts of an artist's style are indispensible even as it interrogates and discovers new ambivalences about them. Gatiss's late work does not redeem his Doctor Who career, if you are someone who thinks that necessary. And as we'll see when he next comes up, it is not even consistently good. But the ways in which Robot of Sherwood is actually interesting to look at and think about will persist. But the primary importance of late Gatiss remains clarity. Whatever else we might say about him, it turns out that he really does get Doctor Who.