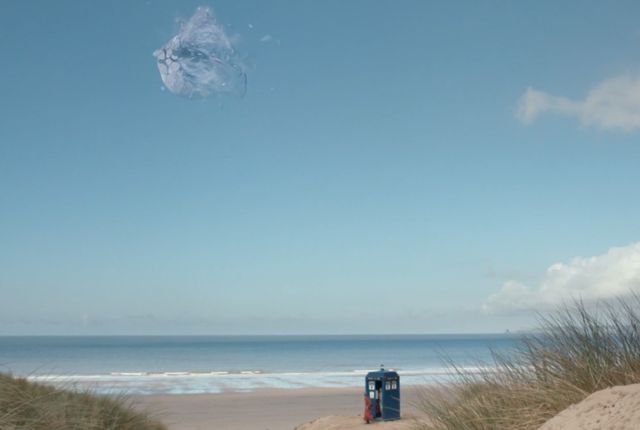 You can't make an omelet without killing a few moons.
It's October 4th, 2014. Jessie J, Arianna Grande, and Nicki Minaj are at number one with "Bang Bang." Iggy Azalea, Calvin Harris, Lilly Wood also chart. In news, protests in Hong Kong rapidly amp up as tens of thousands of people take to the streets in opposition to the proposed "electoral reforms" that would dramatically increase the Chinese Communist Party's control over Hong Kong. And the US has its first domestically diagnosed Ebola case in Dallas.
While on television, magic. I can still vividly remember the first time I watched Kill the Moon. There's a rare experience occasionally generated by art, best described as a high or altered state. It comes on as a buzzing thrum, a torrent of associations and realizations and vibrant, ecstatic sense of things coming together. This does not always correspond with greatness; one need only look to my moment of vivid and absolute certainty that Journey to the Center of the TARDIS was about to become an origin story for the Silence. But when it does come together and the work of art actually manages to pay off that thrilling crescendo of possibility the result is one of the most flatly extraordinary experiences in the world. The last time it happened to me with a new episode of Doctor Who was The Big Bang, and, well, here we are a million or so words into the consequences of that. So when Kill the Moon repeated the feat it was kind of a big deal, and I took off to the blog to write a review about it in which I proclaimed it "the single best episode of Doctor Who ever."
What I did not realize at the time was that this would not, in fact, be a particularly widely held view. Instead Kill the Moon became, charitably, a divisive episode, and less charitably an outright hated one. It was narrowly beaten to the coveted Kinda slot in the 2014 Doctor Who Magazine poll, and was listed in a Guardian article on the Moffat era as a clunker on par with Fear Her and Planet of the Dead. And so boldly declaring it to be an absolute triumph became something of a signature position for me. Regardless of whether it's the hill I wanted to die on, fate seems to have selected it as the one I did. If there's one story that defines where TARDIS Eruditorum's taste departs from mainstream taste, this is apparently the one.
Let's rehearse the basic argument one more time. Kill the Moon announces what it's going to do in the cold open; a direct address to camera from Clara, who peers Troughton-like through a set of scan-lines. She speaks in the first person plural: "we have a terrible decision to make." "We're on our own." And the kicker, the line that seals the deal in terms of what this episode of television is doing, "we have forty-five minutes to decide." Whatever follows from this, the audience is implicated; it's our moon.
There's a phrase that probably only feels like it appears a dozen times in About Time, in which Miles and/or Wood identify a story as the last time Doctor Who was an event. I doubt they'll say that about Kill the Moon. And fair enough; it wasn't an event in the sense that Day of the Doctor or Doomsday were. But there's a model of television that's been in place since An Unearthly Child as a medium based on transmission, which is an event in the sense of a thing that takes place in a defined moment of time. It's implicit in the very structure of this blog, with the ritualistic temporal scene-setting. This model, however, is in terminal decline as television switches more to streaming-centered medium in which things are not so much transmitted as released. And Kill the Moon is, in fact, the last time that Doctor Who was consciously bound to that model. Kill the Moon was a thing that happened to just shy of five million people on a cool October evening.
This is what I referred to as magic. We are asked to make a decision: whether to kill the moon. Being Doctor Who fans, there is only one decision we can plausibly make within the show, and our affect is incorporated into the story, providing the moral impetus for denying the decision made by Clara's diegetic decision. (And, I mean, it's hard to imagine any Doctor Who fans getting up and shutting off their lights.) The consequences of this, we are told, is the reclamation of a lost utopian vision of humanity's future. It's preposterously up my alley—essentially tailor-made to my tastes and obsessions. You've got metafiction rooted in the physicality of media, lunar imagery, a near-future setting that means a lot of the audience will live to see (it would have been the equivalent of setting a Season Seventeen story in 2014), questions of the mutability of history, and abandoned utopias. I could spin two thousand words out about any of those, and have.
Those with other aesthetics have other views, of course. But I confess that in this case I find a lot of the criticism of this episode lamer than usual. The biggest objection—highlighted in the aforementioned Guardian article—is to the reveal that the moon is an egg, and more generously to the story's somewhat idiosyncratic notion of science. And yes, one does imagine the Things That Don't Make Sense section of About Time is going to be on the long side for this one. But on the whole, it's difficult to overstate how little respect I have for this line of thought. It's Doctor Who, for god's sake. This is a show whose first attempt at explaining why the TARDIS is bigger on the inside was literally "it's like television." One of its iconic and most beloved episodes suggests that time travel is possible by pushing an image out of a mirror with static electricity. And any notion of the scientific that treats "the moon's an egg" and "reverse the polarity of the neutron flow" as significantly different is based purely on a preference for sciency-sounding words instead of on actual, you know, science. It's not that Doctor Who always exists in this register of science fantasy, but it's clearly always been a register it can work in, and Kill the Moon clearly and repeatedly announces itself as the sort of episode that does this, with a number of scientifically bizarre plot beats leading up to the big reveal.
But the moon being an egg is more than just not in any way a violation of Doctor Who's narrative rules; it's fucking brilliant. It's a completely batshit premise that only Doctor Who could ever do. One of the most elemental pleasures the show exists to offer is watching one kind of story suddenly become another. And the moon being an egg is a whopper—a single line that instantly transforms the episode from post-Hinchcliffe spider horror into a morality play in which three women stand around a nuclear bomb urgently debating whether to blow up the moon. It's bombastic and weird and fantastic, and one of the few times the new series offers up something on par with The Web Planet or The Claws of Axos or Delta and the Bannermen for sheer "what the fuck am I even watching" chutzpah. Look at the sheer delight on Peter Capaldi's face as he delivers the line (or, for that matter, Jenna Coleman's pitch perfect "what the actual fuck did you really just say that" face).
A second and on the whole more concerning line of criticism is that the episode is about abortion. This is not a hard reading to see. It is, after all, a story about women urgently debating whether a baby should be allowed to be born. One can make various cases, some of them persuasive, that the story is not straightforwardly pro-life, but the implication stubbornly resists disappearing entirely. The infuriating fact is that Catholic Vote's take is plausible and self-consistent, right down to the nauseatingly paternalistic description of the final Doctor/Clara scene as being about how giving women a choice is "the opposite of friendship" and how "Clara didn't want the Doctor to stay regardless of the choice she made. Clara wanted him to stay precisely to help her choose life." That's difficult to unsee, to say the least, and that fact is unquestionably a flaw.
The question is how big of one. It's certainly not intentional. Harness has said multiple times that he wasn't trying to write an abortion allegory, and frankly that would be a kinda weird thing for a British expat living in Sweden to focus on. It's not that abortion isn't an issue in the British public mind—it would be hard for it not to be given that Ireland is currently in the midst of a referendum on it. But it's not the all-consuming political issue it is in the US, and it's not hard to believe that a male writer, director, producer, and pair of executive producers could accidentally turn a trolley problem into an abortion allegory without meaning to. Intent isn't magic (except for chaos magicians), but it still feels like the primary lesson here is "hire more women so you avoid shit like this." This simply wouldn't have happened on Julie Gardner's watch, or even on Beth Willis or Caro Skinner's.
More broadly, though, while the story doesn't give you anything to refute the abortion reading with, that interpretation is clearly insufficient to account for the whole thing. The Catholic Vote article tellingly misquotes the ending, having Lundvik thank Clara "for giving me the way back," a line that in the context of the article feels implicitly about Christian redemption. Except, of course, the line is "for giving me the moon back," and it's clearly a reference to space travel and humanity's now-discredited utopian future among the stars. This is a huge aspect of the story that doesn't really square with the abortion reading. And so while I understand why some viewers find the abortion aspects of the story to be a dealbreaker, I fail to be among them. My reading is better supported by the episode, in line with the authorial intent, and makes the story into a magical ritual to reclaim the cosmos instead of Doctor Who as imagined by Mike Pence. If ever there was a place for a redemptive reading to prevail, it's here.
That, then, is the basic account of why I loved this story so damn much in 2014. Rewatching it, however, what stands out is just how many trappings of the Capaldi era begin here. "Duty of care" is going to see us through to the end of Clara's time on the show, while the Doctor will still be working out the implications of "you walk our earth, you breathe our air" all the way into Twice Upon a Time. It also ends up feeling like the beginning of the end for Capaldi's cranky phase. It persists in bits until the end of the season, and Capaldi won't fully nail his take on the character until The Magician's Apprentice, but it tones down markedly from here, with the Doctor seeming to recognize that his abandonment of Clara went too far.
On top of that, it's a key step in the crystallization of Clara as a character. Since Capaldi's arrival Clara has been more sharply defined, with the "bossy control freak" line pushed into the forefront and interrogated a bit. But none of the first six stories have been about Clara save for Deep Breath, which went to the extreme lengths of recasting the Doctor in order to distract the audience from this fact. Kill the Moon, on the other hand, is unequivocally a story in which Clara is the protagonist and the Doctor is a supporting character. But this is not the self destructively obsessive children's heroine that will shortly become the default and definitive take on her. This is much more rooted in the terrified hypercompetence of Deep Breath, but the fallout from it is also the setup for the next two stories, over the course of which she comes to understand who she is in relation to the genre she inhabits. The is thus something of a one-of-a-kind transition point for Clara. She's unmistakably herself; no other companion would have set up the "turn your lights off" poll, or, and for that matter, only a bare handful would have come as close as she did to killing it. (Almost all of them male, from a military background, or both.)
More broadly, we've talked for several weeks now about the extremely (and eventually overly) cautious approach of the first half of Series 8. But Kill the Moon doesn't just put an end to playing it safe, it smashes safety to tiny pieces; it's not setting off in a new direction so much as charging in it full bore, leaving others to clean up after. There are a handful of Doctor Who stories that are just massive turning points that feel self-evidently better than anything that came before them: The Mind Robber, The Ark in Space, Remembrance of the Daleks, and The Empty Child/The Doctor Dances, for instance. It's not that these form a narrative of constant improvement; indeed comparing them to one another is just about the least productive angle to take on them. What's significant about these stories is how they exposed a vast swath of new ground for the series that it subsequently spends a lot of time exploring. And Kill the Moon is straightforwardly among them.
Over and over again, it finds ways of pushing the logic of Doctor Who to what would previously have seemed a breaking point without ever once engaging in any sort of narrative collapse. The ostentatiously near-future setting that will never be realized, a conceit that's essentially unused since The Enemy of the World. The evocative "moments in time that I simply can't see" speech, which turns a half-century of "not one line" and "fixed point in time" bollocks on its head, offering up a self-evidently colossal moment of history while refusing to treat anything as certain about it. The Doctor's departure from the narrative, which follows up on seven seasons of angst about the Doctor's morality by finding a limit case far more interesting than the Time War could ever be. The apparent breakdown of his relationship with Clara, a row unprecedented in the Doctor/companion relationship. Even the moon being an egg is a brazen edge case, seeking out the limits of what the show's science fantasy approach can do.
There is a sense in which all stories like this are failures. Even the handful that are arguably eventually beaten at their own game—The Ark in Space and Remembrance of the Daleks most notably—are the only stories of their kind to offer that sort of dizzying sense of possibility. You can only lose your virginity once. And so the promise of a story like Kill the Moon is never followed up on. But even here the story seems uniquely suited to its role. After all, its essential promise will not be followed up on. The moon is not thirty-one years from hatching and reigniting our abandoned dreams of space. There is no dragon lurking next door, ready to disprove Lundvik's claim that the Earth's atmosphere is all that stands between humanity and all-encompassing death.
But that's OK; we didn't need that future. For all its gleam and all the great stories that came out of it, the truth is that it was a utopia rooted in visions of imperialism. Like middle class Britain, it's as tied to Doctor Who's worst instincts as it is to its best. The fantasy that the human race will never die is as unnecessary as it is impossible. Things don't have to never end to have meaning; if they did, nothing would have any. But the corollary of that is that they don't have to ever start either. Forever is a good lie; hell, I told a version of it years ago when I started this blog. The point of it isn't that it's true; it's that we want it to be.
One more way in which Kill the Moon has changed since 2014 is that the world is a much scarier place. There's a lot less hope, and a lot more books beginning with sentences like "let us assume that we are fucked." But hope isn't just a thing floating around in the world, some quantifiable elemental particle of optimism. It's also a thing we do. Like television, hope is a thing that happens in time, a defiant willing into being of a resistant future. And on October 4th, 2014, around five million of us collectively engaged in it, flinging the dream of a better future into the lifeless void.
Andrea Long Chu, who is by some margin my favorite thinker over the last couple of months, notes that optimism and disappointment are just different words for the same thing. The point of hope, in other words, isn't the payoff; it's the desire, the most frustrating part of which is that it's ultimately its own payoff. As Chu puts it in one of the excruciatingly brilliant lines she tosses off like they're nothing, "a fantasy doesn't have to be a lie. It's just something you'd believe even if it were." Like space, or forever.
The main thing Chu talks about in these terms is feminism, where she is fascinated by the contradictions opened by the axiomatic linking of the personal and political, specifically the way in which personal desire is stubbornly ungovernable by any level of political commitment. "Try to imagine life as a feminist anemone, the tendrils of your desire withdrawing instantly from patriarchy's every touch," she suggests wryly. "There would be nothing to watch on TV." But, of course, her point isn't that feminism is a sinking ship to bail out of. She couldn't if she tried; she wants it too badly.
So, of course, does Kill the Moon. The irony of its inadvertent pro-life propaganda is that it's a story that's profoundly invested in feminism. This is clear even from the earliest drafts, which had a climactic reveal in which Lundvik, then called Blinovich, turns out to be a future version of Courtney, which served to make the story about her maturation from disruptive influence to space pioneer. This was overloaded the script and needed to go, but highlights the degree to which this was always a script about female empowerment, in the literal sense of putting women in positions of power and showing the ways this enables their growth. That this is problematic and inadequate, as the breakdown of Clara and the Doctor's relationship (also amplified from the earliest drafts, where they reconciled almost immediately) attests, is as beside the point as everything else. The point was only ever wanting it to work.
Helpfully, Chu's most recent essay, "Bad TV," directly grapples with these issues as they relate to television. Starting from the premise of television's status as an event, which she argues persuasively not only survives into the age of streaming but is intensified even as it stops being so strictly confined to a single timeslot (it ends up working more like pop music), Chu makes the delightful claim that "political" is best understood as a feeling along the lines of "sad" or "horny" that television can make us feel. Indeed, she floats the possibility, too terrible to fully embrace, that this is all politics is—"a trick of the light, TV magic." But the truth is that the claim, disquieting as it is, becomes self-evident the moment one allows it to be rephrased as "politics is a social construct." As she notes, "mediation, televisual or otherwise, has always been necessary to make the leap from me to you, individual to group. All communities are imagined, as Benedict Anderson taught, simply because they could not be otherwise."
Chu's axe to grind with all of this is #MeToo, which she slyly treats as television by other means, noting that one if the problems the movement faced was that descriptions of sexual assault and harassment often felt like over the top plot twists from trashy television shows. ("What do you mean he masturbated into a potted plant?") Central to this is the notion of believability, which she defines with an efficiency that makes me want to shoot myself in the face given how often I've gone on about it as "an aesthetic of proportionality" that balances "the squishy sentimentality of interiority and a few discrete, relatively high-impact events." The heart of this is hewing within a certain range of the stated premise. "No secret clones, unless it's Orphan Black; no acts of God, except on The Leftovers."
Where she's going with this is an immensely moving passage about how and why sexual violence defies believability, but I want to talk again about the moon being an egg. Because, of course, it's not believable. The entire point of it is that it's a colossal rupture of believability—a reveal that cannot possibly be set up even though it's wholly consistent with what comes before. But, of course, what it offers is the exact opposite of traumatic violence. It uses its rupture to break out instead of to violate, using the absurd space it contrives to carve out its impossible moment of political hope. But this is ultimately not that far from where Chu ends up by looking at the tidy but impossible conclusion of Big Little Lies, where the abuser is cathartically murdered in a way that is, as she points out, as unsuitable as an actual solution to the problems of systemic sexual abuse as it is terribly satisfying. "Politics, too, can be a guilty pleasure," she concludes. "A political movement is no more tarnished by its finitude than a romance, or a childhood, or a good TV show. Maybe it will be a relief to remember that #MeToo accomplished what every guilty pleasure accomplishes: itself. Weigh us; find us wanting. Wanting could be enough. Desire isn't revolution. But it might play one on TV."
The only way forward, then, is to understand the nature of the rupture. Within Doctor Who, two celestial bodies have historically dominated its mysticism. The first of these is Mercury, enshrined since The Daleks and tightly associated with the Doctor themself. It represents change, the engine that drives the show forward and provides its ideological foundation. The second, meanwhile, is the Moon. The Moon is never as pronounced within the series; she's more of a haunting presence. This suits the moon, of course—along with imagination, she represents the hidden and the mysterious. There is clearly no show without her; change is sterile without the unknown.
The moon, obviously, is feminine. Mercury is nominally hermaphroditic, but masculinity dominates. So the dynamic between them in the series is a bit of a thing. To put it in crudely alchemical terms, which is to say to quote Crowley, the masculine, embodied by the Wand, is ""the primordial Energy if the Divine manifesting in Matter at so early a stage that it is not yet definitely formulated as Will." With Will needing to be taken in the context of his definition of magick: ""the Science and Art of causing Change to occur in conformity with Will." Mercury shifts and changes, but it is fundamentally on the side of acting upon things. And so for all its protean nature, it drifts inevitably towards single vision. (The tragic nature of this is at the heart of the conflict between Los and Urizen, but that's another post)
And so the Moon is left to be acted upon and turned into the receptacle for everything that doesn't fit into what Is, which is par for the course for the feminine. This is clearly a position of abjection, which is why the lunar in Doctor Who is just as likely to be monstrous as redemptive, but it's also clearly a position of vital power. If Mercury is in constant danger of falling to single vision, it is the Moon that protects it by ensuring that there are always new things for it to change into. There is, of course, a violence to this process that leaves the Moon in constant retreat; once a thing is pulled from the lunar shadows and forced into being it is no longer hers. But her depths are infinite, and there are always new things to be found.
All of this resonates well with Kill the Moon, in which women are left to fix the mess after the Doctor/Mercury's error, and in doing so restore both moon and Moon. Really, about all you could do to make the reading fit better is to have the Doctor arrive at Coal Hill School at the start looking for mercury for the fluid links, which, actually, was in the first couple of drafts. And this also gestures at the show's own impending realignment towards the feminine; the moon's not the only egg.
More broadly, and to relate it back to Chu, if our impossible utopias are anywhere, they are on the Moon. And if the ones we dream of are not really the ones we need, if our desire is always frustrated, well, that's fine. The point is that there's always something else there—something that we can only ever get to by trying for the impossible.
With Kill the Moon, we did. We reached out with our grubby little human fingers and found something new. Was it enough? Of course not. But this is what Doctor Who is for. The entire reason the show exists, the thing it was created to do, was this: to find something new and extraordinary and unlike anything else. This wasn't its first time. Goddess willing, it won't be its last. The moon's an egg. Someday yet she'll hatch.