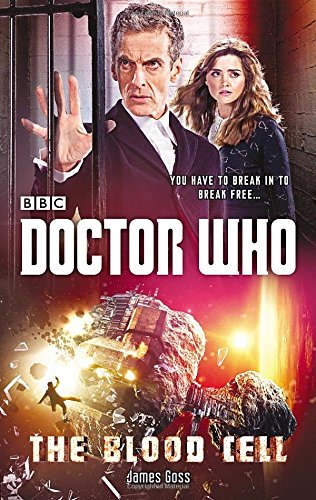 For all that the Capaldi era marks a golden age for the series, it also marked a heavy decline in the show's mass popularity. This was, contrary to paranoiacs on GallifreyBase, not a precipitous decline into crisis—the revived series has still never gone below 30th place in the weekly rankings, which puts its cultural footprint in the general vicinity of the Letts and Hinchcliffe eras. But this is still quite the falling from being the biggest show on television. And the fall is visible outside of ratings. The merchandising explosion that peaked around Series 5 had well and truly dried up by now, with only a handful of action figures for the Capaldi era ever filtering out. (So far as I can tell, Bill never even got one.) The rush of shorts that accompanied all of the Matt Smith seasons and peaked with Night of the Doctor abruptly stopped. Even the tie-in novels, which had released at a rate of at least six a season since the show's debut, dwindled to three per year. This is admittedly still three more novels than Line of Duty or Call the Midwife put out in a year (although Broadchurch turns out to have been surprisingly prolific), but again, it's a step back for Doctor Who's omnipresence.
Despite this decline (or perhaps because of it) the Capaldi era was an interesting one for the novels. Of the nine released, two announced themselves as worth covering. Being worth covering has never meant the same thing as being good, of course, but that's a topic for the other one. The Blood Cell, released as part of the first tranche of three, is just here because it's actually a solid Doctor Who novel with actual ambitions, several of which it actually fulfills. Its basic premise—the Doctor is in prison—borders slightly on the obvious, given the show's tendency to bounce them in and out of captivity over the course of a story. But this isn't a story where the Doctor gets captured; this is a story about prisons. Which is an excellent premise. I remarked on Twitter the other day that Doctor Who would be a more interesting show if its ongoing topic of ambivalence had been police instead of soldiers. I hadn't gotten to this book yet, but it largely demonstrates my point. Giving the Doctor a tortured and ambivalent relationship with war is just putting him at odds with some of the underlying assumptions of his genre. But giving him a tortured and ambivalent relationship with law acknowledges the tensions within the character himself—it actually gets at the weird mix of aristocracy and anarchism bound up in the character.
This is not, of course, the first time Doctor Who has focused intently on prisons. Lawrence Miles tackled the issue compellingly back in Interference, where he had the Eighth Doctor caught in a Saudi Arabian prison where his usual tricks of breaking out don't work because the guards are motivated by no reason beyond capricious brutality. As is often the case with Miles, this is a very good idea that he immediately takes to its breaking point instead of exploring the potential of. Putting the Doctor up against institutionalized casual sadism of the sort that's precision engineered to turn all of his advantages into disadvantages is a great idea, but all Miles does with it is a narrative collapse of torturing the Doctor and driving him mad for an entire book.
If you were to imagine a sweet spot between bog standard capture-escape padding in a 60s or 70s six-parter and Miles's vision of Doctor Who as the sort of thing you feel really gross after discovering on PornHub, you would not quite be imagining The Blood Cell, but it probably shares the crown for closest real-world approximation with Abducted by the Daleks. Goss makes the immediately compelling choice to have the book narrated in the first person by the prison governor, which means that we spend the entire novel looking at the Doctor and Clara from within the structures of bureaucratic sadism. The trick of doing a Doctor Who story from the perspective of an external narrator who's unreliability comes from their lack of awareness as to what genre they're in has been done a lot, with a range of success from "'What I Did on my Christmas Holidays' by Sally Sparrow" to countless forgettable entries in various Short Trips anthologies. But the detail of having the perspective be a semi-villainous one is novel and engrossing.
The problem is in that "semi" prefix. It's probably the case that an entire book from a villainous perspective would get wearisome. But on the other hand, Goss's approach, in which the Governor is never so rotten he can't get a redemption arc, fundamentally sells out the horror who he is and what he does. Because part of making the Governor redeemable is making the prison itself not that bad. Goss has a running joke of how freely the Doctor is able to break out of his cell, and though he gets the shit kicked out of him periodically, for the most part this is a prison where the idea of moral horror is deliberately allowing a fire to consume the prison library. Which is, to say the least, a bit far from the mark as to what the actual moral horrors of the carceral state are.
Of course, there's a limit to the critique here. As we already noted, the full Lawrence Miles approach is unsatisfying. And so eventually we come up against one of the fundamental limits of Doctor Who as a medium for exploring political issues, which is that it necessarily has to minimize them to the point where the Doctor can plausibly defeat them in a single story. Beyond that, the full scope of the prison system's atrocities is simply unsuitable for Doctor Who, if only on a "what the BBC will allow in a licensed product" level. It would be easy to turn this into a case for why you shouldn't tackle it, but that would be cynical. Just because something is going to be a disappointment doesn't mean you shouldn't do it. But that also doesn't mean that Goss isn't selling the horror too short. The Doctor is ultimately too unfazed by imprisonment. This doesn't mean he needs a brutal and scarring beating, but relatively obvious opportunities like the Doctor's reaction to being put in solitary confinement are overlooked in favor of the gag that the Doctor is constantly escaping.
Combined with the Governor's redemption arc, which hinges on a late and poorly foreshadowed twist whereby he's a deposed political leader put in charge of the prison where his political allies were locked up, the sense of toothlessness becomes overpowering. The end result is a massive distancing away from personal responsibility. What's wrong with the prison is limited entirely to systemic concerns related to its basic design and conception by the state, as opposed to the actions of actual people within it. It's not quite "only following orders," but it's got the same underlying moral logic, whereby evil takes place on a macro scale devoid of individual actors.
All of this is making the book sound worse than it is, though. Indeed, it's worth taking a step backwards and being politely impressed that the book is good at all. After all, this really did drop between Robot of Sherwood and Listen. It's tough to know the turnaround time on these things, but the long and short of it is that anyone who read this the day it came out had probably seen more of Capaldi's performance than Goss had. And there's more than a trace of Generic Doctor to Goss's portrayal—a lot of it is more Tom Baker than Peter Capaldi, which isn't exactly a surprise given that Goss went on to start killing it novelizing Douglas Adams's stories. There's never anything jarring in the characterization, but it never really screams "this is Capaldi's Doctor" either. He unsurprisingly does better with Clara, but this ends up being frustrating given that she's egregiously underused, stuck making fruitless visits to the prison for the bulk of the plot and only getting inside to where she can do things towards the end of the novel when the Governor's redemption needs to move to center stage.
And yet for all of this, again, it's on the good end of the novels. I mean, the other two released in this wave were a Justin Richards one that features the Paternoster Gang and basically ignores that Madame Vastra and Jenny are an item and a Mike Tucker one featuring scorpion aliens. This isn't just banal, it's banality that's been writing mediocre Doctor Who books for twenty years at this point. We'll get to the point where we suggest that Moffat's forty separate Doctor Who stories probably reflects a few more than is ideal even for a writer of his caliber. But if you count the stuff Richards has done for spin-off lines at Big Finish, he's at sixty-eight. (Mike Tucker is at a comparatively mild nineteen, but that's still more than Mark Gatiss, and in the same league as Russell T Davies's twenty-five.) And so yes, this a novel that underutilizes Clara and is a bit more mealy on the subject of prisons than is ideal. But it's at least about something. It has a point and a reason for existence. For all its flaws, it's basically no worse than a middling to poor episode from any given Capaldi season. Indeed, it's better than the worst episode of each of them.
But that's still the high point that the novels aspire to. On their best days, they're not as bad as the show is on its worst. That's not exactly a ringing case for their importance. Out of the sixty books so far in the main line, 39 were written by veterans of Virgin and BBC Books, and most of those not by the interesting writers like Paul Magrs, Gareth Roberts, or Lance Parkin, but by writers of the basic caliber of Richards and Tucker—mediocre filler writers who have inexplicably not even been replaced with new mediocre filler writers twenty years after their debuts. And while it's certainly possible that in 15 or 20 years we'll discover a generation of fans with passionate memories of Sting of the Zygons or The Dalek Generation, it seems unlikely. Presumably these books are still fulfilling the basic function Doctor Who books have had since David Whitaker and Bill Strutton invented the idea, namely giving kids something to read, but there's nothing in any of them that's going to have the impact of "wheezing, groaning sound." Meanwhile, their other functions have gone away. Past television stories are trivial to revisit, and the show is on the air often enough not to require spin-off media to maintain the torch. And so it's not entirely clear who this pretty good book is actually for.
Which begs the question of whether the line's decline in the Capaldi era is a problem. Is selling a bevy of mediocre tie-in novels actually a vital function of Doctor Who? Is their diminishment anything other than their basic pointlessness catching up with them? To some extent the answer is yes. As we noted, this coincided with a general withering of the merchandise and a small but significant decline in the ratings. Treating them as having a separate cause from those is silly. But that still doesn't mean the loss of any of this is a particularly bad thing. For all their importance at the time, the Target novelizations, New Adventures, and Eighth Doctor Adventures have mostly not survived. Few are in print or straightforwardly obtainable. Doctor Who's primary legacy is as a TV show; it's the episodes that survive and that people watch. And in an era where those episodes are literally available for rewatching the second after they finish airing, the oxygen available for anything else is limited. And so the decline of the novels seems mostly worth little more than a shrug.
Except, of course, that's not the whole story.