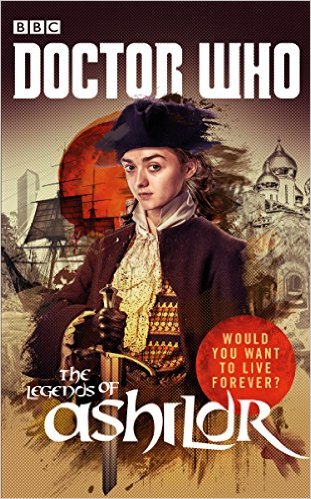 For all that we've been picking on the inadequacies of the standard book line, there had been efforts in the background to try new things. For a variety of reasons we didn't cover efforts like Summer Falls and The Angel's Kiss in the late Matt Smith era (actually just one reason, which was me saving things for the book), but they certainly represented one effort to change what the book line can and should do. The Legends of Ashildr represents a stab at another possible shape the books could take—anthologies of several short stories. Obviously there are some constraints around this. Just dumping a couple Doctor Who short story collections a year is an invitation for mediocrity with no obvious sales hooks. Whatever one might say about Big Bang Generation, it at least has a hook you can sell it with in a way that wouldn't be true of a straightforward collection of shorts.
But what does work is grabbing gaps in the series and filling them with anthologies. So, for instance, when you have several hundred years of Ashildr/Me growing and developing as a character between the two halves of her debut you drop a collection of four stories filling in that gap. There aren't necessarily a ton of things you can obviously do this with. There's one other big one that we'll get to towards the end of the era, and a few you could maybe imagining them doing something with that they didn't (Osgood's Zygon Adventures, Clara and Me, One Night on Darillium), though many of these start to get into a turf war with Big Finish who one assumes are absolutely dying for Maisie Williams and Jenna Coleman to have a spare weekend they can waste.
(A quick aside on terminology, since calling people by their preferred names is kind of a thing for me. The credits for episodes list Maisie Williams as playing "Ashildr" in all but The Woman Who Died. This broadly tracks with the Doctor's inclination—he seems to passive aggressively call her Ashildr as part of his efforts at "redeeming" her. But, well, fuck that sideways with a Tissue Compression Eliminator. I don't think this is quite a deadname situation, as it's less rejection of having ever been Ashildr than a statement of having grown and changed, and so I do not have problems calling her Ashildr prior to her taking on her new name. As these stories keep calling her Ashildr even when doing internal narration [though note my concerns when we reach the final story], I'll call her Ashildr in this entry, but she'll be Me going forwards.)
But when the opportunity presents itself it's a clear occasion for knocking together a book that's got a little more freedom to try things and be interesting. With four stories, any of them have the liberty to take risks or display ambition because if they fail there's three other ones to pick up the slack. There's opportunities to give new writers a chance. Writers who might not have the time to write a full novel can conceivably be brought in for a short story. All in all, it's an idea with obvious legs. Legends of Ashildr doesn't take advantage of all of these possibilities—all of the writers are veterans, for instance. But on the whole it's better than either of the two Capaldi books we've talked about so far. None of the stories overstay their welcome, one is shockingly strong and none fall below the basic threshold of "fine."
That's not to say there isn't a basic timidity to the book. There are obviously important stories to tell about Ashildr that are ignored here. Most blatantly, the fact that there's nothing that starts from relatively near The Girl Who Died and shows the actual beginning of Ashildr's hardening into her stranger and more alien personality is a conspicuous oversight. It's not that this story is essential to understanding the character—the televised episodes give you all you strictly speaking need. But if you're going to tell gaps in Ashildr's life, it's probably a bigger one than "that time she fought some ghosts that were secretly aliens in the woods." For that matter, given that this didn't drop until after Hell Bent, there's not really a compelling reason to shove everything into the eight hundred years between The Girl Who Died and The Woman Who Lived when, basically, everything up through the end of the universe is open, and that's assuming we want to leave adventures with Clara to Big Finish. So four adventures in a narrow time period becomes slightly repetitive, especially when all of them have a somewhat formulaic "and then the aliens show up" structure borrowed from Doctor Who and employed here without really thinking about whether it's necessarily the best approach for Ashildr.
We should probably talk about the individual stories. The collection opens with James Goss's "The Arabian Knightmare," which riffs on Sheherezade to have a character who is obviously Ashildr tell the story of "Ash El Dir," who disguises herself as a boy and has adventures first with Sinbad and then with Prince Karim, whom she seduces and runs off with. As with The Blood Cell, Goss is clever—the Sheherezade structure frames Ashildr's stories as a series of discrete episodes with cliffhangers leading into each other, which is both an interesting way to present a single narrative and very funny. There's not a lot of meat on the bones; the story's not quite about anything save its own cleverness. But between the mild inventiveness of the structure and the fact that Goss is savvy as to the ways Ashildr is a fundamentally different protagonist from the Doctor, both less knowledgeable and more amoral means that it at least rolls along with a pleasant sense of "I haven't seen this before."
David Llwellyn's "The Fortunate Isles" does rather worse, ending up being little more than a generic "explore a mysterious island" adventure that has some mildly entertainingly anachronistic aliens that are probably a better idea than most of what's in the actual story. Llwellyn is neither a writer we've dealt with before nor are likely to again—the most likely scenario is if I do some Torchwood audios for that book, but he appears to be one of the current era's more or less interchangeable part writers, and an illustration of where a project like this will find itself falling short, namely that it's still going to make up the numbers with filler.
Jenny T. Colgan's "The Triple Knife" goes to the other extreme, serving as the story that justifies the collection. Colgan is also a writer we haven't talked about before; in this case I'm more than happy to guarantee that will change and that she'll get some essays in the Tennant and Smith books. Colgan is an example of the books line doing what I've doggedly asserted they should do, which is get some actual writers and new blood in. She's a solidly selling rom-com writer who did the Iain Banks "take a middle initial to write sci-fi" thing, only her sci-fi is all Doctor Who tie-ins. There's a number of interesting advantages here. For one thing, she comes from an overtly feminine genre, and so brings a writing sensibility that's markedly different from anyone else in the anthology or indeed line. This can backfire to an extent—indeed we'll talk about what happens when you get a writer who isn't quite fluent in Doctor Who next week. But in Colgan's case, she speaks Doctor Who fluently but with a pronounced and frankly charming accent, which is what you hope for when you widen the writing pool.
Colgan's story is also the only one in the book to bother trying to tell a story that actually matters to Ashildr. This is the story of her children dying of the plague—the big trauma cited next episode as a central reason in her turn from being Ashildr to being Me. And it's deft—Colgan sells Ashildr's mounting dread as she understands what's happening and her despair at her lack of options, and even manages to fix the rather gaping "wait why didn't you use the second immortality dose on your kids" hole from The Woman Who Lived. That's not to say that it's flawless; it's definitely the one of the four where the inclusion of aliens feels most unnecessary, though Colgan avoids the crass options of "the plague is caused by aliens" in favor of a more unsettling and interesting idea of alien scientists studying plague victims with utter dispassion. But this is basically a model for what a story in an anthology like this should be doing, namely actually fleshing out the character or world instead of reiterating the same basic design ad infinitum across it.
Which leaves Justin Richards's "The Ghosts of Branscombe Wood." I feel bad, in some ways, about the degree to which I use Richards as a metonym for the failures of the book line. But on the other hand, when he writes stories like this it becomes genuinely hard not to criticize him. The stories in the anthology are presented chronologically, with this one being set relatively close to The Woman Who Lived. Which makes the fact that the main character is still going by Ashildr and is successfully haunted by the memories of various figures in her past, including specifically members of the village she grew up in jarring given that just a few years later she's going by Me and has forgotten most of her past. Indeed, nothing in this story, which sees Ashildr as a sort of wandering problem solver rescuing villages from minor threats like having to take elaborate routes through the woods to avoid the crashed alien space ship that creates holographic ghosts warning people not to go down certain roads, really fits at all with where the character is supposed to be at the end of this book.
The fact that this story comes from the line's "Creative Consultant" (an apparent downgrade from his previous description as "Creative Director") for the line speaks volumes about precisely where the problems lie. When the the person you have, and I quote Richards's own site here, "advising on the commissioning and editing" of your entire line cannot even manage as basic an assignment as "write the story that leads into this episode" without completely contradicting every single major point of the episode then it is difficult to understand why they're in that job. It seems like a more or less basic requirement for helping to oversee the line is not being someone who writes this story. If the BBC Books line is punching below its weight—and it very obviously is—then it's hard not to conclude that it's probably very specifically Justin Richards who's the problem. On the face of it, having the same guy who was managing the tail end of the Eighth Doctor Adventures and who thought Sometime Never was a good idea still managing the book line a decade after the new series debuted is just a really bad idea.
So Legends of Ashildr offers a broadly positive model for the line going forward, including an actual example of how to do tie-in fiction well. It's even the best book we've looked at so far in the Capaldi era—an actually enjoyable read that never overstays its welcome or tips into the actively annoying. And yet for all of this, it still fails to quite be an example of what to do. There's simply an institutional unwillingness at BBC Books to put out worthwhile material on a consistent basis. It's impossible to say whether Richards is the cause of that unwillingness or simply another illustration of it in the same way that John Nathan-Turner's continued presence after the hiatus was an illustration of the BBC's disinterest in improving Doctor Who. But either way, there simply doesn't seem to be a realistic path to significant improvement in the books line. But hey, maybe some of the other spin-off lines are doing better? Yeah, let's check in on those…