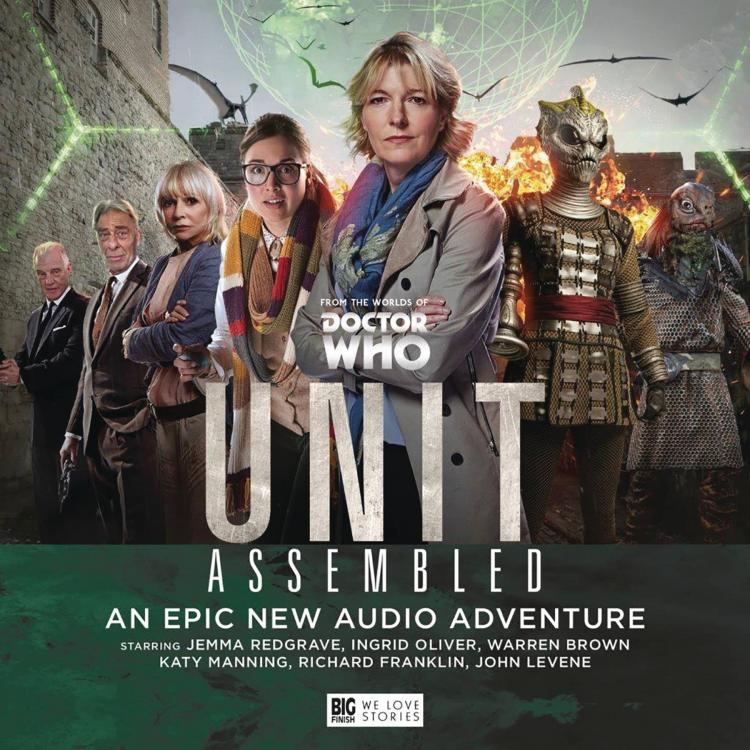 It's been nearly five years since I last wrote about Big Finish on this site. Much of this gap is due to the fact that it's only fairly recently that Big Finish's license was expanded to cover the new series, so there's been pretty slim pickings post-McGann. But in 2015 Big Finish released their first Torchwood and UNIT audios, and since then new series-adjacent material has been a mainstay of their increasingly bloated line. To date there's nothing that directly ties into the Capaldi era, but as all of Osgood's stories and all but one of Kate Stewart's have Capaldi in them, this seemed the line to check back in on the company with.
It's no secret to anyone who reads my social media that I'm hostile to Big Finish of late. But I haven't really talked about that in long form. So instead of beating around the bush and coming to a conclusion that Big Finish is in much the same boat as the novel line in terms of its complete failure to do anything of worth with its license, let's just start up front with the litany of problems this set has. Its hook is compelling enough—the surviving Pertwee-era actors (save for Fernanda Marlowe) team up with modern day UNIT to fight the Silurians. There are some problems baked into this, like that Benton and Yates are not exactly characters who bring a ton of, well, character to the table, with Benton's main trait being an earnest masculinity and Yates's being that he's played by a rapist. But it's a perfectly charming premise for what it is, and clearly the sort of thing Big Finish exists to do.
It's after the hook that the problems start mounting up. The four episodes of this are written by Matt Fitton and Guy Adams, who currently average about a story a month for Big Finish. Nothing about that is a good idea. Big Finish released, and I am astonished by this figure, a hundred and twenty-five separate Doctor Who audios that were an hour or longer in 2017. Fully 28% of these were by three authors, two of which were Fitton and Adams. Both halves of those statements are absurd. The creative case for making a hundred and twenty-three separate Doctor Who audios in a single year is non-existent. But to do so while so heavily centralizing the work among a small number of writers is simply appalling. Big Finish cycles in more new and first-time writers than their reputation would suggest, but the fact that they are engaging in such grotesque overproduction while continuing to maintain a "no unsolicited submissions" policy and leaning so hard on the same writers (another 39% are accounted for by just nine additional writers, meaning twelve writers are collectively responsible for two-thirds of their output) is the sort of thing that makes it very hard not to tip into outright Levineism and just call "evil." Really, the only reason not to is that it's better to save it for the fact that only ten of those hundred and twenty-five are by women, a majority of which are in the Torchwood line. And, you know, Richard Franklin.
It would be one thing, of course, if their mainstay writers were generally of decent quality. But Big Finish remains plagued by the shoddy and amateurish tics that have existed since The Sirens of Time. This story still routinely has people narrating their actions as they do them for no reason, describing what they see to the person standing next to them, and engaging in such gripping auditory affairs as lengthy fist fights. This was embarrassing twenty years ago when they started. But in 2017, when audio drama is undergoing a major renaissance on the back of the podcast, it's downright pathological. It's not that Big Finish is completely ignoring these developments—Mac Rogers, a playwright who has built a sizable and acclaimed sideline out of podcast dramas, contributed a Torchwood script. But that's, you know, one script out of a hundred and twenty-five. Hiring the writer of Steal the Stars to do one audio and Guy Adams to do twelve is mapractice that makes Justin Richards's stewardship of the novel line look stellar. (Richards, by the way, is one of the twelve writers doing two-thirds of their output because of course he is.)
But what's going on here is more than just the problems of the novel line on a grander scale and wedded to an embarrassing ethos of overproduction. The flaws of Unit: Assembled aren't just structural malaise and a poor sense of medium. It's also just broadly crap. Big Finish displays a perpetual anxiety over the prospect of good ideas or complexity. Take Osgood. Now, admittedly there are very plausibly details of their license that prohibit them from setting stories post-Zygon Invasion/Zygon Inversion with the Bonnie Osgood. But these stories are set before Day of the Doctor, thus side-stepping the entire Zygon thing. Which, yes, it's a thing, but it's also hard not to view taking the most interesting and complex character in the entire history of UNIT and regressing her to fawning fangirl status as, frankly, gross. Sure, she's still a capable scientist who assists in saving the day, but there's a conscious reversion of her to the simplest and least challenging version of what her character can be. And that's before you get to the frankly baffling imposition of heterosexuality on her.
This problem serves as a microcosm of the problem this story has with the Silurians in general. The Silurians are not, strictly speaking, a concept that has ever worked. Malcolm Hulke got by on their novelty once, while Johnny Byrne and Chris Chibnall comprehensively failed at repeating the trick. Moffat made a Silurian work in the form of Madame Vastra, but only by ostentatiously breaking the concept and adding lesbianism, and frankly you can make anything work that way. Nevertheless, it's a clear concept. They're monsters with an entirely legitimate claim to the planet whose great horror is that they're exactly as flawed as we are. None of which works or has much of a point if you just, as this set does, make all the Silurian characters genocidal warmongers who, we're informed, even the Doctor writes off. What you get if you do that are just generic monsters that could be replaced with Sontarans or Mire without changing anything but the detail of them having nests already on the planet instead of invading.
Unsurprisingly, given the extent to which this story has fundamentally rotten principles, the details are mostly crass as well. Katy Manning remains Big Finish's not particularly secret weapon, but it would be nice if they didn't so gruesomely abuse her abilities by forcing her to "finally admit" that she loves the Doctor, or by having her be the lone representative of the classic Hulkean "the Silurians are a peaceful race and we should negotiate" position, which, in the face of the all-evil Silurians is predictably disastrous and means her primary role in the fourth disc is to be likable and captured. Which certainly fulfills Big Finish's traditionalism mandate, but it's once again simultaneously gross and boring.
We could continue on into the clanging "FYI nuclear weapons are bad" speeches, the way in which the plotting veers from the hamfisted to the inept, or unpack my realization that there are actually two male supporting characters in the new UNIT cast and not, as I'd assumed until reading the cast list just now, one. But at some point it just becomes abuse instead of insight. This is bad. It's bad in ways that are utterly predictable, and that seem like nothing more than banal and depressing inevitabilities of what Big Finish is.
What is more interesting to me is unpicking what Big Finish is, and more broadly to unpick an issue that's been vexing us through all of the spinoff posts in the Capaldi era, which is who exactly this is all for. Because that's traditionally had at least some sort of an answer in the past. The World Distributors Annuals and Polystyle strips weren't good either, but they were at least coherent cultural objects that served clear markets that were distinct from what Doctor Who itself did. As a result, their interpolations of Doctor Who were consistently intriguing failures and half-formed concepts, a set of near neighbors of Doctor Who. And that continued through the classic series. Even when the spinoff material was largely synergized with the advent of Doctor Who Magazine, the actual stories being produced were weird and off-kilter things that explored the often interesting question what happened when talented freelancers in another medium were let loose on a property they didn't give a shit about. Through the Wilderness Years, meanwhile, the spinoff material got to fight with other lines for the mandate of heaven, a vast and ultimately pointless argument over the future of Doctor Who that nevertheless spawned a host of fascinating and extreme suggestions that would never have emerged out of any other circumstances.
But since 2005 the spinoff material has gradually lost any sense of separate purpose. For a while it existed with momentum inherited from the Wilderness Years, and then with a manic energy as excess BBC budgets and a flock of new licensees allowed a variety of new ideas. But by the present day, these fizzing energies have largely subsided. The spinoff material has become the province of a handful of companies run by the burnt out mediocrities of the Wilderness Years, stamping out an endless line of stories that are mediocre in exactly the same lame, half-assed fannish ways. Occasionally bursts of quality may happen, but they're mostly accidents—the products of talented fans with the right combination of clout and obsession to wade through the experience of being edited by lesser writers with an active animosity towards creativity.
And yet Big Finish produced a hundred and twenty-five of these things in 2017 alone. That's somewhere well north of a thousand dollars of Doctor Who audio CDs that are selling at least enough for the company to afford a few days of Derek Jacobi or John Hurt's time. And Penguin Random House has the economics working well enough to drop three books without fail every year. Again, this isn't a new phenomenon—shitty Doctor Who cash-ins have been a thing since the mid-60s. What's new is that all of this has been united under a BBC-controlled Doctor Who industry that had its own "brand manager."
It would be pathetic to act as though this is some sort of moral failing; as though the capitalism of the 1960s was inherently better than the capitalism of the 2010s. But there's nevertheless something to be mourned in the transition. Doctor Who spinoff material used to be a weird fringe—a place we could turn to in order to find a stranger version of the show. Strangeness, in Doctor Who, is always something to savor, successful or not. And the domestication of those fringes is thus sad. It's not that the show itself is not still weird—the moon was just an egg after all. But it now sits at the forefront of the Doctor Who Industry, setting a template that can only be followed by more conservative clones that are churned out on an increasingly industrial scale for an audience selected purely for obsession and disposable income. That might not be worse, but it's certainly less interesting.
So if one is looking for Doctor Who spinoff material that captures any of the weird incandescence of "The Fish-Men of Kandalinga," "The Ugrakks," and "Voyager" one suspects that it would be more advisable to look to the vast world of fanfiction. Not, I stress, because it is on the whole better than Big Finish—though I'm sure there are some extraordinary gems to be found for anyone with the patience to sift through it. But it is at least a place where one can find Doctor Who pushed to weird extremes instead of hammered into the most banal and timid traditionalism imaginable.
And a hell of a lot more than 10% of it is by women to boot.