Viewing posts tagged capaldi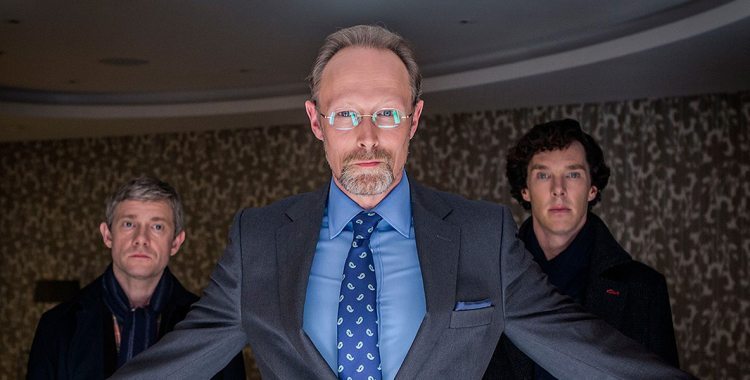 It's January 12th, 2014. Pharrell Williams is happily at number one, with Beyonce, Eminem, Ellie Goulding, and Pitbull also charting. In news, a cold snap in the US has all fifty states with at least somewhere below freezing, and a chemical leak in West Virginia leaves 300,000 without clean water. In the UK, the death of Mark Duggan, which kicked off riots in the summer of 2011, is ruled to have been lawful, while Keith Wallis pleads guilty for falsely claiming to have heard Andrew Mitchell call some police officers "plebs."
On television, meanwhile, the shooting star that is Sherlock Series Three finishes its arc across the firmament with the Moffat script. His Last Vow is an odd thing. There are days on which I think it might be Moffat's greatest ever script. But I mean "great" in its most complexly troubled sense. Moffat has been open about the fact that Series Seven of Doctor Who and The Day of the Doctor were miserable experiences. If the latter was him hauling himself back into fighting shape, then, this is the script with which he means to take back the mantle of being one of the most essential ...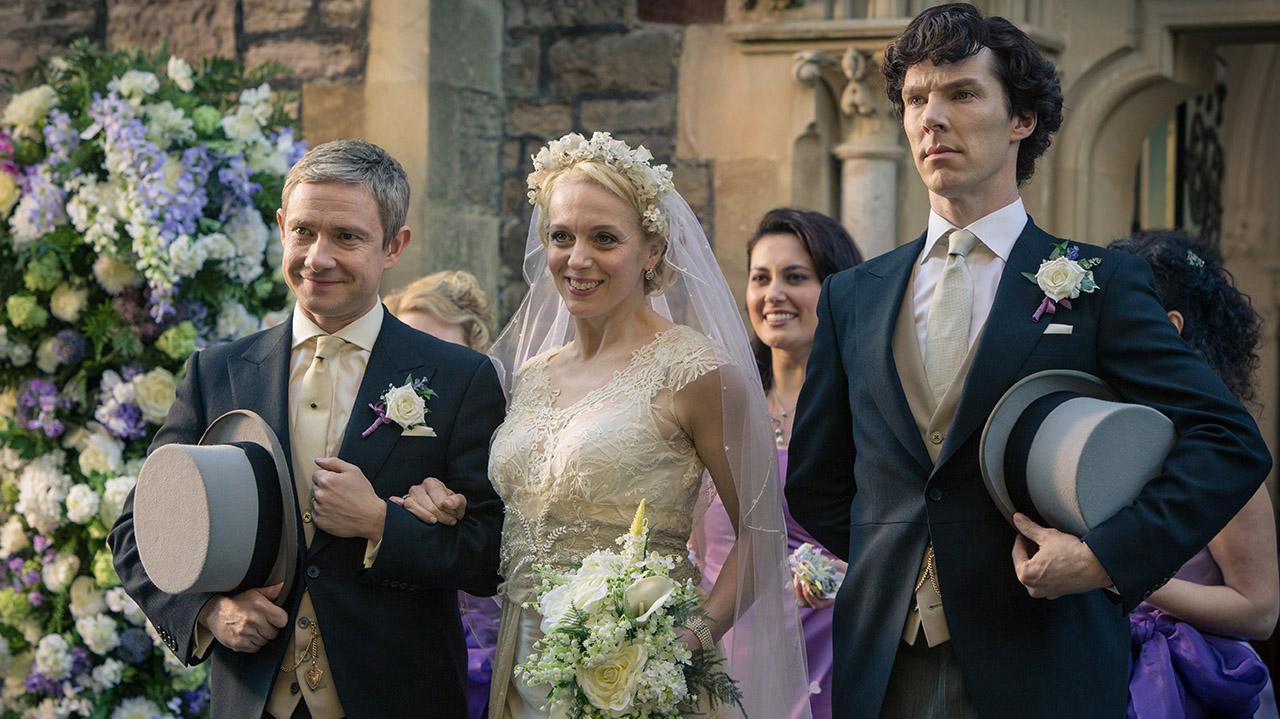 We continue to count down towards the TARDIS Eruditorum relaunch on March 19th with revised versions of some old blog posts on Sherlock. Proverbs of Hell will run its final two installments on Tuesday and Thursday this week.
It's January 5th, 2014. Pitbull and Kesha are at number one with "Timber," and while the rest of the charts are pretty similar to four days ago, we've got Avicii, Jason Derulo, Martin Garrix, and OneRepublic as artists we didn't actually mention last week. News is about as sleepy as you'd expect for four days at the beginning of the year, although there's some flooding in Wales, Scotland, and the west of England. On television, meanwhile, the third season of Sherlock continues its twelve day blitz with The Sign of Three.
Let's talk about what Sherlock is. Although its main character is a detective, it is not quite a detective show, in that the solving of mysteries is not its main narrative engine. One suspects that had it been comprised of six hourlong episodes a season it would have been, as it would have had several filler episodes each run that would have ended up being case of the ...
TARDIS Eruditorum will return on March 19th. But as a prelude, we're rerunning lightly edited versions of some old essays from the earliest days of the Patreon, now reskinned as the Outside the Government essays for Series 3 of Sherlock. I would also be remiss if I did not note that we are in the final 48 hours of the TARDIS Eruditorum Volume 7 Kickstarter, and it's a nailbiter whether we'll make all the stretch goals.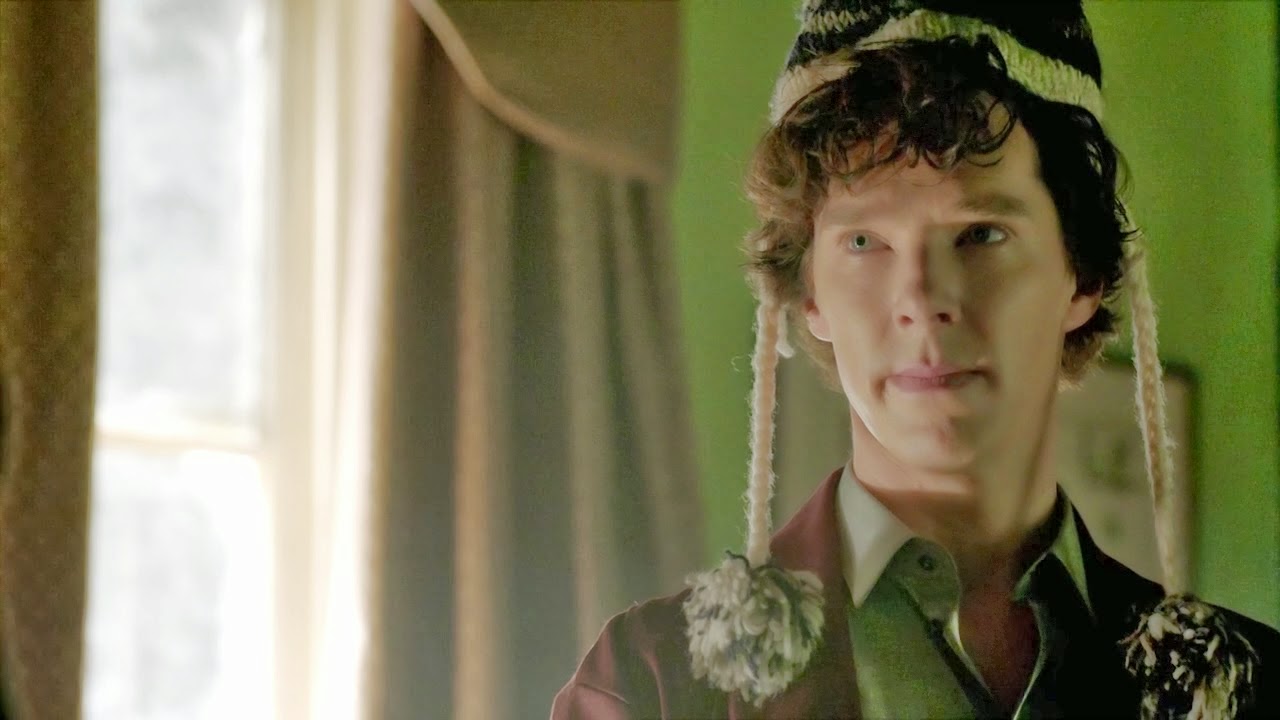 It's January 1st, 2014. Pharrell Williams's "Happy" has unseated Sam Bailey at number one, while Eminem and Rihanna, Lily Allen, Ellie Goulding, Katy Perry, and One Direction also chart. In the news, since Matt Smith got old and died it's been exceedingly quiet. Obama signed a budget deal, marijuana was legalized in Colorado, incandescent light bulbs became illegal to sell in the United States, and Latvia adopted the Euro. While on television,
Sherlock
informed the audience that it was going to lie to them, and then went on to do just that. It had, in the tradition of fair lies, given ample warning. "It's a trick. Just a magic trick." And so, of course, it was. Indeed ...
This post exists because my Patreon crossed the $310 mark. It's currently at $318.50, exactly $6.50 away from another bonus post like this on "Night of the Doctor," which will otherwise wait until the McGann/Eccleston book to be written. You can pledge to help make that happen here.


To recap, in early July 2014 it emerged that a server at a BBC Worldwide had been improperly secured, and that scripts for the first five episodes of Season Eight had leaked. A few days later it became clear that the leak was worse than it had initially appeared as a workprint of Deep Breath also appeared on torrent sites, followed, over the course of the next month and a half, by workprints of Into the Dalek, Robot of Sherwood, Listen, and Time Heist. The files had been prepared for a Brazil-based subtitling company called Drei Marc, and specifically for a gentleman named Marcelo Camargo who, despite having absolutely nothing to do with the leak itself, became the name most associated with it.
The first thing to say is both obvious and controversial: it was fine. For all the talk of the leak being "embarrassing" for both ...
This is a bonus post, the topic of which was selected by my backers on Patreon. Voting is currently going on for next month's bonus post, with candidates including Orphan Black and China Mieville. Also Deadwood. Please, if you enjoy my blog and my work, consider chipping in a buck a week or so. Thanks.

Let's start with the title - mine, in this case, although Davies's is magnificent in its own right. I say this mostly as disclaimer - there's an awful lot to say about these three shows. They are very, very good. They deserve reams of analysis, and much of that really ought to come from within queer communities. They've gotten some, but not nearly enough. Nevertheless, I am me, and not the vast and polyvocal assemblage of queer communities, and I'm best known for writing a blog about Doctor Who, so the main angle here is going to be an auteur-centric take on the work of Russell T Davies. Much is left unsaid. Above anything else, I recommend watching them - if you're in the UK, I assume they exist via some sort of catch-up or video on demand service. If you ...
A planned guest post for today fell through at the last minute, and Anna Wiggins graciously stepped in to deliver her thoughts on Missy and trans issues, which is not really in chronological sequence, but again, the planned post fell through. And more to the point, it's brilliant, so really, who cares about chronology. This is a blog about time travel, dammit.

Also! The fantastic folks at the Pex Lives podcast invited me on this month to talk about The Ribos Operation and Last Christmas. It was a hoot to record. I'm mostly just ranting and pontificating, but if you enjoy me spontaneously staking out excessively bold critical positions, you'll love this.

It is the summer of 1993. I am watching PBS, which is showing a weird old British sci-fi show that I enjoy watching whenever I catch it on. On screen, Romana (a character I like a lot) is trying on different bodies. It's silly, and the Doctor is being kind of mean to her, (I don't know to use the word sexist yet) but the idea of trying on a new body is amazing. In the most secret part of myself, I wish I ...
This post was supported by my Patreon. If you would like to continue seeing essays on this blog, please consider backing it, as the continuation of all parts of this blog besides The Last War in Albion past February 9th is contingent on the success of the Patreon. Basically, for a dollar a week, I'll keep blogging. Also, today is the last day of my post-Christmas ebook sale. All my Eruditorum Press books, for cheap. Comics reviews later today, though I think it'll only be one issue. Last War in Albion tomorrow.
I think it's probably best to say everything in the form of the big, ultimate point of the exercise, which is a Top Twelve Doctor Who Stories of 2014 list. Here it is, with changes relative to my post-
Death in Heaven
list indicated and letter grades. This is based on having done a rewatch between
Death in Heaven
and
Last Christmas
, except for
Last Christmas
itself, which I rewatched tonight.
#12: Time Heist (-2, C)

Let me start by reiterating that 2014 was, for my money, the best year of Doctor Who I've been active for. I think it was better than ...
Instant reaction has it with 76.88% at an 8-10, with an 8 being the most popular rating, which is pretty standard issue. And to be fair, its faults announce themselves somewhat forcefully. There's a bit of a pacing problem - the ten minutes or so after Santa wakes everybody up the first time and before the sleigh sequence are an entirely unnecessary bit of padding, and I found myself getting restless on first viewing. Second viewing was kinder, but also solidified my sense that there's a problem there. Yes, it resolves a few levels of the Inception pastiche, but it's not delivering any significant development, and mostly seems there to get a forty-five minute story to take an hour. Also, the "last Christmas" metaphor is a bit vapid, or, at least, seemingly missing a definite article.
But the reason these problems seem so visible is because this story's chief virtue is its sheer level of confidence in what it's doing. Inception ...