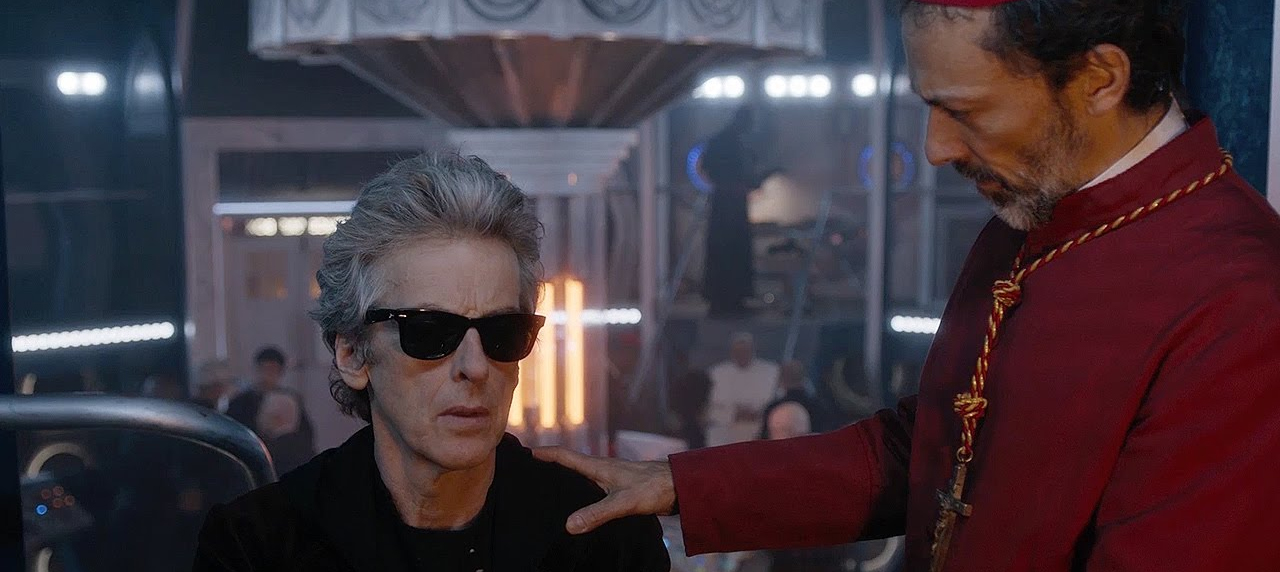 Don't worry, Doctor, I'm sure the Chibnall era will be fine
It's May 20th, 2017. Luis Fonsi, Daddy Yankee, and Justin Bieber remain at number one with "Despacito." J Hus, Ed Sheeran, Shawn Mendes, Clean Bandit, and French Montana also chart, the latter presumably introducing enough consumer confusion to explain Miley Cyrus being stuck at #11. In news, Chelsea Manning is released from prison. It emerges just how bad Trump's firing of James Comey was, resulting in the appointment of former FBI director Robert Mueller as a special counsel to investigate Russia's interference in the election. Trump makes his first foreign visit as President, to Saudi Arabia, leading to that low key amazing supervillain photo of Trump, the king of Saudi Arabia, and Egyptian President Abdel Fattah el-Sisi all touching that glowing white globe.
On television, meanwhile, Extremis. Let's set aside, for a moment, the monks arc as a whole; there's time enough to talk about what could have been, what was, and how that happened. Contrary to the greatest moment of Jack's podcasting career, Extremis is too interesting for that. That said, the monk arc hangs over it in that there is no way to talk about Extremis without talking about failure. In many regards, Moffat set this story up for failure from the moment of its promotion, describing it as a weird experimental piece in the vein of Listen and Heaven Sent, which is to say holding it up to a standard that one doesn't need the rest of the fingers on your hand to count off the other stories to meet. Extremis is done no favors by being the successor story to these when it is, in reality, a slightly hasty hodgepodge that's trying to do the Missy reveal and set up the monks arc without necessarily having a clear idea why these two things to together.
The result is decidedly one of Moffat's failures. But while that list contains cringeworthy banalities like The Doctor, The Widow, and the Wardrobe, it also contains things like The Beast Below that, while they might not quite come together as episodes of television, are still fascinating and basically delightful. Extremis falls into the later camp: an episode that does not belong anywhere near anyone's lists of Moffat's greatest triumphs, but that is nevertheless profoundly satisfying to delve into.
The thing that makes Extremis fascinating and compelling is that for all its hot mess tendencies, it's one of those Doctor Who stories that are remarkably plugged into the zeitgeist. Simulationism is the sort of fun science idea you write about in 2017 the same way you did black holes in 1973. Add reincarnation on computers, escaping AIs, and ideas that drive you mad and you have one of the most shockingly on the nose Doctor Who episodes ever, at least from the perspective of the bitch who wrote Neoreaction a Basilisk.
To some extent, despite literally writing the book on it, I'm in no position to explain why these ideas go together. It's something closer to associative logic than straightforward description. Simulationism—that is, the idea that what we experience as reality might in fact be a simulation running on an advanced computer—is a beloved philosophical concept in tech circles—it's the sort of thing Elon Musk is obsessed with. The links between this and AIs that escape their confines is intuitive enough, and ties in more broadly with a general fascination with artificial intelligence as a source of danger and concern. The link to horror ideas is more esoteric, but it's always been there in simulationism, which has typically been framed, as it is in Extremis, as a horrible truth about the world (although it really isn't much of one). But the real answer, I suspect, is something subtler and having to do with the way in which the tech industry is at the forefront of capitalism at the moment when capitalism appears posed to actually destroy the world. This isn't actually the tech industry's fault in any unique way—they're not even the prime mover of climate change, although Bitcoin certainly deserves mention as the single stupidest thing anyone has ever helped destroy a planet for. But it makes the default tone around these ideas skew more towards horror than other genres.
But there's a deeper set of associations here, or at least I found there to be one when I was poking the same issues. These nightmares of tech and AI, particularly when set against an apocalyptic backdrop, quickly slide into authoritarianism. And more to the point, into an authoritarianism that is, in material fact, closely aligned with the one we actually got. Indeed, the apocalyptic tendency of this—the way in which thinkers like Nick Land justify their fash turns by appealing to the eschaton—is a good fit for some of Moffat's larger themes here, particularly the "virtue is only virtue in extremis" line, which essentially stakes out a diametrically opposite position. My point in bringing this up is not to gripe that Moffat should have told a story that was more rooted in my pet themes. Rather, it's to illustrate the fact that Moffat has done exactly what I've spent the past few entries saying Doctor Who had to do. He's engaging with ideas, grabbing onto bits of popular science and cultural zeitgeist and using them as a starting point for a story that's rooted heavily in intellectual concerns, in a way that Doctor Who historically did and that needs to not completely fall out of its self-conception,
Much like Bob Baker and David Martin's take on black holes, it's exceedingly clear that Moffat does not actually understand simulationism. I mean, he's not completely on crack—the idea that a simulation would have detectable flaws around the generation of random numbers or elsewhere in which the computer would be able to cut corners is in fact pretty standard, and is the going hypothesis on how we might be able to settle the question one way or another. It's just that the way in which this would manifest is in no way that all attempts to pick random numbers would end up picking the exact same list. (How exactly is this supposed to work anyway? Like, how did the entire simulation not fall apart the first time someone tried to resolve something with "OK, I'm thinking of a number…") Nor, and I admit that it feels slightly strange to be pointing something this obvious out, is it actually true that every part of a computer is capable of sending an e-mail.
How much of this is actually a problem? Well, that's tricky. Certainly the extreme broadness of brush Moffat is painting these concepts with prevents Extremis from being a meaty exploration of simulationism as a serious-minded idea. But, of course, that's not especially what Doctor Who is for anyway. Doctor Who was never going to tackle simulationism in a hard SF way any more than it was going to try to figure out why the hypothesis is so beloved by authoritarian tech geeks. That's simply not the game that Doctor Who plays. Whatever riff it did on simulationism was always going to be more along the lines of Black Mirror's very broad riffing on the shape of technology than a crunchy materialist analysis. (And it's telling that Moffat gives the Doctor a line about Super Mario becoming self-aware, in that it reveals the precise Charlie Brooker Guardian article that he read for that concept.)
Of course, being Moffat the direction he has in mind is wildly less cynical than anything Charlie Brooker would ever cook up. Instead, he returns to his well of standards. To Moffat, simulationism is primarily about us not being real. This is not really one of the major problems with it in practice—an existence that's subjectively experienced as real is real enough for most philosophical purposes. But it's the one Moffat unsurprisingly gloms onto because it connects with his longstanding interest in the power of stories. And so "we're all stories in the end" gets flipped into its reverse, "you don't have to be real to be the Doctor."
This is fine. The problem is that Moffat, in his cavalier treatment of the substance of his ideas, has mashed his "simulationism as narrative collapse" take with two things that it doesn't quite go with. As I noted, simulationism belongs to a realm of tech billionaires—a group that Doctor Who has been weirdly reticent to confront in the general case. (The most recent thing to come close is The Sontaran Stratagem/The Poison Sky.) Instead, however, Moffat links it up with The Da Vinci Code style intrigue and secrets buried by the Catholic Church. This is a cool genre for Doctor Who to crash into, and the visuals from the reliably solid Daniel Nettheim justify its inclusion, and it's certainly possible to connect it with Simulationism (which is, after all, understandable as a variation on Descartes's malevolent demon idea), but in practice the connection is never drawn here. This leaves it at best a contentless pairing of two things that are interesting but have no real connection. At its worst, on the other hand, it's a setup that keeps the show from engaging in anything of substance with the Catholic Church, stripping it down to an institution of vague and portentous mystery as opposed to one with a major authoritarian streak that promotes the oppression of women and sexual minorities and has a disgraceful and staggeringly vast history of covering up child sexual abuse. And I get that this isn't exactly a topic Doctor Who is going to cover, but its absence is still glaring to the extent that it calls into question the basic idea of doing this in the first place. If the substance of a bit of iconography you want to grab is too gruesome to handle on Doctor Who, maybe grab a different bit of iconography.
The other thing that doesn't quite belong here is Missy. Moffat manages to sketch a thematic link between the Doctor's "how to be good" speech to Missy and his turn away from suicidal despair within the simulation, and it's kind of beautiful to discover he still carries River's diary (although man, you'd think it'd appear in Twice Upon a Time), but as a feat of parallel storytelling it's a bit of a wash. Missy doesn't actually have much to do here, or even much in the way of deliciously campy wolfish lines. (Her best is the frankly tepid "I've just been executed, show a little respect.") She's a prop here, basically existing to give the Doctor a reason to make his virtue in extremis speech so that he can remember it in the climactic reason. Past that, she's essentially a "next time" trailer embedded into the episode, promising an eventual story where Missy will help the Doctor defeat the monks. Which, obviously we know how that's going to turn out, but even if Lie of the Land wasn't a steaming turd her inclusion as foreshadowing wouldn't actually add much to this.
And so in many ways Extremis exemplifies Series 10 in all its possibility and frustration. On the one hand, like Thin Ice before it and a couple of the stories after it, Extremis is a story that's built up from ideas. Indeed, in its own way it's a good old-fashioned exploration of a world, although this fact is only revealed in the denouement. And like the best versions of those stories, the keys to the world are ideas—ones that are explained with, at least, an internal narrative coherence if not with rigid conceptual coherence. (The obvious point of contrast here is Smile.)
And while I could do a "but" paragraph here where I reiterate its inadequacies (I haven't even mentioned the pretty gross use of blindness exclusively as a source of jokes…) and make the point that Moffat is not capable of enacting the direction Doctor Who needs and that change is still required, I've banged that drum a lot over the last few weeks, and it seems unnecessary. So let's note instead that what we have here, in all its inadequacy, compromise, and failure, remains a fundamentally delightful thing. The metafictional cheek of the resolution and its attendant defense of art as a source of inspiration is glorious. The vision of the show that results in things like Extremis remains one of the greatest and most important things that Doctor Who has ever been. That, like every other great era of Doctor Who, it eventually reached the end of its historical usefulness does not diminish it in the slightest. We're only going to have two more opportunities to look at Moffat's work, and both of those are in their own way extraordinary. But this is our last opportunity to look at Moffat in the ordinary, doing a perfectly average and adequate job of what he does best. It's wonderful and strange, and I love it in ways that I'm still not sure I've captured after years of chronicling it. I'd miss it terribly regardless of what came after.