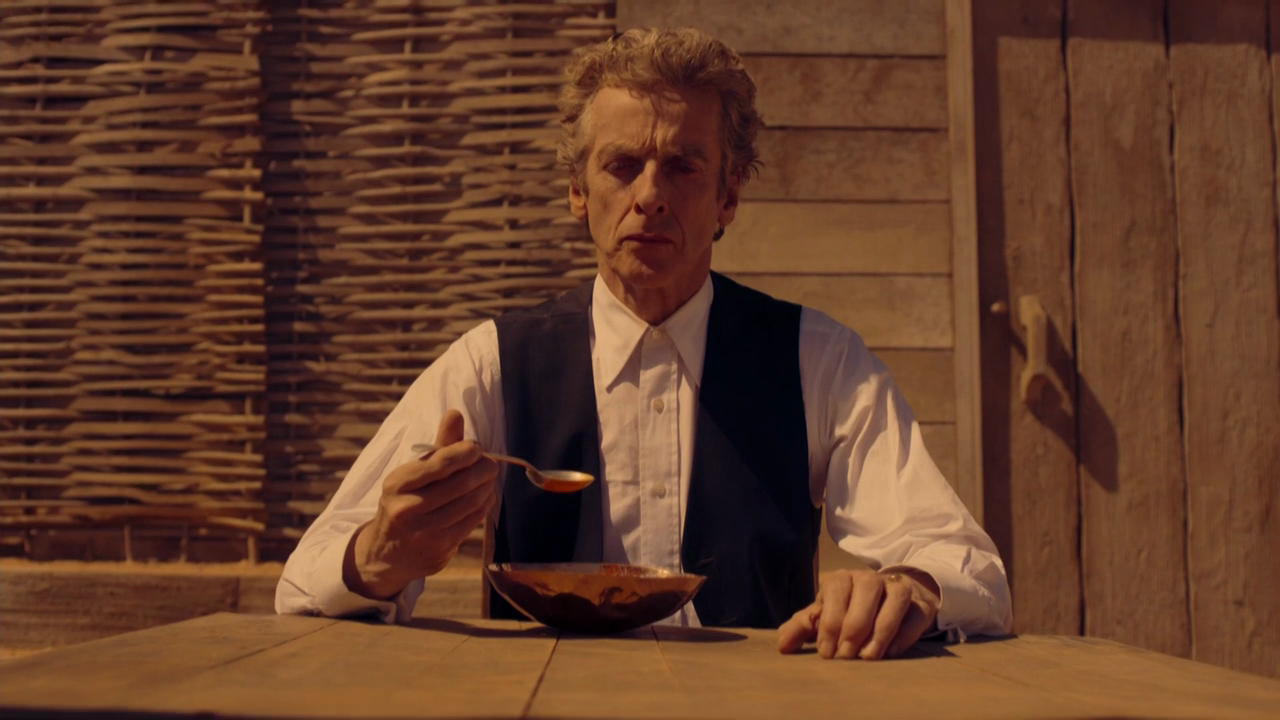 For the second episode running, the Doctor struggles to eat soup.
It's December 5th, 2015. Justin Bieber still has three songs in the top ten, with "Love Yourself" at number one. Wstrn, the Weeknd, and Grace featuring G-Eazy also chart, with Adele still in there too. In news, the United Nations Climate Change Conference convenes in Paris, beginning the process of the Paris accords. A terrorist attack in San Bernandino, California kills fourteen, while the UK begins air strikes in Syria following a parliamentary vote to authorize them.
On television, meanwhile, Moffat's masterpiece. This is, I imagine, a rather more controversial claim than last week. Sure, Hell Bent had a 2% higher AI rating than Heaven Sent, which means that it's objectively as good as Kill the Moon and Aliens of London, but I don't actually think that joke needs a punchline. The consensus here is clear: Heaven Sent is a brilliant and emotional triumph, while Hell Bent is a hot mess. To an extent I can't even argue with this. Hell Bent is unequivocally messy, and it has Jenna Coleman in that blue-grey sweater. But many of my favorite Doctor Who stories are messy. Heck, possibly all of my favorite Doctor Who stories are messy.
Hell Bent, of course, is exceptionally so; a story that positively revels in the number of unrealized parallels and allusions it has going on, constantly seeming like it wants to foreshadow things it in reality has no intention of paying off. Beyond that, there is a willfully perverse sense of importance here. This is a story that brings to Moffat's post-Day of the Doctor Gallifrey arc to a close with little more than a shrug, resurrects Rassilon for the sake of kicking him out of the story at the sixteen minute mark, radically redoes our entire idea of what the Matrix is to provide a neat horror setting for ten minutes in the middle, and concludes the entire hybrid plot with a shrug and a hand-wave. For people who don't like it when Moffat does things like this—and obviously there are a fair number of them—this borders on trolling. Certainly when Moffat's structural tics are being deployed at this scale and on the back of such an imperiously confident run as the last eighteen episodes it's easier to read this as a decisive pair of middle fingers to the haters than as mere incompetence.
For those of us who have bought into Moffat's idiosyncrasies, however, this is something altogether different. Moffat doesn't decline to pay something off out of laziness; he does it to make a point about whatever it is he pays off in its stead. And he's consistent in how that bait and switch works: he promises a grandiose epic of manpain and then offers an intensely human story, typically but not always about women. Within this framework, the question of what the story of Clara's death would end up focusing on was a non-question: it would focus on Clara.…