Viewing posts tagged daleks
Posted by: Jane Campbell 3 years, 9 months ago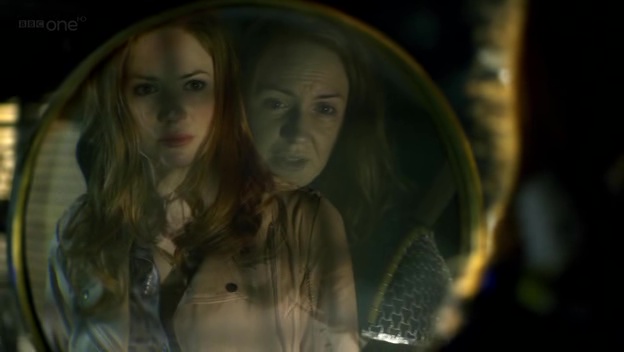 I've been thinking about doing another essay on monstering in Doctor Who, especially with regards to Amy Pond, but it occurs to me that this would really benefit in hindsight of a full survey on the show's conception of beauty. Which is to say, I think the process of "monstering" is part and parcel of the modern show's aesthetics, and what better way to explore those aesthetics than to come to some sort of understanding of the place where the Beautiful stands within it? Well, there's probably several other better ways, but when it comes to Amy Pond, I think "beauty" isn't a bad place to start. Not because Karen Gillan is classically beautiful, but because the character she plays actually articulates a philosophy of beauty that I find altogether more interesting:
WARRIOR AMY: All those boys chasing me, but it was only ever Rory. Why was that?

AMY: You know when sometimes you meet someone so beautiful, and then you actually talk to them, and five minutes later they're as dull as a brick? Then there's other people, and you meet them and think, "Not bad, they're okay." And then you get to ...
Posted by: Jack Graham 6 years, 4 months ago
"All the resting ones I have used were people of status, ambition," says Davros.
The quintessential 80s heroes. They had themselves brought to his business, Tranquil Repose, when they wanted to pay to cheat the ultimate human frailty. Death was a weakness they felt they had a right to buy off. They paid to rest until they could be awoken and cured. They would then resume their positions of power. Money would conquer death. Just as Timon and Marx knew, as the ultra-commodity in a system of total commodification, money has a fantastic and phantasmic power. It can dissolve even the most drastic boundaries and oppositions. It can even make the dead into the living.
Davros' clients had the same dream as all ruling classes. Their ancient forebears had themselves buried in their finery, surrounded by their treasure, expecting to take it with them. If they couldn't take it with them, they weren't going. That was the logic behind the pyramids... and those monuments to dead pharoahs helped bolster the power of the living ones. They were a unified statement of divine and material power ...
Posted by: Jack Graham 6 years, 4 months ago
"I've known many times," says the Doctor, "some of them much more pleasant than others."
"Well, I quite like it here, I must say," interjects Jo to cover the awkward moment, "Everyone's been most kind."
The Controller (what a giveaway that title is) nods in appreciation of her remark.
The Doctor, however, is unimpressed. He swills more wine. He looks like an sozzled, opinionated guy at an unsuccessful party, spoiling for a fight.
"Well, I met some people today who were far from kind," he says. He spent the earlier part of the day taking a forced tour of the Controller's utopia, being subjected to the tender mercies of a surprisingly well-sketched terror state.
"That was a simple mistake, Doctor, I assure you," says the Controller, his voice as smooth and silvery as his strange, quasi-robotic face, "You must not jump to conclusions."
"Better than jumping from the crack of a whip from some security guard," snaps the Doctor, "Do you run all your factories like that, Controller?"
We have been granted an unusual thing earlier in this episode: a glimpse into the productive centres of a Dalek-ruled regime. It looked like a ...
Posted by: Jack Graham 7 years, 1 month ago
There are several answers to the question "who originally created the Daleks?" You could say "Davros" with geeky fidelity. You could say "Terry Nation", as many people have (
Trivial Pursuit
used to also credit him with creating
Doctor Who
itself). One could even start listing the people who actually constructed the props (wasn't the job outsourced to a company called Shawcross or something?). As is usually the case, the most accurate answer is probably the most complex and contingent, i.e. "A consortium of people including, most prominently but to various degrees of importance, Terry Nation, Verity Lambert, David Whitaker, Raymond Cusick, Peter Hawkins, David Graham..." etc. Without a doubt, however, the individual who did more than any other to make them a huge success was an in-house designer employed by the BBC called Raymond Cusick. Cusick died a little while ago, widely recognised for his role by fans.
I'm a great advocate of 'ignoring the rat' or, as I prefer to put it, 'seeing past the bubblewrap', i.e. of giving weak aesthetics a pass if the story beneath them is interesting enough. You shouldn't let the rubbishness of ...
Posted by: Jack Graham 7 years, 2 months ago
From the October 2011 issue of
Panic Moon
. As ever, lightly edited and titivated... 'cos I just can't help tinkering.Doctor Who
talks about evolution, it doesn't usually bother getting the facts right. 'Evolution of the Daleks', for instance, seems to think species change when genes mutate morally because of lightning bolts. Such ideas go right back to 'The Daleks', in which the two races on Skaro have changed totally in mere "hundreds of years" of mutation, with the warrior Thals becoming natural pacifists in the process. (Incidentally, it's ironic that this supposedly anti-Nazi parable speaks of blonde, blue-eyed, athletic specimens as "refined" and "perfect".)
Real evolution does involve mutations, but they're not sudden and drastic as depicted in, to pick another example, 'The Mutants'. Instead we're talking about tiny replication errors in genetic code which are preserved or rejected by natural selection, leading to big changes over very long periods. This creates staggering variety on our planet alone. However, most aliens in the
Doctor Who
universe look like British actors, which (accidentally) implies that the humanoid shape is a universal pinnacle or goal of evolution. ...
Posted by: Jack Graham 7 years, 3 months ago
Why do some monsters have names while others don't?
The best place to start may be with the Cybermen. After all, they went from having names to not having names. Moreover, they did it more or less within one particular story, 'The Moonbase' (if I remember rightly, they had names in the script but these were not mentioned on screen).
The first thing to mention is that this is the story in which they went from being threatening because they are emotionless and logical to being threatening because they're one of those "terrible things" bred in those "corners of the universe" that "we" have to fight, when they were no longer fighting to save their planet but to steal ours, when they lost their human hands, when they started (so early!) saying things like "Clever, clever, clever!", i.e. when they became overtly and deliberately
evil
. But there has to be more to it than that. After all, vampires keep their names. Loss of humanity and the acquisition of evil intent are not enough to strip them of their names.
Moreover, the Cybermen are not the only
Doctor Who
monsters to lose their ...
Posted by: Jack Graham 7 years, 7 months ago
or
Sex, Death and Rock 'n' Roll - Part 2
(Part 1 can be found
here
.)
Some disjointed observations about 'Revelation of the Daleks'; fragments of a larger and uncompleted essay that's been in the draft drawer for ages... just so that I can say I've served up more this month than an off-the-cuff whinge about how much I hated P.E. lessons.
Hang the D.J.
He skulks in his private studio. He almost prefigures RTD's quasi-fan characters. He's a geek, a dweeby enthusiast. He sits alone, watches TV, greets a visitor very shyly and comes alive when given a chance to enthuse about his pet obsession: the old style D.J.s and music of America. When he learns that Peri is really American, he reacts like… well, like a
Who
fan meeting Nicola Bryant. You get the feeling that he might ask for her autograph. He's almost a parody of the nerdacious loner. He has little or no direct contact with any of the other characters. Apart from Peri, he's only ever seen with Jobel – and they don't speak to each other. One gets the sense of someone asocial and ...
Posted by: Jack Graham 8 years, 2 months ago
The tentacle was already well established as a staple of monsterology long before
Doctor Who
was even a glint in Sydney Newman's eye. When
Who
selected the tentacle as its semiotic method of evading/signifying capitalism - as I'm going to argue that it did in the 70s - it selected it from a pre-existing toolbox full of potential signifiers. But it didn't suddenly stumble upon the octopoidal. It had encountered tentacles before, albeit only occasionally.
On the whole, the show's early years are pretty thin on tentacles... but there
are
quasi-tentacular manifestations in 'The Keys of Marinus' (the Brains of Morphoton have stubby little almost-tentacles), 'The Dalek Invasion of Earth' (the Slyther) and 'The Web Planet' (the Animus). The only proper octopus monster in this era is the Mire Beast from 'The Chase'. It lives underground and exists solely to provide a way for our heroes to escape from the Aridians without deliberately sentencing them all to Dalek-death.
Oh look... bar the Animus, those were all written by Terry Nation. Hmmm...
By this point (the early 60s), the 'novum' of the tentacle had passed, but it
had
entrenched itself in the grammar of Western ...