Viewing posts tagged hannibal
Posted by: Phil Sandifer 4 days, 7 hours ago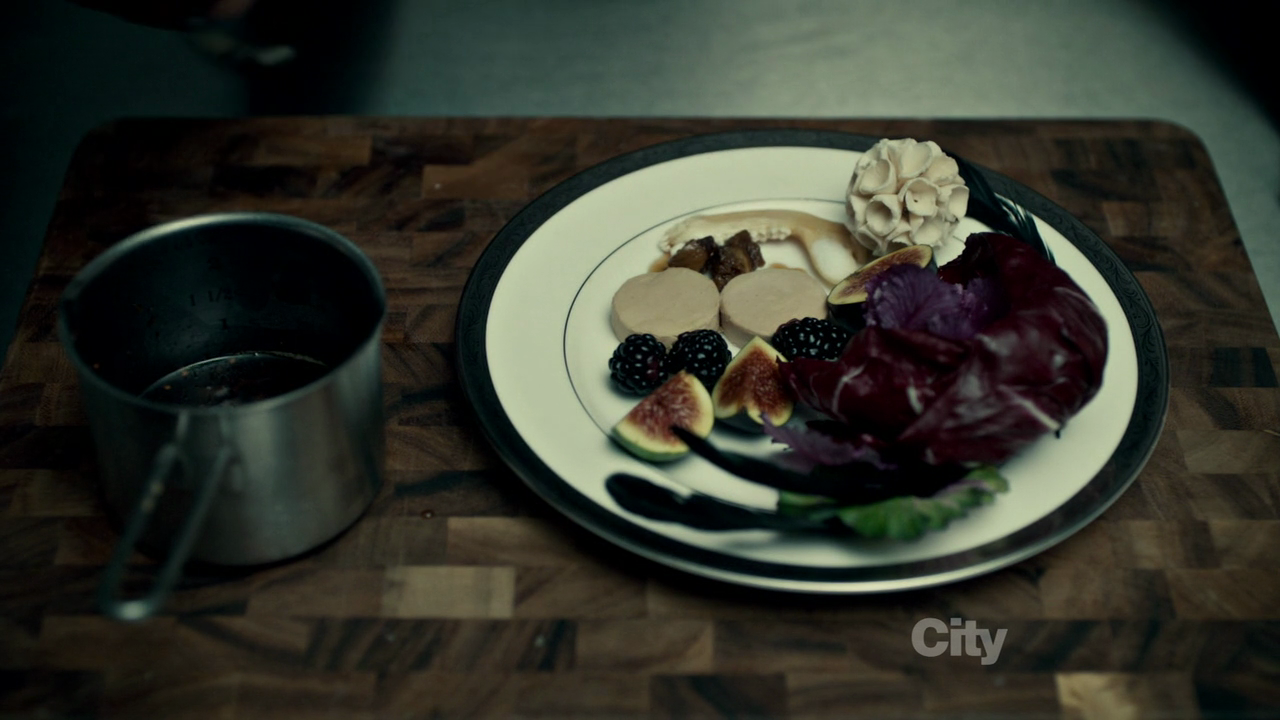 COQUILLES: Coquilles are shells, referring either to shellfish like oysters or to casseroles served in a shell-shaped dish. The poetic meaning would involve something about how people are just shells for the higher angelic spirit within. The crass (and likely intended) meaning is a visual pun based on what happens when you flay wings off of someone's back.
POLICE OFFICER: Do you have a history of sleepwalking, Mr. Graham?

WILL GRAHAM: I'm not even sure I'm awake now.
The best interpretation of this line, of course, is that even Will has noticed the weird way in which the sky moves at the wrong speed and fucking stags keep showing up, and has come to realize he lives his life in a strange and murderous dreamscape. Either way, though, he's right.
HANNIBAL: I'd argue good old-fashioned post traumatic stress. Jack Crawford has gotten your hands very dirty.

WILL GRAHAM: Wasn't forced back into the field.

HANNIBAL: I wouldn't say forced. Manipulated would be the word I'd choose.
Manipulation is a vital yet inchoate topic in Hannibal, and this line sets up much, both about the next episode and about Jack. Later in the episode, as Jack tells Will that he'd feel guilty ...
Posted by: Phil Sandifer 1 week, 4 days ago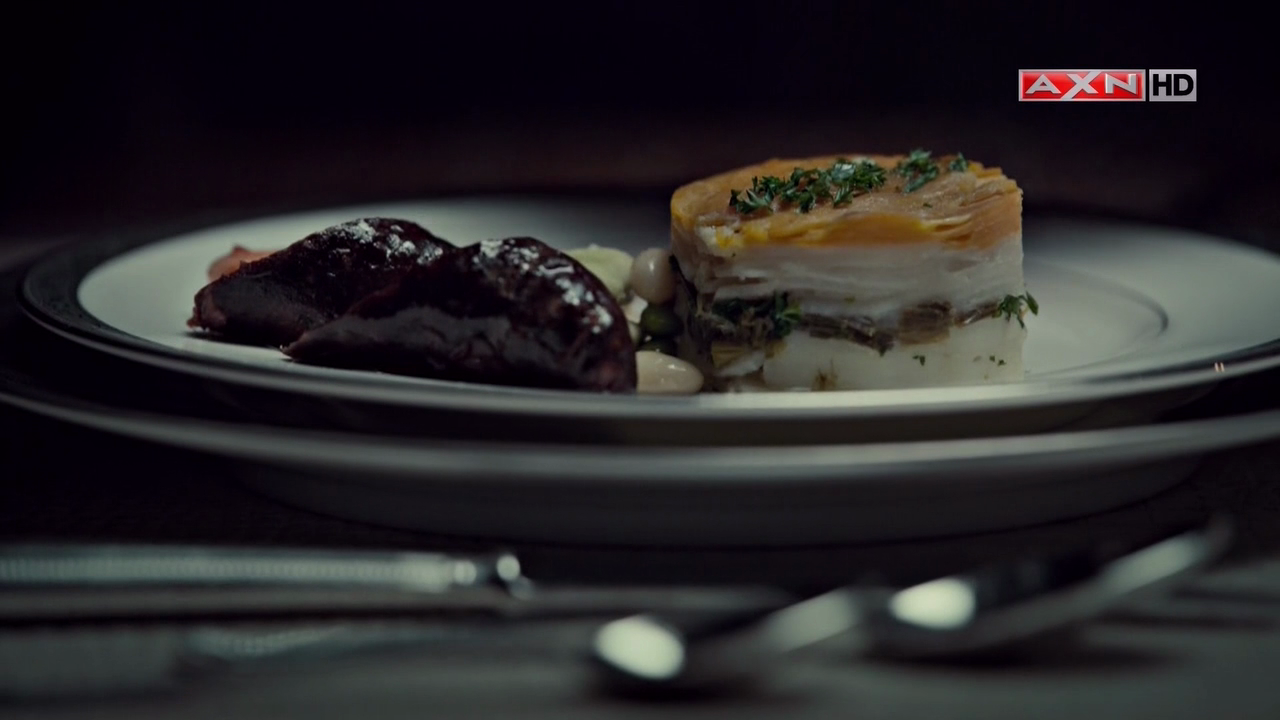 ŒEUF: One of the least nuanced titles (and indeed episodes) of the show, œuf simply means eggs, a straightforward reference to the episode's themes of family and parentage.
WILL GRAHAM: Sometimes at night, I leave the lights on in my little house and walk across the flat fields. When I look back from a distance, the house is like a boat at sea. It's really the only time I feel safe.
One of the more curious interpolations of Harris's original novels, this comes from his 2000 introduction to Red Dragon in which he describes the circumstances of writing it, working in a small shotgun house in a cotton field while taking care of family in Mississippi. Fuller's addition (this scene having been imported from the previous episode, where it originally preceded Hannibal and Abigail's end-of-episode encounter) is that Will feels safe when he does this. This is curious - the security and isolation of his house as a boat in the sea coming only when he is outside of the boat, lost in the darkness of the vast sea. This suggests that safety, for Will, is a sort of dissociative state, only attainable when he is outside of himself.
WILL GRAHAM ...
Posted by: Phil Sandifer 2 weeks, 4 days ago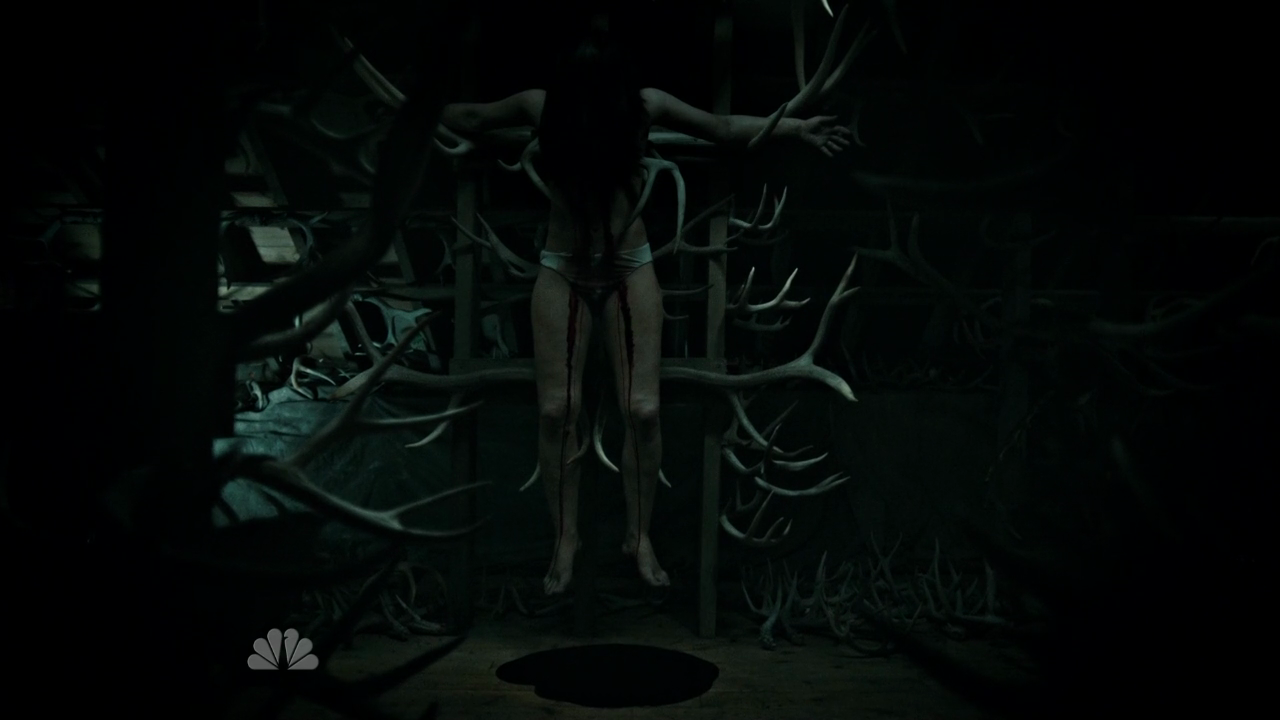 POTAGE: A thick soup, and a rather striking shift in the heartiness of courses that would probably destabilize a meal coming before egg and oyster courses. In this case, it flags the fact that this is an episode concerned entirely with the larger arc as opposed to with a killer-of-the-week.
WILL GRAHAM: I like you as a buffer. I also like the way you rattle Jack. He respects you too much to yell at you no matter how much he wants to.

ALANA BLOOM: And I take advantage of that.
For all the problems with her character (see next note), Alana is quickly established as intelligent and competent. But even here there's a certain drabness to her effectiveness, which stems at best from authorial fiat and at worst because he's unwilling to yell at a woman. And given Jack's relationships with other female characters, at worst is more likely. As for Alanna taking advantage, well, it's tough to identify when she does this as opposed to either going along with Jack or protesting ineffectually.
ALANA BLOOM: Brought you some clothes. Thought a change would feel good. I guessed your size. Anything you don't want keep the tags on. I'll return ...
Posted by: Phil Sandifer 3 weeks, 4 days ago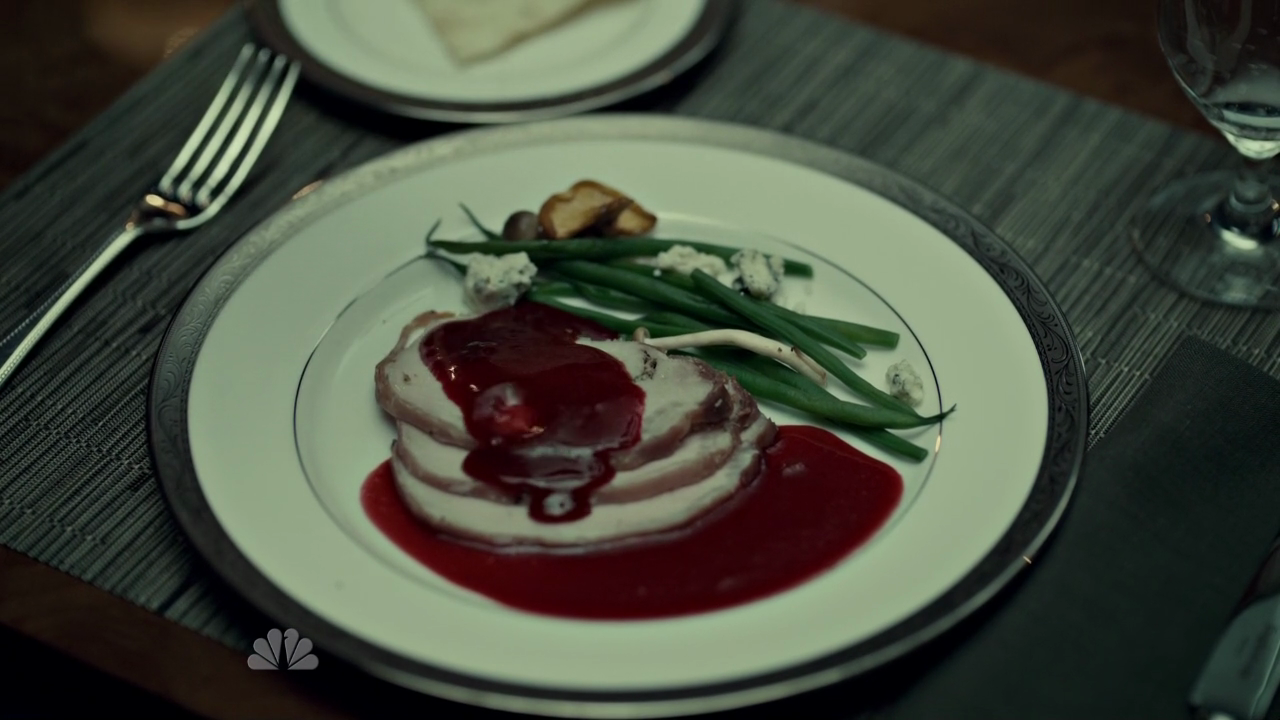 We're currently $11 shy of Doctor Who Season Ten reviews on Patreon, and $31 shy of podcasts. It's probably not quite that bad, as there are some declined pledges from March that will hopefully straighten out, but if these are things you want, please support the site by backing it on Patreon.
AMUSE-BOUCHE: Literally "mouth amuser," its function is much the same as an apéritif, but it is a bite-sized food item and thus more substantial, in much the same way that this episode, liberated from the amount of setup and exposition that "Apéritif" had to do, gets to be. A stuffed mushroom cap would be an entirely appropriate choice of amuse-bouche.

The tiered concrete at which his students sit give the sense of Will having retreated back into the bone arena of his skull.

The show's distinctive establishing shots are as important as its richly saturated color palette in creating its Chesapeake Gothic atmosphere. The time lapse establishing shots, with clouds whizzing overhead, frame what happens as taking place outside of time, in a fractured dreamscape. Fractured time is a recurring motif in the show, where it serves to indicate the blurring of internal and external landscapes. Here ...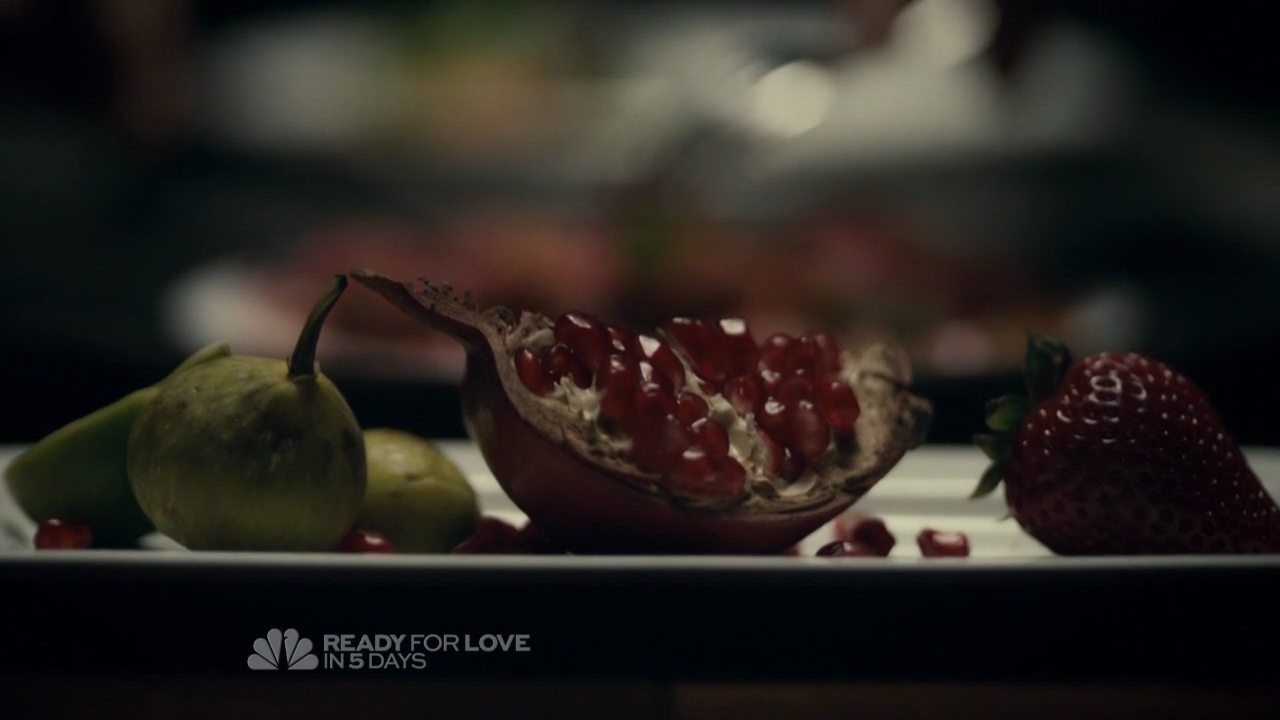 APERTIF: A pre-dinner drink to whet the appetite. In this case, it is an expansion of the Garret Jacob Hobbs case, which, in Red Dragon, is essentially presented as a precursor to a precursor, the case Will worked before Hannibal.
WILL GRAHAM: I shoot Mr. Marlow twice, severing jugulars and carotids with near surgical precision. He will die watching me take what is his away from him. This is my design.
The idiosyncratic "design" sets up the show's defining perversity: the idea of murder as something that is aestheticized. Significantly, it is Will who introduces this term, whereas Hannibal's only murder of the episode is Cassie Boyle, which he commits as a pastiche of Garret Jacob Hobbs's murders. So the two characters begin as doubly opposed. On one level, Hannibal is the creator in that he commits art murders, whereas Will, as the detective interpreting those murders, is the critic. On the other hand, it is Will who is presented as the imaginative figure, whereas Hannibal is reduced to a responsive role, reinterpreting other people's murders.
It is also worth highlighting what, precisely, the design of the initial murder was. It is not the precision of the kill shot - the ...
Posted by: Phil Sandifer 1 year, 7 months ago
The anthropocene extinction, which Jack quite reasonably argues should be called the capitalocene extinction, is by some margin the most urgent philosophical issue facing humanity today. So let's talk about a pretentiously well-directed television show that purports to be a crime drama, but is really just a vehicle for two men to urgently discuss the nature of the universe.
Let us suppose for the moment that I am talking about True Detective. Certainly I am not mischaracterizing it, although in its second season it made a substantial effort to engage with the question of what role women have in a universe that exists primarily for men to urgently discuss the nature of. (And indeed, of white men; were I to make one and only one suggestion for a third season, it would be for a main character of color who might prove capable of deflating the pretensions of the other detectives in the way Ani did this season.) Indeed, in many ways it is this second season that is easiest to start with; the most straightforward way to understand what sort of show that it is, thus understanding why its failure to quite be that in its first season ...
Posted by: Jack Graham 1 year, 7 months ago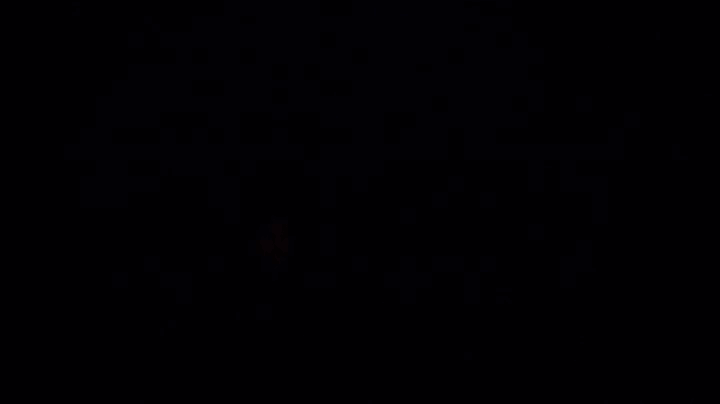 Here's Shabcast 11, featuring myself in conversation with Phil Sandifer.
This was recorded before Eruditorum Press went live, so events have overtaken it somewhat.
We discuss Doctor Who (before the start of Series 9), Susan, Gareth Roberts, Thomas Ligotti, God, Alan Moore, H.P. Lovecraft, Jimmy Saville, Frank Miller, Vox Day (because Phil just can't help himself), Hegel, Marxism, technological determinism, the Situationists, Engels, evolution, revolution, the Anthropocene extinction, Jonathan Jones, and the existential terrors of the Right.
But the main attractions of the podcast are our discussions of Hannibal (which had just ended when we taped), True Detective, and the life and crimes (artistic and otherwise) of John Nathan-Turner.
Chatting about Hannibal, we coin the term 'hannibalism', decide how to do Buffalo Bill in 2015, and come to the conclusion that Hannibal himself is a Miltonic Lucifer in a gnostic universe created by a deistic god and, possibly, Hannibal himself.
Be aware of spoilers and triggers (note the references above to Jimmy Saville and JN-T).
*
P.S. - Phil's mention of "the fucking Thales idiot" refers to a passing right-wing pillock calling himself a 'Philosopher DJ' with whom Phil (and, to a lesser extent, I) had an ...
Posted by: Jack Graham 1 year, 8 months ago
"You can tell that Hannibal is fiction because Jonathan Jones has not been murdered and put on ostentatious display." - Dr Philip Sandifer
The first chapter of
Red Dragon
includes mention of the moon (of course), Sirius
and
Jupiter. The second chapter mentions a meteor shower. The first of two mentions of meteor showers in the book. The second mention (of the Perseids, in the second case) is directly followed by a quotation from scripture. The people of the novel
Red Dragon
are haunted by stars and planets, and by rituals and scripture.
Nothing in
Red Dragon
is more horrifying than the short digression on how tabloids work. Yet this chapter is also evidence of the empathy of the book's narrator. His empathy extends even to the unscrupulous reporter, Freddy Lounds. His pride, his resistance to scorn, his refusal to be exploited. Meanwhile, cancer, to the tabloids, is a fact of life, as are serial killers. But the tabloid Freddy works for also deals in sightings of Elvis, and astronomers who glimpse God.
The narrator of
Red Dragon
is the empath. Will Graham's empathic gift is more talked about ...