Viewing posts tagged proverbs of hell
Posted by: Phil Sandifer 1 week, 2 days ago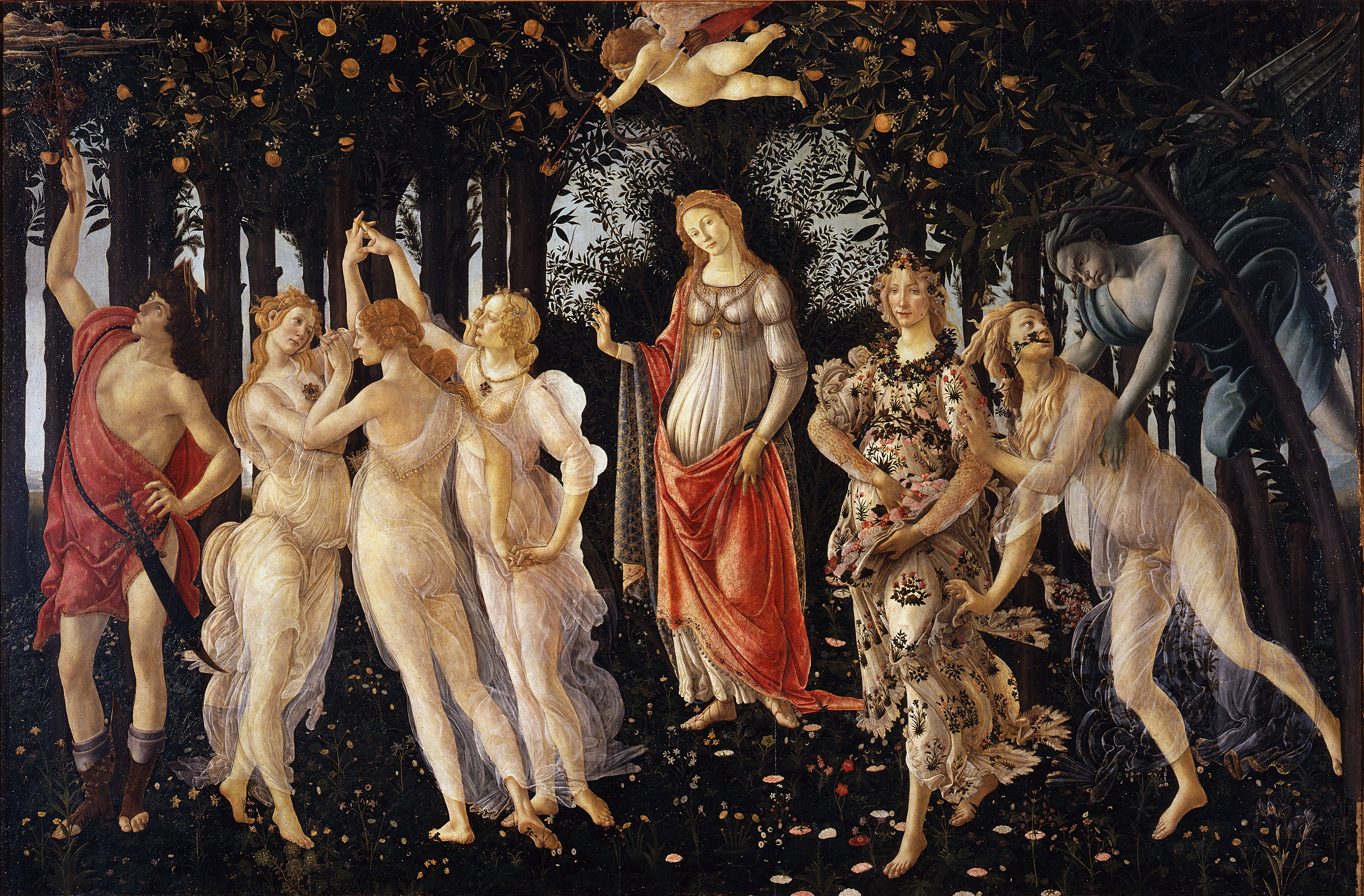 PRIMAVERA: Hoo boy. OK, so the course of an Italian menu between antipasto and secondo is supposed to be "primo." This is often a pasta course, but can also be a risotto, a soup, or some similar hot course. One such dish certainly could be pasta primavera, which is a pasta and vegetable dish that takes its name from the Italian word for spring, which is "primavera." This dish, however, is not actually Italian - it's an American dish dating to the 1970s and likely first prepared in Nova Scotia. And more to the point, "primavera" on its own is not actually a food word at all. In fact this episode belongs more to the titling scheme of the second half of the season, as we'll see in a bit.
HANNIBAL: I let you know me. See me. A rare gift I've given you. But you didn't want it.

WILL GRAHAM: Didn't I?

HANNIBAL: You would deny me my life.

WILL GRAHAM: Not your life.

HANNIBAL My freedom, then. You'd take that from me. Confine me to a prison cell. Do you believe you could change me the way I've ...
Posted by: Phil Sandifer 2 weeks, 4 days ago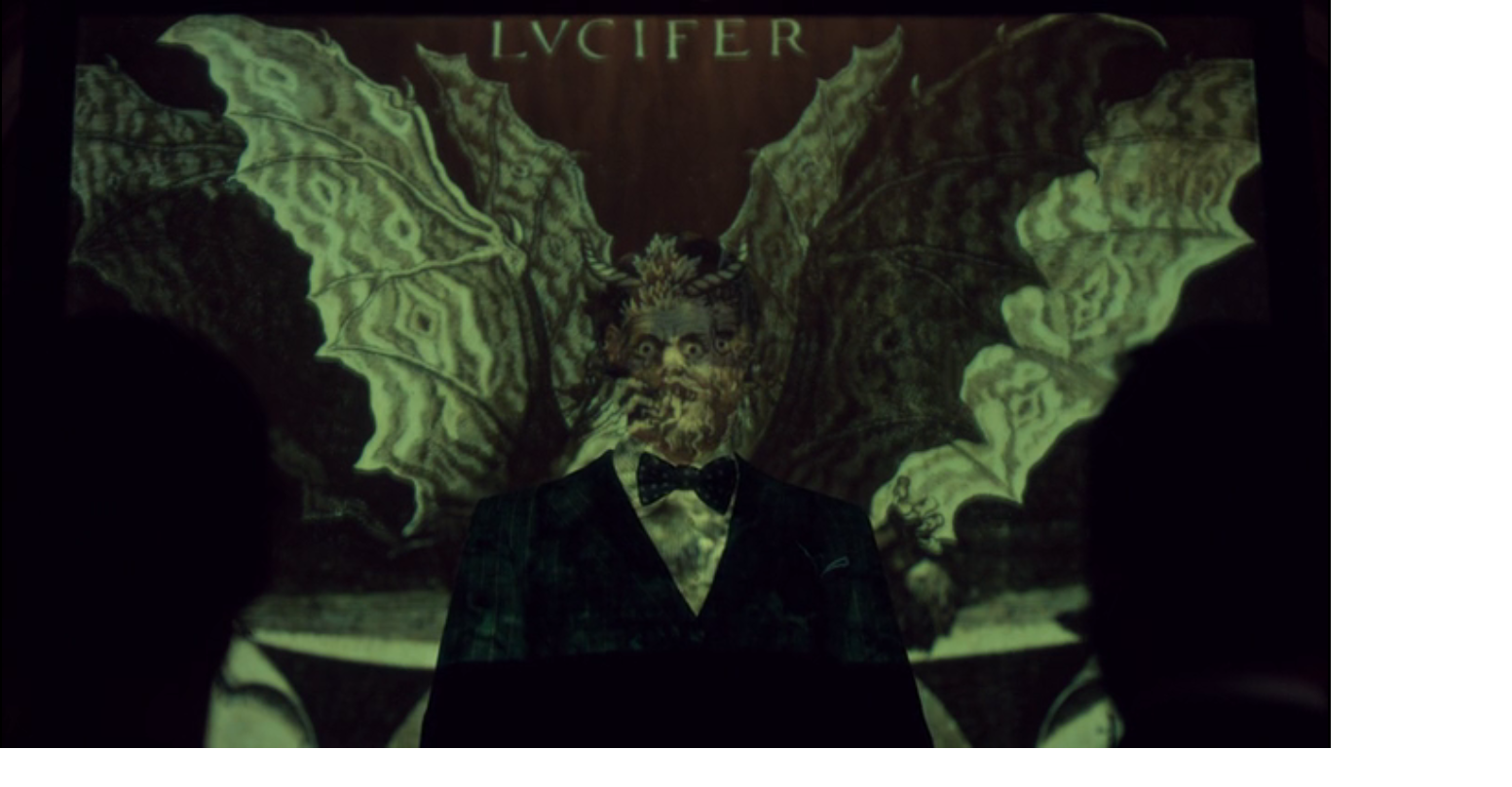 ANTIPASTO: And so we move to Italian cuisine for seven episodes. Antipasto is the starter course, distinct from the amuse bouche or sakizuki in that it is a heavier dish, often with cold meats, as befits this unusually dense premiere.
BEDELIA DU MAURIER: You no longer have ethical concerns, Hannibal. You have aesthetical ones.
HANNIBAL: Ethics become aesthetics.
I have suggested in the past that my interest in Hannibal is that Hannibal presents a vision of the perfected man. This exchange is central to that contention. I had made an assertion along the same lines as Bedelia's assessment many times prior to "Antipasto" airing (although its relevance was improved in shooting, where the line changed from "ethical problems"), routinely making the claim that I had abandoned ethics in favor of aesthetics. That said, Hannibal's retort here is, to my mind, flatly incorrect, suggesting that aesthetics are a degraded (or ascended) version of ethics.
My contention, on the other hand, is that aesthetics are in fact the base form of philosophy from which all other forms follow. Our sense of aesthetic pleasure is fundamental knowledge from which our wider understanding of the world is structured. Even epistemology extends from aesthetics - what ...
Posted by: Phil Sandifer 1 month, 3 weeks ago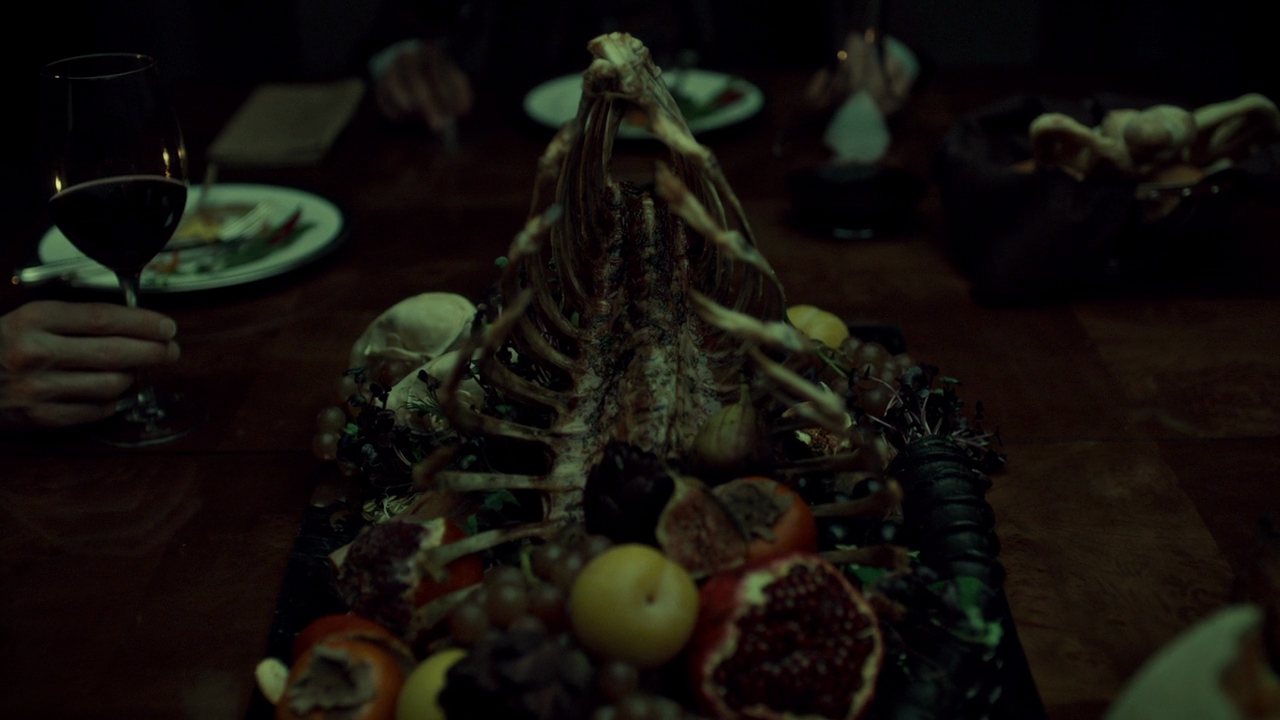 MIZUMONO: Dessert. Unlike savoureux, mizumono is in fact sweet, suggesting that the show has allied itself with Hannibal's perspective as opposed to Will's.

The shooting script called for a flash forward of Will screaming in pain from the end. Instead the episode begins with a moment of quiet ritual, with Hannibal writing out, in exquisite calligraphy, an invitation to Jack, setting their eventual confrontation as a piece of theater - a staged event the shape of which is defined by formal considerations of etiquette.

The opening sequence, which cuts between both Hannibal and Jack talking to Will and enjoining him to their side in the coming face-off. This is in some regards an odd framing for the episode, in that Will is never really given the chance to take a side, arriving on the scene after Jack and Alanna have already been dispatched. But it's such a weird and uncanny visual that one is inclined to lay the blame on the denouement for not paying off its setup than on the setup. (Even more uncanny is the reaction shot to this, a split-screen Will.)

The otherwise unmotivated reappearance of Garret Jacob Hobbs - who seems at this point slightly dated in the ...
Posted by: Phil Sandifer 1 month, 4 weeks ago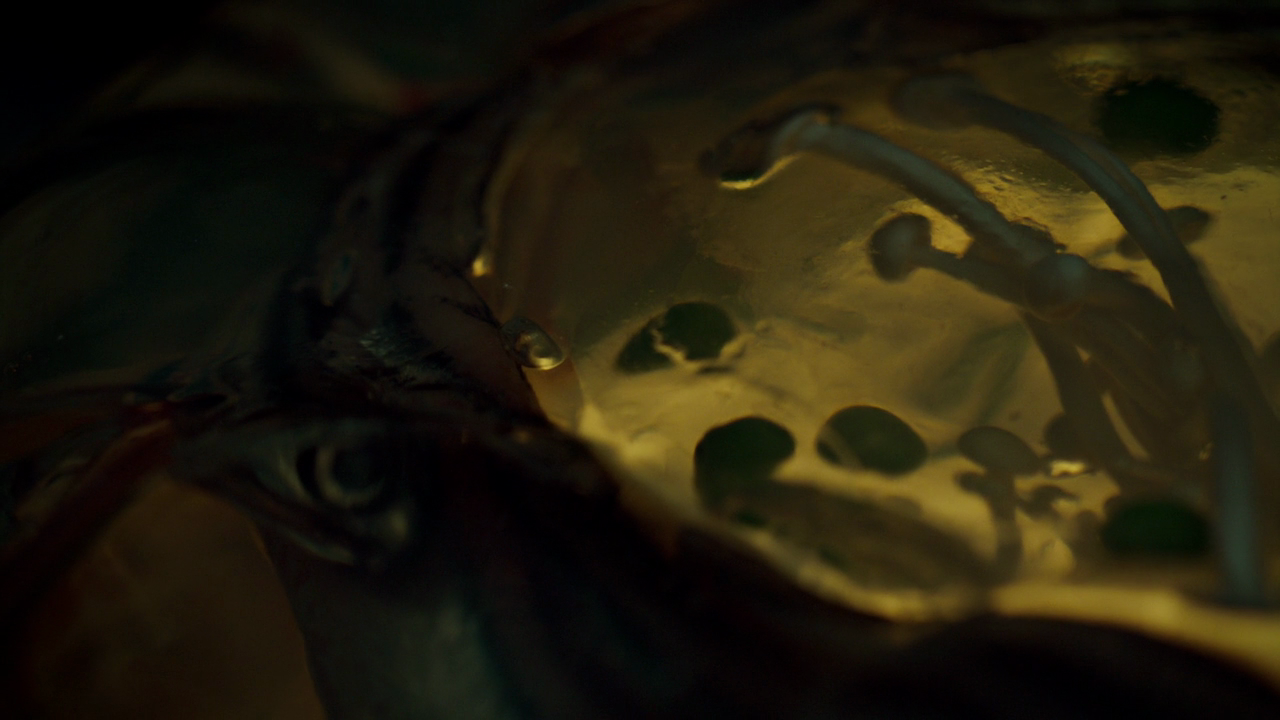 TOME-WAN: A miso or vegetable soup with rice. This signifies nothing more than the approaching end of the meal.
WILL GRAHAM: Can you explain my actions? Posit my intentions? What would be your theory of my mind?

HANNIBAL: I have an understanding of your state of mind. You understand mine. We're just alike. This gives you the capacity to deceive me, and be deceived by me.

WILL GRAHAM: I'm not deceiving you, Dr. Lecter. I'm just pointing out the snare around your neck. What you do about it is entirely up to you.

HANNIBAL: You put the snare around my neck.
This is going appreciably differently from Will and Hannibal's previous efforts to get people to murder the other for them. Hannibal's first line is the closest thing to an explanation - at this point they are so enmeshed in one another's psyches that trying to kill each other is, as Steven Moffat would put it, their flirting. Will, however, misses the real takeaway, which is Hannibal's note that he has the capacity to deceive him. Spoilers: this is going to go badly for Will. (Admittedly that spoiler is basically just always true.)
HANNIBAL: Why did you tell Mason ...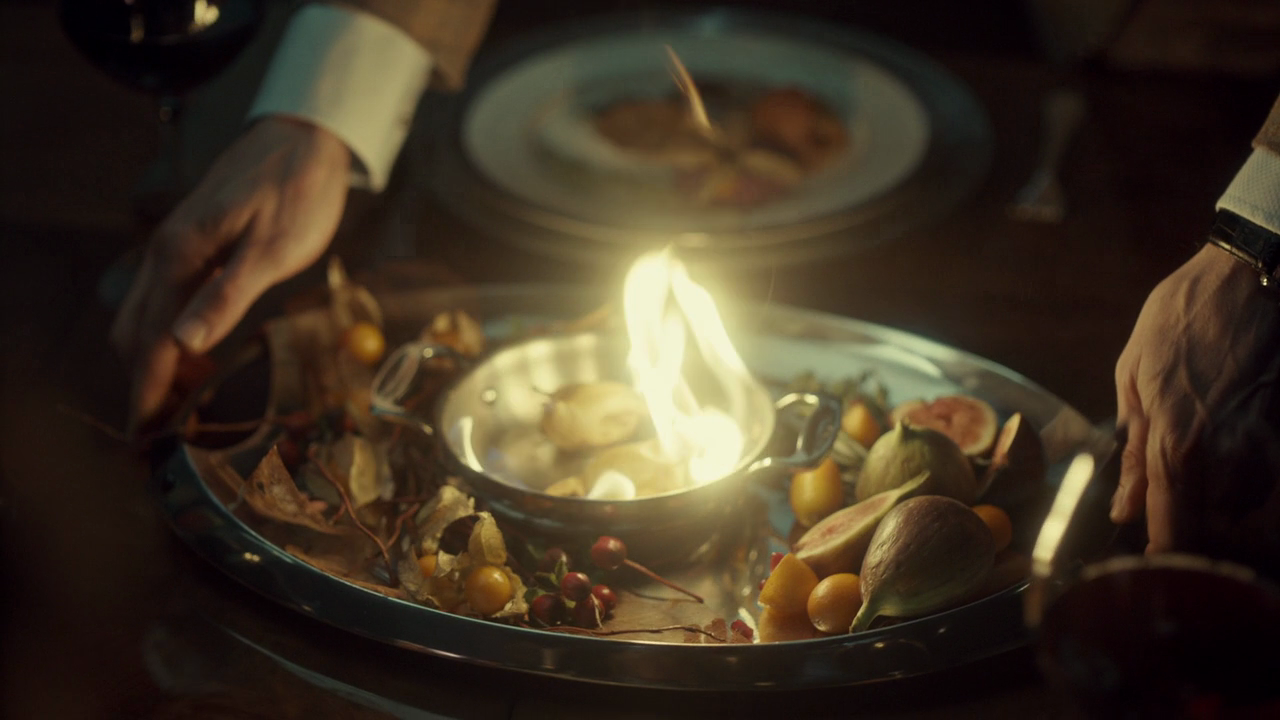 KŌ NO MONO: An assortment of pickled vegetables. Janice Poon suggests that this signals the approaching denouement, and also makes a nice metaphor about the vegetables sharpening the senses, which is what Alanna needs. The reality is that the second season is not so much going off the rails as plummeting down the gorge, watching mournfully as the rails disappear into the sky.

The script calls this the Wildigo, which is the best part of the entire conceit. That a silly portmanteau is the best part speaks to the intense and pointless violence being done to the show's narrative principles here. "Kō No Mono" is primarily structured around a cheap and theatrical bit of audience deception, maintaining the illusion that Will killed Freddie. This is already cheap - a way to manufacture drama out of structure when you obviously don't have it in your actual character work. This is a common way for formally inventive storytelling to run aground - when the formal complexity becomes a way of making a story work in the first place instead of working better. Mostly Hannibal avoids it, not least because it's got the core of the Harris books, which clearly and demonstrably do work dramatically ...
Posted by: Phil Sandifer 2 months, 2 weeks ago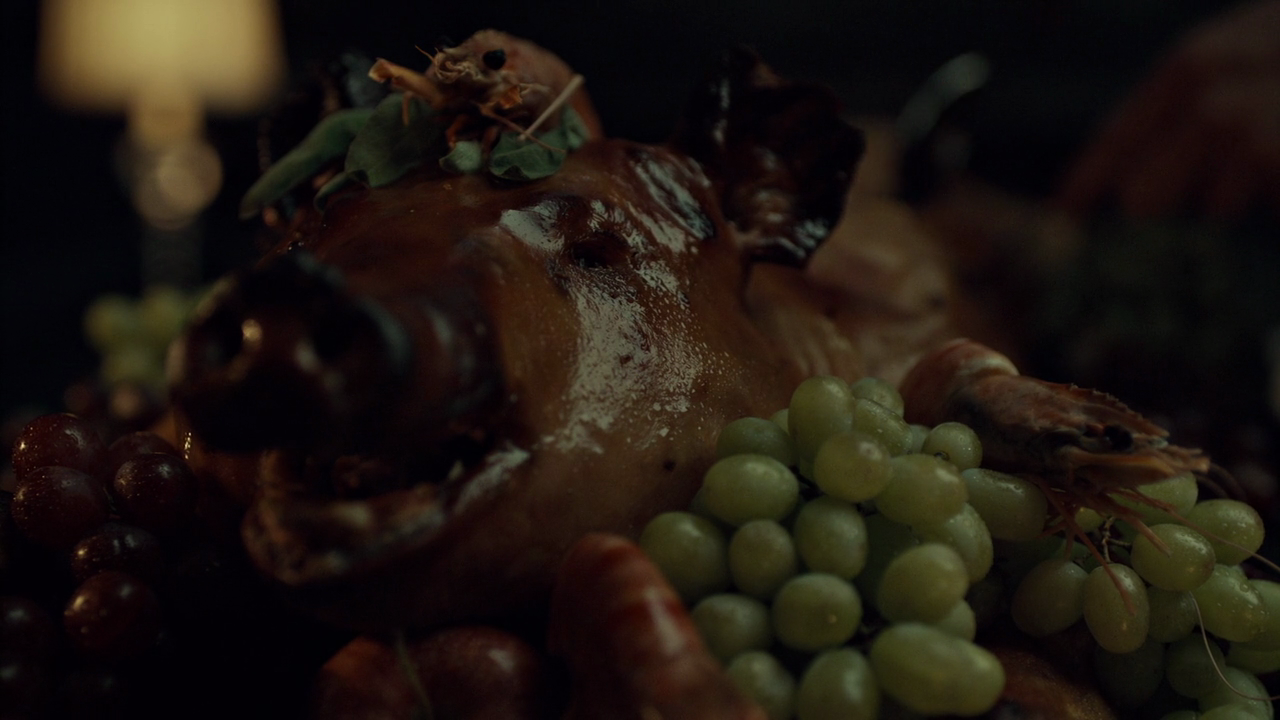 NAKA-CHOKO: A citrusy soup, used as a palate cleanser. Hannibal does suggest that a meat has citrus notes, but that's a stretch. Not even Janice Poon tries to explain this one.

It is tempting to say that this episode opens with a revision of the previous one's finale, but based on the scripts it's more accurate to say that the previous episode's finale was revised to be a streamlined version of this opening, cutting the actual fight scene down to Randall bursting through the glass (and making one other major change, which we'll get to in a moment). Here we get the psychic landscape version, in which Will murders Randall-as-representation-of-Hannibal, which, in light of the cuts to the previous episode, becomes the sole and definitive version.
WILL GRAHAM: I'd say this makes us even. I sent someone to kill you, you sent someone to kill me. Even-steven.

HANNIBAL: Consider it an act of reciprocity. One positive action begets another.

WILL GRAHAM: Polite society normally puts such taboos on taking a life.

HANNIBAL: Without death, we'd be at a loss. It's the prospect of death that drives us to greatness.
The other post-shooting script revision to the end of ...
Posted by: Phil Sandifer 2 months, 2 weeks ago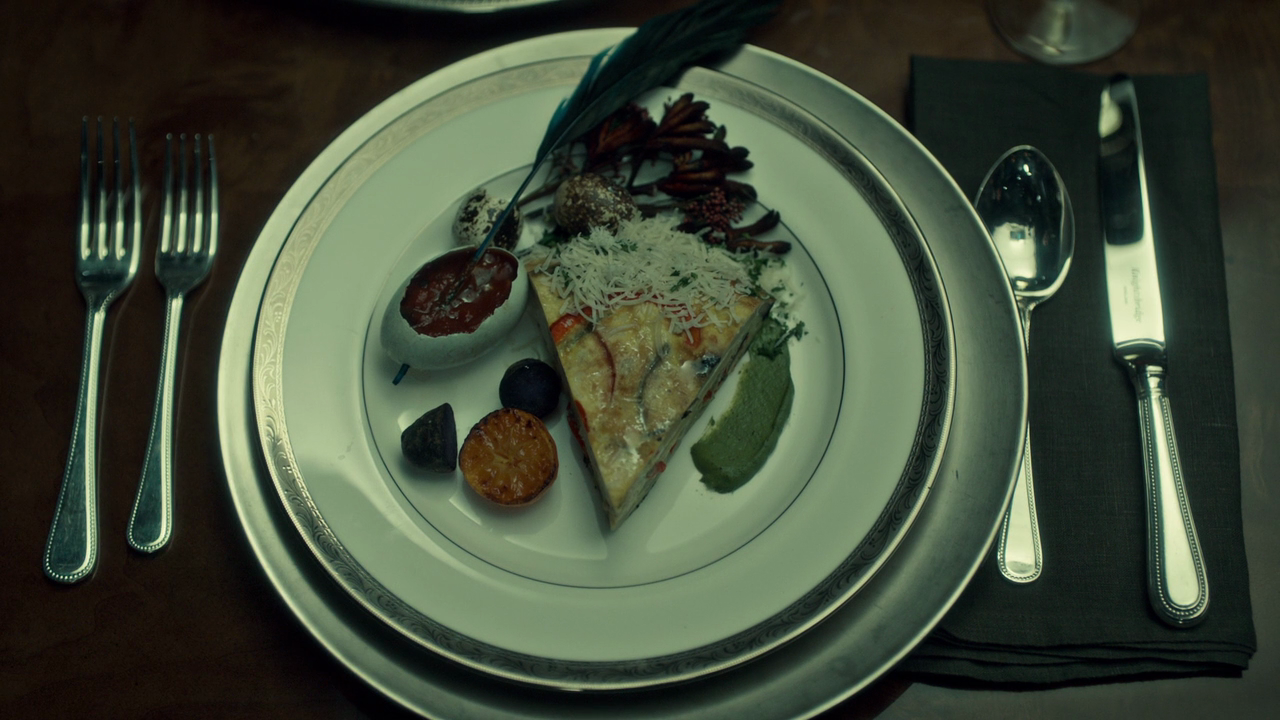 SHIIZAKANA: A hot pot dish, meat-based and the nominal main course. I'm going to go ahead and just call it "no relation" to the contents of the episode, because reading this as somehow forming a culminating centerpiece of the season is just too ridiculous.
HANNIBAL: Why not appeal to my better nature?

WILL GRAHAM: I wasn't aware you had one.

HANNIBAL: No one can be fully aware of another human being unless we love them. By that love we see potential in our beloved. Through that love we allow our beloved to see their potential. Expressing that love, our beloved's potential comes true. I love you, Will.
Given that it also includes Will slowly crushing Hannibal via elaborate rope bondage and the black stag, this dream sequence is firmly the slashiest scene in Hannibal.
HANNIBAL: Memory gives moments immortality. But forgetfulness promotes a healthy mind. It's good to forget. What are you trying to forget?

JACK CRAWFORD: Doubt. I let doubt in.
For those inclined towards the "Steven Moffat was significantly influenced by Hannibal" school of thought, the similarities between this and "forgetting is the human superpower" is significant. Of course, that was Frank Cottrell Boyce, so the ...
Posted by: Phil Sandifer 2 months, 3 weeks ago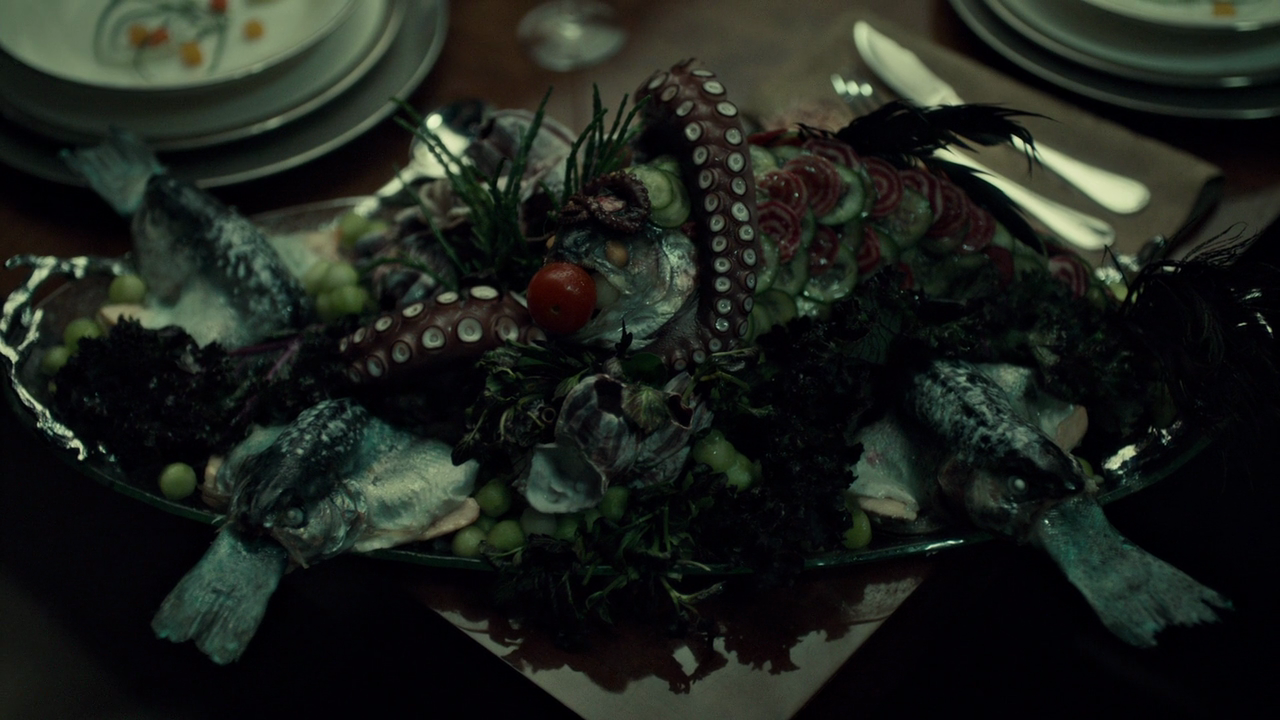 SU-ZUKANA: A palate cleanser, typically involving vinegar. A better title for last week, I suspect, but still fitting for this, which essentially starts off with all new concerns.
JACK CRAWFORD: How do you catch a fish who isn't hungry?

WILL GRAHAM: You have to change tactics. Use live bait that moves and excites them to action. Gotta make him bite even though he's not hungry.

JACK CRAWFORD: Make him act on instinct. He's always a predator.

WILL GRAHAM: You have to create a reality where only you and the fish exist, where your lure becomes what he wants most, despite everything he knows.

JACK CRAWFORD: Wrong move and he swims away.

WILL GRAHAM: I'm a good fisherman, Jack.
Will's framework of fishing and hunting has had time to evolve in his solitude, so that fishing takes on aesthetic qualities. Of particular interest is the creation of realities, an explicitly narrativizing approach that reframes fishing as an act of artistic creation. Already the reality he needs is coming into being.
HANNIBAL: Truite saumonée au bleau with vegetables and broth, served with hollandaise sauce on the side. Beautiful fish, Will.

WILL GRAHAM: It was my turn to provide the ...