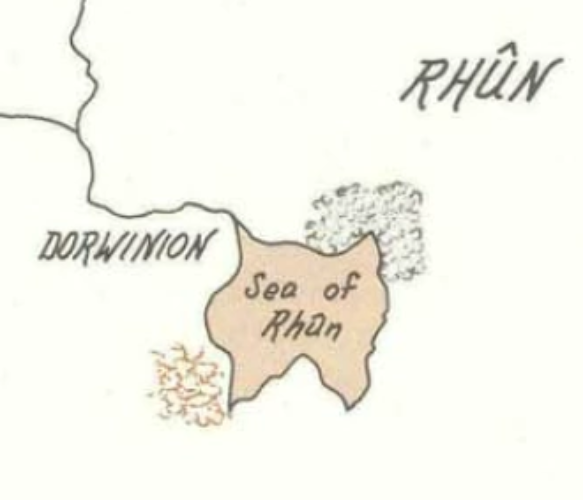 Book II of Nowhere and Back Again begins here.
"It has long been said that the desert is monotheistic. Is it illogical or devoid of interest to observe that the district in Paris between Place de la Contrescarpe and Rue de l'Arbalète conduces rather to atheism, to oblivion and to the disorientation of habitual reflexes?"
— Guy Debord, "Introduction to a Critique of Urban Geography"
Names: Dorwinion or Dor-Winion (Sindarin for "Young-land country", according to Tolkien)
Descriptions: Dorwinion lies on the Sea of Rhûn's northwestern shore. Little is known of it beyond its vicinity to the River Running, which it uses to deliver some powerful wines to Rhovanion, particularly in Mirkwood, where the Silvan Elves get positively zonked on it. The wine is the only thing people know Dorwinion for, really. It seems to have had a brief tenure as a Gondor territory during the Third Age, which lasted as long as any pre-War of the Ring Gondorian conquest.
The next step of our adventure takes us into Rhovanion, or Wilderland as the Hobbits
call it, the massive, disparate and heavily populated but wild, rocky and deserted region of northeastern Middle-earth. It lies north of Mordor's Ash Mountains, west of Rhûn, south of the enigmatic Northern Waste and its Grey Mountains, and east of the Misty Mountains and Eriador beyond them, Middle-earth's relatively green and peaceful northeast haven. This makes Rhovanion landlocked, with the inland Sea of Rhûn the one significant body of water in its vicinity, from which runs the River Carnen to the north, where it meets the Iron Hills, and the River Running, which flows to the west, into the seemingly endless forest of Mirkwood. Mirkwood runs 600 miles from the north, just below the Grey Mountains, to the south, near the Brown Lands and Emyn Muil. To its west lies the Anduin, the Great River of Middle-earth, along which lie the Vales of Anduin, the elven haven of Lothlórien, and the residences of many foes, orc, Istar, elf, and Beorning alike.
Unlike Mordor, which is wholly ruled by Sauron, Rhovanion is lawless, with enigmas both from Valinor and from its own dark crevices, with no central authority or ruling citadel. Compared to Mordor's monoculture of slavery and theocratic rule, Rhovanion shows us a multicultural and multiracial region (or macro-region, as Rhovanion homes many small regions), which gives us a look into the lives of more Peoples of Middle-earth. Tolkien sets many sequences of his most popular works here; Rhovanion is host to most of The Hobbit's plot, and the latter stretches of The Fellowship of the Ring. We have far more information on Rhovanion than we do on Mordor; The Silmarillion and The Lord of the Rings' appendices contain ample reports on its history. In short, it is a storied region, more ambiguous and varied in its geographic and cultural terrain than northern Mordor, where the conflicted interests of diverse peoples collide and change history. Wilderland shows us a path through light and darkness, one with no clear end in sight and no champion in the outcome.…