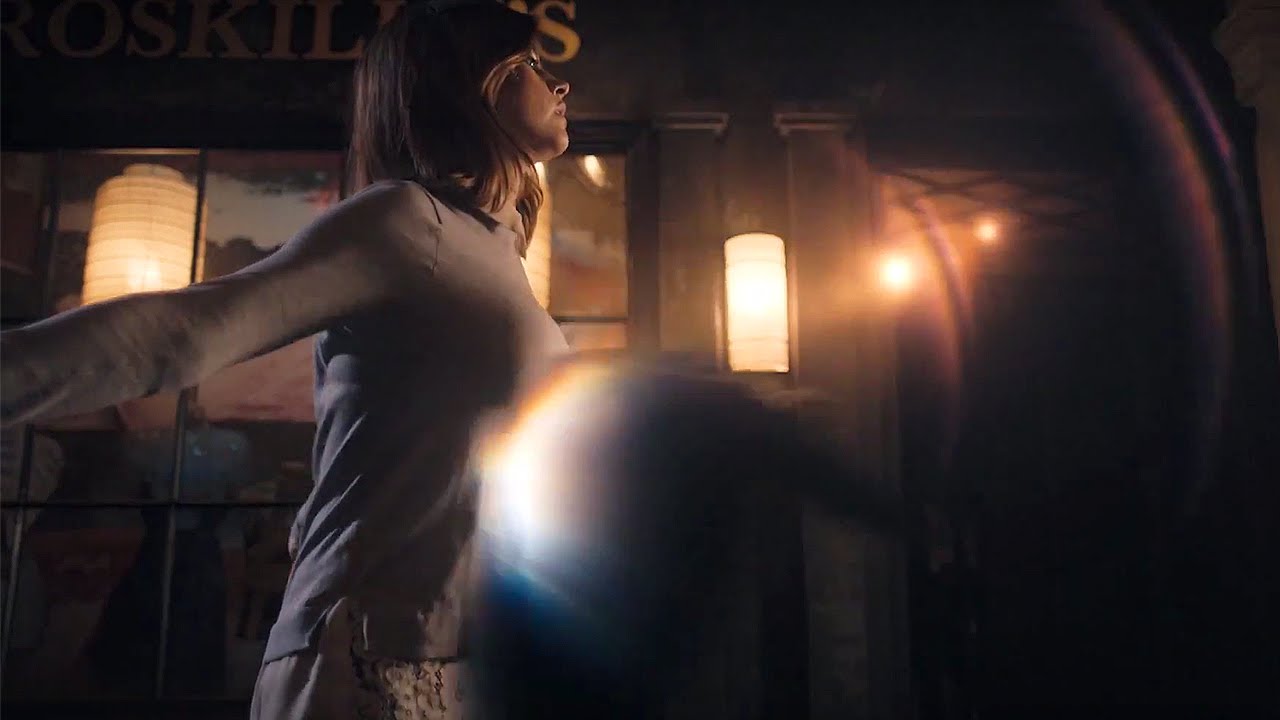 List of ways companions have died on Doctor Who: asphyxiated in space, instantaneously aged to death by the Time Destroyer, spaceship crashed into Earth, a bird flew into her tits
It's November 21st, 2015. Justin Bieber's "Sorry" has unseated "Hello" at number one, with both "Love Yourself" and "What Do You Mean" also in the charts. Jess Glynne and One Direction are also newly in the top ten. In news, Storm Barney strikes Britain, knocking out thousands of people's power, and not a ton else happens unless you find Bobby Jindal withdrawing from the 2016 presidential election interesting, which you probably shouldn't.
While on television, the Doctor Who debut of Sarah Dollard. "What's the most impressive debut of a Doctor Who writer" is a fairly entertaining parlor game. Harness has obvious cred, as does Mathieson. There's a host of obvious one hit wonders to consider: Peter Ling, Andrew Smith, or Barbara Clegg. There are big classics like Terry Nation, Malcolm Hulke, or even Steven Moffat himself. Or you could go with an impishly perverse choice like Stephen Wyatt. But for the most part the debate's plausible margin of error evaporates here. Face the Raven may not be the best first story anyone has ever written for Doctor Who, but it is the one in which the fact that it's a debut is most impressive.
The biggest and most obvious thing to point out is the writing credit. "Sarah Dollard." Not "Sarah Dollard and Steven Moffat." In a period where Moffat is willing to take credit for even small contributions such as his work on The Caretaker, his absence here speaks volumes. Sure, we could be cynial and suggest that Moffat was simply aware of the bad optics of publicly rewriting what is only his second female writer, but if you look at the scene you'd most expect Moffat to need to intervene on, the pre-death scene, it doesn't sound like him. He'd write it differently; there would be eminently quotable lines aching with cleverness. It'd be brilliant, of course, but it wouldn't be this particular flavor of brilliance. This isn't Moffat; this is a new voice being shoved out onto the biggest stage imaginable and giving it her absolute all.
What's remarkable in all of this is the amount of confidence and trust placed in Dollard, who saw her "trap streets are real" pitch get both Me and the death of Clara added to it. In another era, this sort of layering of added requirements on a relatively green writer got you Time-Flight at best and The Twin Dilemma at worst. This is both an overstuffed banquet and an absolute lynchpin story that you'd expect to go to either a trusted veteran or someone like Phil Ford who was clearly just there to save Moffat the time of a first draft. Instead it goes to the rookie who, it must be stressed, hits it out of the park.
Let's start with the big ticket item: the death of Clara. Dollard's choice of tone for the buildup to this is impeccable. Clara is scared, uncertain, and left with no moves to make and no possibility of having control over the situation, but she remains incandescently herself, using her last minutes to their full advantage. Dollard does the obviously necessary thing of having the scene be about Clara; indeed, she angrily wrenches control of it away from the Doctor. It's obviously not the case that a male writer would have made the mistake of having the scene be about the Doctor's efforts to save Clara instead of about Clara's furiously desperate stillness (and near-certain Moffat would have vetoed anyone foolish enough to), but it's here that giving Dollard the job regardless of her experience starts to make sense. As an openly queer woman steeped in contemporary media and progressive criticism, she could be trusted to write this in a way that steered well clear of any fridging tropes. (Leaving aside whether Moffat continues that next episode, which we'll get to.)
But making this about gender is pigeonholing. Yes, there are obvious reasons to have a woman write the big Clara death episode. But Dollard isn't just "a woman," or even "a queer progressive woman." This becomes clear in her account of how she tackled the scene, starting from Clara's line "Why shouldn't I be so reckless? You're reckless all the bloody time. Why can't I be like you?" And it's a great line—clearly rooted in who Clara is, and set up by things like the "don't go native" conversation in Under the Lake, but also something that hasn't been dealt with too heavily yet. And it makes sense, finding an answer to the question "why can't Clara be the Doctor" that is at once persuasive and tragic. This is an important balance. The nature of the show means that Clara can't be the Doctor; there's always going to be some uncloseable gap around that. (Not even Romana could be the Doctor, after all.) So the question has to have a real answer. On the other hand, with Clara, more than perhaps any other companion, this gap feels cruel and unfair. Dollard's choice of framings—"why can't I be like you"—is brutally honest to both sides of the equation.
Let's widen the frame slightly and deal with her actual death. Credit here has to go to Justin Molotnikov, as the scripted account of it is a relatively simple affair. But the tone it needs to hit is a subtle thing, and it rises to the occasion, simultaneously selling the moment as a massive and catastrophic tragedy and holding back just enough to get the audience to think "this can't be it, can it?" This is complex, depending on selling a moment with slightly unwarranted conviction whilst not tipping into camp. The show is perversely aided here by Murray Gold, who sets such an absurd baseline for soaring emotional moments that the concept of overdoing it no longer really exists. But the mere fact that the show is insulated from going too far doesn't make the balance automatic; in particular, it does nothing to ensure that the death not feel so climactically satisfying as to make it lackluster when it's amended two episodes later. (Indeed, plenty of reasonable people have suggested it fails utterly at this.)
Ultimately, however, my argument would be that Clara's death never feels right, and indeed that virtually nothing could have been done to sell it as the real ending. For all that killing companions off appeals to a certain type of fan it's been at best a questionable call in series history, generally coming off as a fairly cynical move. In the contemporary series where branding mandates that being the companion is canonically the best thing ever, companion death is intrinsically unsatisfying. The standard companion narrative is now one of self-actualization; having that be fatal just doesn't work.
But all of this is doubly true of Clara, whose arc has always been rooted in a process of making her vices into heroism. To end that by having her killed by her hubris is to undermine the entirety of her as a character; to say that she was wrong for wanting to be the Doctor. This is gross even before you take the still-gendered Doctor/companion relationship into account. If it's a thing you want, frankly, reevaluate your life choices.
So Dollard gets an impossible brief and hits her marks so well you miss how hard it is. But the astonishing thing, given this, is that the revelation that Clara has screwed herself by taking the chronolock comes about twelve minutes from the end of the episode, meaning Clara's death only occupies about a fourth of the actual story. There's actually a whole other episode going on here. Actually, there are three. One of the most striking things about Dollard's script is how deftly it plows through three concepts with no inherent relation: trap streets are real, alien refugee camp, and a murder mystery with no suspects.
The obvious thing is to take them in order, so let's start with trap streets. There is a pleasingly old school quality to this: a cool fact that a lot of the audience won't know that gets expanded into a classic portal to faerie image. This is not the never quite functional "Yeti in the loo" approach, but rather the related thing that Doctor Who has actually always done well, which is to make familiar spaces strange and mysterious. There's an element of facilitating childhood play that has been relatively absent from the new series—one can imagine children excitedly searching for hidden streets, and probably finding some interesting things in their subsequent derivés. We talk a lot about Doctor Who as a social good, but these are dimensions that it's mostly neglected over the past few years, and their return, even momentarily, is welcome.
The murder mystery with no suspects, on the other hand, is another tricky thing that Dollard navigates deftly. The famous instance of it is one of my longstanding favorite stories, The Rescue, which offers what I view as the legitimately astonishing twist that the man in the dodgy rubber suit is secretly a man in a dodgy rubber suit. Here, in a rare monster-free story (unless one counts the Raven itself, which seems strained), Dollard picks the more obvious trick of not having there be a murder at all. It's a sly resolution that makes the thread work despite how little time can actually be devoted to it in the face of everything else in the episode, and gets us Letitia Wright in Doctor Who for good measure. (It's a tragically minor part for an actress they'll probably never afford again now that Marvel has made her famous, but at least they glue a fake face to the back of her head.)
Which leaves the alien refugee camp. This is obviously the beat of the story that is most overtly "political," albeit in that scare-quoted way that dogs The Zygon Invasion/The Zygon Inversion. This is not to say that a positive and sympathetic depiction of refugees and the straight-faced but empathetic translation of the harsh reality of a refugee camp into frothy Doctor Who terms ("do you think a Cyberman fears a merciful death?") is not politically valuable. But it's the sort of thing alt-right blowhards dismiss as virtue signalling, and in this instance they wouldn't entirely be wrong. There's no substance per se to this thread; Face the Raven has nothing to say about refugees. They are simply a flavor to create the sensation of being political, as opposed to something the story is "about." This is not valueless; marking where Doctor Who's political sympathies lie is a worthwhile small ritual that, over time, serves to create a level of protection for the show and gravity that facilitates more meaningful decisions like, say, casting Jodie Whittaker. But make no mistake—the political aspects of the story that matter and carry weight are things like its unrefrigerated take on female death and its attempt at engaging with kids in the audience on a level beyond trying to turn them into future Big Finish customers. The refugee stuff, in the face of this, is merely a nice touch.
So all in all, a stunning debut from someone who is instantly clear as a major and era-defining talent. If this seems a strange descriptor for a writer with only two episodes to their name, we might think back to people like Ben Aaronovich, Christopher Bailey, or Donald Cotton. But in many regards it feels more helpful to look forward. Dollard, after all, is what the future looks like: a writer who came to the show with the new series and who is steeped in rhetoric of diversity and good representation. Certainly she resembles the values represented in the Chibnall era's sales pitch. Even if she never comes back for another episode—and that would be a tragedy to be sure—Face the Raven marks the moment in the Moffat era where Doctor Who first felt like the future. There's still loads of work to make it be the future, but at least the road there is clear. If that doesn't count as a major writer, what does?