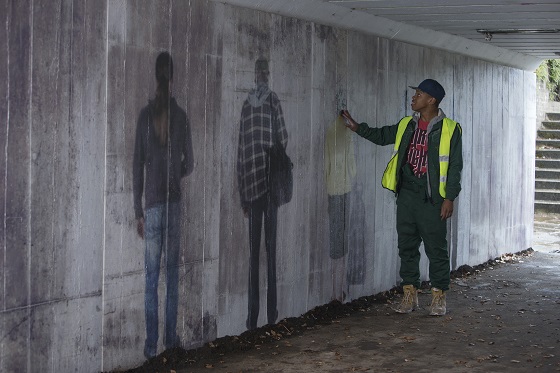 Typically two-dimensional characterization
It's October 18th, 2014. Meghan Trainor remains at number one with "Shake it Off," while Ed Sheeran, Ella Henderson, Jeremih, and Nicki Minaj entering the top ten, the latter with "Anaconda," which enters one place above Taylor Swift if you're the sort of person who wants to keep score in years-old short-lived celebrity feuds. In news, Nicola Sturgeon becomes set to take over the Scottish National Party from Alex Salmond by dint of their being no other candidates, and the first case of Ebola to be contracted in the United States is confirmed.
On television, meanwhile, Flatline. Once again, Jamie Mathieson provides a script based around a clever and highly televisual concept. It's not quite surprising that Doctor Who has never done two-dimensional monsters before; conceptually it's the sort of thing that's more likely to show up in the classic series, but it would have been technologically infeasible prior to CGI. Still, it's the sort of idea that if you asked a casual fan if had ever been done, they'd assume it must have been; it's self-evidently a Doctor Who idea. In practice the Boneless aren't quite as crisply realized as the Mummy—their rules become pure handwave once they become 3D—but they look good throughout and are the Capaldi era's only real stab at a proper new monster (as opposed to henchmen for a human-appearing villain or, the more common case, not-actually-monsters), and certainly the only Capaldi-era foes you could see coming back down the line. (Indeed, they made a dreadfully unsatisfying comics appearance in Doctor Who Magazine that took no advantage of the inherent possibilities of a 2D/3D shifting monster appearing on a 2D page that represents 3D space.) And in any case, they look great, setting up the delightfully Doctor Who phenomenon of an episode that can do shambling zombies that have spontaneously gained an extra dimension persuasively, but that whiffs it completely on doing a convincing train.
But even moreso than last week the clever premise and well-executing Doctor Whoing of the affair is just the foundation on which something interesting is being built. It's not that Flatline's set pieces aren't worth celebrating; the shrinking TARDIS is a brilliant conceit, and the Doctor hand-walking the miniaturized TARDIS off the railroad tracks as Murray Gold puts his hero theme into overdrive may well be the single greatest moment of Doctor Who in which it's not entirely clear whether anyone involved is remotely competent at their jobs. But taken on their own these things only get you a better-than-average late season standalone. What distinguishes Flatline is simple: Clara.
Obviously we've talked about Clara a lot already. I highlighted her more than most critics are inclined to all the way back in the Series Seven material, and since reviving Eruditorum I've tried to give her at least a paragraph per essay, in part because I want to devote attention to female characters, but mostly because I think she's integral to the Capaldi era's status as a golden age. Clara/Twelve isn't just an iconic pairing to rival Jo/Three or Sarah Jane/Four, it's the most complexly characterized Doctor/companion relationship the series has ever managed. When we talked about Jo or Sarah Jane, we mostly ended up focusing on Katy Manning and Liz Sladen, which is to say that the bulk of what worked about those characters was their specific performances and rapport with the lead. Even through the Davies era, where the official policy was to have the companion be a co-lead, the companion was often programmatic. Rose was sublime, but she still reduced to the quality of concept in rooting the companion in the working class and the fact that Billie Piper was a gift. Donna started to strain against that, but there's still an irreducible "Mel done right" aspect to her where the whole edifice extends out of casting an already famous actress.
But Moffat's tendency to slightly overwork the concepts of his companions pays a perhaps unexpected dividend in how we have to understand those companions, in that they suddenly resist being reduced to their performers in the same way. It's not, obviously, that Karen Gillan and Jenna Coleman don't contribute tremendously to their characters' successes, nor that their rapports with Matt Smith and Peter Capaldi aren't central to their eras' functions. But these things are no longer sufficient to explain the characters' functions. For all that Moffat's detractors like to pick on the way in which his companions come with handy taglines like "The Girl Who Waited" or "The Impossible Girl," the fact that these characters are defined in part in mythic terms gives them a weight that stands up to Rebel Time Lord in a way previous companions couldn't.
But of course, Clara hasn't been the Impossible Girl for a while; the term disappears completely from discussions around her character after Deep Breath. But the mythic heft of the character remains. And Flatline is a demonstration of that; a story in which Clara not only "gets to be the Doctor," but where she excels at it in precisely the way Rose and Donna didn't get to in The Christmas Invasion and Turn Left. Clara gets to do the actual bulk of the heroing here, with the Doctor literally being reduced to a gadget in her pocket to accompany the sonic screwdriver and psychic paper. She may get another three false departures after this, but her sheer competence here is what makes the terms of her actual departure inevitable. There's simply nothing else that will do besides her actually ascending to equal terms with the Doctor.
But the mythic is defined precisely by its separation from the human scale, especially in Doctor Who, where there's always been a carefully maintained measure of distance from its mythic center. And this becomes strange when applied to the companion, who in the traditional (if never entirely accurate) conception is the character the audience is supposed to ally their perspective with. As I said last week, I'm generally uninterested in picking apart the reasoning of the Clara hate brigade. Or, more accurately, I just don't think there's that much to pick apart; the overlap with the crowd opposed to Jodie Whittaker's casting is revealing in the extreme. But it's also the case that Clara isn't straightforwardly likeable in the way that most companions are. We are constantly invited to focus on her flaws in a way that isn't normal for the companion. And Flatline takes that to one of its most extreme points, doing an entire story about Clara's equivalence to the Doctor that pays off with the Doctor telling her off about it.
Actually, the real payoff is the revelation that Missy picked her as a companion, and that's worth unpacking. I usually try to avoid getting too proleptic with TARDIS Eruditorum, but since this fact is never really substantively unpacked in an individual story let's go ahead and tackle it a bit here in case I get distracted in Dark Water/Death in Heaven and The Magician's Apprentice/The Witch's Familiar. First, the spoiler: *stage whisper* Missy's the Master! She's a very different sort of Master, and not just in the obvious ways, but there are definitely better stories than this to talk about that with. Still, it's worth stressing up front that the notion of her as a distorted mirror of the Doctor is dealt with in much more complex terms than with previous iterations of the character. Which is to say that on the one hand, Clara is a homicidal maniac's idea of the perfect companion, but on the other there's no particular reason why this should undermine her. Indeed, given the particulars of Missy's relationship with the Doctor it's just as likely to validate her.
Certainly Missy's assessment was been a part of Clara long before we found out it was Missy's. After all, her critics are usually just as quick to call her a Mary Sue as they are to call her unlikable, and while there's an obvious contradiction in that, the truth is that both accusations are in their own way correct. From the start Clara is defined as the perfect companion. Consider her three introductions: a Junior Entertainment Manager, a job that's two synonyms away from children's literature; a fairy tale governess straight out of the golden age of children's literature; and a children's literature connoisseur. In other words, she's consistently framed in terms of the genre the plucky female companion archetype was inherited from, defined by her unwavering adherence to those terms. Indeed, a central engine of the Impossible Girl arc was the constant sense that Clara was simply too good at being a companion.
Much of her plot in Series Eight consists of responding to the implicit question this leaves behind. If there really is nothing sinister about Clara and she really is just an ordinary girl, why is she so good at being a companion? Or, to put it another way, what sort of person would you have to be in order to actually be the ideal plucky children's heroine? And the answer turns out to be that you'd have to be deeply, deeply fucked up. And so the cleverness of children's heroines becomes the purview of liars. Their fearlessness becomes the drive of an addict. Their steadfastness and sense of control over their own stories becomes bossiness.
This is not a surprise from Moffat. The heart of classic tragedy is generally that the hero is put into a position where their virtues become flaws. Othello, a brilliant soldier known for his decisiveness, is put into a position where the one thing he needs to do is slow down and think; Hamlet, a thoughtful and meticulous scholar, finds himself in one where delaying constantly makes things worse. Moffat's sense of adventure fiction has always been the inversion of this: the hero is someone with the right vices for a situation. That's blatantly the heart of Sherlock, and it's always present in his sense of Matt Smith's Doctor as a slightly menacing and dangerous figure. So the conclusion that Clara's heroism should not be a matter of goodness but of flaws is wholly in keeping with how he conceives of the idea.
The fact that Moffat conceives of all his heroes this way makes it difficult to believe that her flaws-forward presentation is why so many people have it in for her; sexism may not account for each and every individual case, but it remains the best explanation for the aggregate. But there's still something odd about it in the companion role. Because for all that she's equated to the Doctor and made mythic in her own right, Clara is still the companion. She's still the human one, understood through human frailties and ambitions; she's still us. And that's an important point opposite Capaldi's Doctor, who is kept at more of an emotional remove from the audience than any Doctor since McCoy.
I've said before that I'm not wild about calling the companion the audience identification figure, not least because I always wanted to be the Doctor, not the companion. But the thing is, so does Clara. When Rose or Donna had to be the Doctor it was something forced upon them. But Clara leaps at the opportunity. That's never really been something the companion has aspired towards before. And if there's a mad and annihilating hubris to it, well, that's how some things are. Certainly it's how stealing a TARDIS and running away is. You don't fall out of the world with your sense of self intact.
Clara forces us to confront that, and Flatline is the story that shows us what that's going to mean. It's not pretty, and as the Doctor says, goodness has nothing to do with it. But that's not the same as saying it's bad. It's saying that this isn't about morality. It's just human. It might be the most human thing there is. Certainly, at this point, Clara is the most human companion we've ever had. Don't stop her now.