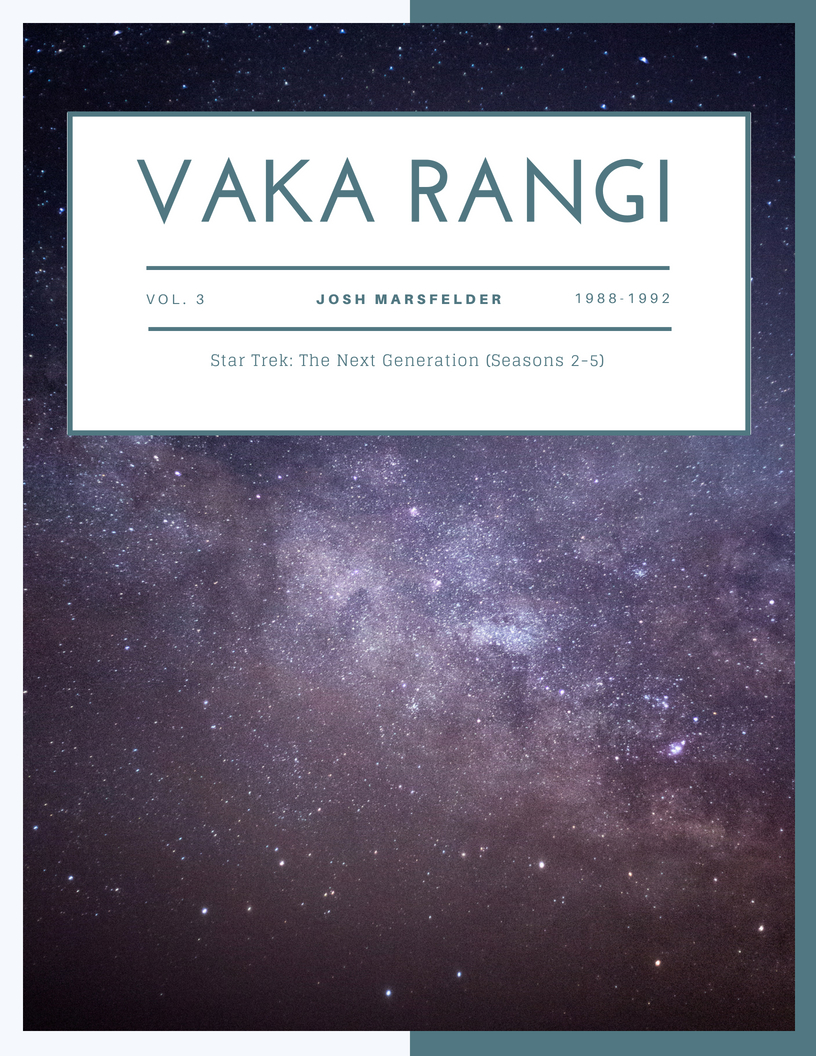 Vaka Rangi Volume 3: Star Trek: The Next Generation (Seasons 2-5) is now available! Or if it's not yet, it will be presently.
This volume covers the years 1988-1992, framed (to borrow/paraphrase a bit from Jack) in terms of Star Trek: The Next Generation's "Fall and Rise". Although the young Star Trek had ended the 1987-88 television season a popular, critical and ratings success, Leonard Maizlish's authoritarian micromanaging and Gene Roddenberry's failure to properly communicate his ideas to his staff drove the creative team away in droves. Worse still, one of the worst Writer's Guild Strikes of all time hit in 1988, absolutely crippling producer Maurice Hurley's attempts to do his job for the entire year. But Hurley made enemies and mistakes of his own, and by the time the Writer's Guild Strike finally lifted he was gone, and with him all remnants of Star Trek: The Next Generation's original creative team. Come 1989 the entire studio had been completely turned over, and an incoming motley crew of veteran TV producers and ambitious young freelancers were faced with the seemingly impossible challenge of keeping Star Trek: The Next Generation not just on course, but above water.
And yet somehow, against all odds and in spite of week-to-week quality during this period that can be charitably described as changeable, Star Trek: The Next Generation only continued to grow in fame and popularity. Its 1990 season finale became a landmark in television history, it came back in the fall with its highest rated episode ever since its pilot and a year after that would host the 25th Anniversary of the entire Star Trek franchise. And then, rumours began to circulate that Star Trek: The Next Generation might even be getting a sister show.
This book attempts to tell a story about how this television miracle happened. Each chapter is a heavily revised and expanded version of a blog post that appeared as part of the original Vaka Rangi blog project, and in some cases whole essays have been rewritten from the ground up entirely. Every episode of Star Trek: The Next Generation's second, third, fourth and fifth seasons is examined in detail, as well as the motion picture Star Trek V: The Final Frontier. This book version also includes a new set of "Totemic Artefacts" essays on the AMT/ERTL Star Trek: The Next Generation model kits released between 1988 and 1991 and an essay on Rick Sternbach and Mike Okuda's Star Trek: The Next Generation Technical Manual. Here's some of what else you can look forward to inside:
Learn how The Borg came to be, and how the way they appeared in "Q Who" and "The Best of Both Worlds" was not the way they were originally intended to appear.
Learn the true meaning of the secret connection between Star Trek: The Next Generation and Hayao Miyazaki's Nausicaä of the Valley of the Wind, and in particular that between Captain Picard and Princess Nausicaä.
Find out how the consensus-worst Star Trek movie ever once had the very real potential to be the best.
Meet the stewards who will usher in and guide Star Trek through its Golden Age, and the surprising nature of the backgrounds they all came from.
Learn how Star Trek is both shaped by and shapes in turn the creative people who work with it.
Find out what really happened in May of 1990, and why "The Best of Both Worlds" really left the impact it did.
Learn how DC's Star Trek: The Next Generation tie-in comic sprang from the ranks of inconsequential merchandising ephemera to making a serious case for being the definitive version of the show.
Learn the truth behind the infamous episodes "The Host" and "The Outcast".
See how Star Trek: The Next Generation reboots, reinvents, retcons and redeems itself over the course of 1991.
Learn that Time is not an Arrow, but in truth yearns to be seen as free and unbound.
A note for fans: Please do keep in mind my essays on the episodes "The Child" and "Devil's Due", which aired during the period this book covers, can actually be found in the previous volume on Star Trek Phase II, the film trilogy and Star Trek: The Next Generation's first season. This is because while they eventually saw versions released as part of Star Trek: The Next Generation, they were originally pitched to the unmade Star Trek Phase II television series in the 1970s, so I covered them alongside all the other scripts pitched to that show, filmed or unfilmed.
Speaking of, alongside this new volume I have also released two very minor edits of Vaka Rangi Volume 1 and Vaka Rangi Volume 2. This was done purely to make sure my books no longer deadname our dear host Elizabeth (who is cited and listed in the Acknowledgments section), though I also took the opportunity to clean up Volume 2's section on the Star Trek: Year Four comic series slightly, which, upon review, didn't meet my standards. Kindle users should be able to download the revised versions for free, and as for paperback owners: It's of course up to you whether you want to double-dip or not. Apologies: I can't afford to hire a copyeditor, so I have to look after all of my books' structural and formatting issues myself.
As always, all my Vaka Rangi books can be found on your favourite Amazon store. If you do enjoy them, I humbly request you consider sharing them with your friends and spreading the word, as it would mean quite a lot to me.
Thanks as always for all your support. I'll be gone for the next few weeks, but I've got something really big and really special planned for when I come back. I hope you all look forward to it!