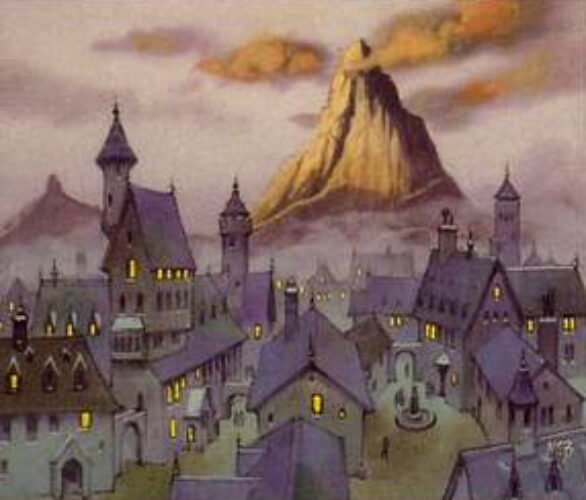 Name: Dale (as in the English word meaning "valley")
Description: A merchant city nestled in a valley between the Lonely Mountain's (Erebor) southeast and southwest ridges, settling on the shores of the River Running. Shortly after the T.A. 2590 revival of the Kingdom under the Mountain, Northmen emigrate to the valley and build Dale. Through a prosperous relationship with the Dwarves of Erebor, Dale becomes a prosperous city known for its toys and bells. In T.A. 2770, the dragon Smaug destroys Dale while sacking Erebor. Dale's Lord Girion fails to slay Smaug and dies with many of his people. The charred lands around Dale and Erebor's ruins cease to sire fauna, and become known as the Desolation of Smaug.
Dale's survivors establish Lake-town and remain there until the latter's destruction by Smaug in T.A. 2941. In the inferno, Girion's descendant Bard kills Smaug and becomes the leader of his people, later called Bardings, as they participate in the ensuing Battle of the Five Armies, a conflict fought partially in Dale. After the Lake-men win the battle, with their allies the Mirkwood-elves and Erebor-dwarves, Bard leads an effort to restore Dale. in T.A. 2944, Dale is rebuilt and Bard becomes its King. Its prosperity returns, alongside a rebuilt Lake-town in conjunction with the repopulated Erebor.
In T.A. 3019 during the War of the Ring, Easterlings attack the city in the Battle of Dale. After driving the Bardings into Erebor, and slaying their King Brand, Bard's grandson, the Easterlings occupy Dale for just over a week until the fall of Barad-dûr. The Easterlings flee Dale when they receive news of Sauron's fall, and Brand's son Bard II becomes King of Dale. When Aragorn is crowned King of Gondor, Dale sends ambassadors, and the city becomes a protectorate of Gondor.
Locations in Peter Jackson's films: Speargrass Fields and Rock and Pillar Range, Maniototo, Otago, South Island
Maps of Wilderland go no further northeast than the Iron Hills and Rhûn, so let's retrace our trajectory. Returning south, the confluence from the Sea of Rhûn breaks into the River Carnen, which culminates at the Iron Hills, and the River Running, which flows to Esgaroth (Lake-town) and Erebor. Having Thrór's map in The Hobbit indicates that Erebor is west of the Iron Hills; as that map is the most intimate cartographic view of northern Rhovanion, we'll use that as a source (Karen Wynn Fonstad positions Erebor and Iron Hills in a similar direction). Erebor's six ridges span miles across; Karen Wynn Fonstad estimates parts of them span 9 miles from end to end. As a result the valleys between ridges are vast, and allow for settlements of their own.
The River Running flows into the Long Lake just south of Erebor, where Lake-town rests. A more straightforward geographic survey would look at Lake-town next, but this is not our approach. We're going to save Lake-town for later while we have a look at Dale, a city which is Lake-town's ancestor, its progeny, and then its ally.…