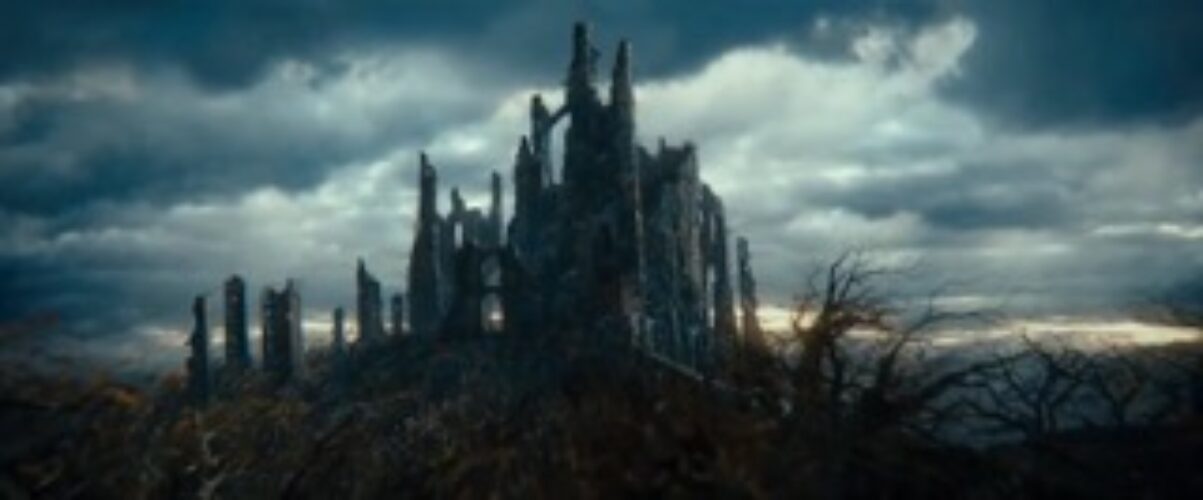 • Names: Dol Guldur (Sindarin: "hill of sorcery"), Amon Lanc (Sindarin: "naked hill")
• Description: Dol Guldur is Sauron's fortress in Southern Mirkwood. It's built on Amon Lanc, a hill which the Elven-king Oropher rules in the Second Age. Around a millennium after the Battle of Dagorlad, Sauron settles in Oropher's old fortress and begins to corrupt Mirkwood, using the outpost to monitor the Gladden Fields and River Anduin for the One Ring.
During the Battle of Five Armies, the White Council expels Sauron from Dol Guldur. Shortly afterwards, the Nazgûl retake the fortress. During the War of the Ring, Dol Guldur attacks the Woodland Realm. Eventually, Galadriel destroys Dol Guldur.
• Filming locations: Stone Street Studios, Miramar, Wellington, North Island
South of the dark Mirkwood Mountains, Dol Guldur lies "clad in a forest of dark fir, where the trees strive one against another and their branches rot and wither." It stands "upon a stony height," while "a black cloud lies over it."[1] It's a gothic nightmare, a talon of otherness clutching the forest by its throat. Its power haunts the Wood-elves so gravely that the unflappable Legolas says "we do not go that way."[2]
Dol Guldur is a classic dark fantasy fortress. It's a gothic castle in the tradition of Dracula, which corrupts Greenwood, so that "it became darkened and its new name was Mirkwood."[3] It's noted for its "pits," where the Dwarf-king Thrain is murdered and has the last dwarf ring stolen from him. Sauron in The Hobbit is simply "the Necromancer," an evil sorcerer who evilly turns good things into bad things. "To Dol Guldur evil things repaired out of all the dark places of the world,"[4] like grim fauna, sick trees, and the raiding Balchoth people.
Like most villain outposts in Middle-earth, Dol Guldur is apophatic, defined by absence and its effects more than its substance. Gandalf talks about infiltrating the fortress, saying he has "been in the dungeons of the Dark Lord… in his older and lesser dwelling in Dol Guldur."[5] Dol Guldur is decidedly a minor outpost compared to Barad-dûr. Mirkwood is so tangled even forces of darkness like Sauron get lost in it.
Sauron goes through a series of phases. In The Hobbit, he's The Necromancer. When The Silmarillion recaps his story, he's "the Sorcerer." Both names indicate hostility towards magicians. They make the villain a simple evil sorcerer with no name, but someone who manipulates nature. He's a Catholic Lucifer; noble and ruined.
It's when he becomes Sauron that the Necromancer gains mythological significance. As a Maia, he is an angelic figure turned into something abhorrent. He becomes a proper Tolkienian villain: a figure whose great crime is the blotting out of goodness.
Minas Morgul is a relevant point of comparison here. As we discussed in Book I, evil in Middle-earth is a corrosive force, rust on the engine of natural good. The theologically Catholic Middle-earth knows that only good can be wholly original, while evil leeches off of it.…