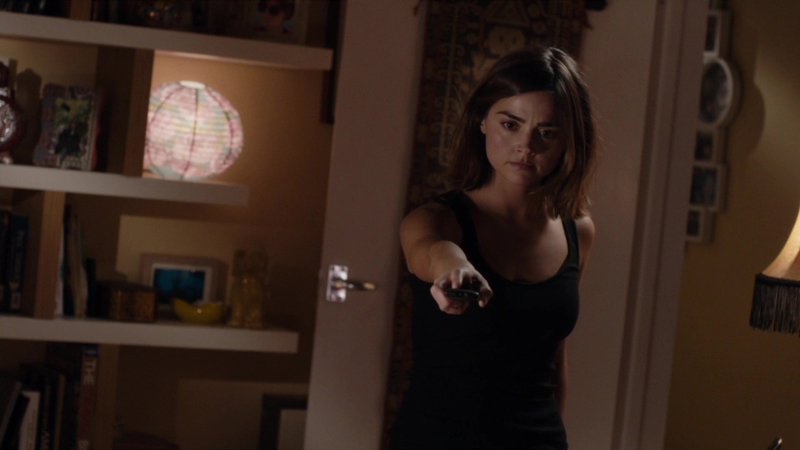 One of the things you notice a lot more when watching television as a girl is how fundamentally ludicrous a lot of characters' "no makeup and looking slightly ratty" looks are.
It's October 31st, 2015. Adele has debuted at number one with "Hello," just ahead of Justin Bieber's also new to the charts "Sorry," a situation that persists through both episodes of this story. Sam Smith, Ariana Grande, Mnek & Zara Larson, The Weeknd, and Drake also chart. In news, hundreds die in Pakistan and Afghanistan after a magnitude 7.5 earthquake, Paul Ryan becomes Speaker of the House of Representatives, and a Russian plane flying from Egypt to Saint Petersburg is blown up shortly after takeoff, killing 224.
One ought never look a gift coincidence in the mouth when doing psychochronography, so let's start with the cliffhanger, in which the Doctor's plane is shot down by a group consciously made to parallel ISIS. On the one hand this is an eerie coincidence, but it's also the sort of thing that happens when you ostentatiously position your story to be rooted in current events. Comment not on the abyss, as I'm sure someone or other said once.
But we'll circle around to the politics of this story in good time. Let's start, in the spirit of cracked mirrors, with the actual split between the two halves. The Moffat-era two-parter structure, after all, is rooted in the idea that the second part should always begin somewhere different than where the first part left off, a rule fashioned after his experience with The Empty Child/The Doctor Dances and his dissatisfaction with the feeling that the Doctor and company had just been in that basement for a really long time by the time the latter episode rolled around. And so now part twos begin by ostentatiously altering the premise of the story: UNIT shows up, we cut to Missy and Clara, the Doctor is a ghost now, or it's just an entirely new story that shares a character with the previous one. So what's the change that breaks the symmetry between part one and part two of this story? Clara obvs.
After all, you can't do a Zygon story without someone important being a duplicate. The Doctor is the boring answer, the UNIT cast is all even duller, and so it has to be Clara, not least because Jenna Coleman has not to date gotten to do her obligatory villain turn. (Not every companion gets one, but they're always a bit conspicuous by their absence.) So the big end-of-episode reveal for The Zygon Invasion (as distinct from the cliffhanger itself) is that Clara has been a Zygon all episode. Correspondingly, the big opening shift for The Zygon Inversion is her reinsertion into the narrative as the airplane shooting cliffhanger replays from her perspective. The ensuing showdown between Clara and her duplicate, Bonnie, is scintillating, not just because it's Clara's most extended hero moment all season, but because the underlying dynamic is so carefully worked out. Clara doesn't just start on the back foot, what with being imprisoned inside her mind and all that, she immediately has her main tool taken away when it turns out Bonnie can tell if she's lying. Clara has numerous moments of triumph in her tenure, but this is really the only time she's put in peril that is written specifically for her. We've seen her respond to situations in ways no other companion would, but here she's put in one that simply wouldn't make sense for Amy or Donna, where the stakes and challenges are crafted purely in terms of playing off of her strengths and weaknesses. Unsurprisingly the results are some of her most electrifying scenes of the season, not least because of their willingness to go shockingly far, as in her failed attempt to turn the rocket launcher on herself.
This also means that we get a story whose mirrorings are entirely centered around Clara. To some extent this is a factor of Harness's admirable decision to make virtually the entire supporting cast of this story women. But it goes well beyond that. Obviously the mirroring of Bonnie and Clara is intensely literal, but with Osgood spending the bulk of The Zygon Inversion filling in for Clara in the companion role and also being the obvious and, by the end, very literal mirror for Bonnie we really do have an episode that's structured around iterations of Clara with a comparative lack of iterations of the Doctor, which is deeply satisfying within a season where one of the few significant flaws is the extent to which it simply coasts on her character development instead of centering her.
Around this set of mirrors, we have a story that works with the calm and efficient competency that characterizes this period's best stories. We'll talk on his third stories about the perils of concluding from Kill the Moon that he was "the guy who writes the political ones," but broadly speaking deciding to take the guy who wrote a political allegory about the moon being an egg and throwing him at the genre of the conspiracy thriller is one of the savviest writing assignments of Moffat's tenure. Harness delivers a story that both moves through a bunch of requisite thriller set pieces and is relentlessly, consistently weird in ways that validates the idea of doing that genre within Doctor Who in 2018. Each episode finds time for a sizable set piece that exists purely to confront the audience with the particular combination of stakes and strangeness that animate this premise—the first in the churchyard confrontation, which is further elevated by an unusually deft work by Murray Gold, who scores the scene with uplifting piano music that clashes with delicious horror with what's actually going on, the second in the convenience store encounter with the schlubby and out of control Zygon, which takes the classic Doctor Who body horror of the partially transformed man and lingers with an uncomfortable sense of the pathetic. These scenes alone justify the story, doing exactly what Doctor Who should be doing, which is sticking its flag somewhere no other show has or could, presenting weird but compelling concepts that simply couldn't emerge from anything other than its legendarily generative alchemy.
But of course these are not the whole of the story's virtues. This is also one of the most furiously leftist stories of the Moffat era, with loads to say about immigration, xenophobia, and diversity. And it says the bulk of this with a brash imperiousness, shrugging its shoulders and just blithely going "yeah, actually, beloved 70s companion Harry Sullivan probably would create a weapon of mass destruction designed to genocide an entire species" and returning to the sort of bristling sarcasm of Terrence Dicks's great "the rest were all foreigners" line in Robot with "they'll think you're going to pinch their benefits." This is a story that never for a moment takes seriously the idea that the Zygons do not, in fact, have a right to live peacefully alongside humanity, indeed unapologetically following up on the moral logic of Kill the Moon to decide that this is not actually an issue in which there are democratic rights to be considered. Regardless of whether one agrees with the extremism of this position (I'm pretty sympathetic) there's an admirable moral boldness here.
And, at the risk of making an obvious point, it's all just very well made. It hits all of its moods correctly, it shifts among them well, it's paced and structured pleasantly, with an artful ability to deftly pocket a ball in order to bring it back out at the perfect time. It finds new things for Capaldi and Coleman to do, from the rightly praised fireworks of the Doctor's final speech to the delicious villain turn, and they predictably raise their game to match it. And the supporting cast is solid too—while Jemma Redgrave continues to struggle to make Kate Stewart her own, she makes a far better show of it here than on any of her previous four attempts, while Ingrid Oliver absolutely relishes the opportunity to demonstrate that she earned her fan favorite status instead of having it handed to her on a ten-foot knitted platter. It's a perfect example of the sorts of things this golden age does.
You can presumably see the "but" coming at this point, but let's be clear: virtually every era of TARDIS Eruditorum has involved me shanking some good stories, some of them ones I actually like. I stand by my ranking of this as the fourth best story of the Capaldi era. It's one of my favorite pieces of television. But golden ages can't and shouldn't go on forever. Even the best of things has limits. And we can't very well find those limits by going and taking a Toby Whithouse story out behind the woodshed. For an era as good as this, understanding its shortcomings requires looking at one of its good stories, not one of its turkeys.
The best take on this issue, and one I cannot hope to top, remains Jack Graham's "The Zygon Invocation," in which he makes the simple but devastating point that the story is crippled by its all-consuming liberalism. This is, to be fair, usually Jack's problem with Doctor Who, unless it's that it's crippled by its outright conservatism. I have a more mixed perspective—someone asked me on Tumblr a bit back about how my politics have changed since starting TARDIS Eruditorum, and I noted that "early Eruditorum is written by a liberal with aesthetic sympathy for extremism, a position that's basically shared by Doctor Who. Later Eruditorum is written by an extremist, albeit one without much interest in a nailed down policy program, and its relationship with Doctor Who is roughly analogous to appreciating someone's allyship but still rolling your eyes a lot and going 'ugh cis people.'" That was already true in 2015, and is even more true now. But even then details like haranguing Bonnie for not having a detailed post-revolution plan jarred. Now, frankly, for all its dramatic satisfaction and obviously strong writing, the entire speech rankles.
The crux of the problem is simple, which is that Bonnie's only role in the entire scene is to get steamrolled by the Doctor. I don't mean this simply in the obvious sense where her dramatic role is to be defeated, but in the sense that as a spokeswoman for any sort of radical insurgency she's only there to give the wrong answer at every point. Actually, it's not even that. The Doctor's reaction to "we've been treated like cattle" is literally "so what?" He dismisses the entirety of their suffering as "facts" that are apparently to be ignored before plowing into Bonnie for her cruelty. Bonnie, meanwhile, is left to give ridiculous answers like that what she actually wants is war and her long-term plan is simply to always win.
It's not, obviously, that I think Bonnie is right. How could you? The story leaves no space whatsoever for that conclusion. She's sympathetic, sure, in the way that revolutionary villains often are—her demand to be able to live authentically is genuinely moving. But the idea that she's actually right is never taken remotely seriously. Indeed, it's not entirely clear what her being right would even mean. She's deliberately oversignified, simultaneously representing Abu Bakr al-Baghdadi and immigrants within Britain. This does not, as some critics have suggested, mean that the story is equating immigrants to ISIS—that reading requires you to ignore the repeated message that the Zygons have a right to live here. But it means that Bonnie doesn't actually resolve into commenting on anything. Heck, the dispute between Zygons who want to assimilate seamlessly into their new identities and Zygons who want to live openly as they are can just as easily be read as a metaphor about trans people going stealth, especially when you factor in the Doctor's unpleasant fixation with the species of Osgood's birth. (I mean, who among us hasn't broken down in a convenience store sobbing about how we just want to live?)
We talked with Harness's last story about the way in which it tore across a swath of new ground, creating a new extreme for Doctor Who to explore the space around. Here we encounter a very different sort of limit. I am not so naive as to think that Chibnall can meaningfully challenge all of this. The show isn't going to become a rousing endorsement of revolutionary anarcho-socialism. But there are Moffat-era conventions that are exacerbating the problem here. However admirable Moffat's disinterest in conventional "monsters" is, the basic decision to simultaneously push this story towards "Zygon ISIS" and "Bonnie is a misguided revolutionary who can be shown the light" leaves this story in an impossible muddle that nothing entirely satisfying can come out of. There are phenomenal Doctor Who stories to do about most of these elements (I'm not convinced an ISIS story in 2015 could possibly age well) but this isn't any of them.
What it is, though, is a phenomenal Doctor Who story that is vaguely around these things. That's far from nothing; for all my reservations, only the fascist-baiting of The Witch's Familiar comes close to it in political quality. But every era, good or bad, lays down challenges for the next era to try to meet. Maybe the Chibnall era won't rise to them. Certainly I understand anyone who's pessimistic on this point. But nevertheless, we see hear what the challenge is. Going forward, Doctor Who is going to need to ask more pointed political questions, and offer more substantive answers than "be nicer to each other."