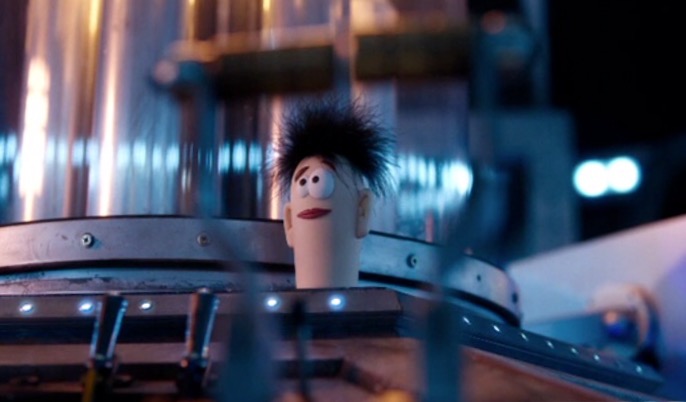 Sure, yes, you feel pain, but tell me… do you bleed?
It's December 25th, 2016. Clean Bandit's "Rockabye" remains at number one, while Rag 'n Bone Man, Little Mix, Zara Larsson, and the annual re-charting of Mariah Carey also chart. In news since Class got lost, the CIA reported to Congress that Russia had interfered in the 2016 election, which President-elect Trump described as "ridiculous," the Obama administration allowed a UN resolution condemning Israeli settlements in Palestinian territory to pass, and a riot broke out in a Birmingham prison, the worst British prison riot since the Thatcher era.
On television, meanwhile, for the first time in a year, Doctor Who. When this aired at the brutal end of 2016, suspended between Carrie Fisher's heart attack and her death and in the immediate wake of George Michael's, it felt like a baffling way to bring the show back after its longest gap between episodes since Rose. Two years and change later, it feels like a baffling artifact from another world. At its heart, it features Moffat making a well-earned return to autopilot. He will not phone it in for the entirety of Series 10, mercifully, but he is manifestly out of the weird, frenzied renaissance that launched with The Day of the Doctor. The ambitions of The Return of Doctor Mysterio are set firmly at "be an entertaining piece of fluff for an hour and then air a trailer for the upcoming series." This is accomplished, inasmuch as that matters to us.
What is interesting is the utter batshit craziness of the method by which this relatively banal task is accomplished. On paper, the underlying concept of "Doctor Who does superheroes" is straightforward. They'd been the dominant genre of filmmaking for years, and were a genre Doctor Who had not meaningfully engaged with on television in forty-eight years. What that description of the concept fails to account for, however, is that Steven Moffat does not actually have the slightest interest in just dropping the Doctor into a superhero film.
There is a standard plot structure that animates most superhero films (and indeed most contemporary films in general, in the same way that Campbell provided a satisfying straitjacket to another generation) derived from Blake Snyder's screenwriting guide Save the Cat. Extensive breakdowns of it are easy enough to find, but the basic idea is a three act structure where act one consists of a statement of theme and a main character whose life undergoes some upheaval. Act two is the main character living through this upheaval and the story relishing in its premise, ending in things going wrong for the main character. Act three is the main character successfully integrating the theme into their psyche and triumphing against the odds.
Here is what the Save the Cat beats are not. Act one: Flashback setup of one main character's origin at the hands of the other, followed up by their reuniting later in life to face a common enemy. Act two: Extended farce about secret identities and child rearing. Act three: Split the main characters up again only to have their plots reconverge at the climax as they collaborate to stop the threat. Indeed, this plot structure can be found in exactly no superhero stories ever. It is, of course, entirely recognizable as a Steven Moffat plot (the clue, if you missed it, is the fact that the middle section is a massive farce), but we'll get back to that point.
For now, let's focus on what these that weird middle act means. After all, the first and third acts, if not straightforward superhero story beats, are at least basically what you'd expect crashing Doctor Who into the genre. It's that middle section, where you're supposed to get "the promise of the premise" and instead get "farce and babies," neither of which are typically considered the premise of superhero stories. And yet the episode holds together with recognizable coherence. Part of this is the context of transmission: it makes for a perfectly coherent bit of dumb Christmas fun.
But a bigger piece is that, by dint of approaching it from a position of relative disinterest as to how superheroes work, Moffat has managed to come up with something that actually feels like a relatively fresh take on what was, by 2016, a deeply tired genre. It's easy enough to see how he got there: with no particular investment in superheroes as a concept, Moffat gravitated towards the most iconic option in Superman. This already made things weird: Superman is of towering historical importance, but has been an utterly minor part of the current wave of superhero films. Moreover, Moffat's sense of how Superman works as a character is idiosyncratic. He makes the "teenage x-ray vision" jokes you'd expect him to, and they're as lame as you'd expect them to be, but past that the detail he really latches on to is the oft-expressed canard that Clark Kent is the real heroic figure.
In Moffat's take, this is hedged a little from the quasi-messianistic "and so he decided to retain his life as an ordinary human" quality involved in Superman; Grant offers the prosaic explanation of his day job that being a superhero doesn't pay the bills. And this makes sense for a one-off superhero in Doctor Who—messianistic tendencies belong to a different character here. Nevertheless, Grant is, like Clark/Superman, presented as an image of ideal and perfected masculinity. Of course, being a Steven Moffat script, what this means is that he's a nanny.
This brings us to the farce. Obviously another thing Moffat was going to zero in on within the Superman narrative is the secret identity. Particularly given that Superman has the famously ridiculous disguise of just putting on a pair of glasses, this was self-evidently going to be catnip for Moffat's style. And so, given a superhero nanny and his crack journalist not-girlfriend, obviously the thing Moffat is going to do is play with a love triangle between two people.
But obvious is not a criticism, especially when the obviousness exists within the context of a single creative mind as opposed to in the larger cultural context, where a superhero story reducing to this sort of farce is anything but expected. It's at once a perfectly coherent story about being a good man and a totally unexpected one—the sort of out of left field barminess that Doctor Who, when it's functioning, should do. And it really is viscerally, intensely strange. I mean, the villains are just the Slitheen with the access flap turned 90 degrees and no farting, but they're just an excuse to have a plot, and anyway the gag of the guy opening his head to get his gun out is always good. But the brains with eyes are a nice visual. Matt Lucas wandering around the background the story with no explanation is bizarre. And the extended Mister Huffle interrogation gag is incongruously, titanically weird in a lot of the ways we just got done praising Mr. Robot for being.
That's not to say that one can't articulate some complaints. Most obviously, although the story is unusual and not something any show besides Doctor Who could really do, nothing about its oddness stems from the fact that it's Doctor Who per se. This is Moffat doing an hourlong superhero riff with the Doctor larking about in it. That works well enough to pass the time, but it's a deeply unsatisfying way to bring the show back after a year, a fact that grated on first transmission. The ending monologue, in which Nardole stresses that the Doctor is still upset about River's inevitable death, is a puzzlingly unsatisfying choice that picks up on an issue nobody actually thought was in need of resolution, weirdly choosing to look back at the precise moment the show should be looking forward
But much of this is baked into the premise of Moffat continuing. Having brought his tenure full circle in The Husbands of River Song by neatly calling back to the story that came right after he landed the job and that hung over and structured the first four years of his run, he didn't have a forward direction. He was done with Doctor Who, and this is the exact problem you have when you keep going after that point. More to the point, if River was the correct choice to frame the Moffat era, and I think she was, then its extension over the final season so it can still work as a framing makes sense. More to the point, as we'll see next month when we finally get to The Pilot, this invocation of River is the exception and not the rule; with the exception of bringing back Missy, Series 10 is largely not backwards looking, and really does go as far as it's possible to go in a new direction given a showrunner on his postultimate season and an actual new direction already announced for the year after.
In light of this, and for that matter in light of what the new direction would turn out to be, what stands out most about The Return of Doctor Mysterio is simply how dense it feels. The episode is always doing things, constantly throwing new concepts at the wall and making sure stuff is going on. It may be Moffat past the point where he has new ideas for Doctor Who, but this expresses with restlessness instead of apathy. He's not going out with the deflated wheeze of Letts and Dicks's final season, or the fraying "ah fuck it" of Season Twenty-One, or even the self-satisfied victory lap of the late Davies era. Instead he's panicking, desperate to come up with ideas after he knows he's already used his best ones.
As failure modes go, it's a good one. It's not even remotely sustainable; keeping Moffat on after this point would go like any longrunning show that's vastly past its prime, drooping into bland competence that only sporadically rose to the level of "almost as good as the stuff it used to do routinely." But it keeps the show only a step or two below its peak. It works to stretch out one more season.
We've talked a lot about late style, and indeed opened this discusson of the final Moffat years with a post on David Bowie's Blackstar. I find late style fascinating—the way varous artists respond to the fading of the frenzied hunger of their early careers. A handful, like Bowie (or indeed Blake), retain a personal hunger that serves them as well, if not better, than their commercial and popular one. Unable to rest for their own sakes, they keep looking for the new, raging frenziedly at the idea that the scope of their abilities might be largely clear. Others, like Neil Gaiman, fall into comfortable loops, spinning out familiar tales for dedicated audiences, in Gaiman's case literally, as he appears to have largely taken up adapting his own hits for television. Still others take the Alan Moore (or indeed also Blake) route, crafting increasingly niche works, honing the fine details of their skills, showcasing deeper and deeper technical mastery even as the execute the same familiar themes.
But in none of these cases are the artist's late works their best. They are in a few cases my favorites—though even with Moore, I prefer his middle period. But they are not the works reputations are built off of. They're fine, servicable second tier works. Alex has described the pleasure of a past-their-peak band releasing a new album in terms of the pleasant discovery of a few extras—the addition of one or two good new songs to the canon. And yeah, that's basically how it works.
And with The Return of Doctor Mysterio we enter that period for Moffat—a collection of footnotes and bonus materials that neither enhance nor degrade the reputation of the larger whole. Some will offer intriguing pathologies as vibrant as any others to spring from his work. Others will be opportunities to reiterate vital themes. And a few will be appalling turkeys, as is the case for basically any season of Doctor Who. But it's all still Moffat—still the work of one of the greatest minds ever to tackle Doctor Who. Better that than so many alternatives.