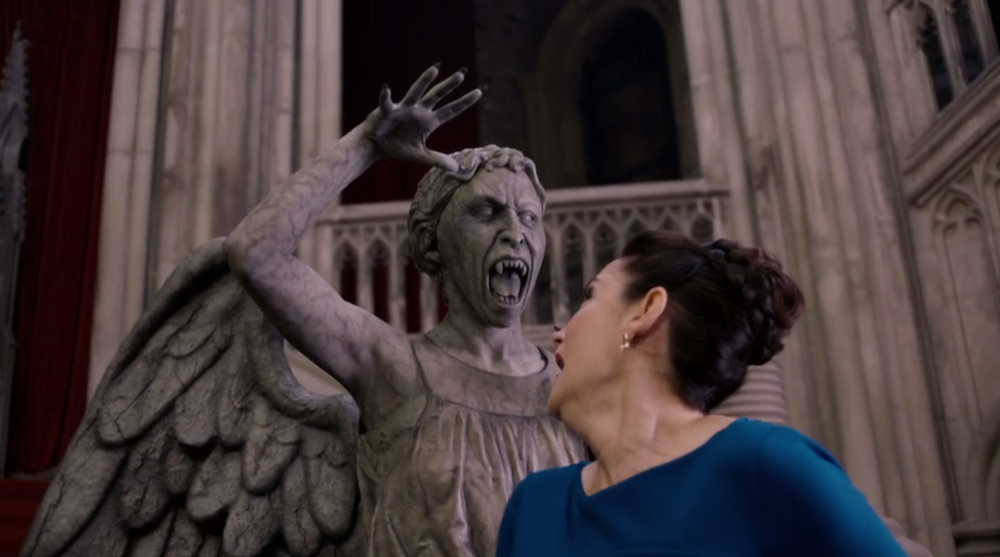 It's December 3rd, 2016. Clean Bandit remain at number one. Weeknd and Daft Punk get a seond song in the top ten, while Neiked, Maroon 5 ft. Kendrick Lamar, and Bruno Mars also chart. In news, a plane crash kills the bulk of Brazillian football team Chapecoense. Donald Trump sparks a touch of international incident when he calls the President of Taiwan, while a fire in an Oakland art space known as the Ghost Ship kills 36. A man opens fire inside a Washington pizza restaurant because, basically, Mike Cernovich said there were pedophiles there.
While on television, the season and de facto series finale of Class, "The Lost." "The Lost" hangs over the rest of Class. Without it you have seven well-meaning episodes of various levels of success—a show that could frequently have stood to be a little braver, but that always meant well and wanted to be good. With it, however, the picture gains an ugly, cynical tinge. "The Lost" is not Class's first bad episode. It is its worst episode, which is never a good thing to have happen with your finale. But more damning than its general crapness is the particular flavor of badness that it offers. There are, after all, many ways to suck. "The Lost," however, picks one of the laziest approaches possible—one that it is difficult to feel anything other than contempt for.
God, where do we begin? The beginning, I suppose. This is an episode of television that attempts to deliver the line "do you ever feel like it's so dark that it'll never be light again" as an entirely sincere and meaningful piece of dialogue that sets out the basic terms for the episode. I mean, what do you even say to that? I cannot actually imagine how someone would sit at a computer, type that line, and think, "yes, good, I am writing serious and insightful drama about the lives of teenagers." It's shockingly crap in a way that suggests a complete failure to care.
From there we have the cheap slaughter of POC to raise stakes, a return of a villain we defeated two episodes ago with no explanation beyond "I had guile," a plot resolution in which Tanya becomes the second biggest badass in the show after a quick training session, Ram's complete lack of any involvement in anything, the absolutely appalling "Black is the Color" musical cue over April's non-death… I mean, there's a lot here that's egregiously, painfully inept. This is the rare piece of media that actually does call for an "everything wrong with" video that points out all the massive plot holes and gobsmackingly lazy bits of writing it employs.
But the larger problem is just how dull the episode's basic ideas are. The crap big bad comes back again, fridges some tertiary characters, and is then defeated by the MacGuffin that's been pointedly hanging around all season. It's utterly bog standard season finale stuff, made worse by the way in which the episode has one eye on setting up its season two plot, a frankly humiliating moment of hubris in light of how badly Class flopped. Nothing actually reaches a point of resolution in this finale—Quill is still pregnant, Charlie's grief over using the Cabinet of Souls is totally unprocessed, and the remaining plot elements are left in the form of active cliffhangers. The show is so wrapped up in showing off the Weeping Angels it's never going to use that it ends up forgetting to provide any resolution to any of its own arcs.
It's not quite devoid of ideas or interesting notes, although the biggest one is simply the payoff of a bunch of other episodes' concepts. Indeed, there's a strong sense that the story doesn't really recognize how radical or unusual its decision to have Charlie wipe out the Shadow Kin actually is. Its engagement with this plot point seems to amount to little more than fretting about the stain on Charlie's soul. The episode's best moment around it goes, both unexpetedly and kind of wonderfully, to Tanya with her "how am I the only one who sees this" speech.
Nevertheless, this is an episode that treats genocide as its big triumphant moment, and there's something deliciously weird about that. It's not quite moral satisfaction—the fact that it is outright genocide means that the episode goes a little too far, as opposed to offering a thoughtful exploration of the excessively taboo idea in sci-fi media that violence is sometimes an acceptable response to genuine moral depravity. But even if this isn't quite getting morality in extremis right, it's at least a flat-out defiance of sci-fi pacifism that is worth appreciating for its brazenness.
But the problem with Class is that intentionality becomes hard to read. If this is a show that's deliberately fucking with our ideas of morality in sci-fi television settings then it's being oddly tentative, evincing a weird caution at the precise moments where it should be strutting its stuff (and, correspondingly, showing off at many of its weakest moments). Whereas if it's a show that's just not quite getting its own expectations right, well… it's demonstrably that. The arc of Class from "For Tonight We Might Die" to "The Lost" is roughly a show that goes from Chibnall done better to Whithouse done slightly worse. It's difficult, in the face of that, to put much faith in any theory of deliberateness with the show.
And this, in many regards, is the real frustrating problem with "The Lost." Endings carry unusual weight, retroactively setting the tone of everything that went before. And so "The Lost" taints the entire show, making it appreciably harder to respect its good points and considerably easier to embrace the case against it. So after seven weeks of feeling about for a redemptive reading of Class, let's just give up and ask the alternative: if we wanted to just completely trash this show, what would we say?
The simplest angle of attack is that the show is a cynical attempt at addressing a business necessity. On one hand you have a year long gap between Doctor Who episodes. On the other you have the need to generate high profile shows for the new online-only BBC Three. Since the previous incarnation of BBC Three saw its biggest success with a Doctor Who spinoff, pushing one into production was an obvious call. But as Moffat only grudgingly wanted to do another season of Doctor Who, there was exactly no urgency for a spinoff coming from him. And so we got this, a fundamentally soulless show with only a tenuous relationship to its nominal parent show.
The thing that cuts against this is Patrick Ness, who never appeared anything less than thrilled to try his hand at the Doctor Who universe, and who seemed genuinely gutted when the show was cancelled. I'll leave an actual look at Ness's prior work for the book version, but he's a serious talent the hiring of whom shows a real effort to make something worthwhile with this show. The underlying logic of making the show may well have been as cynical as all that, but his presence makes it impossible to really argue that the cynicism goes all the way down.
Nevertheless, it's clear he was in over his head. We cannot know, of course, how compromised his vision might have been. He's not made any bitter complaints about being rewritten, but it's certainly easy to believe that the BBC would not give a first-time TV writer and showrunner a free hand to create something if they had as many financial interests wrapped up in it as they clearly did here. Maybe Ness drove for something bold and ambitious only to be constantly pulled back to "can you make it more like Buffy?"
Even if so, however, there's a clear degree to which Ness wasn't up for the job. Class wasn't just constantly less ambitious than it should have been, it was routinely inept at that lack of ambition, repeatedly relying on the basic correctness of the selected trope instead of trying to sell the substance of it. It generally didn't feel calculated so much as it felt timid. That's a different problem.
There is one final point we ought to make about this show before we move on to better things, which is the show's diversity. This is, at least, not one of the areas in which the show was timid. It trumpeted its commitment to diversity, and constantly returned to it. It's a show with literally no straight white men in it. That's good. And yet it's also a show that fridges POC to up the stakes, and whose sense of how to handle its racial diversity is often stilted lectures as opposed to something that emerges organically. The bit of diversity it does consistently well is Charlie and Matteusz's relationship, and not coincidentally, that's the bit of diversity that lines up with Ness, a white guy in a same sex relationship.
And this is perhaps the most important lesson in Class. I don't want to suggest that Ness was a bad hire, because he was a cool voice worth trying, and openly queer voices aren't represented enough on television. But neither are women, people of color, or other types of queerness. And if television is going to make diversity into a sellable brand, as both his and the Chibnall era do, it needs to make sure that diversity extends behind the camera. The single easiest thing Class could have done to be better would be to not have all eight episodes be by the same white guy. And this is also one of the things that hobbles the Chibnall era—for all its commitment to diversity, it's still dominated by white guys. If you want stories of women and people of color to be told well, they need to be allowed to tell their stories instead of diversity being reduced to, essentially, just another genre that's still dominated by white guys.
Was Class worth trying? Yes. Absolutely. Its moments of potential and even success are clear enough to justify the attempt. But it was worth trying harder, on every level from its conception to its staffing to its execution. This isn't why it failed—it stumbled fatally out of the gate. But it's why the end result of its failure is a shockingly forgettable spinoff that improbably seems destined to have less long-term impact on Doctor Who than Faction Paradox. Oh well. Moving on.