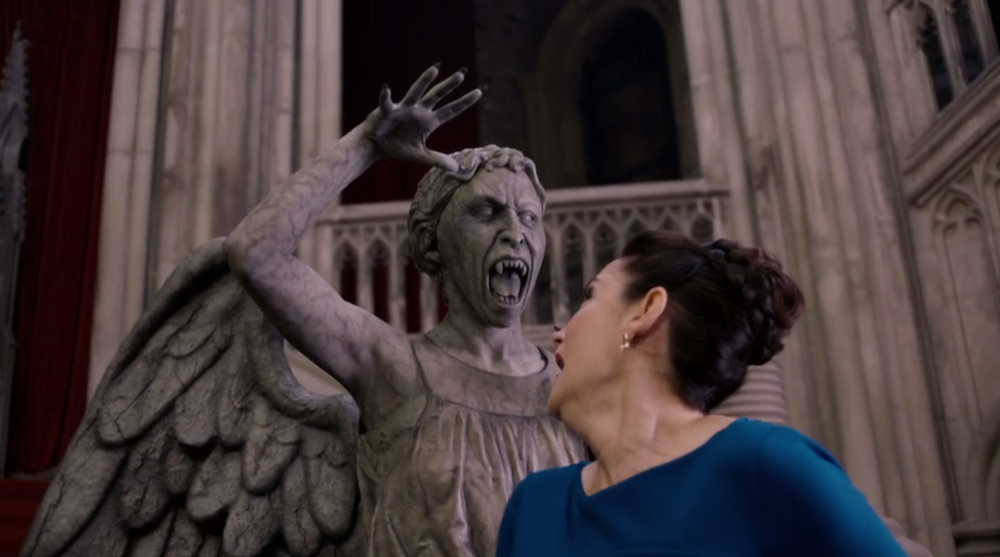 It's December 3rd, 2016. Clean Bandit remain at number one. Weeknd and Daft Punk get a seond song in the top ten, while Neiked, Maroon 5 ft. Kendrick Lamar, and Bruno Mars also chart. In news, a plane crash kills the bulk of Brazillian football team Chapecoense. Donald Trump sparks a touch of international incident when he calls the President of Taiwan, while a fire in an Oakland art space known as the Ghost Ship kills 36. A man opens fire inside a Washington pizza restaurant because, basically, Mike Cernovich said there were pedophiles there.
While on television, the season and de facto series finale of Class, "The Lost." "The Lost" hangs over the rest of Class. Without it you have seven well-meaning episodes of various levels of success—a show that could frequently have stood to be a little braver, but that always meant well and wanted to be good. With it, however, the picture gains an ugly, cynical tinge. "The Lost" is not Class's first bad episode. It is its worst episode, which is never a good thing to have happen with your finale. But more damning than its general crapness is the particular flavor of badness that it offers. There are, after all, many ways to suck. "The Lost," however, picks one of the laziest approaches possible—one that it is difficult to feel anything other than contempt for.
God, where do we begin? The beginning, I suppose. This is an episode of television that attempts to deliver the line "do you ever feel like it's so dark that it'll never be light again" as an entirely sincere and meaningful piece of dialogue that sets out the basic terms for the episode. I mean, what do you even say to that? I cannot actually imagine how someone would sit at a computer, type that line, and think, "yes, good, I am writing serious and insightful drama about the lives of teenagers." It's shockingly crap in a way that suggests a complete failure to care.
From there we have the cheap slaughter of POC to raise stakes, a return of a villain we defeated two episodes ago with no explanation beyond "I had guile," a plot resolution in which Tanya becomes the second biggest badass in the show after a quick training session, Ram's complete lack of any involvement in anything, the absolutely appalling "Black is the Color" musical cue over April's non-death… I mean, there's a lot here that's egregiously, painfully inept. This is the rare piece of media that actually does call for an "everything wrong with" video that points out all the massive plot holes and gobsmackingly lazy bits of writing it employs.
But the larger problem is just how dull the episode's basic ideas are. The crap big bad comes back again, fridges some tertiary characters, and is then defeated by the MacGuffin that's been pointedly hanging around all season. It's utterly bog standard season finale stuff, made worse by the way in which the episode has one eye on setting up its season two plot, a frankly humiliating moment of hubris in light of how badly Class flopped.…