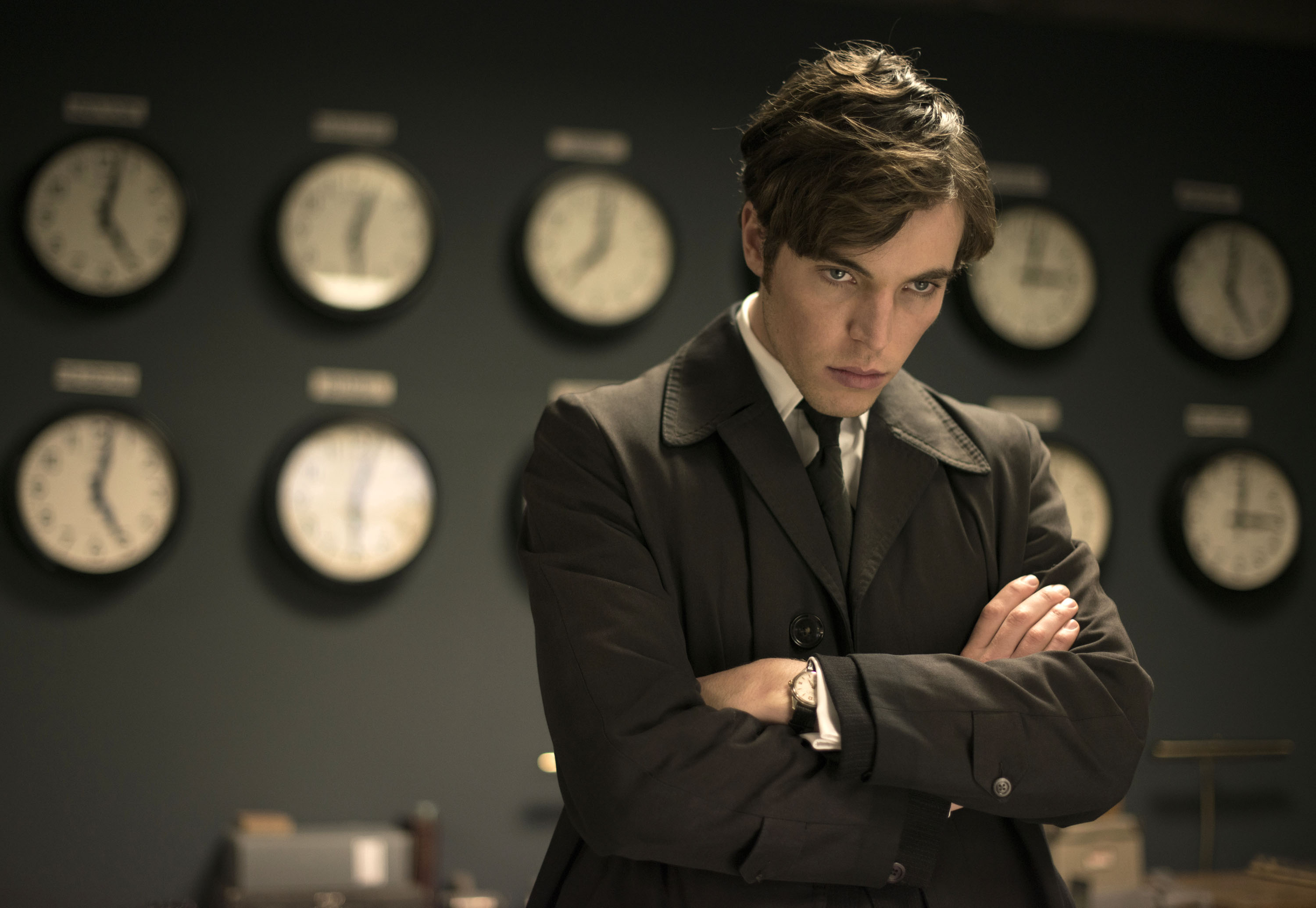 It's been a while since Toby Whithouse has entered our tale, and things have changed a lot since then. In the leadup to Twice Upon a Time Moffat joked that he'd had Whithouse write for every season, and the one time he didn't he made him write two the next season. This is true, but obscures the fact that Whithouse contributed to the first half of the split Series Seven such that there were three full years between A Town Called Mercy and his next contribution. When A Town Called Mercy aired he still seemed like one of the most likely heirs apparent. There remain rumors that in the fuss about Moffat's slower pace of production than Davies Whithouse had been offered the opportunity of stepping in as some sort of co-showrunner or to helm a single season, which he supposedly declined as the obviously poisoned chalice it was. And my past treatment of his work, going back to covering No Angels as a Pop Between Realities prior to School Reunion, has been rooted in the assumption that he'd probably get the job. Obviously that's not what happened, though.
So what's Whithouse been doing for two years? Well, that's basically the problem. After a shortened fifth season of Being Human with none of the original cast in early 2013, Whithouse basically disappeared. His next project had been announced in November 2012 as a 1970s spy series to be called The Game, and it started shooting in August of 2013. At the time, this sounded like his big audition piece—the big BBC One drama with which he'd prove that he he could hack it in the big leagues. Instead, however, it got shuffled down the schedule, eventually making its debut on BBC America in Fall 2014, where it got next to no coverage and largely sunk like a stone. When it finally got a UK airing it was Spring 2015, and it had been demoted to BBC Two. Clearly it was a turkey, and Whithouse basically exited the conversation around possible next showrunners, not least because Chris Chibnall had made exactly the sort of splash with Broadchurch that Whithouse didn't.
Let's look at the show where Whithouse blew the mandate of heaven, then. The Game follows an elite MI-5 team as they investigate a seemingly massive Russian operation involving sleeper agents in the UK. You've got a pretty standard set of stock characters: Brian Cox is charming as MI-5 head "Daddy," Paul Ritter is the poorly closeted gay high society type, Chloe Pirrie is the secretary who proves terribly competent and eventually becomes an agent in her own right, Victoria Hamilton is what in a more contemporary setting would be the profiler, Jonathan Aris is her autism-spectrum husband/audio specialist, Shaun Dooley is a cop assigned to MI-5, and Tom Hughes is the protagonist, Joe Lambe, who was blatantly cast on the principle of "cast me somebody who looks like Benedict Cumberbatch only a decade younger."
The plot of the six episode series concerns the fact that there's obviously a mole in the division. Is it our dashing hero, whose loyalties have been questioned since a botched operation a year ago that resulted in the death of his lover, and who has old scores to settle now? No, it's totally Sarah, Victoria Hamilton's character, the only character who hadn't been a blatant cliche, which apparently meant she had to turn into one in the final act.
This borders on cruelty, but the fact of the matter is that The Game is desperately easy to mock. The 1970s espionage setting means that it's unabashedly competing with two of the great heavyweights of British television drama: the Alec Guinness-led BBC adaptations John Le Carre's Tinker Tailor Soldier Spy and Smiley's People, and The Sandbaggers, an ITV number that famously only ran for three seasons when its creator Ian Mackintosh, a former Royal Navy officer, mysteriously disappeared, prompting endless conspiracy theories suggesting that he had revealed something he shouldn't have on the show. Both shows crackle with 1970s authenticity, what with having been made in the 1970s (well, Smiley's People was early 80s, but never mind), and are nuanced character pieces about flawed geniuses in worlds full of flawed incompetents who do terrible things in pursuit of noble goals. In short, they're exemplars of that classic British television trick of replacing all the action sequences in something with tense conversations between great and good British actors like Alec Guinness, Roy Marsden, Richard Vernon, and Michael Jayston. You cannot step into this genre and be anything less than absolutely great. Given this, the blatant mediocrity of The Game is an obvious failing.
Except that's not quite fair. The Game isn't so much blatantly mediocre as it is a show that constantly threatens to resolve into something brilliant before turning out to be perfectly content with being derivative. Even well into the final episode, there's an electrifying tension based on the ambiguity over who does and doesn't still have secret plans that haven't been revealed. But in every case, the answer is the most blandly obvious thing. At the heart of that question, at least in the context of The Game, is the question of what sort of show this is going to be. If Joe Lambe is a traitor, it's one where we've been following the villain as our viewpoint character for six hours. If he's not, it's any number of other things. This is something a lot of good shows were doing in 2014. And Moffat, of course, is a master of it, most obviously in His Last Vow, but really throughout his work—consider the teaser for Last Christmas, which involves explicitly discussing whether the ending of the episode is an acceptable resolution or if the story ought be defined differently.
This is a tricky business in some ways, because it really screws with a lot of models of narrative based on some notion of "playing fair" with the audience. Generally, there's two approaches to doing a suspense-based narrative. In one, the audience's knowledge is kept basically in line with the protagonist's knowledge, so that we get information at the same time they do. The tension comes out of trying to figure out the gaps – it's the tension of a mystery. In the other, the audience knows more than the protagonist, and watches the protagonist catch up to them. In this approach, the tension comes out of the question of whether the protagonist will catch up. It's the tension of a countdown, the archetypal example being one from Alfred Hitchcock about a bomb under a table.
But the "what sort of story is this" approach requires a third variation, in which the audience knows considerably less than the protagonists. The Game, for instance, is constantly giving strong evidence both that Joe is and is not a traitor, never allowing us to actually get solid confirmation until the climax of the final episode. More to the point, it relies on a narrative structure in which revelations to the audience dramatically alter the way in which we watch scenes. The reveal that Sarah is the mole, for instance, takes place in the final scene of the fifth episode, in a scene that deliberately comes out of almost nowhere, and in an episode where a key plot beat is a red herring reveal that Alan, her husband, is the mole, which is built to with a montage of various characters going about their morning routines while we wait to see which one is going to check a dead drop. (Alan, it turns out, is innocent, but has already figured out that Sarah is the mole and has decided to protect her, although why checking her dead drop contributes to this is inscrutable.)
More broadly, the entire Russian operation is an endlessly shifting thing, the contours of which change episode-by-episode. By the end, it's an entirely incoherent shamble – a series of deliberate red herrings and decoys that turns out to hinge on the assumption that Joe will figure out that Sarah is the mole on a precise day chosen a year in advance, that he'll confront her privately, and that he'll respond to the information she gives him in a precise and predictable way. The climax involves a montage of events that, in order for the resolution to work, either can't have been taking place concurrently or involved Brian Cox teleporting from a confrontation with a treasonous deputy Prime Minister (my aren't we subtle, Toby) to the ops room in a matter of minutes.
It would, of course, be a mistake to complain that these are plot holes. This is the sort of thing Doctor Who and Sherlock get away with as a matter of course. And the fact that the show can work like this is telegraphed repeatedly; it's called The Game, after all. The idea that everything is just a charade is there in the title, and withholding key information from the audience is explicitly one of its basic tricks. It's not a problem in the least that the resolution not only can't be guessed from the setup (that being an essential part of how the "what kind of story is this" show works), nor that the Big Elaborate Russian Conspiracy doesn't actually make sense (what evil mastermind's plan does?). Not even Brian Cox's teleporting routine is a problem as such. Enough information is conveyed with pacing, camera angles, editing, and music to keep the dramatic arc running, and by the end the audience is so used to the structure of "and now here's a reveal that changes our understanding of the basic structure" that we can be trusted to put aside our previous knowledge without protest.
No, the problem is that the end configuration just isn't very interesting. The big twist is that Joe's fridged lover is secretly alive, and the Russians plan to use that to blackmail him into complicity with their operation at the last second. The resolution is that Joe was not actually stupid enough to walk into their trap without backup, and there's a sniper positioned to take out the Russian sniper. The final confrontation between Joe and the Russian mastermind has the dying Russian gloat that he's beaten Joe anyway, because he can never truly trust his lover. Only the subverted fridging is even remotely clever here, and it's not actually allowed to have any impact because everything else is such a calamitously obvious genre trope.
Which is the crux of the problem. The "what kind of story is this" structure relies on the answer being "something new and innovative." Certainly this is the implicit logic of the show that The Game tacitly invokes, Game of Thrones, which takes this structure to its most all-encompassing and bombastic end. That show is electrified by the way in which it uses psuedo-historically accurate materialism to engineer surprise disruptions of the mythic fantasy logic that underpins the world. But given actual historical materialism to work with and a similar central metaphor, Whithouse is ultimately unable to conjure anything more interesting than a story about a brooding white male protagonist indistinguishable from every other brooding white male protagonist in contemporary television. (It's in this regard both revealing and damning that Whithouse is on record as being opposed to a female Doctor, citing what he describes as his daughter's opinion that "they shouldn't because it is a male character. Instead, what they should do, is go and create a fantastic female lead in a fantastic new sci-fi show.")
Perhaps most frustratingly, the show comes close to a much more interesting approach. A subplot about Sarah secretly taking contraceptive pills comes to a head in the same episode that she's revealed as the mole, and she's got a fantastic monologue about how she's not willing to bring a child into the world she sees every day at work, and not willing to stop working her job in such a dangerous world. It seems for all the world like we're going to get an explanation whereby she's turned traitor because she views any end to the Cold War, even a British defeat, as preferable to the game's continuation – a sort of maternal Ozymandias motivation that, given Whithouse's avowed love of (and past track record of plagiarizing) Alan Moore, seemed entirely plausible. Instead she's a traitor because… erm… well, actually, they never get around to explaining that.
The result is a show that isn't awful, but that is depressing in its flaws. Or, at least, a show whose flaws are such that they cast Whithouse's previous successes in a new light. Even with A Town Called Mercy, there was an increasing sense of Whithouse as a writer who was basically in step with the television of 2008 or so, but who had spent four years failing to evolve. It's not that he's not learning new tricks – The Game is blatantly a response to Sherlock, and tries to make a go at that show's mesmerizing shell game of ambiguity over who's figured out what. Rather, it's that he's not really taken on board anything about why these tricks work. He's not interested in telling new sorts of stories.
To be blunter, Whithouse belongs to the very 00s era of television where it is all about, as I said, brooding male protagonists. In this regard it's unsurprising that he was drawn to the 70s spy setting, which was in many ways ahead of its time in its choices of protagonists. But it's nevertheless slightly shocking how, in just a few years, Whithouse has managed to go from looking like a talented up and comer to looking like someone who's on the wrong side of an aesthetic revolution. Frankly, if you want a writer who's stuck in the past, look to Mark Gatiss, whose nostalgia is at least idiosyncratic and weird. Whithouse, on the other hand, is nostalgic in a reactionary way, reaching back into the past because he doesn't like how the present is moving beyond the fetishization of white male angst. Maybe the Chibnall era will be a disaster; we'll look at that question when the time comes. But at least he's offering a clear and sincere attempt to write for the present day. Whereas by the end of 2014 it was clear that Whithouse was fundamentally incompatible with a show that thrives on a sense of the new.