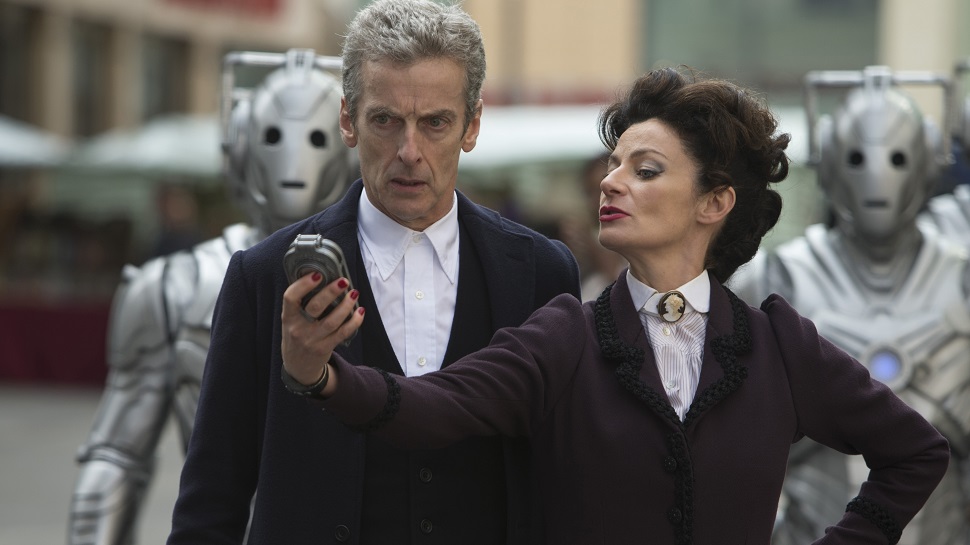 Missy shows off her new Photographic Vanity Eliminator
It's November 1st, 2014. Meghan Trainor remains at number one before Ed Sheeran's "Thinking Out Loud" unseats her. One Direction, Parra, Sam Smith, and Fuse ODG also chart. In news, Blaise Compaoré resigns as president of Burkina Faso, the IPCC repeats the fact that climate change is really bad, and Matthew Williams demonstrates his passionate Torchwood fandom by killing and eating a woman before being killed by a police taser. Also the US midterm elections happen, flipping the Senate back to Republican control and seeing a wealth of Republican governor elected.
While on television, Series Eight of Doctor Who takes its bow, finding itself ending in a strikingly different place to where it began. What started with a tentative classicism has steadily acquired a swagger and confidence unseen in years. There are a handful of periods in the series like this, where every trick works and every gamble pays off so that even a flawed experiment like In the Forest of the Night or The Chase comes off as sympathetic instead of as a faceplant. What is key about this is not merely quality—there are loads of good runs of stories—but rather a particular sort of bravery. This isn't a run like the old Season Five, which spat out six rock solid but frustratingly interchangeable bases under siege on either side of its one actual masterpiece. Rather this is like the very tail end of the Hinchcliffe era, where the show dances giddily from the avant garde dreamscape of The Deadly Assassin to the mature SF Face of Evil to an Agatha Christie pastiche with robots before settling down for The Talons of Weng-Chiang.
Even on those terms, however, Dark Water/Death in Heaven stands out. Its first fifteen minutes are unprecedented in Doctor Who, and can stand shoulder to shoulder with the best material of any other show in the history of the medium. It starts at an eleven with Danny's sudden death and then simply doesn't let up until it finally offers the release of cutting to him in the afterlife. The volcano confrontation is a majestic payoff to the development that Clara has been given; it's a scene that would be unimaginable with any other character, or even with Clara just six episodes earlier. The intensity and way in which both Clara and the Doctor escalate the situation is edge-of-the-seat stuff, not because there's any real sense that Clara might forever seal the Doctor outside of the TARDIS but because the idea of the Doctor and the companion doing things like this to one another is constantly remaining unthinkable right up until the moment the words come out of their mouths. And the subsequent TARDIS scene, with its emotional denouement of "do you think I care for you so little that betraying me would make a difference," is simply perfect. It's probably the most intense fifteen minutes of television in Moffat's career, and there's not actually a single monster or indeed antagonist in the whole thing.
This last point gets at something else here. Sure, eventually we get to Cybermen, Missy, and UNIT in a suitably bombastic way, but this remains a story that simply isn't interested in pandering to a casual viewer, and in ways that go well beyond the fanwank of that list. The bulk of the climax is centered on thematically paying off the Doctor/Danny rivalry and attendant ideas about aristocratic commanders and commoner soldiers, in ways that are simply baffling if you haven't invested attention in the Clara/Danny relationship enough to appreciate the callbacks to The Caretaker and Into the Dalek. The moral points, particularly around the Doctor's abandonment of his efforts to save Danny when he realizes that he needs something from him, are nuanced things of genuine complexity. Moffat has ostentatiously dared the audience to keep up before, but generally in a way that makes this the point of the exercise, patting the audience on the back and telling them how clever they are for managing the task. He does this well enough that it's generally charming instead of condescending, but it's still a fundamentally egocentric approach. But here he's simply trusting that the audience is paying enough attention to follow and outright not giving a fuck if they don't. For all the fuss at the time over whether the concept of dead bodies feeling it when they're cremated was a bit much for ten year olds, this is only a part of what's going on. The whole story puts adult viewers first in a way Moffat never has in a finale and Davies never would.
It's gobsmackingly arrogant—the sort of thing that typically demands to be slapped down. It feels at times like Moffat is shooting for Attack of the Cybermen done right; all of this is transparently a terrible idea. And yet in practice, they're making it look easy. They don't just get away with it, they don't even let you realize there's an it to get away with. Sure, each half of each episode is slightly less good than the last, but quality-wise this still runs from "even better than Kill the Moon" all the way down to "about as good as Flatline." It's a landmark achievement in a season that's already had several.
At the center of all of this are two women. Well, four because Jenna Coleman and Ingrid Oliver also don't put a foot wrong in the whole hour-and-forty-five minutes, but I want to talk about Michelle Gomez and Rachel Talalay. Talalay, of course, is going to become the definitive director of the Capaldi era, helming all three of his finales along with his regeneration. And with all seven of these episodes written by Moffat, she is something more or less unique: an era-defining director who's clearly associated with a single writer. (The only other two vaguely comparable instances are Graeme Harper, with seven of his twelve new series episodes being written by Davies and another two being Rise of the Cybermen/The Age of Steel, and Toby Haynes, who worked on five consecutive Moffat episodes but nowhere else on the series; nothing like this exists in the classic series.)
For all her importance, however, Talalay is an extremely hard director to get a drop on. Her directorial style is, by her own admission, a complete lack of style. She's as chameleonic as the show itself, shifting into whatever set of stylistic conventions a sequence needs and then pivoting straight back out again. She has one or two recognizable tics—she's markedly stronger in the studio than she is on location, for instance—but for the most part she disappears into her episodes. This is, of course, an act of extreme artistry. It is not, after all, that she's not making supremely important creative decisions that dictate how these episodes work and feel. It's just that she makes every decision look like an inevitable consequence of the script. She doesn't always go with the most obvious idea; she just makes the idea look obvious once she does it.
This is quietly revelatory for Moffat. Up to this point, his directors have tended to emphasize his cleverness. This isn't a bad thing—Nick Hurran was consistently brilliant at it. But it gave the impression that the cleverness was the point. Talalay, on the other hand, offers a straightforwardness that avoids the self-congratulatory. The chain of reveals at the end of Dark Water has as many links as anything he's done, but the focus remains inexorably on the degree to which everything is going to hell instead of on how efficiently the writer has packed the handbasket. This in turn frees up room for the story to actually be about things because there's no longer the overwhelming sense of telos crowding out anything implicit.
Helping with this is the choice of the Cybermen, who Moffat quietly figures out how to effectively use. There are two basic parts to the trick. First, he has a very good revamp of them. The focus on Cybermen as corpses both effectively puts the attention on the physical bodies inside the clanking robot suits and harkens back to their original qlipothic horror. Second, he recognizes that their status as "the ones that aren't the Daleks" means that they should be used in places where the Daleks would be too mythically noisy. They have the ability to add heft to a story without becoming the point, which fits with the rest of what this story is doing. Their newly gothic conception is evocative, but it's allowed to be simply that. And the large quantity of things that are evocative instead of declarative sets a general tone so that even something like Missy's quest to show the Doctor that he's just like her become more than a cheap Killing Joke ripoff, instead serving as the setup to a more ambiguous point about the Doctor rejecting mythic narratives.
This brings us nicely to Michelle Gomez, who immediately becomes the best version of the Master ever. But obviously the elephant in the room here is that she's not playing the Master, she's playing Missy. Which has a lot of facets. I'll save "Could Time Lords Always Change Gender" for the book, but we're still going to have to talk about the process of establishing that they can at all. This conversation has to start in 2013, when the around Matt Smith's potential successors was unexpectedly dominated by calls for the show to cast a woman. As an idea this had been around since Tom Baker suggested it as a way to goose the papers, but this time it wasn't being bandied around as a joke; it was a completely serious and widespread suggestion, to the point that Moffat was baited into responding to Helen Mirren's lobbying for the part. (His response, that in his opinion they should get a man to play the Queen, is a subtler joke than it first appears.)
Eventually Moffat offered the more serious answer that he didn't think he could get away with it yet in 2013. And this is probably fair. Certainly he immediately set about making it easier for Chibnall to do it, with Missy being the most obvious move. And for all that I'm inclined to furiously want a woman in the role, I can't with a straight face say that Moffat's concerns were invalid. Whittaker is getting a rough enough ride even after Moffat actively courted audience desire for a female Doctor. Maybe it was overcautious, but it wasn't unreasonably so, especially given how appealing an alternative Peter Capaldi was.
But the introduction of cross-gender regeneration has other implications, in that it turns regeneration into a metaphor for transition. This is basically a good thing, but is far from straightforward. Done carelessly, for instance, it would suggest that if the Whittaker or Gomez's successors are male they would become metaphors for detransitioning. More broadly, transgender identities are a historically constructed thing. Countless historical antecedents exist, but the concept of "being trans" as it exists in 2018 is both recent and still rapidly evolving. What John Simm and Peter Capaldi's characters do is not the same thing. For one thing, their characters are actually men. Reading them as women, even self-closeted women, is like reading Roger Delgado's character as suffering from incessant mental drumming or William Hartnell's character as a Time Lord from the planet Gallifrey. This is actively different from the experience of most trans women in ways that matter tremendously.
All the same, there's no way around it. Missy and the Thirteenth Doctor are obviously both characters who are going to matter to trans fans. They're going to be identified with and projected upon. They're going to be parts of people's narratives—central figures in the profoundly difficult task of figuring it out. They already are. I guarantee you there are people in the world who would describe themselves as transitioning because of Missy. That she's a metaphor for transition instead of a depiction of it does not detract from that in the slightest.
It's also the case, however, that she works well as a metaphor. No, the actors playing earlier incarnations of the character are not playing closeted trans women. And yet the reading works. The camp excess of the character that made Davies's slash reading of their relationship to the Doctor work also works as the desperate straining against the edges of gender norms of someone not quite realizing that what they really want to do is be on the other side of the border. More to the point, Michelle Gomez's character works. Indeed, the argument that she's the first version of the character to ever work is a reasonable one in a way it's clearly not going to be with Jodie Whittaker. But something about making this particular character a woman proves immediately and viscerally compelling. Character traits that had been pitiable in their camp suddenly become markers of a libidinal murderousness. She no longer seems faintly desperate and trying too hard; she's comfortable in her own skin in a way she simply never has before. Big mood, y'know?
As mentioned, Michelle Gomez is perfect for this. She's a deft comedic actress who's used to playing this sort of crazed lustiness, but she has the depth and range to ensure that there's always more to the character than how extra she is. She's got a knack for stealing scenes in ways that elevate her co-stars, giving them room to respond and make interesting choices even as she gets to be the preposterously charming one. She's both physical and expressive, and capable of using each of these skills in slightly different ways so as to communicate multiple and even contradictory things at a time. And she takes the part seriously in a way no previous occupant has. Even when she's having an absolute ball, which is always, she doesn't view it as an opportunity to simply ham it up in the same way that, say, John Simm or Anthony Ainley did.
Twelve episodes ago we talked about how Moffat seemed increasingly hemmed in by the popular culture, at risk of becoming a dinosaur who stayed on the show too long. To make that suggestion after Death in Heaven, however, would be absurd. Twelve episodes and he's crafted one of the definitive Doctor/companion pairings, pushed it to where it can repeatedly do things that no other pairing could do, found a new favorite director, acquired a stable of reliable writers, and gotten both Mark Gatiss and the Master to work for the first time, all while wasting two of the twelve stories on Stephen Thompson and Gareth Roberts. This would be a tour de force in a showrunner's first season, little yet their fourth. Nearly four years on, it's still difficult to quite believe it happened. Now the only question is whether it can possibly continue.