So, this meme got itself onto Twitter, and has been retweeted by people who should know better: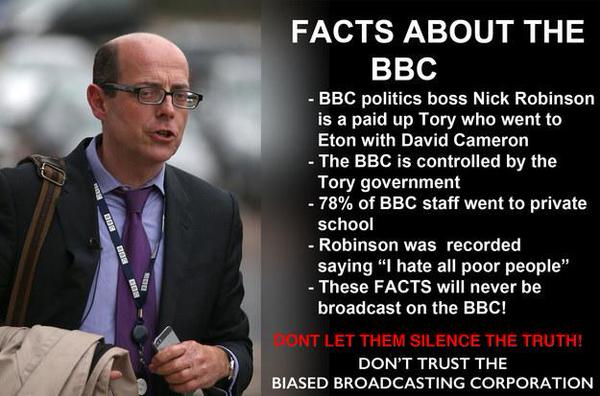 Nick Robinson is no longer the BBC News political editor. It's now Laura Kuenssberg (who is an issue all to herself).
It's true that Robinson is palpably right-wing and has a long history of involvement with the Tories. He rose through various senior positions in young Conservative organisations through his younger years. I can't find out for sure (without doing more than the cursory google search I just did) if he's still an actual "paid up" member of the Conservative Party. He may well be. The BBC allows its journalists to be non-active members of political parties. But if I can't find out from a cursory google search, I'm sure the person who created this meme didn't do any better.
He didn't go to Eton. He went to Cheadle Hulme.
It's true that he and Cameron both went to Oxford but they were in different colleges, presumably in different years. Robinson attended University College; Cameron was at Brasenose. Robinson is three or four years older.
It is not a "FACT" that the BBC is "controlled" by the Tory government. That's ridiculous conspiracyballs, and is an utter strawman of the sophisticated arguments made by the Left about systemic and structural bias. Yes, the BBC is part of the establishment in the broad sense. Yes, there are revolving doors. Yes, the BBC often functions as an organ of state propaganda. Yes, the BBC tends to be biased towards C/conservative viewpoints. None of that means it is "controlled" by the Tories. That's a vulgar travesty of the reality.
It's true that a high proportion of senior BBC executives and newspeople went to public school. but it's not 78%, certainly not 78% of "BBC staff", which is a very all-encompassing term. As far as I can see, something like a quarter of BBC executives went to private school. This is bad and telling enough, given that only about 7% of the UK population has that privilege. We don't need to make shit up and make ourselves look childish. Source.
I can find no source for the claim that Robinson ever said "I hate all poor people". (If a source exists, please tell me.) It seems a tad unlikely; a bit comedy villain. I mean, what did he do next? Tie a virginal and virtuous pauper girl to some railway tracks for refusing to sleep with him? He has behaved disgracefully at times – grabbing and smashing protestors' placards, for instance – but we can tell the truth about that, and about his bias, without making him out to be a cross between Ebeneezer Scrooge and Baron Hardup. Unless he did say it, but again… evidence?
Bollocks like this doesn't help the Left or the Left's causes. It just makes us look stupid. If I were paranoid, I'd say that's probably what it's for.
You could argue that I'm just giving it more exposure… but I'm hoping to stop otherwise good people from having a silly moment and retweeting it.