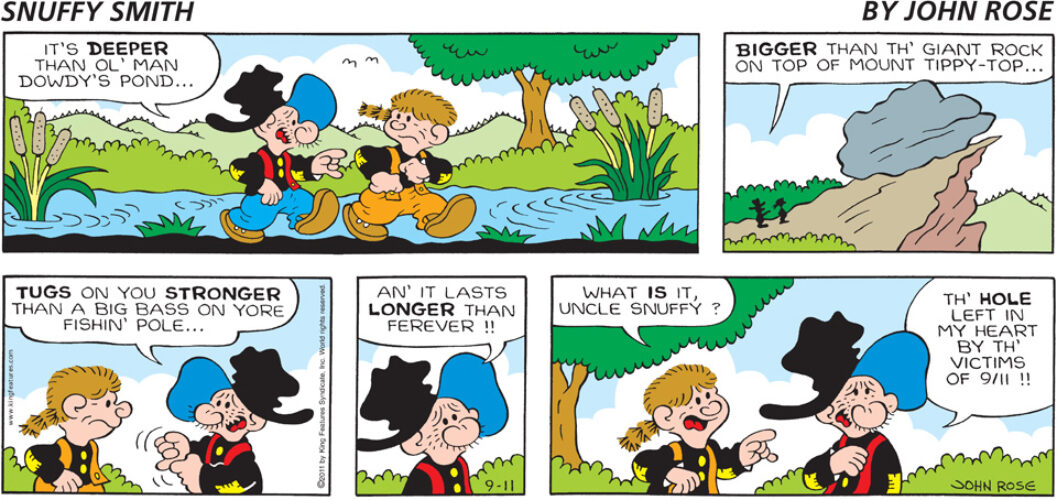 Scrape away the deconstructive close-reading, scrape away the history of decline, scrape away the entire wilfully absurd edifice of an annual blog series devoted to it and what you are left with is an unusually bathos-heavy bit of glurge.
The word "glurge" was coined by Patricia Chapman on a mailing list attached to the website Snopes. "Glurge" referred to a specific category of urban legend—the heartwarming, inspirational, and completely uncited and often fact-free stories that were often sent via e-mail in the late 90s and early 00s by the sorts of elderly relatives who would soon be preyed upon by the likes of Fox News and Breitbart. The term originally came out of the site's then focus on urban legends, describing a common style of story characterized by an unabashed and excessive sentimentality. A doctor operates for free on a young girl that once gave him a glass of milk. A dying child comes back from the brink when her brother sings "You Are My Sunshine." A marine comforts a dying stranger in the hospital. Stuff like that. 
9/11 provided something of a heyday of glurge—a sticky, cloying spray of it so voluminous that it becomes possible to identify distinct subgenres of glurge. There's state glurge, like a motley collection of Members of Congress singing "God Bless America" on the Capitol steps. There's imperialist glurge, like Toby Keith's "Courtesy of the Red, White, and Blue." There's first responder fetishism, stories of American resilience, impassioned insistence about the dignity of American Muslim. And then, of course, there's the category that John Rose's Barney Google and Snuffy Smith comic fits into: public mourning.
Public mourning is a concept I've always had a complicated relationship with. There's a stagedness to it—a sense of perfunctory ritual in the place of actual emotive content—that runs counter to how I experience grief. Equally, of course, there are people who value it highly. One need only look at the scenes taking place in the UK when the last post went up and the sheer number of people standing in an hours-long line to shuffle past a box to see that these rituals of mourning carry weight. This is an important thing to keep in mind when we look at a misfiring bit of public mourning like the Barney Google and Snuffy Smith strip.
On the other hand, it's not an especially radical observation to note that public mourning really can go embarrassingly wrong. Perhaps the worst piece of public mourning glurge I ever saw for 9/11 came a few years before I wrote that essay, in the parking lot for my vet's office in Florida, where a car routinely sat bearing a bumper sticker that read "am I the only one who still mourns 9/11?" Like the Barney Google and Snuffy Smith strip, this bumper sticker provokes a certain awed horror. The question it asks is singularly stupid—the only possible response is "of course you aren't, you narcissistic twatwaffle." But this reveals what should be perfectly obvious, which is that the question is rhetorical.…