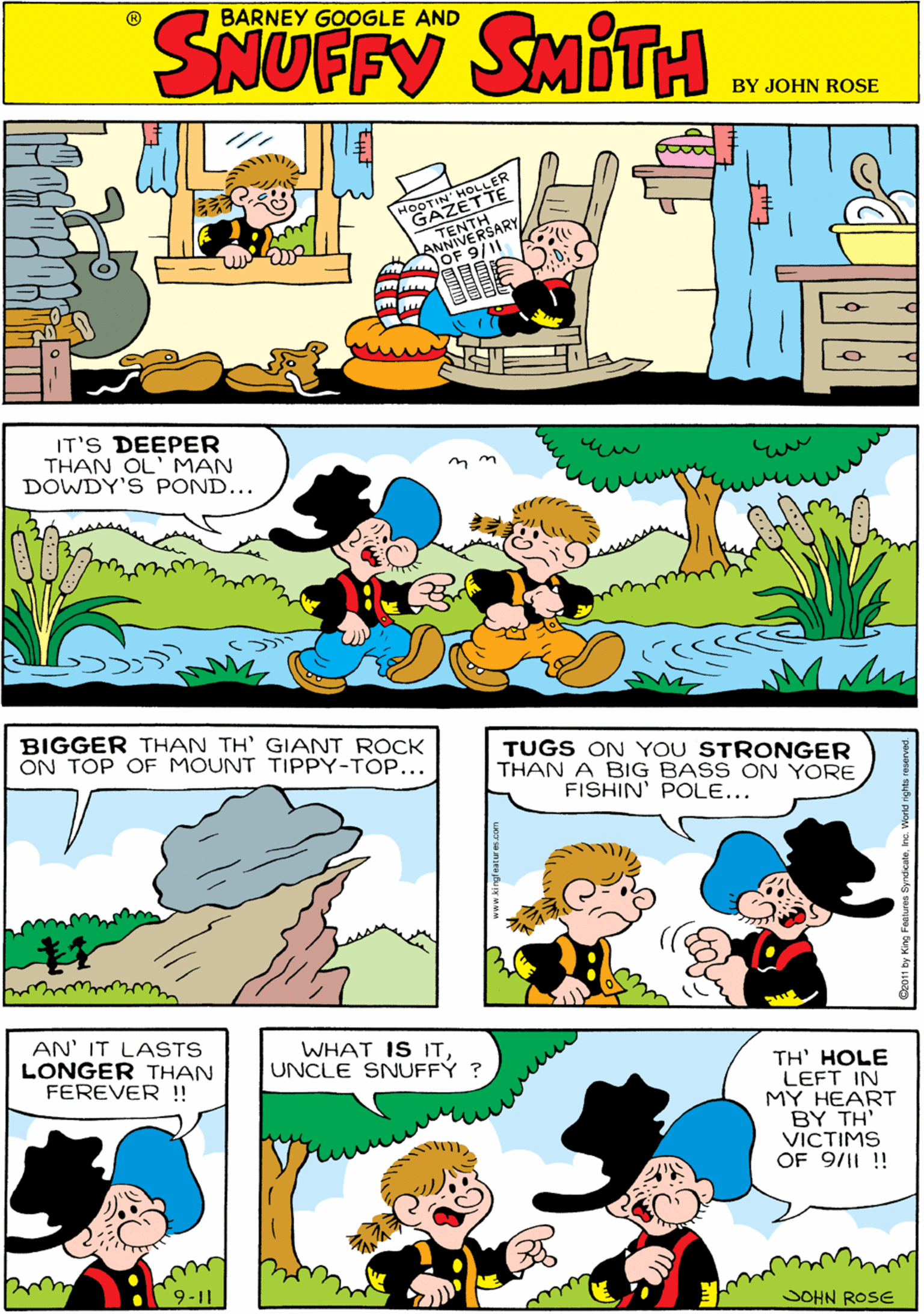 CW: Racist imagery, not discussed by the larger essay
One complicating factor in our exegesis of the 9/11/11 Barney Google and Snuffy Smith strip is that the strip exists in two different forms with two distinctly different resonances. Last year we discussed a five panel version of the strip, however another version exists and saw publication with an additional sixth panel at the beginning of the strip.
At first glance this version of the strip seems to collapse some of our discussions, particularly around whether Snuffy's final line constitutes a punchline or not. The addition of Snuffy reading a newspaper marking the anniversary of 9/11 and weeping while Jughaid looks in from the window and weeps alongside him removes the element of bathetic surprise that the five panel version of the strip traded on. More to the point, it renders the strip strangely incoherent—if Jughaid has just been weeping at the cover of the newspaper, his confusion as to what the strange perambulatory ritual that Snuffy is engaged in might be about becomes harder to reconcile. 
Broadly speaking, and inasmuch as discussions of craft can be applied to the strip, the addition of the new opening panel unquestionably harms the strip, muddying its intentions and rendering it incoherent in places where its coherence had been, if not strictly speaking a positive, at least broadly interesting. But while the panel muddies interpretation of the strip, it is clarifying in a different sense. The key question to ask is simple: why are there two different versions of the 9/11/11 Barney Google and Snuffy Smith strip in the first place?
The answer is tied to the medium of newspaper comics themselves. By 2011 (or indeed decades earlier) newspaper comics sections had become extremely compressed things that attempted to fit as many comics into as small a space as possible. To accommodate this, the syndicates that distribute the comics sought to ensure the comics were rearrangeable. Part of this meant that the initial panels of a Sunday strip had to be disposable—the comic had to work with or without them. An ordinary example can be found in this 1991 Calvin and Hobbes strip, in which the first two panels are a standalone gag that the remaining panels do not depend on.
In fact the rearranging goes far further, however. Note in the Calvin and Hobbes strip that the second two rows divide into four equally sized quadrants. This means that if a newspaper wants they can shrink the art down, move the first panel of the second row to the first row, and run the remaining panels as a second row, taking up even less space (while also using the full version of the comic). A similar thing is possible with the Barney Google and Snuffy Smith strip—in its five panel version, panels two and three are equally sized so that it can be run in two rows instead of three, which is the format we discussed it in last year. Other strips are even further compressible—it's entirely normal for a strip to be comprised of entirely equally sized panels so that it can be rearranged in any sort of grid or even in a single column that can be shoved down the side of a page.…