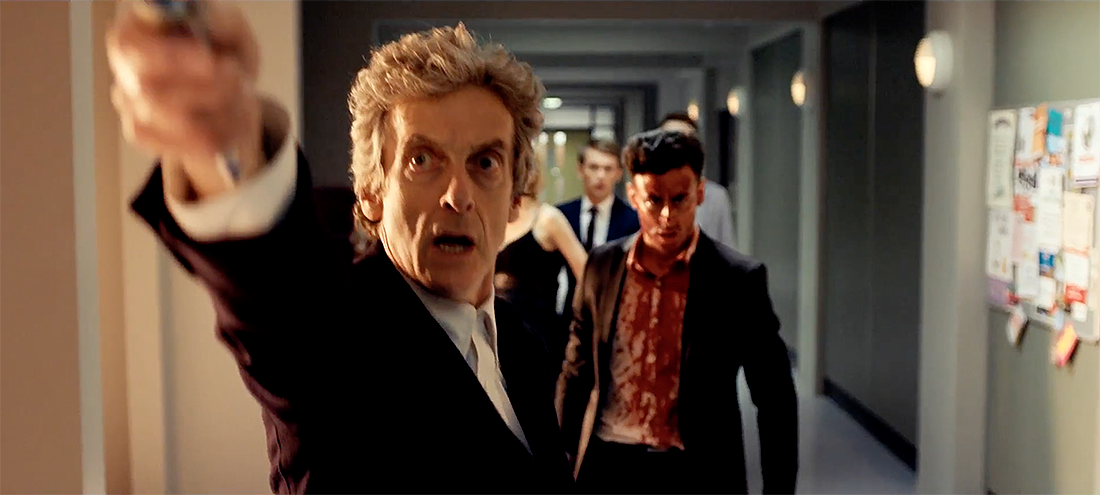 It's October 22nd, 2016. Little Mix are at number one with "Shout Out to my Ex," with James Arthur, the Weeknd, Sia, Ariana Grande, and Calvin Harris also charting. In news, most of 2016 has happened. The US Presidential election is in full swing, Theresa May is in 10 Downing street, Jeremy Corbyn has survived an attempt to replace him as head of the Labour Party, and UKIP is in its usual chaos.
While on television… well, actually, let's start there. Class is on television in a sense that we've never really dealt with before. It's a BBC Three show. But unlike Torchwood, which premiered ten years earlier to the day, BBC Three in 2016 is an online only channel following a round of budget cuts that resulted in the shuttering of BBC Three as a broadcast channel. This move contained a wealth of decisions about priorities and privilege. For instance, BBC Four, the more adult-oriented channel with a heavy focus on arts and entertainment programs, remained in place. Instead what was axed was the channel focused on the 16-34 age group and on experimenting with new programs and new talent.
As a hedge against the obvious (and true) perception that taking it off the air consisted of some sort of deemphasis of BBC Three the BBC looked for some high profile programs to commission for the new online service. Unsurprisingly given that their previous Doctor Who spinoff was among the network's biggest hits, one of these, announced a month before the decision to pull the plug on BBC Three was actually formalized, was another spinoff: Class. Tragically not the result of hiring Jack Graham to write an openly Marxist Doctor Who spinoff, Class is instead a series by acclaimed young adult author Patrick Ness in which kids at Coal Hill School (now Coal Hill Academy) fight aliens.
In practice, this was a flop. The first episode pulled 660,000 people on iPlayer, with 1.1m tuning in in early 2017 for a BBC1 re-airing. By episode two, those numbers fell to 300,000 and 600,000 respectively. The BBC1 airing would eventually bottom out at 300,000, while the BBC Three version dropped to 195,000. Its AIs ranged from 70 to 82, with five of the episodes coming in below 80. This was in no way a good enough performance on the part of the new BBC Three's flagship program, and so Class wrapped after a single season to minimal alarm and consternation.
None of this is unfair per se; Class was in practice a deeply flawed piece of television that, in lieu of finding its own voice, borrowed several others, mostly Joss Whedon's. It routinely lacks the courage of its convictions, slouching towards genericism even as it flirts with more interesting alternatives. It is frequently hokey and way too proud of itself, such as its invocation of the Bechdel test in its ninth line and its super knowing "it's like the Hellmouth" exchange at the end. As a substitute in a year with no Doctor Who, it felt like it came up badly short.
In this regard, I'm glad I waited a couple months between The Abominable Bride and this last chunk of Capaldi stuff, because the Chibnall era does Class a lot of favors. This is not purely in a "oh, here's how bad it can get" way either, although there certainly is a "we didn't know how good we had it" element to it. It's also that what Class is aiming to be—a show that is at once self-consciously woke and very meat and potatoes in its genre trappings—is what the Chibnall era was going for, at least in its branding and promotion. And while Class falls short of working, it at least generally avoids outright failing as well. More to the point, given that the overt meat and potatoesness of the show by its nature puts a cap on its ambition, for all its flaws we might fairly describe Class as the Chibnall era done right.
One part of this—and a very important part—is that Class actually is pretty dang woke. In a five person lead cast it manages to have a black woman, a Sikh man, a gay guy, disabled rep, and a 60/40 split between men and women. There are literally no straight white guys in the entire cast. More to the point, these things matter to the show on a level beyond giving everyone a single Very Special Episode in amidst a lot of genericism. There's a lot that Class does dubiously on, but it's handling of diversity is not one of them. It's consistently smart on this front, both doing all the obvious and basic stuff like hiring an actually disabled actress to play April's mother to some properly subtle stuff like the Ram/Tanya relationship and details like Tanya's desperately plaintive "Isn't this great? The two of us, talking about something other than what the white people are doing. Indeed, Tanya is in general sharp—making the academically advanced character with a domineering mother the black woman is an intelligent choice that pointedly goes against stereotypes.
There's also a carefully judged sense of tone here. The basic setup of "it's prom but also the end of the world" is a cliche of this sort of show, but the giddy fatalism on display here is a delightful spin on it. April's "Great. Die alone or die at a party" is a low key majestic statement of purpose, and there's something very 2016 youth about making the setup about "party at the end of the world" and not "prom really is the most stressful thing imaginable." (I think my favorite details are the "You Might Die Tonight, So Try Not to Die Stupid" and "If You're Reading This, Your Night is a Failure" signs, which are an absolutely brilliant payoff to the running "nobody helps April decorate" gag.) And there are a ton of little details that speak to an awareness of audience here—Ram's father confusing Rachel's Uber for hiring a chauffer is smart.
Also immediately promising is the show's sense of morality. The relationship between Miss Quill and Charlie is one of the most fucked up in all of Doctor Who, and I say this coming off the back of two seasons of the Doctor and Clara. There's a really admirable willingness to portray something deeply troublesome like Quill being literally enslaved by Charlie in a matter of fact way largely free of moral judgment. Indeed, Charlie in general is interesting—a heroic prince who also serves as a pretty unflinching critique of aristocracy and aristocratic attitudes. In this regard the Doctor's declining to intervene in her case, instead deciding that her slavery will serve as punishment for an entirely different crime to the one for which it's a sentence, is an oddly dissonant note. But the show seems at least partially self-aware about this. The Doctor's overall handling of the Coal Hill situation—throwing a couple of kids who happened to get wrapped up in the invasion and two semi-skilled aliens together and saying "you lot save the Earth"—is mostly terrible for everyone involved. And while we'll have plenty of time to discuss the overall handling of Quill, for now at least she's striking a genuinely interesting note of moral ambiguity and problematics.
Equally, the fact that there are problems is aggressively clear. The biggest is the Shadow Kin. It's not 100% clear how much involvement Steven Moffat had with this show, but the fact that nobody pointed out that "the Vashta Nerada, only stompy" was an absolutely terrible concept for a Big Bad suggests that it was not a lot. And that's before you get to the fact that Class blatantly doesn't have the budget to do terrifying CGI shadow monsters well. The result is a monster with a lame concept that looks crap. And yet half the episodes of the show are rooted in these pathetic excuses for a monster. It immediately sandbags the show. These guys would vaguely work in the Sycorax/Atraxi/Rubbish Robots From the Dawn of Time/Stenza role of being slightly crap enemies that exist to let you focus your first episode on other things. But as a season arc, well, comparisons to the Chibnall era remain apt.
There are other problems too, though. The infrastructure and amount of slightly screwy concepts needed to get the April/Corakinus heart link working is way, way more than is deserved. It's notable that the phrase "displacement gun" is never uttered again after Quill invokes it to explain what's happened. To be clear, that's not in this episode; that's ever again in the entire show. It's just a hamhanded and overly complex explanation to get to a plot point that can itself fairly be criticized as a bit much. April's reaction to all of this can also fairly be described as being a bit too saintly—her all life is on a knife edge" speech is in particular a bit much. In a show with a lot of interesting characters with well-defined flaws, the presence of an author's favorite voice of trauma-earned maturity is a fundamentally weak choice.
More broadly, what we have here is a show that seems tailored to what we might, not entirely derisively, call a Tumblr aesthetic. I don't just mean this in terms of its wokeness, although that's certainly pretty aggressively tailored to the Tumblr crowd, but also the aforementioned meat and potatoes vibe of things. This is a show that's very consciously catering to fandom, and that feels like each episode is made with an eye towards what the popular gifsets will be. It's written for a media-savvy audience who's read lots of TV Tropes, but notably it's written for them in the sense of catering to tropes instead of disrupting them. It highlights (or, as the trope crowd would have it, lampshades) the fact that it's trope-heavy so as to create a sense of mutual in-the-knowness about it. But then, crucially, it still delivers the trope in an unreconstructed format. It's not trying to be radical, it's just trying to do the old standards with a commitment to diversity and social justice.
But while it never tips into the extraordinary, it stays firmly wedded to the competent. The basic rule of spinoffs—that their highs are never as high as the show they're based on but the lows are never as low—applies. This never even pretends that it might be as good as Hell Bent, but it also never serves up anything quite so tediously pointless as Time Heist or Under the Lake/Before the Flood. But For Tonight We Might Die at least demonstrates clear potential. In some ways that's the most maddening thing about the show: it comes out of the gate in such a way as to show that it could be a better show than it is. Ultimately, though, it decides to aim low and hit it instead of trying to be extraordinary. In the wake of Series 11, this decision looks considerably more sympathetic. But coming off of Series 9, and in light of the promise shown by Tonight We Might Die the eventual failure of Class to amount to anything is a sad waste. But there's certainly no shortage of gems to find in the rubble of its failure.