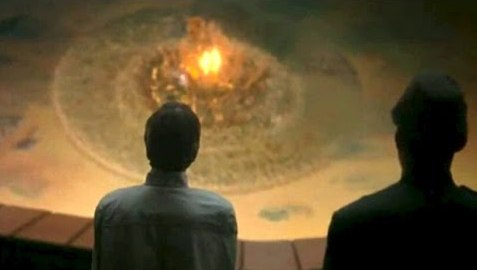 Yes, yet more Star Wars.
I still have a Patreon, as does Eruditorum Press (please give to the group before you give to me). And Wrong With Authority Ep 2 is still downloadable.
Note: This isn't a 'review'.
SPOILERS
As noted previously, Rogue One is a Second World War spy movie. This is probably why the Empire in Rogue One looks more explicitly Axis than ever before. And it was always pretty specifically Axis, with its Stormtroopers and its officers' togs reminiscent of WW2 Japanese uniforms. But in Rogue One the Empire is placed specifically in the role of the baddies in a WW2 movie. I talked a bit about this last week, and Jane showed up in the comments to observe that Rogue One is also a Pacific Theatre movie, with its showdown in a beachy, tropical location, and its nukes.

The irony of the carefully scaled-down deployments of the Death Star is that their very comparatively small scale makes them spectacular in a way the destruction of Alderaan wasn't. Alderaan just blows up. The city in Jedha, and the base on Scarif, are both destroyed locally, which means that the blasts can be observed from the point of view of the planet on which they occur. The result is, as Jane suggested, is something very visually reminiscent of the mushroom cloud, which itself – especially in this context – inevitably brings to mind Hiroshima and Nagasaki. As I myself noted in previous essays, Hiroshima and Nagasaki were always lurking in the series' subconscious. Here they billow to the surface.
But there's an obvious inference here. Hiroshima and Nagasaki were perpetrated by the United States. America remains the only country in history to ever actually deploy nuclear weapons – the ultimate indiscriminate killer, and therefore the ultimate war crime – against civilians as part of an actual conflict. Again, the implication of the US in the crimes of empire, of the twentieth century's greatest horrors, has always lurked in the series. Here, again, it becomes more open than ever before. The scaling-back of the Death Star's deployment makes the semiotic effect less bombastic, and hence less obscure. The Death Star becomes the Enola Gay, dropping Little Boy and Fat Boy on Jedha and Scarif. Consequently, the Empire is implicitly compared to the United States. Whereas before it has sometimes looked like the British Empire or the Confederacy, here it's the USofA herself, and at the height of the good war and the greatest generation. More pertinently, it is the US at the historical moment when it became the world's greatest superpower, which is another way of saying the world's most powerful empire. This isn't exactly coherent… you could certainly suggest that it looks like America attempting to put its own crimes onto the victims of those crimes… but sometimes incoherence is more eloquent. There is as much power in the implied association as in any implied victim-blaming, especially when you consider that there are other ways in which Rogue One flirts with implying quite a strong critique of US imperialism.…