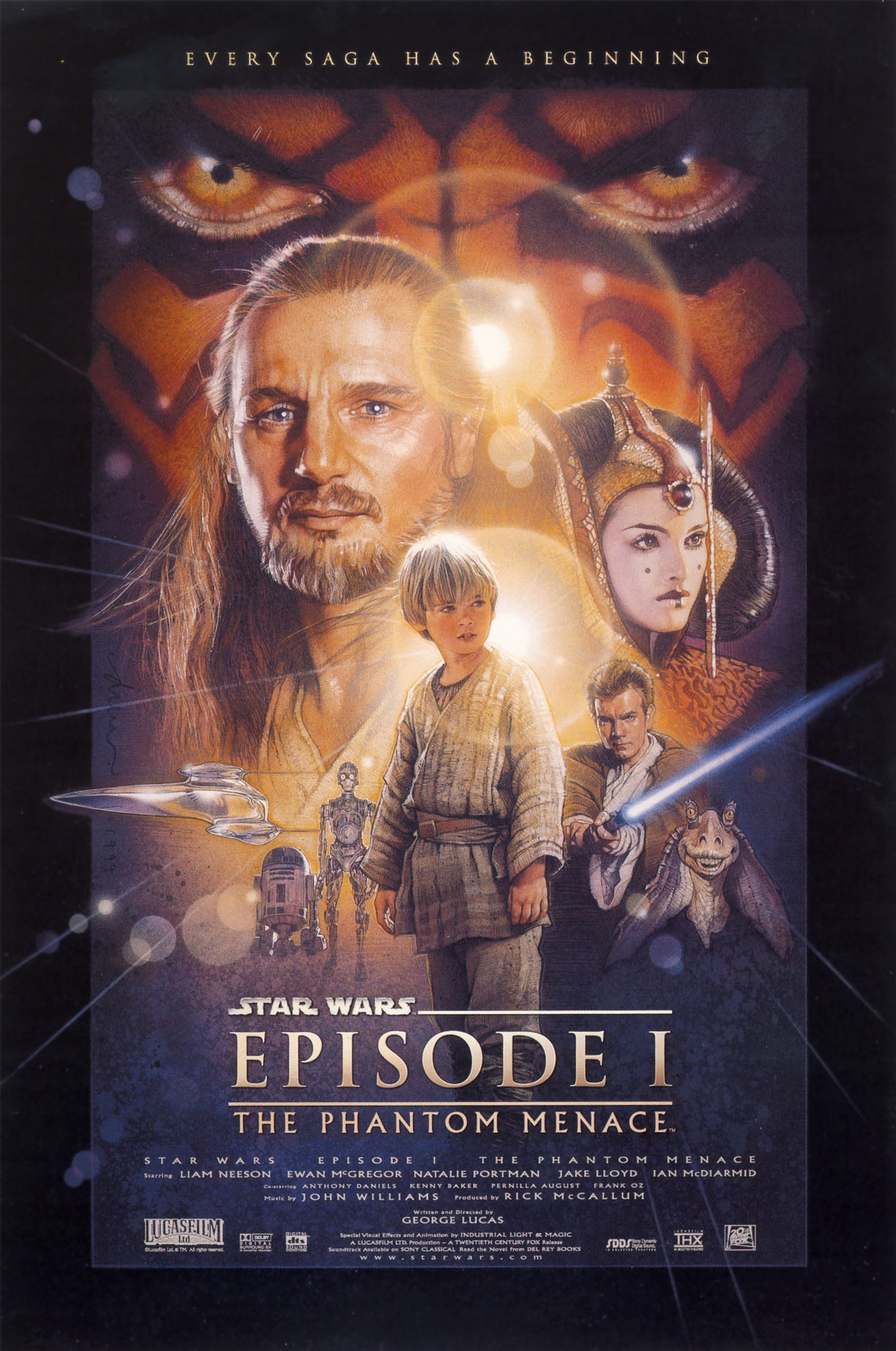 Fittingly, this project exists for three basic reasons. First, having subjected everybody to eight parts of Build High for Happiness, it felt like it was time for a nice populist project. Second, I was seized by a desire to watch all seven Star Wars movies and figured "why waste the research." But third, I was struck by the fact that, as I put it on Twitter a while ago, the bulk of criticism of the Star Wars prequel trilogy is worse at being criticism than the prequels are at being movies. The most common type is of course the brutal and sneering takedown, an approach that usually ends up committing so totally to its brutality that it gives up on making actually interesting points in favor of preening snark. The second is the counter-tendency of contrarian apologias, which are generally better (I'm partial to Rian Johnson's "the prequels are a 7 hour long kids movie about how fear of loss turns good people into fascists. ¯\_(ツ)_/¯") but still suffer from wanting to be in conversation with the Red Letter Media shit, and also from the fact that they're taking a provocative position at the expense of actually being right, which is fine, but you should be able to do both. Particularly lacking, it struck me, are approaches that actually attempt to look at the whole of Star Wars as it presents itself: a story beginning with The Phantom Menace and continuing through to The Force Awakens and, eventually, beyond. A few exceptions exist – perhaps most notably Mike Klimo's epic "Ring Theory" series, but for all its admirable attention to detail there's a maddening sterility to the whole affair, reducing the series to an intellectual exercise.
And so I thought, as someone who readily grants that the prequel trilogy's pretty crap but is inclined not to think the rest of the series is anything too impressive, I feel like I can offer a take that's not going to get hung up on the banalities of whether the movies are any good or on arguing for their secret and intricate genius. As far as I'm concerned, Star Wars is a deeply and systemically flawed work that's nevertheless interesting in its pathologies. One thing I will be doing, if only to force the discussion further away from the banality of comparing the original trilogy to the prequels, is to, as I said, treat the work as presented: a seven part and counting story. This doesn't mean willfully ignoring the fact that The Phantom Menace came out twenty-two years after A New Hope (or, for that matter that A New Hope wasn't originally called that), or doing some sort of silly narrative game where we ignore future installments entirely, but it does mean accepting that The Phantom Menace is intended to function as a beginning despite the fact that in practice the entire audience knows that Jake Lloyd's character grows up to become one of the most iconic villains in cinematic history.
Right. Prolegomenon sorted, let's dive in. As mentioned, I'm not going to pretend that The Phantom Menace is a good film. Its narrative logic is, charitably, bizarre, its sense of humor moronic, its acting as flat and artificial as its CGI, and very little of it comes off in a meaningful sense. Nevertheless, it's a film that gets a ridiculously harder time than is actually justified. One of the most common refrains about it, for instance, is that it lacks a protagonist, which is nonsense on stilts. Its protagonist is clearly Qui-Gon, a fact that's seemingly lost on people unable to imagine that the film might not focus on any of the characters it inherited from the original trilogy. The film very clearly follows Qui-Gon's path through his final mission as a Jedi knight. This isn't unduly tricky in the least.
But if The Phantom Menace is a film about Qui-Gon, what are we as an audience meant to learn about him? And more to the point, if The Phantom Menace seeks to use Qui-Gon as the lens through which the overall series is introduced, what are we meant to understand Star Wars to be? As many have pointed out, the initial stakes of The Phantom Menace are, compared to basically every other installment, exceedingly low – a dispute about taxation of outlying star systems. Which is to say that at the outset, as Qui-Gon's shuttle lands upon the Trade Federation ship, that there is no particular crisis, and that we are meant to read things as representing a status quo.
This is, of course, perfectly normal. That's how most movies work: they present a status quo, then show its disruption. So what disrupts the status quo here? The end result is obvious enough: Qui-Gon dies, and his apprentice takes on his role as well as a new apprentice. But what causes this change? Given the way that The Phantom Menace is structured as a somewhat inchoate travelogue, the disruptions consist of the major new characters that Qui-Gon encounters throughout the film. Which means Jar Jar Binks, Padme, R2-D2, Anakin (with C-3PO here being treated as an extension of Anakin as opposed to a major figure in his own right), and Darth Maul. (The actual trade federation representatives and Darth Sidious are important in their own rights, but don't really cross Qui-Gon's path directly.) So the question becomes how each of these five characters disrupt Qui-Gon's status quo, and what can be inferred from this.
Let's go in order, if only to get Jar Jar out of the way. Obviously Jar Jar's primary role in the film is to provide comic relief and, secondarily, to introduce the frustratingly common George Lucas trope of creating aliens as crass racial caricatures. But it's still interesting that Jar Jar comes first in the sequence. Whatever other transformations to the status quo unfold over the course of The Phantom Menace, Jar Jar is where it all begins. It would be giving Lucas too much credit to suggest that Jar Jar is deliberately annoying, but on the other hand, he's pointedly a character we're meant to have a degree of distance from. He is meant to be looked at rather than engaged with, hence his broad physical comedy, ostentatiously unclear speech, and, in 1999, status as a feat of technical wizardry. More to the point, and in common with C-3PO, the character in the saga he has the most obvious resemblance to, Jar Jar isn't a character the audience is invited to agree with so much as a voice of error – a mouthpiece for views the film wants the audience to acknowledge the existence of without embracing. (In this regard it's notable how similar in comedic style Anakin's "accidentally flying the ship" routine is.)
In the case of Jar Jar Binks specifically, this does not amount to much. Where C-3PO straightforwardly serves as a naysayer to the idea of having an adventure plot, Jar Jar does not express any specific viewpoint that demands to be taken seriously (although he is used for this purpose in Attack of the Clones). His function is more generally that of Brechtian psychopomp, introducing the alienation with which the film is to be watched. And, more to the point, his function is for this alienation to extend to Qui-Gon, making him a protagonist we observe from a distance, more like a subject undergoing an experiment than like a character we empathize with. We are invested in how he does, rooting for him even, but we are not particularly expected to care about the things he cares about.
Although the next character to intersect Qui-Gon's path is Padme, this fact is initially obscured by the games the film plays with her decoys. These games are, at least in narrative terms, arguably the most important part of her character in this film, in that they train the audience to look for characters hiding as other characters, and thus to identify that Ian McDiarmid is playing both Chancellor Palpatine and Darth Sidious, a fact that's at once crucial to the film and relatively downplayed, as befits his eponymous status as a phantom menace.
But Padme also serves the important function of illustrating many of the deficiencies of the status quo, or at least of the Galactic Republic. This does not simply mean the "turmoil" of the opening crawl, but the systemic impotence of the Republic's political apparatus in the face of it. Which, of course, includes Qui-Gon, who is on this mission as an agent of the Republic, and whose persistent big fish problem is a straightforward demonstration of is ineffectiveness. But while Qui-Gon spends the film exploring this ineffectiveness via an action-adventure plot, Padme, once her identity is actually established, follows a parallel plot in which she engages directly and at length with the political apparatus itself, lobbying the Senate, arguing with the Trade Federation, and generally actually being a head of state in a corrupt democracy that's far closer to collapse than it realizes. She only ever does this in her capacity as a side character, and so the engagements do not really have much depth beyond their basic expository functions, but they are at least coherent and effective at these functions, which is more than you can say for Jar Jar.
From an audience perspective, however, Jar Jar Binks is followed by R2-D2, a character with which he shares far more obvious similarities. On the one hand R2-D2 is, like Qui-Gon's apprentice Obi-Wan Kenobi, a character who the audience knows already, and the film basically assumes that. His debut is played with a deliberate structure of anticipation and payoff: there's a mechanical problem and various droids that resemble R2-D2 but aren't try and fail to fix it before the real thing shows up. But the effect of this for the production-aware viewer (which is to say basically everyone) goes beyond a mere thrill of recognition, iconic a cultural figure as R2-D2 may be. Unlike Obi-Wan, whose narrative role in the prequel trilogy was made necessary by the original trilogy, nothing about R2-D2's appearance here is anticipated by the pre-existing mythos. In A New Hope R2-D2 appears to be a near-random choice of droids on Princess Leia's ship, and nothing through Return of the Jedi changes that. In one sense this means that R2-D2 is raw fanservice, but his elevation to a constant part of the Star Wars mythos on the level of Skywalkers or lightsabers is a significant change to that mythos.
Fittingly (and intelligently) this matches with his actual function within The Phantom Menace. There is an entertaining fan theory about R2-D2 being the true embodiment of the Force – a joke on a similar level to the "Jar Jar Binks is the true Sith Lord" theory. And like that theory, there's an element of truth to it under the archly overplayed hand. Like Jar Jar, he is a character who is looked at, rather than empathized with, his whirrs and beeps an even more malformed version of speech than all the "meesas." And where Jar Jar is introduced as a bumbling and incompetent fool, R2-D2 is precisely opposite: a hyper-competent force of providence that validates Qui-Gon's vague assertions about the Force even if it does not directly relate to it. Indeed, note how soon after his arrival we get the famously technobabble explanation of the Force, further encouraging us to read R2-D2 as tacit evidence of its power.
This, of course, brings us to Anakin, around whom the entire film revolves. This is not a subtle thing – the way in which the film weirdly derails when it reaches Tatooine is infamous. For most viewers, he's is the entire point of the film; certainly the poster puts him front and center. In many regards, he's got an even better claim than Palpatine to be the phantom menace. Or at least he would if there were actually anything in the film that particularly flagged him as such. Instead he is basically another annoying comic relief character in the mould of Jar Jar, used as the macguffin to stage the ridiculously gratuitous podrace sequence.
But it is here, more than almost anywhere else in the film, where the mythic unspoiled viewer has something of an advantage. To such a figure Anakin would appear much like Jar Jar Binks, with Tatooine not seeming meaningfully different from Gunga City. Except that instead of the mildly begrudging patience Qui-Gon shows to Jar Jar, he is immediately obsessed with Anakin. And for an unspoiled viewer, Qui-Gon's interiority, faint a thing as it may be, is still the most fully realized thing in the film. And so the way in which the film slows down for the Tatooine sequence naturally leads the focus to shift there, with the audience being invited to at least go so far as to imagine Qui-Gon's perspective. The fact that this perspective is motivated primarily by some readings on his tricorder still keeps us at a remove from him, but it's clear that there's something going on with Anakin (in a way there wasn't with Jar Jar) and that Qui-Gon considers this on the whole more important and interesting than whatever was going on with Naboo.
Indeed, to an unspoiled viewer the typical complaint about this sequence – that Qui-Gon's plan is contrived and high-risk – largely evaporates, with the implication pretty clearly being that Qui-Gon has simply seen the future in the way that Obi-Wan and he talked about at the beginning of the film, knows Anakin will win, and so views the podrace as a mildly convoluted but basically straightforward way to deal with their mechanical problems. This frees the unspoiled viewer to be troubled by a different failing of Qui-Gon's, namely his reaction to the fact that Anakin is a literal slave. This reaction being essentially indifference.
This cannot be taken as some sort of sloppiness. There are many ways in which Lucas is politically naive at best and gruesomely offensive at worst, but given the series' explicit moral focus on the rise of fascism there is no way that the question of slavery's moral acceptability can be set aside, especially when the film has Jake Lloyd reverentially ask if Qui-Gon's come to free the slaves. And so Qui-Gon's refusal to go to anything like the lengths he'll go to in order to resolve a trade dispute in order to do so becomes a highly visible failing – a moral rot at the heart of Jedi ethics to parallel the Republic's own failings.
But while it's deliberate, it's ultimate meaning ends up disappearing into the black hole of indeterminability that is Anakin's busted messiah narrative. On the one hand, the Jedi Council is spot-on that this is a terrible idea, in which case Qui-Gon's poor judgment in wanting to train Anakin is inseparable from his poor moral judgment. And yet Anakin really is predestined – a virgin-born messiah figure every bit as powerful as the prophecies say, and thus presumably inevitable. If such a figure is a negative messiah – which is on the whole what Anakin is – then his status as a traumatized slave becomes more unruly than Lucas can deal with. Relatively coherent readings can be constructed within the context of The Phantom Menace alone, most obviously that if the Jedi had stood up to slavery their messiah wouldn't be so heavily traumatized and thus corruptible. But even this ends up linking trauma to corruption in a way that can charitably be described as "unsatisfying."
Thankfully the Sith are on hand to introduce a nice strong dose of moral certainty. Although I gather he acquires some depth in the Star Wars Rebels cartoon series, which you've got to be kidding me if you think I'm watching, in The Phantom Menace Darth Maul is a preposterously straightforward character, signifying "evil" and "badass" with equal lacks of nuance or compromise. His introduction to the main plot thus neatly absolves the film of having to continue to probe the moral complexities of passively tolerating slavery, and indeed is arguably placed where it is to accomplish precisely this.
With the film's now ambiguity-free morality in place Darth Maul can be allowed to kill Qui-Gon, marking the first time in the saga that the role of protagonist is passed on, with Obi-Wan set to take the role for the next film. The initial arc of the story is also set at this point: by killing Qui-Gon the Sith demonstrate their ability to destroy the status quo, which sets up expectations for their rise over the next two films. This tension is expressed almost perfectly in the film's final shot, a piece of grim irony far more elegant than The Phantom Menace usually gets credit for being, as Boss Nash boisterously thunders "PEACE!" while the audience becomes acutely aware that's not what they're going to be getting.
Ranking (Because I Might as Well)