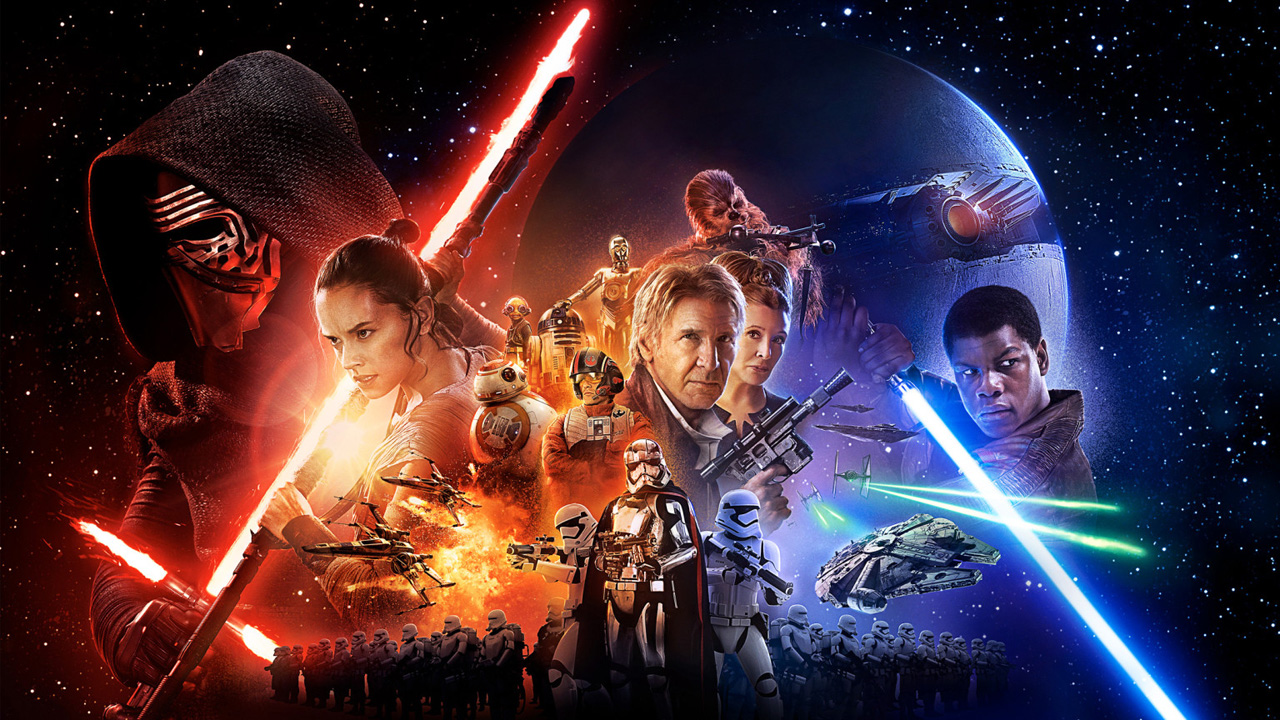 Well, it's no "Tilotny Throws a Shape."
It seems almost obvious to suggest that The Force Awakens is a film that feels more like it was engineered than created as such. There is never a moment within it that doesn't feel calculated. This is hardly surprising; the original film's conscious aping of Joseph Campbell is at times overstated, but in the post-Save the Cat! cinematic world we live in the idea that a Star Wars screenplay was ever going to contain anything that seems to be there because of some actual interest, concern, or idiosyncrasy of the screenwriter is blatantly absurd. The cold reality is that The Force Awakens basically just had to shoot on film and go back to the "used future" aesthetic that Lucas ditched for the prequels and it was going to debut to cheery reviews about Star Wars being back.
Even by that standard, however, there's something intensely rote about The Force Awakens and its unblinking tour through all the classic bits of Star Wars. It would be going too far to say that it's cynical – everybody is clearly having a good time making Star Wars. But there's a palpable sense, in basically every scene, that what they're having fun is very much making Star Wars as opposed to making this particular movie. There are exceptions – in particular Domhnall Gleeson, who has clearly never tasted finer scenery in his life – but by and large nobody seems invested in this film.
That's not terribly surprising, I suppose, given that this film (like Star Trek before it) really isn't interested in anything more than "here is the setup for a new version of this classic thing." The main beneficiary here is Rian Johnson, a filmmaker with an actual track record of interesting and challenging movies who inherits the plum Empire Strikes Back position, an accomplished cast, and an actual premise, and who thus presumably gets to go be interesting without having to waste acres of time going "look! Another plucky hero on a desert planet!"
Ah, yes, Rey. Along with Finn, the good part of the film. For two reasons. The first is simply the hilarious idiocy like the review Vox Day posted to his PUA sub-blog that objected to a girl beating a boy in a light saber fight before concluding that "women ruin everything," or the Return of Kings review that says everything you'd expect it to say. The second, quite separate from the genuine pleasure of impotent nerd rage, is simply that it's fucking wonderful to see heroes like Rey and Finn. A world where Daisy Ridley and John Boyega get to play the heroes of an action/sci-fi movie is a nicer world than one where they don't. Countless movies have gone less well-cast because they didn't have the bravery or ingenuity to hire actors like them.
And yet for all that the choice of sobriquets reveals the ugly motives for the critique, it's hard not to have a whisp of sympathy for the people who accuse Rey of being a Mary Sue. It's the wrong diagnosis, not least because "Mary Sue" has become a devalued snarl word for "female protagonist. And yes, any suggestion that she's less well-characterized than, say, Qui-Gon, Mace Windu, or, hell, fucking Anakin is nonsense on stilts. But "no worse than the prequels" is exactly what we're not supposed to have to say about The Force Awakens.
But the real problem is just that we're wasting Daisy Ridley doing Star Wars stuff. Because in the end, that's the problem. The only reason the film can think of for why we should care about her is that she's an orphan in the desert who finds a droid that could change the fate of the galaxy just like Luke Skywalker. Everything in the film is pinned to him, from the first word of the opening crawl to the final scene. The problem isn't that he's not in it; indeed, one of the screenwriters noted in an interview the problem with having him in it, which is that his presence dragged the emphasis away from Rey and FInn. No, the problem is that even when he's not in it he's hanging over it. We're supposed to care about Rey because she can get us to the hero of the forty year-old film this is based on.
On one level this is just the killjoy critique that gets made about things like the female Thor or Sam Wilson as Captain America in Star Wars's corporate stablemate of Marvel Comics – that women and minorities are only suitable as the second preference replacement for white male heroes. And yes, that's frustrating. As is the entire ideological basis of corporate-owned and perpetually copyrighted mythology that The Force Awakens and the coming annual succession of Star Wars films represents.
Obviously I'm not someone who minds a well-made long-running franchise, and there are better hills to die on when it comes to diversity in media than a film that's doing better than most. I'm glad people who look like Daisy Ridley or John Boyega get to see themselves in a huge pop culture moment. I have tremendous respect for the sense of heritage and legacy involved in narratives that span generations of audiences, even if I resent the corporate ownership of that history. And I recognize that a two-hour adaptation of "Tilotny Throws a Shape" would be an objectively worse idea than a two-hour remake of Star Wars.
But all the same, there's something almost brutalizing about the sensory assault involved in a sustained two hour shout of "we made a Star Wars!" For those for whom the nostalgia has intense value, I imagine it's satisfying in much the same way the classic TARDIS set in Hell Bent is for a certain type of Doctor Who fan. Except The Force Awakens never moves beyond that "oh wow the classic TARDIS set" thrill. For those for whom Star Wars was a fundamental part of their childhoods, and there are millions of them, it's probably great fun. In terms of authentically recreating 70s experiences, though, it's more Planet of the Daleks than Star Wras.