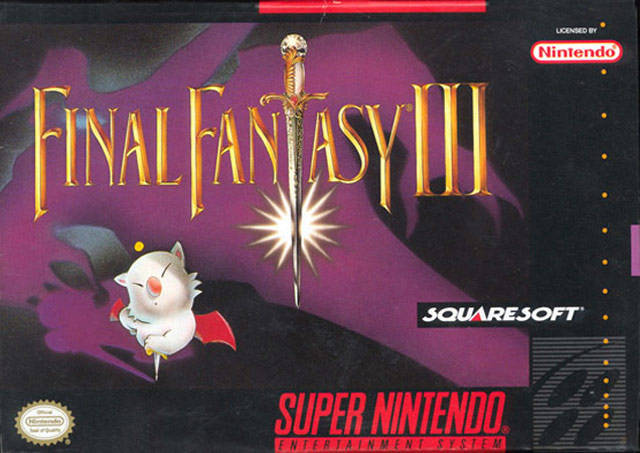 A guest post by Anna Wiggins.
The narrative begins with a woman. She doesn't have a name, or even a will of her own. She is being mind-controlled, escorted by soldiers into a mine for reasons unknown. She is led deep into the caves, until she stands before a monster trapped in ice. The creature stirs. It vaporizes the soldiers. It communes with the girl; they are alike, bound, their power subdued. Fade to black.
Final Fantasy is for girls. When I started playing Final Fantasy III, I didn't know this. In 1994, I don't think anyone knew this yet, because video games were only and forever for boys. Which is a blessing; when I was ten years old, anything that was remotely "for girls" sent me running in the other direction. I was terrified of being seen adjacent to femininity, for fear that someone would somehow figure out the secret at the core of me. But over the years, it developed a reputation for being a 'girly' series. It focuses on romance plots. It has an aesthetic that often goes out of its way to be cute or pretty.
The woman stands before the creature again. This time she has friends with her. She has come a long way, fought and suffered. She doesn't even know why, really. Her past is a blur. But now the creature reveals the truth: she is a monster, the same as he. She stands before her friends, exposed, outed. She can't deny what she is, and they can't hide the shock and fear (and is that disgust?) in their eyes. She flees, hurt and confused and angry. Fade to black.
So Final Fantasy is 'for girls'. Aside from a feeling of retroactive vindication, what does this signify? In the historical narrative that inevitably leads to Gamergate, Final Fantasy is both an oasis and a rallying banner. It can be our Folkvangr. A place to cuddle up with some moogles for a while, then ride out into the fray on our chocobos. And this trend extends all the way to the present. Most installments in the series have strong, prominent female characters. Final Fantasy XIV has one of the best gender ratios I've encountered in an MMO, and an overwhelmingly positive and friendly community. It is far from perfect, but compared to the caustic communities I've experienced elsewhere, it's a breath of fresh air. (Also, Final Fantasy XIV literally allows you to fight Gamergate)
The woman's friends want to help. They look for others like her; the outcast monsters that are only barely even considered people. They don't find any of the creatures, but they find some of their history. A history of being murdered and downtrodden, of callous indifference and outright brutality from figures of authority. They show it to the woman, and it fills her with determination. She succeeds where they have failed, driven in a way they aren't, can't be despite their desire to help her. She finds her people, her family.…