The TARDIS Data Core has never been a great site. This ranges from its extraordinarily dubious content decisions such as individually listing every floor of the spaceship in World Enough and TIme to be mentioned in the episode to its outright pernicious decisions like having pages for "rape" and for individual racial slurs that exist to document every single case across all of Doctor Who where they have come up. And this badness has been known to take an overtly queerphobic tinge, such as the decision to jettison categories listing LGBTQ characters in Doctor Who because, and I quote, "We write articles in the past tense from an 'end of the universe' POV. The Category:LGBT individuals, makes no sense for me as it's a very 20th to early 21st century view point" and "If the concept of LGBT existed in the DW universe we'd have a page for it, and we don't, cause it's really not something that's given a lot of thought as a defined concept." (It's not clear why categories such as "human secretaries," "victims of the bubonic plague," and of course "gamers" are more relevant at the end of the universe.) And of course there's the incredible epic saga of the Zygon penis.
Nevertheless, recent events are bad even by their standards. An editor has recently been doing the very good and useful work of cleaning up mentions of trans people's deadnames across the project. Although there are a handful of cases where it is necessary to disclose a trans person's deadname, it's an exceptionally short list. Deadnames are both deeply inessential information and information that it does harm to disclose. This is even true, to be clear, for cases where the deadname is widely and publicly known. I'm under no illusions that mine is remotely a secret; it's still distressing to hear it. There re a few cases where the information might be necessary. But even in those, slowing down and applying some creative thinking can usually find an adequate alternative. (For instance, in the most justifiable case—an academic citation to something published under a deadname—one can easily just use the correct name and append a parenthetical note "published under a different name," indicating that whoever wants to go looking for this article might want to search by title instead of author.)
Anyway. Because there is absolutely no reason for a public wiki to be using people's deadnames, an editor went through and did the sensible thing, namely removing them all. These edits got reverted, and then, for good measure, the editor who reverted them, Shambala108, blocked the editor who made the changes for a stunningly long six months, despite the fact that the feud had not yet risen to the definition of an edit war and the fact that Shambala108 had been involved in the feud. Then, for good measure, all of their edits were reverted and all pages involving trans people were locked so that nobody could remove the deadnames anywhere on the wiki.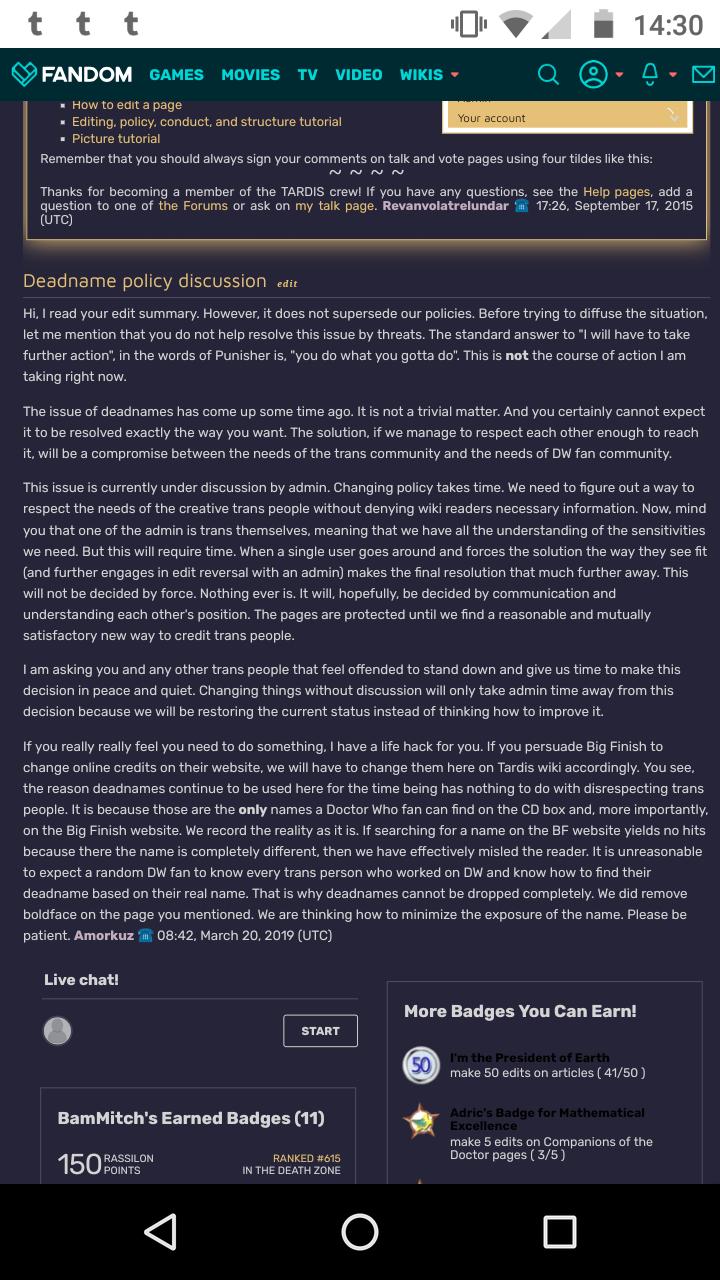 When another editor attempted to follow up on this decision, they got the reply shown to the right here. It is difficult to figure out exactly what to even say to an epic of faux politeness and condescension like this. One is tempted to just try to pick one's favorite terrible phrase in it. "The solution, if we manage to respect each other enough tor each it, will be a compromise between the needs of the trans community and the needs of the DW fan community" is probably mine—a classic of narccisism and egregiously misplaced priorities that instantly reminds one of how and why Ian Levine has managed to be a major figure in the community despite, well, everything.
Nevertheless, let's take a deep breath and patiently respond to this, because it's worth capturing the sheer level of disingenuity involved here. The case being made is that the wiki needs to respect the credits on the Big Finish website because "if searching for a name on the BF website yields no hits because there the name is completely different, then we have effectively misled the reader." But the TARDIS Data Core already duplicates the relevant information—the page on Jay Harley, for instance, already contains a list of all of the television and Big Finish stories they worked on. Why would anybody looking at this list go "oh, well, I think I'll go pull up the Big Finish site and search by name to get the exact same information?" Except it's actually even more brain-meltingly vacuous than that, because in most of the cases the deadnames are being included in articles on the stories themselves. So this hypothetical use case involves a reader who has pulled up a specific article on a specific story then going to the Big Finish website and attempting to search for the story by the writer's name, then simply giving up instead of trying the more obvious route of searching for the story itself or, and I'm just throwing out wild possibilities here, just clicking the link to the Big Finish page at the bottom of the fucking article and not bothering with the search function in the first place.
No. The idea that a writer's deadname is some essential piece of information for the TARDIS Data Core to include is obvious nonsense. What's going on here is blatantly a bunch of people lashing out because they are upset by the idea that they might have to consider the needs of marginalized people when talking about their beloved television show. It is part and parcel of the long pattern of queerphobic decision making on the part of a wiki that is increasingly obviously a stain on the community. (And tellingly, Shambala108 was also involved in the decision to delete all the queer categories, proclaiming that they "serve no purpose") It is malicious, it is hateful, and it needs to stop.
In light of this, it is worth returning to Amorkuz's lengthy apologia for deadnaming and picking out the other big candidate for my favorite terrible line in it: "I am asking you and any other trans people that feel offended to stand down and give us time to make this decision in peace and quiet."
Respectfully, I am asking any trans people and any allies we have in the Doctor Who community to do nothing of the sort.