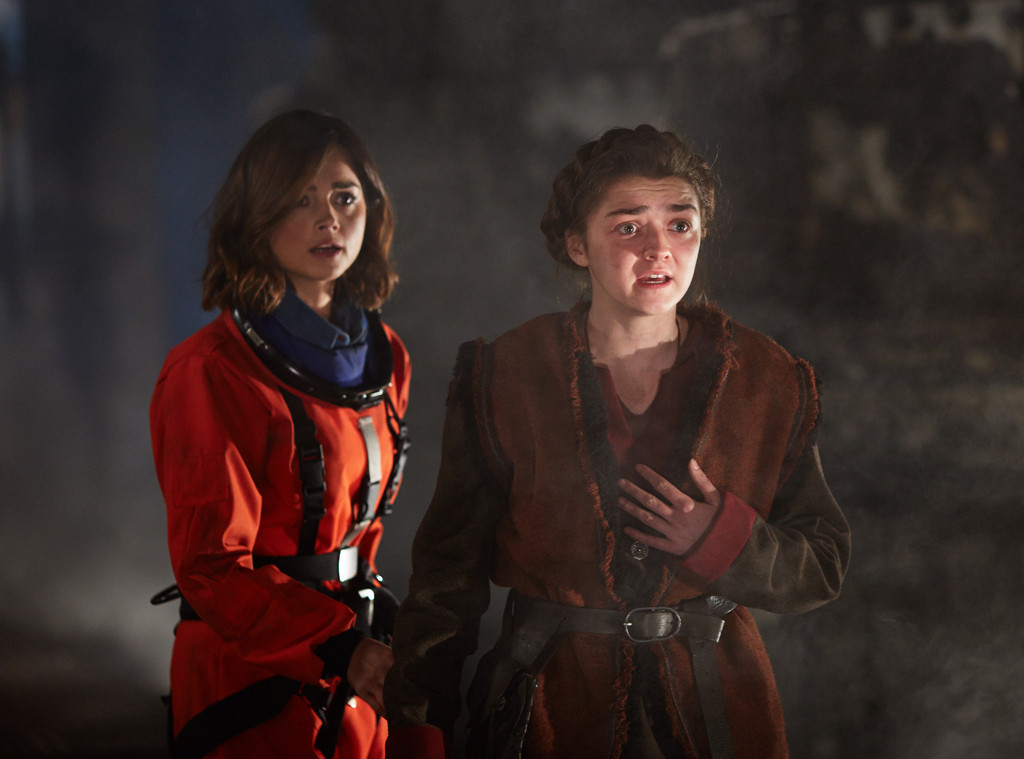 Oh good, they didn't just completely forget how to make Doctor Who. That's comforting.
A lot of credit has to go to Jamie Mathieson, whose style is starting to emerge, and emerge compellingly. Central to it – and a point Moffat highlighted in interviews last year talking about him – is a solid sense of premise. The spine of this episode – Seven Samurai with Vikings – is, much like "there's a mummy on the Orient Express in space" and "evil Flatland," a rock solid structure that Doctor Who fits into nicely. In a season whose first two stories were marred by odd pacing, an episode that feels like it's shaped correctly is just terribly relieving.
But the details are also all wonderfully on point, right down to an otherwise stupidly generic alien warrior race that's instantly elevated by the detail that they harvest testosterone to drink. Similarly, the use of "Yakety Sax" over the video of Odin cowering from a wooden dragon is just a solid bit of charm. And the dialogue for the baby, which manages to be haunting and mythic while still being coherent and sensible as a baby's take on a sense of impending doom.
Mathieson also seems, to me, to write something very much like the definitive take on Capaldi's Doctor. The scenes where the Doctor angsts to Clara about events are all electrifyingly good. Much of this is Capaldi, who plays both scenes as a man grappling with the inertia of depression. But it's also down to the writing, which, as with the closing scenes of Mummy on the Orient Express and Flatline, is adept at picking what ideas to tell instead of showing. I feel slightly bad about ragging on him at this point, but Whithouse is an all too useful counter-example, always putting relatively obvious sentiments in explicit text. Whereas Mathieson picks lines like "I'm sick of losing people." Really, that entire scene is amazing – the Doctor anticipating and dreading his inevitable eventual mourning of Clara's departure, the way it contrasts with his earlier use of her as an example of someone he's reshaped. It's stuff that's obvious in the sense of being self-evident, but it's not obvious in the sense of being a cliche. It's a small and simple thing – the same angst displayed whenever the Doctor sulks over losing a companion – but moved to a position in the narrative where it's an unexpected nuance. And the overall take on the Doctor is genuinely impressive. Instead of being self-loathing and self-pitying, the Doctor is just exhausted by the centuries. A good man who is worn out.
Implicit in this is also the fact that Mathieson gives Clara good stuff; and he's very easily argued as the best Clara writer besides Moffat himself. Obviously at this point, after three episodes where she was given very little to actually do, simply having an episode where Clara gets plot is relieving and satisfying. But it's good plot. Her cajoling and pushing the Doctor is consistently satisfying, and the baseline of it. But her quick and efficient assessment of Odin and what's going on and successful (until Ashildir screws it up) is also great, as is her basic rapport with Ashildir.
We also have to talk about Maisie Williams, who's brilliant. Ashildir is obviously positioned adjacent to Arya as a character in some key ways, and it's fascinating to watch Williams find space to make the characters different. The impulsive challenging of Odin would have been easy to play as basically an Arya moment, but Williams gives it a furious and desperate confidence that's lacking from how she plays Arya in similar moments. With Arya we always see the scared kid inside and know she's putting on a brave face, whereas Ashildir clearly genuinely believes in that moment that she's going to take down Odin. Her big scene with the Doctor explaining why she won't leave is likewise impressive, although in almost an opposite way. None of it is anything Arya would say, and Williams manages to build, almost entirely through tone and facial expression, a clear sense that Ashildir's wisdom comes precisely from the narrowness of her world. It's brilliant stuff, and emphatically confirms that Williams isn't just riding a good part over at HBO, but that she's a genuine contender to be the next Jennifer Lawrence, Emma Stone, or Ellen Page.
And then there's the ending, cleverly earned and structured. The title all but promises Ashildir's death, such that her absence from the actual victory scene is an aching and uneasy thing. The result, especially with the knowledge she'll be around next week, is a satisfying mystery for the final quarter of the episode. And the solution – that the Doctor brings her back but does so by making her immortal, knowing as he does it that he's probably made a bad call – is at once obvious and compelling. Certainly it builds incredible anticipation for next week, and I loved the gloriously quiet and beautiful cliffhanger of that stunningly gorgeous pan around Williams, her expression going from joy at survival to something altogether more troubling.
Past all of that, though, this just hits a lot of buttons I like. Defeating the bad guys by telling a better story than them. The idea that seeing the world through technology is a weakness, a frankly astonishing thing to say in a contemporary television program, especially one as focused on narrative as technology. The sort of moral imperative it ultimately offers: always try to save more people. The idea of love and kindness as both the definition of home and that which is opposite death.
In short, an easy and straightforward best-of-season so far. If we can keep this level of quality up – and I really see no reason why the remaining seven shouldn't generally be fantastic, based on premises and writers – this season may yet manage to live up to the one before it.
Somewhat curious what Moffat did here; this felt like a Mathieson script through and through to me. I imagine he had a hand in the "where the Doctor got his face" scene, but other than that I honestly didn't seen anything that felt like his work.

Ah yes, the face scene. Obviously a total hoot, but man, that plot beat must be rough for anyone who's the least bit hazy about a seven-year-old episode, and I'm not sure it was a satisfying enough answer to that question or an important enough issue (it's not like motivating the Doctor to save someone should be hard) to justify that level of fanwank. But I'm generally suspicious when hardcore fans who catch lines nicked from

Remembrance of the Daleks

fret about fanwank, so I'm probably overthinking that one.

Eels. What a wonderfully ridiculous choice. (Really, I thought the entire "defeat the monsters" section was marvelous; a reasonably complex action sequence that was quickly set up with a lot of animated dialogue that amounted to a list of strange objects and a shot of Clara and a Viking playing with her cell phone, and then smoothly executed such that you could tell what was happening, all in a couple of minutes. Credit due to the director, Ed Bazalgette, who, fun fact discovered while Googling for his name, was the lead guitarist of the Vapors, the band that performed "Turning Japanese."

Hopefully this marks the end of the sonic sunglasses.

Well, it suddenly makes sense why they hired Catherine Tregenna: immortals and people out of time are kinda her thing. This should be good too.
Funny Quote From Someone Posting in the #moffat hate Tag on Tumblr
"I've not watched the ep obviously but jfc who [sic] much more obviously unoriginal can this show get ugh"
Episode Ranking
The Girl Who Died

Under the Lake

The Magician's Apprentice

The Witch's Familiar

Before the Flood