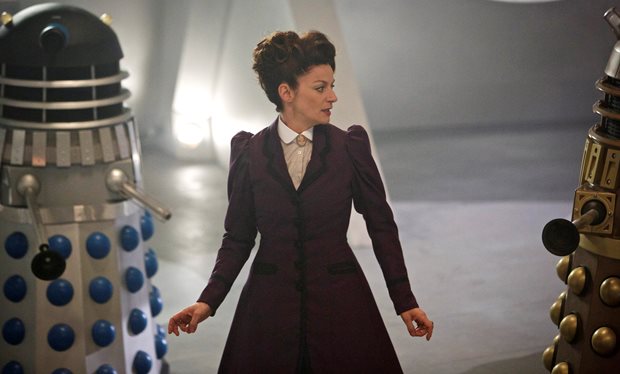 That didn't quite work for me, at least on a first viewing, although watching it again as I write this it improves. Much of that is, I think, being free from the weird vertigo of the fake cliffhanger. I have mixed views about deliberate misdirection via out-of-context flash forwards as a technique. Actually, that's generous; I tend to think they're a cheap trick (and am still known to grouse about the utterly shameless and unnecessary one in American Beauty). So in that regard I found the episode jarring.
It wasn't even that I was particularly excited about the trolly problem the cliffhanger set up. That was only ever going to be interesting as a platform upon which to do something interesting. In that regard, if anything the opening, with Missy having Clara tied up and explaining a seemingly irrelevant plot point from a story we weren't watching, is the best part. Certainly it never quite matches that giddy thrill again. And similarly, the Doctor rolling out in Davros's chair to argue with the Daleks is great. But it's also where the episode loses its tension.
Actually, between you and me, I suspect Moffat had trouble with the script. You can almost perfectly imagine him on some eventual DVD commentary during the "Doctor in Davros's chair" bit admitting that he only wrote the scene because he realized he had written an episode that just dumped Peter Capaldi in a basement for forty-five minutes, and making fun of himself for the fact that it contributes absolutely nothing to the plot. Or at least I can, though maybe what this really reveals is that I'm the sort of person who writes imaginary Moffat commentary tracks in my head.
But the problem this script has isn't the Doctor/Davros scenes, or at least, mostly isn't. Indeed, on the rewatch those are what really sing. The detail of Davros being beside himself with joy at the news that the Doctor saved the Time Lords jumped out on the first pass, but only as part of a fairly tiresome "Davros pretends to be good" scene. On the second pass, it struck me as incredibly clever and interesting; a moment of genuine empathy from Davros, but one that's carefully framed in terms of the nationalist and racist ideologies he espouses and represents. I buy that much more than the bullshit "the Doctor teaches child Davros about mercy and thus achieves some small ineffable victory in the form of incremental progress towards a less genocidal Dalek" note on which the episode ends, certainly.
No, the problem is ultimately that there's not ninety minutes of story here, and the effort made joining the two halves up and structuring this as a season premiere detracts from the actually interesting bit. Or, rather, if there are ninety minutes of story the cliffhanger is in no way the halfway point of them. Certainly that's what's suggested by the weirdly rushed denouement, in which the Doctor, for no discernible reason beyond the fact that the episode is about fifteen minutes from the end, decides that instead of letting Davros die naturally he'll walk into his trap. It's not that I think there was necessarily more road to run in the actual Davros/Doctor conversation. Rather, it's that the resulting rush of tying off threads was, to my mind, unsatisfying, a point highlighted by the perfunctory "Missy addresses Davros" line, which at once flags the fact that Moffat recognizes the appeal of that pairing and the fact that he didn't actually give it to us in any meaningful sense.
Ah yes, Missy. Presumably the witch, with Clara as her familiar, right? (I mean, who even knows anymore.) There's an argument to be made, in fact, that the Doctor/Davros scenes were filler for an episode that's actually about Clara and Missy infiltrating the Dalek city. Certainly bringing Missy back as a foil to Clara is a sly move, although one might be forgiven for feeling like some more Gomez/Capaldi scenes might have been nice. Or perhaps it's just the degree to which Clara is a prop here, with her only real contribution being to say some clever things while tied up in the pre-credit sequence. After that she exists to get handcuffed to a wall, shoved into a Dalek, and left to helplessly beg that the Doctor figure out Missy's final trap. (A scene that didn't quite work for me, Has Jenna Coleman ever been this poorly served in a single episode?
It's not that the Missy/Clara scenes are bad, although I'm not quite sure what the "Missy dances cackling around endlessly ricocheting Dalek fire" was meant to do, precisely. Michelle Gomez is still compulsively watchable. (Her delivery on "get in" is probably my favorite of her many fantastic line readings.) And the setup is fantastic. I love the Dalek sewers, which feel as though a China Miéville idea snuck into Doctor Who. I even love the basic dynamic, setting up fairly standard Doctor Who situations and then showing Missy handling them in her own macabre and unique way.
But it's hard to escape the fact that this doesn't actually follow particularly well from The Magician's Apprentice. It does the standard thing – which one expects to become even more standard this season – of having the second episode take a decidedly different tone and approach (note that the Dalek sewer, crucial to the resolution, is only introduced here). But the high concept premise makes it difficult to have that much of a split. So we have an episode that feels enough like its predecessor that the deliberately misleading cliffhanger hangs over it, making it feel at all times slightly unsatisfying. And by the time that collapses into a slightly rushed denouement the problem has festered.
Of course, none of this is helped by the basic problem, which is that Moffat built an entire two-parter out of the most overrated (and, as Jack points out on last week's podcast, misrepresented) scene in the history of the series. The Doctor's debate over destroying the Daleks is crap. It was crap in 1975. It's crap today. It has always relied on a crass substitution of aesthetics for ethics that ends up saying nothing. The Doctor cannot destroy the Daleks or actually shove Davros into a handmine because the larger structure of Doctor Who cannot possibly allow this. And so with one option foreclosed for entirely aesthetic reasons the actual content of the debate becomes empty. Genesis of the Daleks sidestepped that by ultimately taking the debate out of the Doctor's hands. But The Magician's Apprentice/The Witch's Familiar puts it back in his hands, and ends up with all the obvious problems. Put another way, the Doctor's initial choice in The Magician's Apprentice of walking away without doing anything one way or the other is fundamentally the least interesting decision he could take. And moreover, once he took it there was only one actual direction the story could go from there, which was, of course, where it actually ended. Add to that a fake-out cliffhanger that pretends the Doctor is going to take the aesthetically impossible route (at least temporarily) and you get a story that's tremendously frustrating.
As I said, a rewatch helped. The story benefits from having all questions of suspense removed from it so that you can just enjoy the basic craft of seeing the Doctor and Davros put into a conversation that doesn't involve Davros shouting for most of it, or of seeing what happens when Missy plays Doctor.
Even there the pointlessness of the Doctor in Davros's chair sequence and the rushed nature of the ending is a bit disappointing, though. And I have trouble imagining this is ever going to be considered a classic. Well, actually, no. There will always be people for whom having Missy and Davros in a story that heavily references Genesis of the Daleks and isn't as abjectly awful as Attack of the Cybermen is going to be the very definition of a classic. And fair enough. I won't lie and say I'm not a sucker for that sort of thing in my own way, and it's as responsible for the episode's successes as its failures. This wasn't a bad way to kick off the season by any measure, but I hope we move on to more daring, ambitious, and weird things next week.
Though I admit I'm skeptical; from the looks of it, we've got Whithouse doing a base under siege, which just doesn't sound like a recipe for innovation. I'm curious about the two-parter nature of it, though; the Radio Times preview's descriptions of the two episodes sound like there's some real evolution in the concept at least.

Whatever else I may think of the episode, the "only other chair on Skaro" joke made me laugh as hard as I ever have at Doctor Who. I expect Jane and I are going to have much to say about chairs on this week's podcast.

"The only other chair on Skaro" is also the best of a truly fantastic pack of Julian Bleach moments. What a performance, especially under that makeup. It makes you wonder what Michael Wisher could have done with a prosthetic this good.

So, there's a half-Time Lord, half warrior thing called the hybrid, and it has something to do with Clara, and also some ancient aspect of the Doctor's life on Gallifrey. I'm sure Moffat has a compelling idea here, but… it sure does look like they're going to tackle the "half human" thing, whether directly or indirectly, doesn't it?

I'm sure there are people who are going to complain that it didn't reference Oswin's fate in

Asylum of the Daleks

, but there's no sense Clara remembers her splinters, so I'm not really sure how that would have been supposed to work. Or was it just that there weren't enough continuity references in this story?

We're not really doing sonic sunglasses, are we? Please tell me we're not really doing that.
Funny Quote From Someone Posting in the #moffat hate Tag on Tumblr
"Does Moffat not realise how many female viewers will have been shocked out of the action with that word? The story was carrying us all along and what was the point? Be honest, how many people were thrown unceremoniously out of the magic by that word?" (On Missy's use of the word "bitch")
Ranking
The Magician's Apprentice

The Witch's Familiar