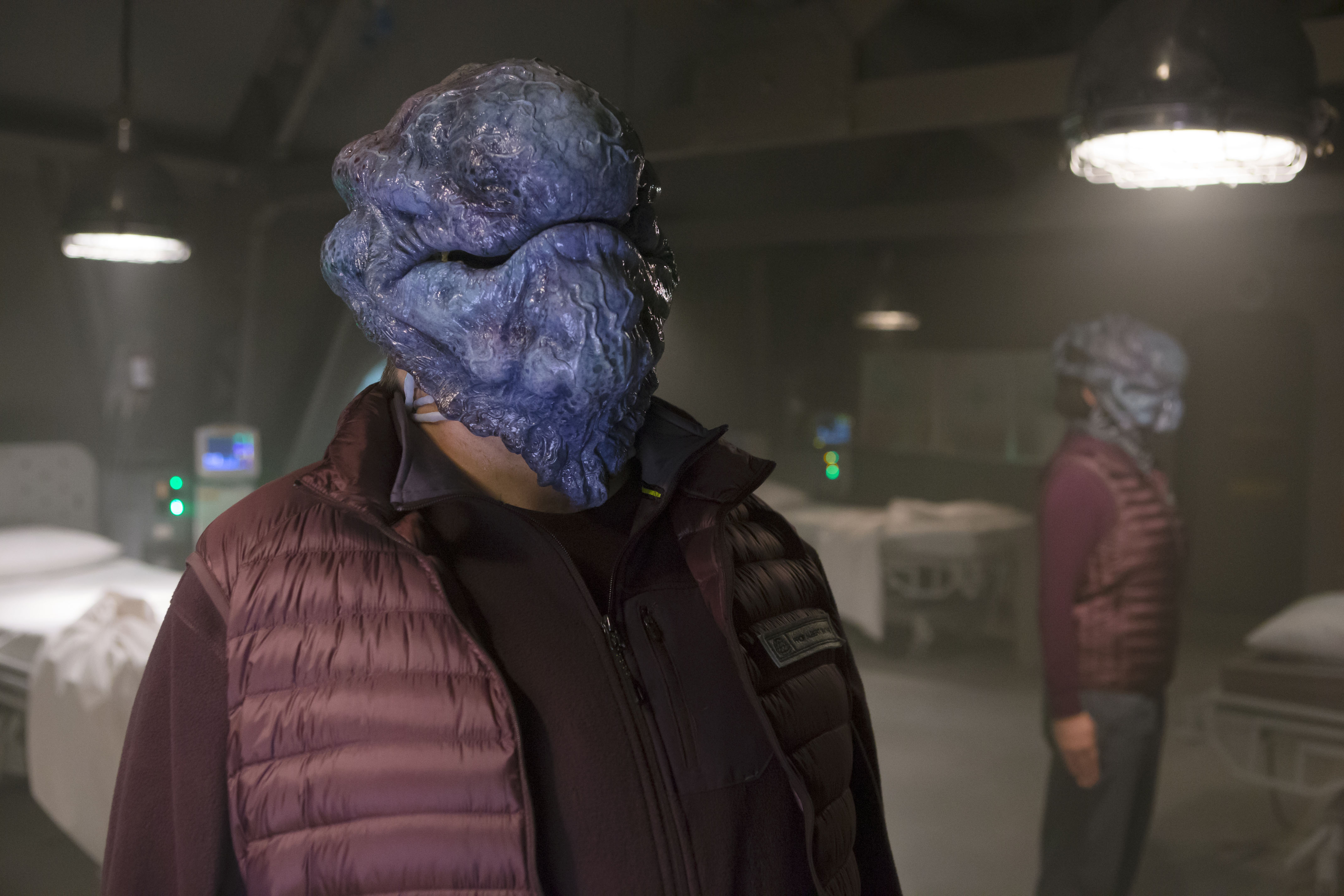 I have a cat with chronic upper respiratory issues, and about once a day she just starts sneezing really hard and snots all over her face.
It's December 25th, 2014. X-Factor winner Ben Haenow is at number one with "Something I Need," with Mark Ronson and Bruno Mars, Take That, One Direction, Taylor Swift, and Ed Sheeran also charting, the latter with "Thinking Out Loud," which has been clanking about the charts since before Deep Breath, cracking the top ten in the same week as Flatline, and not leaving it since. In news since the Brigadier returned from the dead as a Cyberman, the US resumed normal relations between the US and Cuba, while riots broke out in Ferguson after Darren Brown was not indicted. In the country we actually care about, meanwhile, Nicola Sturgeon becameFirst Minister of Scotland, while her predecessor Alex Salmond announced that he'll stand for parliament, and the Church of England allowed women to be appointed as bishops and Libby Lane became the first person to do so.
While on television, nothing; an entire episode that writes itself off as a dream. So Moffat is continuing in the vein of cheeky arrogance, doing an episode that flagrantly commits one of the stereotypical "bad writing" twists. That this is the second time in his tenure an episode has resolved this way softens the brashness slightly, but Amy's Choice tried to deflect from the glibness of its resolution with the simultaneous reveal of the Dream Lord's true identity and by positioning itself as a serious-minded character piece, at least within the context of Doctor Who. Last Christmas, on the other hand, revels in its final twist, pulling an accelerating series of "it was all a dream!" reveals building up to the final episode-encompassing one so that there's no way for the focus to go anywhere other than the ostentatious use of a cliche.
It's dubious, however, whether any other approach could have possibly worked. We are steadily approaching the inevitable peak of Moffat's ambition. With Last Christmas following so closely on Series Eight and being so distant from Series Nine, it functions much more as a second season finale than as a stand-alone or prelude. And with Moffat deciding to retain the same TARDIS team his only option was to keep the momentum and barrel into Christmas with the same energy that had suffused the back half of the season. Indeed, even Death in Heaven presented Last Christmas as its continuation, cutting into the credits to metatextually critique the episode as a resolution and promise a further installment of the Doctor and Clara's story.
And so we get Inception meets Alien, only with Santa Claus. Like a Mummy on the Orient Express or the moon being an egg, this is an exquisitely well-balanced concept. It is oversignified to a precise degree that only Doctor Who can get away with—not quite so over the top as to be unmanageable, but sufficiently so that it feels appealingly audacious. Inception and Alien go together well enough, though they're a dubious choice for Christmas. Adding Nick Frost Santa Claus to the mix not only fixes that, it's pleasantly bonkers in its own right. It's a stunt, to be sure, cut from the same cloth as Catherine Tate and Kylie Minogue. And, of course, Moffat is as usual raiding his own back catalogue—the "don't think about the dream crabs" dynamic is a cut price "the image of an Angel becomes an Angel," to say nothing of the gag I named the entry after. (And the bits that are new are things he'll use again later: the Helman-Ziegler test is just the "pick a random number" bit from Extremis in reverse, and "you're a dream who's trying to save us" is similarly recycled for that episode's climax.) But as with anything Moffat is doing at this point, there's a manic intensity—a sense that nothing's being left on the table.
The real pleasure, however, is in the details. Nick Frost's Santa Claus is efficient but delightful, blending the genuine warmth the part needs for Moffat's claim that this is the real, actual Santa Claus to fly with a sense of comedic exasperation and a capacity for impish naughtiness. And the supporting cast is outright exquisite, with Faye Marsay stealing scenes with such casual ease that it almost makes you regret that Jenna Coleman sticks around and we don't get her as a companion, which was apparently a possibility if Coleman had left. Paul Wilmhurst, meanwhile, is on the same level he'd established with Kill the Moon and Mummy on the Orient Express, absolutely nailing the pivots in tone between horror movie and Santa. (The scene where everyone is rescued by an army of toys is a particular masterpiece of giddy "WTF is even happening.") Ultimately it's these things, along with a couple of other details like a strong monster design that ensure that the episode can get away with things like it's ending.
And so the overall result is somewhat a matter of perspective. Taken on its own merits it's a nicely above baseline episode of Doctor Who, and miles above most Christmas specials. Within the context of the grandiose run of episodes Moffat is on, however, it is merely functional. For the most part this says more about Moffat from late 2013 through 2015 than it does about Last Christmas. But the fact remains that Moffat is flying dangerously close to the sun here. The premise is, as I said, ingenious, but it's clearly asking "will this do" even as it sails effortlessly over that bar. It's not a close call, but it is a moment where you're suddenly aware that he's only making it look easy, and that there's an awful lot of plates spinning right now. This can't last forever; the only question is whether it ends gracefully or it all comes crashing down.
This is, of course, also the case for Clara and the Doctor. With the character functionally having been around since 2012 and in practice having been around for basically the last two seasons, keeping Clara on board for another season was far from a given. Indeed, on balance it seemed unlikely; had Coleman and Capaldi not formed an extremely strong working relationship and the character not evolved into so many new and startling forms in the last half of the season it would surely not have happened. But they did, with Capaldi imploring her to do another year on the grounds that it would be fun. But there was never any doubt that she was heading into her last season. A four season companion is unheard of; even Sarah Jane only got three and change.
An oddity of Clara is that her departure was regularly rehearsed. She has at least four pseudo-departures prior to her real one, and more if you want to count either Time of the Doctor or Deep Breath. But this episode becomes the zenith of that, simultaneously addressing the previous faux-departure and finding time to indulge in one of its own with the inverted Time of the Doctor scenario prior to the final wake-up scene. The episode makes whether Clara is going into a source of active suspense, supported on the paratextual level, since this went out before Series Nine filming started meaning the secret could be and was effectively kept.
This means, however, that Last Christmas is very much about Clara's departure. As we've already noted, its explicit subject is "what would make a good ending for Clara Oswald's story?" What, then, is the reason behind the rejection of the two on offer here? Why are the mutual lie of Death in Heaven and the aged Clara of the penultimate scene inadequate endings? Perhaps unsurprisingly, the answer is closely related to why the desire for a third season of Clara became irresistible. The nature of her excellence as a companion demands that she have agency in her departure. To have her age out of the role because the Doctor failed to come back in time or to have them part on a mutual deception/misunderstanding denies her any real control or choice in the matter; she ends up departing because, essentially, of bad luck.
But if Last Christmas highlights how Clara can't leave, it doesn't go very far towards showing how she can. This is fine; she's got twelve more episodes, after all. The whole point of this is that she's not going anywhere. But the question still tacitly stands; when you've ruled out this many departures, you've really upped the stakes for the actual one. Obviously writing this in 2018 gives certain advantages; we all know the answer to how she's going to leave. But you didn't have to know what's coming to have a sense that there's going to be an element of tragedy to it, and not just because that seems to be the only way anybody is allowed to leave the TARDIS anymore. There is a sense of active unwisdom to her decision to stay—the Doctor's plea that she come with him emphasizes the recklessness of it, and she's already admitted to it being an addiction. She's essentially suicidal with grief following Danny's death, and that doesn't get dealt with here beyond her running off in the TARDIS. This is unhealthy and self-destructive behavior above and beyond what running off in a TARDIS usually entails.
What this provides is more or less unique in the series: a veteran, settled TARDIS team with the opportunity to really explore new depths that the show could never push to without an extended buildup with which to get the characters to that point. And, for that matter, without an actress of Jenna Coleman's caliber for whom the work of establishing a character and then pushing them to conceptual extremes would be worthwhile. Without naming names, this has not been the case for every new series companion, and never for one who saw a third season. (OK, I suppose I just named a name.) Classic series companions are harder to think about in these terms as the characters were never really built for growth; Katy Manning and Sophie Aldred come the closest to getting something like this. The benefits are obvious and make it worth doing, but the word "worth" is doing a lot of work in that assessment. In a show that thrives on constant change, this is a decision that clearly has a price. That's mostly a thread to pull next episode, but as this is the episode where the decision is actually made it's worth pointing out the exchange.
But this gets us back to the tension implicit in the unexpected rekindling of the fire in Moffat's belly. Like Clara, what he's doing here is reckless and unsustainable. Ending well seems unlikely. And yet it seems clearly and undoubtedly worth it. When else have we seen anything like this on Doctor Who? A writer whose capacity for brilliance is already beyond doubt going on an extended bend of pushing himself, honing and evolving a late style? Even someone like Russell T Davies, who's written a staggering quantity of Doctor Who in his own right (Moffat only passed him this season, at least in terms of officially credited scripts), only did it over the course of four years. But Moffat is eight seasons into an unprecedented run of contributions to ten consecutive seasons over thirteen years; 2009 is literally the only year since Doctor Who came back that Moffat hasn't had an episode. The gap between The Empty Child and Twice Upon a Time is twelve years and seven months, longer than the gap from The Daleks to The Android Invasion. And unlike Terry Nation, Moffat is not a feckless hack whose style steadily regressed over his Doctor Who career.
In terms of both volume and longevity, there's only one Doctor Who writer to whom Moffat can even be compared: Robert Holmes. (As of Last Christmas, Holmes is the only writer with more screen minutes of Doctor Who written than Steven Moffat, a record that will finally be broken somewhere in the midst of The Zygon Inversion.) Wry turns of phrase about Gatiss aside, Holmes is really the only other Doctor Who writer who has a genuine late style. And he saw out his last days on the program toiling under an alcoholic who should have been sacked ages ago writing absurdly ill-advised briefs for Colin Baker and Nicola Bryant. Moffat has Peter Capaldi, Jenna Coleman, and is in charge of the ship. There's never been anything like this before. There probably never will be again. The question isn't how it'll end; it's how far it can go.