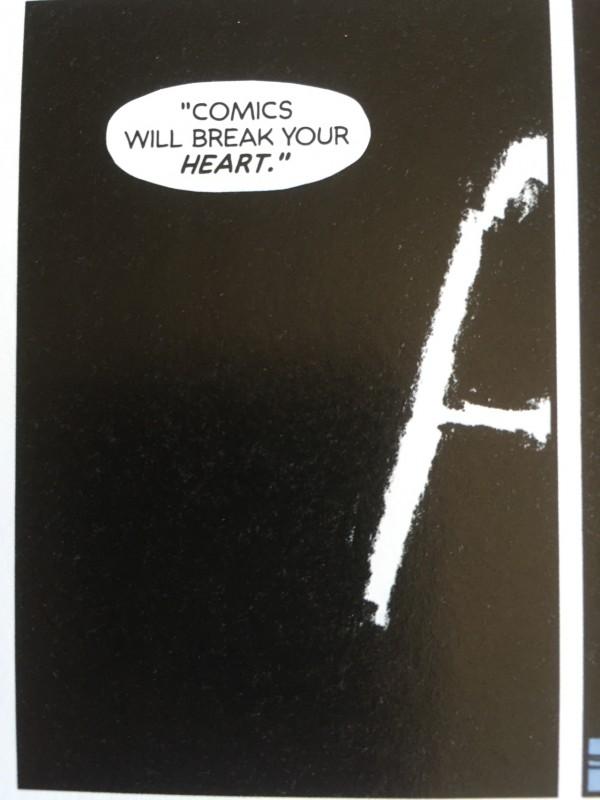 Weird Kitties fizzled out, but I had a few spare reviews lying around and Jane's holiday is going to run one more week, so here they are.
Material, by Ales Kot, Will Tempest, Clayton Cowles, and Tom Muller
Reviewed by Sean Dillon, eligible in Best Graphic Story, available on Comixology.
What does 2015 look like? That is a question at the core of Material, an Image comic written by Ales Kot, drawn by Will Tempest, lettered by Clayton Cowles, and designed by Tom Muller. The comic follows four people, living in these turbulent and fragmented times1.
The first is a Philosophy professor at the Massachusetts Institute of Technology by the name of Julius Shore. Every issue, save the fourth one, opens with a lecture he is giving, ranging from the incompatibility of Art and Business to a nervous breakdown in the form of wearing Su-Real dynamite on his head while ranting about how he is a failure. His ongoing conversations with an emergent sentient AI, which he dubs as Alien Intelligence, make this comic eligible for a Hugo Award2.
The second is an actress in Los Angeles by the name of Nylon Dahlias. She is escaping from the failure of her film career and the death of her mother via Alzheimer's by doing a lot of drugs. She has just been cast by an up and coming auteur in his new film that's missing its first 10 pages. Nylon's story culminates with her running into her producer in the middle of the street having a nervous breakdown, unable to deal with the fragments of the reality around him3.
The third is Franklin, a young man from Chicago who went to a "Black Live Matter" protest. As with many of those protests, the cops showed up and beat everyone to the ground. Franklin woke up hours later in Homan Square where an officer of the police confronted him. Said officer is now blackmailing him to act as a mole in his uncle's New Black Panther Movement. It is implied, though never directly stated, that other things have been going on between the two of them4.
The fourth is Adib, a man who was wrongly put into Guantanamo Bay (for being the wrong person, the wrong skin color, and worshiping the wrong god instead of the humane reasons it is wrong to be locked up in Guantanamo5). Now that he's out, he can't talk about what had happened to him in his time, not even to his wife. The only person he can relate to about his experiences is his female BDSM partner6.
The narrative is an unflinching look at the modern day, covering subjects from the Black Lives Matter movement and how it relates to the progressive movements of the past to the complexity of wanting your life not to be dominated by the cruelties that have happened to the man you are married to. The four issues are told masterfully as Will Tempest conveys a sense of control with the 9 Panel Grid as well as a sense of chaos with sketchy art style used for the characters within it7.…