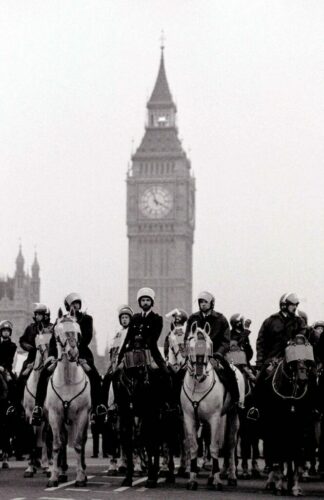 Previously in The Last War in Albion: The entire Grant Morrison half of the book happened.
"Today I stop being real. No one's going to listen to a boy genius. No one's going to listen to a philosopher or a traveler. No one cares about an orphan, or a rich man, or some grown up grinder kid from Heavenside. All the things I've been: no one's ever been interested. Weird little Johnny from the big house on Scartop; who ever really gave a shit? People like listening to characters. Characters are safe, because they're not real." – Warren Ellis, Doktor Sleepless
And what of their opponent, the self-exiled king? At first, a settling of accounts—the tying off of old obligations, so that the first phase of his career could be buried in full. Mostly this meant the completion of V for Vendetta for DC. This was not going back to the absolute start of his career, but it was close—the strip had begun serialization in the March 1982 debut issue of Warrior, at a time when Moore's other work was The Stars My Degradation, occasional Future Shocks, and a couple Star Wars backups—before even Skizz or Captain Britain, so far back that it was able to influence the tail end of Morrison's Captain Clyde run. The double header of Marvelman and V for Vendetta in Warrior were where Moore had revealed himself to be more than just the clever writer of things like the Abelard Snazz stories or "Tlotny Throws a Shape"—one capable of serious, penetrating work. It had been the first time Alan Moore's public persona made an appearance—the first time he was not merely a name in the credits that, to a particularly attentive reader, might signify a basic level of quality that other writers lacked, but an auteur to be actively paid attention to—a creator of major projects who might plausibly serve as the sole reason someone picked up a comic. Warrior #1 began a coherent sense of a career that extended forward to the vast edifice of Watchmen. Now, in that project's totemic wreckage, Moore returned to the beginning to draw the curtain down on the first phase of his career.
This was fitting. What remained to write of V for Vendetta, after all, concerned the final fate both of the visionary terrorist V and of his schemes to bring down the fascist Norsefire regime. Moore was perhaps less a visionary terrorist at this stage than a visionary artist, or, perhaps, a visionary con man, but Moore was also not the sort to get hung up on the fine distinctions between these three classes. But Moore was someone who would, in some strange cousin to self-effacement, describe himself (or at least his female author-insert character Alma Warren) as "a super-villainess" who "sits in a swivel chair amongst the shifting screens and contemplates deranged agendas. These include affecting the development of culture by the subtle introduction of extreme ideas, which, if pursued, will almost certainly precipitate widespread apocalyptic psychological collapse," and how he chose to resolve the story of V would have obvious parallels for his own story, especially in the still pulsatingly magical aftermath of Watchmen.…