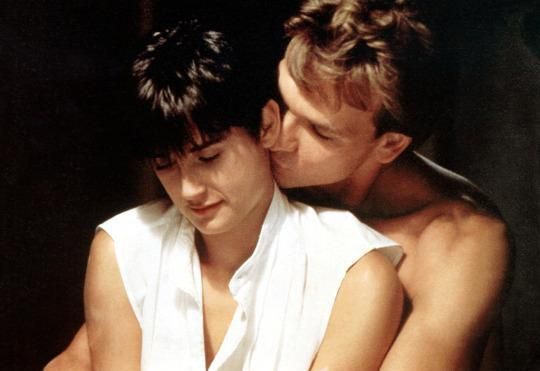 Happy Phantom (demo, 1990)
I'm Not Gonna Fuck This One Up/Happy Phantom (live, 2007, official bootleg, Tori set)
A slender, even whimsical doodle of a song, "Happy Phantom" sees Amos larking about on the occasion of her death, or more accurately its immediate aftermath. This, as Amos explains it, came from the collaborative interplay of the rest of her faery circle, which collectively "decided we needed to hang out with death for a while." Speaking nearly twenty years later, Amos rationalized this as a need for a measure of ego death: "the image that I had created for whatever reason, had to die. If so, she balked big time in crafting the song. By and large, however, other options present themselves.
The song is simple enough—the second shortest on the album, coming in an entire second longer than "Leather," it uses each of its verses deliberately, establishing a concept, adding depth to it, and finally subverting it. It opens with a jaunty and bluesy piano line which Amos plays with a loud and slightly out of control sounding abandon. The vocals, meanwhile, start off with Amos proclaiming that if she dies then she'll become the eponymous happy phantom, embarking upon a mirthful post-existence of naked nun-haunting. Amos imagines her afterlife is a sort of eternal celebrity gala—Judy Garland schmoozes with Siddhartha Gautama at the opera while Confucius boldly works the crossword by pen. (It's notable, albeit in a very white new-agey way, that Amos picks two non-western religious figures as inhabitants of her afterlife.) And Amos is wholly enthused about this, offering a rousing singalong chorus in which her and our approaching spectralities get a firm and unequivocal "woohoo."
Amidst the revels, however, there's an ominous chill appropriate to the song's status as a ghost story. The cheery chorus gives way in its last line to a cold and empty space as Amos intones, "the sun is getting dim / will we pay for who we've been," abruptly inviting in not only all the judgments and shame of organized religion, but the end of the world to boot. And the last verse continues the move towards pessimism as Amos imagines a surviving lover and frets that they will move on and eventually cease missing her, glumly asking "do we soon forget the things we cannot see?"
From this and a final, slightly more downbeat chorus, the song rallies for one last deeply ambivalent frolic, with Amos repeatedly trilling "and if I die today" as the piano grows ever more excited. But by this point the joy and enthusiasm has curdled that the effect is an unsettling ambivalence, so that the afterlife's playground-like nature exists without actually altering the fundamental scariness of death.
"Happy Phantom" is also notable for being the first appearance of John Philip Shenale, credited here as Phil Shenale. On "Happy Phantom" his contributions are restricted to "finger cymbal and keyboard programming," but he will go on to work arranging strings and orchestral parts for every subsequent Tori Amos album save for To Venus and Back and The Beekeeper, including taking lead roles on Gold Dust and Night of Hunters.
Recorded in Los Angeles at Capitol Records in 1990, produced by Davitt Sigerson. Played throughout Amos's career.